The global flow cytometry market size surpassed USD 7.05 billion in 2022 and is expected to attain around USD 17.3 billion by 2030, expanding at a strong CAGR of 11.88 percent throughout the projection period from 2022 to 2030.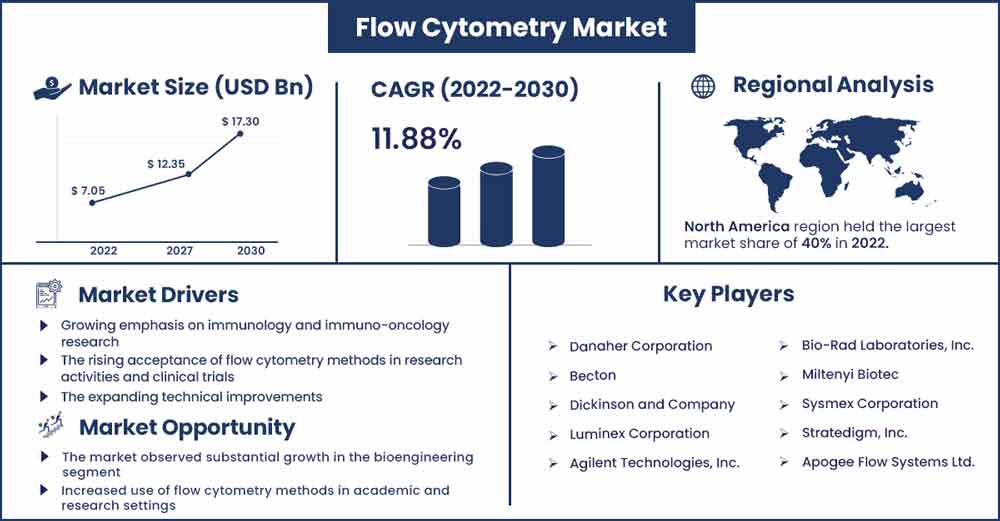 Analyzing the expression of cell surface and intracellular molecules is made easier by flow cytometry. It helps evaluate the purity of isolated subpopulations and is used to describe and characterize various kinds of cells in a heterogeneous cell population. The market is being driven by increased R&D efforts by many prominent companies for the creation of multicolor assays and cutting-edge analytical reagents. The market for flow cytometry has experienced rapid expansion as a result of the rising frequency of chronic and infectious disorders, notably the COVID-19 epidemic. Following the epidemic, a large number of academic institutions and pharmaceutical firms are engaged in considerable research and development (R&D) initiatives for the creation of novel vaccines and treatments. Due of this, there is a great need for flow cytometry applications in research.
Cancer and immunodeficiency are two conditions that are frequently diagnosed using flow cytometry. One of the elements anticipated to propel the market for flow cytometry over the forecast period is the rising incidence of certain disorders. Additionally, the negative effects of chemotherapy and radiation therapy in the treatment of cancer have led doctors to favor autologous and allogeneic stem cell treatments more, thus influencing the development of this industry. Data from the World Cancer Research Fund (WCRF) indicate that there were around 18 million new cases of cancer worldwide in 2018. Around 17,036,901 new cases were diagnosed in that year them. The same source estimated that 437,033 new cases of leukemia were detected in 2018.
Due to rising healthcare costs in developed nations and bettering healthcare infrastructure, the biotechnology sector is anticipated to have considerable development throughout the forecast period. The market is anticipated to be driven by a rise in government financing for clinical research including in vitro molecular diagnostics, as these studies are essential to the creation of new products. Significant market expansion has been fuelled by rising investments in well-known biotech and biopharma businesses. Compared to those in the United States, Chinese investors are increasingly concentrating on funding European biotech start-ups. For instance, they made more investments in European businesses in 2019 than they did in 2017 when they made less than $100 million. About 64.6% of the USD 14.92 billion invested in various life science enterprises in 2019 was utilized by the biotechnology industry.
Report Highlights:
The United States is anticipated to control a sizable portion of the market in North America. This may be ascribed to firms focusing more on the creation of unique goods that are expected to present new growth prospects and to an increase in research and development, which is fueling market expansion.
Stem cell treatment is predicted to dominate the market in terms of application. Since flow cytometry has the capacity to quickly make quantitative measurements on a single cell within a diverse cell population, it is necessary to detect, characterize, and extract stem cells for research and activities.
The demand for flow cytometry will remain high and will counteract any compressions of the industry margins. The majority of oncologic and hematologic disorders may be accurately diagnosed using the flow cytometry approach since it gives numerous molecular and cellular information about each individual cell. In addition to basic restrictions and flow cytometry principles, there are several specialized uses of the technique, particularly in the fields of cancer and hematology.
Flow Cytometry Market Report Scope:
| | |
| --- | --- |
| Report Coverage | Details |
| Market Revenue in 2023 | USD 7.89 Billion |
| Projected Forecast Revenue in 2030 | USD 17.3 Billion |
| Growth Rate from 2022 to 2030 | CAGR of 11.88% |
| Largest Market | North America |
| Base Year | 2022 |
| Forecast Period | 2022 To 2030 |
| Regions Covered | North America, Europe, Asia-Pacific, Latin America, and Middle East & Africa |

Regional Snapshots:
In 2022, North America led the flow cytometry market and accounted for 39.1% of total revenue. Throughout the duration of the research, the area is predicted to dominate the market. This supremacy can be linked to the U.S.'s strong flow cytometry solution adoption rates, established healthcare infrastructure, and significant healthcare spending. Additionally, there is a substantial market for flow cytometry solutions for research purposes due to the developed pharmaceutical sector, considerable research activities by research universities, and pharmaceutical businesses. In addition, there is a greater need for flow cytometry solutions for diagnosis and research due to the rising frequency of chronic and infectious disorders, like the COVID-19 epidemic.
During the forecast period, the market is expected to rise exponentially in Asia Pacific. The significant expansion of the pharmaceutical and biotechnology sectors in developing nations like China and India is responsible for this tremendous growth. The profitable expansion this region has had is also a result of ongoing government assistance with the development of the pharmaceutical sector in developing nations. Additionally, it is projected that ongoing R&D initiatives in the fields of cancer and infectious illnesses, such as COVID-19, would greatly increase the market for flow cytometry products in the area. Additionally, throughout the course of the forecast period, market expansion in the area is anticipated to be supported by significant research initiatives by regional companies for the advancement or creation of cutting-edge flow cytometry solutions.
Market Dynamics:
Drivers:
The development and commercialization of technologically cutting-edge flow cytometry solutions with simplified workflows, simple operation, and quicker turnaround times is becoming the focus of major players in the global flow cytometry market. Especially in developing countries where the adoption rate of technologically cutting-edge items is high, such innovative products are anticipated to have a considerable demand rise throughout the projection period. For instance, CellMek SPS, a completely automated sample preparation system for clinical flow cytometry, was introduced by Beckman Coulter (a Danaher Corporation business) (US) in March 2022.
Restraints:
The majority of end customers, including clinical laboratories, sizable research institutions, and pharmaceutical corporations, need several flow cytometry devices to conduct numerous research investigations concurrently. As a result, the capital cost related to the purchase and upkeep of these devices increases significantly. The total cost of ownership of these instruments also rises as a result of maintenance charges and a number of other indirect expenses. Therefore, expensive product installation costs and associated costs impede the best use of flow cytometry devices in clinical and research settings, particularly in developing countries. In addition, flow cytometry devices are expensive since they include sophisticated features and functions. Cell sorters using flow cytometry are more costly than cell analyzers, nevertheless.
Opportunities:
Due to these benefits, the use of flow cytometry in stem cell research has greatly risen during the past ten years. Global stem cell research efforts are driven by a number of factors, including a large number of stem cell product pipelines and a growing use of stem cells to treat a variety of diseases, in addition to the favorable regulatory environment in emerging nations. The growing number of research initiatives and financial backing from governmental and commercial entities in the stem cell research sector also lend support to this. Three researchers from Stanford University (US) have received a USD 31 million grant from the California Institute for regenerative medicine (US) as of September 2021 to begin the first-in-human trials of stem cell therapy for stroke, heart failure, and a particular type of brain and spinal cord tumor.
Challenges:
Maintenance fees and a variety of other indirect costs are to blame for the general increase in the total cost of ownership of these instruments. In order to make the greatest use of flow cytometry devices in clinical and research settings, particularly in poor nations, high product installation costs and other relevant variables must be taken into account. Furthermore, because they have extensive features and operations, flow cytometry equipment is expensive. However, compared to cell analyzers, flow cytometry-based cell sorters are more expensive.
Demand for pricey flow cytometry hardware and supplies is also constrained by end users' preference for less expensive cell and genomic analysis methods (such as microscopy, spectroscopy, PCR, and NGS), particularly among independent researchers, small CROs, and start-up pharmaceutical and biotechnology companies.
Recent Developments:
In October 2021, the second Center of Excellence (CoE) in India for flow cytometry clinical research was established by BD Life Sciences-Biosciences in partnership with Christian Medical College in Vellore.
Thermo Scientific Phenom Pharos G2 Desktop Field Emission Gun — Scanning Electron Microscope was just released, according to recent announcements from Thermo Fisher Scientific Inc. (FEG-SEM). The device's goal is to speed up access to cutting-edge nanomaterials research capabilities.
Major Key Players:
Danaher Corporation
Becton
Dickinson and Company
Luminex Corporation
Agilent Technologies, Inc.
Bio-Rad Laboratories, Inc.
Miltenyi Biotec
Sysmex Corporation
Stratedigm, Inc.
Apogee Flow Systems Ltd.
Sony Biotechnology, Inc.
Thermo Fisher Scientific, Inc.
Market Segmentation:
By Product
Instruments

Cell Analyzers
Cell Sorters

Reagents & Consumables
Accessories
Software
Services
By Technology
By Application
Research

Pharmaceutical

Drug Discovery
Stem Cell
In Vitro Toxicity

Apoptosis
Cell Sorting
Cell Cycle Analysis
Immunology
Cell Viability

Industrial

Clinical
Cancer
Organ Transplantation
Immunodeficiency
Hematology
By End-Use
Commercial Organizations
Academic Institutes
Hospitals
Clinical Testing Labs
Buy this Research Report@ https://www.precedenceresearch.com/checkout/2315
You can place an order or ask any questions, please feel free to contact at sales@precedenceresearch.com | +1 9197 992 333