The global human microbiome market size was exhibited at USD 157.16 million in 2022 and is projected to attain around USD 1499.36 million by 2032, growing at a CAGR of 25.3% during the forecast period 2023 to 2032.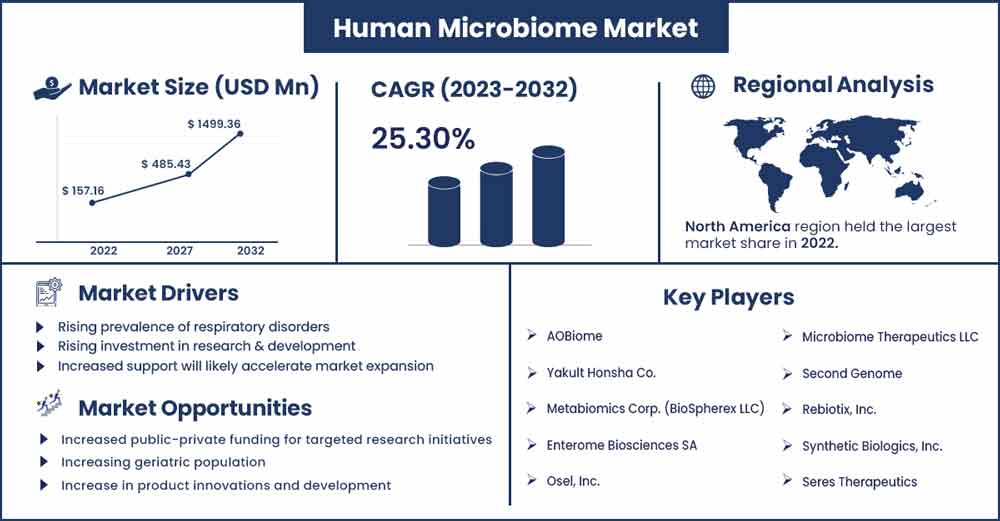 The human microbiome is the collection of microorganisms (bacteria, fungi, and viruses) that live on and inside the human body. These microorganisms play a vital role in maintaining human health and well-being. The human microbiome market refers to the various products, services, and technologies related to the study, understanding, and manipulation of the human microbiome. This includes products such as probiotics and prebiotics, which are used to support the growth of beneficial microorganisms in the gut, as well as diagnostic tests and tools used to analyze the composition and function of the microbiome. The market also includes research and development efforts aimed at understanding the role of the microbiome in various diseases and conditions and developing therapies that manipulate the microbiome to treat or prevent these conditions.
The human microbiome has received interest due to its connections to several respiratory diseases and immunology. Healthy gut flora is associated with immune wellness. According to the study, differences in the number of microorganisms, including actinobacteria, firmicute, and Bacteroidetes, can cause pulmonary, lung, and other disorders. For instance, Persephone Biosciences Inc. began developing a microbiome immune-boosting therapeutic in April 2020 to help with the treatment and prevention of the novel coronavirus (SARS-CoV-2) as well as a potential diagnostic test which is stool-based and intended to help with identifying which patients are most at risk for suffering severe complications and mortality after contracting COVID-19. More studies on the microbiota are one of the primary elements to confirm this growth. Even after the pandemic, the microbiota medicines and diagnostics market will probably continue to expand because the pandemic increased awareness of these issues.
Report Highlights:
By application, the diagnostics industry will likely grow at the quickest rate. The therapeutics segment will likely achieve a sizable CAGR in the years to come. This is mostly because of increased R&D spending for microbiome-based medicines and technology developments.
By product, the human microbiota, a collective term for the billions of microorganisms that cover human tissues, includes bacteria, fungi, and viruses. The most significant product section belonged to the drugs category. This segment's significant market share may be due to increased medicinal treatments based on the human microbiome.
Europe and North America lead the global human microbiome market by region because of superior microbiological and biotechnological research infrastructure. Rising rates of autoimmune disorders and lifestyle diseases have contributed to expanding the human microbiome industry in these countries. The largest market in North America is the United States, followed by Canada.
Human Microbiome Market Report Scope:
| | |
| --- | --- |
| Report Coverage | Details |
| Market Revenue in 2023 | USD 196.92 Million |
| Projected Forecast Revenue in 2032 | USD 1499.36 Million |
| Growth Rate from 2023 to 2032 | CAGR of 25.3% |
| Largest Market | North America |
| Base Year | 2022 |
| Forecast Period | 2023 to 2032 |
| Regions Covered | North America, Europe, Asia-Pacific, Latin America, and Middle East & Africa |
Regional Snapshot:
North America now dominates the human microbiome market because of the increased prevalence of autoimmune illnesses and lifestyle-related diseases in these areas. A robust therapeutic pipeline may also be credited for the very profitable expansion.
The region's escalating disease burden is contributing to the market's expansion. For instance, the American Cancer Society forecasts that there will be around 1,918,030 new cancer cases in the US in 2022. Additionally, the Globocan 2020 numbers show that there are currently 274,364 new cancer cases, with an anticipated 400,564 instances by 2040. As a result, the rising incidence of cancer will likely fuel market expansion as gut microbiota regulate tumor therapy by improving patients' receptivity to immunotherapy and minimizing the adverse effects of chemotherapeutic drugs.
The expansion of the market in the area is also being aided by the rising number of research studies and the regulatory bodies' support for the investigation. In February 2022, 4D Pharma plc gained FDA approval for two Live Biotherapeutics, MRx0005 and MRx0029, which are investigational new drugs (IND) for treating Parkinson's disease. The market will likely develop as a result of these approvals.
Europe and North America dominate the global market for the human microbiome due to their top-notch microbiological and biotechnological research infrastructure. The human microbiome sector has grown in these nations partly due to the rising prevalence of autoimmune illnesses and lifestyle diseases. The United States, then Canada, is where the human microbiome has the largest market in North America. France, Germany, Spain, and the United Kingdom hold the largest market shares for the European human microbiome.
Market Dynamics:
Market Drivers:
The increase in the incidence of diseases
One of the critical elements driving growth in the market value is the rising prevalence of respiratory disorders worldwide. Additionally, putting more emphasis on immunity development is what's going to the market's growth.
R & D proficiencies
Rising investment in research & development, particularly in developed and developing nations, will further open up attractive market expansion potential for medical instruments and technologies. The market growth rate increases to the research and development capabilities used to create pharmaceuticals.
Investments of the government in the healthcare infrastructure
The federal government's increased support will likely accelerate market expansion. Additionally, the healthcare sector's expansion and development, backed by private and public players, particularly in developing nations, will provide an attractive potential for market expansion. High investment returns, guaranteed by research efforts, would also benefit the market.
The introduction of products that are technologically driven in hospitals, rising investment for advanced medical devices and products development, rise in popularity of minimally-invasive surgeries, a surge in personal disposable income, and a surge in investment by the biopharmaceutical and biotechnology industries all have a positive impact on the market growth rate.
Market Opportunities:
Additionally, increased public-private funding for targeted research initiatives, an increasing geriatric population, and an increase in product innovations and development due to global technological advancements will create lucrative opportunities for market participants during the forecast period of 2022 to 2029. In the future, the market's growth rate will be further accelerated by the increasing number of strategic alliances, rising internet penetration rate, rising number of laboratories and hospitals, growing emphasis on the development of human microbiome therapeutics, and rising per capita healthcare spending.
Market Restraints:
On the other hand, high costs related to R&D, a lack of proper infrastructure, and insufficient research on the human microbiome will likely restrain market expansion. Additionally, barriers to establishing a causal connection between dysbiosis and diseases, a lack of favorable reimbursement scenarios and technology penetration in developing economies, and an inadequate infrastructure in low- and middle-income nations will likely pose challenges to the market during the forecast period of 2023–2032.
Recent Developments:
Sept 2022: The FDA has finished reviewing Seres Therapeutics Inc.'s SER-109 drug's BLA application to prevent recurrent C. difficile infection (CDI). It is an entirely new method of treating CDI that attempts to improve the current level of care.
Sept 2022: Ferring Pharmaceuticals' RBX2660 was approved by the FDA's Vaccines and Related Biological Products Advisory Committee for use in its microbiota-based investigational live biotherapeutic trial for its capacity to reduce C. difficile infection (CDI) recurrence after antibiotic therapy.
Major key Players:
AOBiome
Yakult Honsha Co.
Metabiomics Corp. (BioSpherex LLC)
Enterome Biosciences SA
Osel, Inc.
Microbiome Therapeutics LLC
Second Genome
Rebiotix, Inc.
Synthetic Biologics, Inc.
Seres Therapeutics
4D Pharma
Vedanta Biosciences
Ferring Pharmaceuticals
Du Pont De Nemours and Co.
Market Segmentation:
By Product
Prebiotics
Probiotics
Drugs
Medical Foods
By Application
By Disease Type
Metabolic
Infectious
Endocrine
Buy this Research Report@ https://www.precedenceresearch.com/checkout/2539
You can place an order or ask any questions, please feel free to contact at sales@precedenceresearch.com | +1 9197 992 333