The global inductor market size surpassed USD 12.6 billion in 2022 and it is expected to rake around USD 23.81 billion by 2032, poised to grow at a CAGR of 6.56% during the forecast period 2023 to 2032.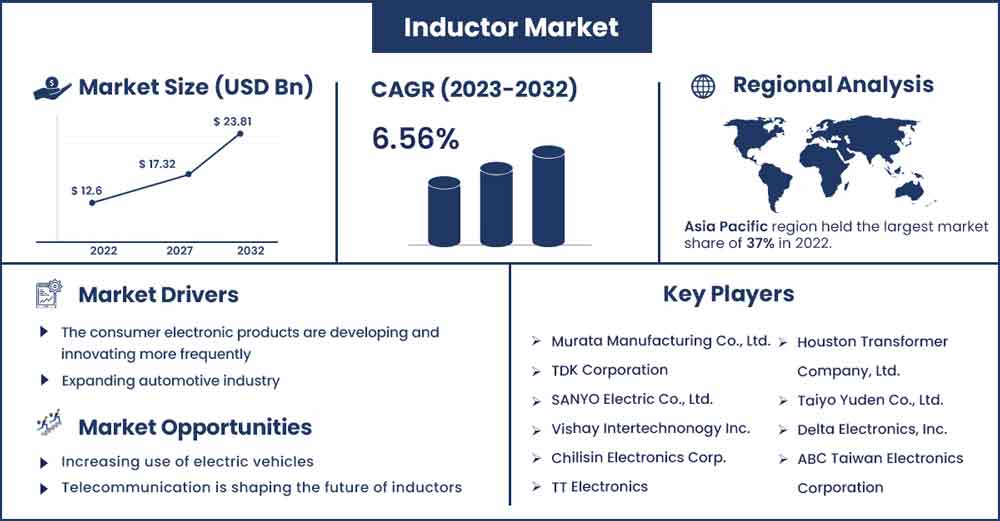 Market Overview:
An inductor is a component of passive electronics that, when an electric current passes through its coil, momentarily stores energy in a magnetic field. An inductor's basic design includes a pair of terminals and a wire with an insulation coil that encircles a core element that strengthens the magnetic field or loops around the air. Electric current variations in a circuit are managed with the use of inductors.
Inductors work with capacitors in various applications, including audio systems, wireless communications, etc. Unwanted signals can be filtered out using an inductor coupled in either parallel or series with a capacitor. The power sources of all forms of electronic equipment, like computers and their peripherals, employ large inductors. These systems use inductors to provide clean, battery-like power from direct current (DC) by helping smooth out the corrected utility alternating current (AC) electricity.
Regional Snapshot:
Asia Pacific dominates the global indicator market. The demand for inductors is mostly driven by industrial economies and highly developed nations, including Korea, China, India, and Japan. Over fifty percent of the world's electronic goods manufacturing is concentrated in China, making it the center of the industry. The favorable business climate draws foreign companies to establish their industrial hubs in the nation. Because exports account for a sizable amount of China's GDP, it adequately depends on the worldwide economy to maintain growth. There is a need for inductors in China since the nation is a manufacturing hub for smartphones and other smart consumer electronics.
The need for larger capacitance per electronic item, which drives the semiconductor industry, is driven by the growing number of sensors and functionalities per electronic product. To make India a more appealing location for foreign investment, the government has been working to implement important legislative reforms that would stimulate the local manufacture of various electronic products. The expansion of disposable income is also being boosted concurrently by the rising rate of employment and the accessibility of high-quality jobs, which is raising demand for various consumer electronics items.
Report Highlights:
By type, the multi layered segment is expected to hold the largest share of the market during the forecast period, the enormous demand for high inductance inductors by large scale industries promotes the segment's growth.
By inductance, the fixed inductor segment is expected to register the fastest growth during the forecast period. The growth of the segment is attributed to the convenience and easy installation process offered by fixed inductors. Fixed inductors are lightweight and often have stable structures.
By core type, the high permeability offered by ferrite cores supports the growth of the ferromagnetic or ferric core segment. The ferric cores in inductors are often applied to boost the magnetic field.
By application, the power applications segment carries a significant share of the market. The increasing demand for power electronics and rising emphasis on energy efficiency promote the segment's growth.
By end-user, the automotive segment is expected to hold a significant share of the market during the forecast period. The increasing electrification of vehicles and growing demand for electric components in vehicles promote the growth of the automotive segment.
Inductor Market Report Scope:
| | |
| --- | --- |
| Report Coverage | Details |
| Market Revenue in 2023 | USD 13.43 Billion |
| Projected Forecast Revenue in 2032 | USD 23.81 Billion |
| Growth Rate from 2023 to 2032 | CAGR of 6.56% |
| Largest Market | Asia Pacific |
| Base Year | 2022 |
| Forecast Period | 2023 To 2032 |
| Regions Covered | North America, Europe, Asia-Pacific, Latin America, and Middle East & Africa |

Market Dynamics:
Driver:
Expanding automotive industry
The automobile industry has changed significantly with several significant technological developments over the past few years. The traditional four-wheeled vehicles, formerly furnished with fundamental features, have evolved into connected cars with innovative wireless connectivity like ZigBee, Bluetooth, and Ultra-Wide Band. Additionally, several applications drive the adoption of newly advanced electronic components in automotive systems inside and between the automobile and its surroundings.
The telematics and infotainment systems in today's connected cars are powered by a WiFi and Bluetooth solution, making it simple for drivers and passengers to sync and transmit information from mobile devices to the car's infotainment system while enabling high-speed connectivity outside the vehicle. A rise in demand for electric, hybrid, and connected cars is fueling the usage of innovative wireless technology in automobiles. Inductors are expanding in the automotive industry because of the rising need for self-driving cars, AI interfaces, vehicle-to-vehicle (V2V) communication, and telematics.
Restraint:
Risk of failure due to corrosion
Corrosion to the inductor can significantly impact the reliability of the inductor. Corrosion even accelerates the aging process of inductors which leads to shortened lifespan. Corrosion risk can limit the usage of inductors in certain environments or industries. Industries such as marine, offshore or chemical processing which have highly corrosive conditions due to the presence of salt show enormous demand for corrosion-resistant inductors. To mitigate the risk of corrosion additional measures are required. This increases the cost and complexities of the operator. Thus, the risk of corrosion acts as a restraint for the global inductors market.
Opportunity:
It and telecommunication is shaping the future of inductors
The telecom industry is rapidly automating its operations and implementing cutting-edge technology like artificial intelligence (AI), machine learning, and the Internet of Things (IoT) while it struggles to raise revenues. The demand for corporate gear to be more effective and durable has increased as big data, artificial intelligence, and business intelligence have all become distinct aspects of the workplace over the past few years. It is simpler to bring the advantages of IoT and AI to the industry with powerful computing. Due to their low power functionality, powerful computing, performance effectiveness, extended product life cycle, configurable features, durability, and product dependability, industrial PCs play a significant role in services-based sectors like IT and Telecom. Telecom companies have invested in AI to acquire an edge over rivals and startups, which are developing digital innovation as they transition from providing basic connections to online services. As a result, the market for inductors is anticipated to expand steadily due to the growing use of AI in industrial applications.
Challenge:
Operational concerns caused by overheating
Overheating, which can be brought on by inadequate ventilation, a short inside the inductor, or a problem with the power supply, results in issues such as open winding, shorted winding, and partially shorted winding. It is a good idea to verify the voltage of the power supply while replacing an overheated inductor. excessive current flowing via a winding, physical damage or other circuit shortage issues can create operational concerns for the inductors. Such overheating concerns may pause the overall operations of the firm. Moreover, it can cause machine failure which requires high cost repairing that consumes time. Thus, operational concerns are observed to create a challenge for the market's growth.
Recent Developments:
In October 2022, the VLS5030EX-D, a power inductor, which is a new addition to the VLS-EX-D Series of ferrite power wound inductors for automotive power circuits, was introduced by TDK Corporation. These little components offer superior DC superposition properties and reliable operation up to 150 °C. These inductors are appropriate for use in headlights, airbags, engine control units (ECUs), advanced driver assistance systems (ADAS), electric power steering (EPS), and several other power circuit applications.
In July 2022, a point-of-load DC-DC converter with an integrated inductor was introduced by Infineon to reduce space in commercial and server applications. The 3885 IPOL and TDM3883 single-output fully integrated buck converters with a broad input supply range (4.5 - 14 V), high-efficiency continuous 3A/4A load capabilities, and line regulation. Due to the combined inductor and capacitor, designs are simpler and may have a considerably better power density without as many external components. The reduced parasitic characteristics of the integration result in better performance than discrete systems by reducing the amount of PCB wire trace required.
Major Key Players:
Murata Manufacturing Co., Ltd.
TDK Corporation
SANYO Electric Co., Ltd.
Vishay Intertechnonogy Inc.
Chilisin Electronics Corp.
Houston Transformer Company, Ltd.
Taiyo Yuden Co., Ltd.
TT Electronics
Delta Electronics, Inc.
ABC Taiwan Electronics Corporation
Panasonic Corporation
Coilcraft, Inc.
TOKIN Corporation
Pulse Electronics Corporation
Texas Instruments Incorporated
Shenzhen Sunlord Electronics Co., Ltd.
Sumida Corporation.
Gowanda Electronics
Ourns, Inc.
Ice Components, Inc.
KEMET
AVX Corporation
Market Segmentation:
By Type
Multilayered
Film Type
Molded
Wire Wound
By Inductance
Variable Inductors
Fixed Inductors
By Core Type
Iron Core
Ferromagnetic Or Ferrite Core
Air Core
By Application
Power Applications
General Circuits
High-Frequency Applications
By End User
Transmission And Distribution
Automotive
Military And Defense
Consumer Electronics
Industrial
RF And Telecommunication
Buy this Research Report@ https://www.precedenceresearch.com/inductor-market
You can place an order or ask any questions, please feel free to contact at sales@precedenceresearch.com | +1 9197 992 333