The global medical adhesives market size was evaluated at USD 12.68 billion in 2022 and is expected to rise to USD 18.4 billion by 2030, growing at a CAGR of 4.77 percent throughout the projection period from 2022 to 2030.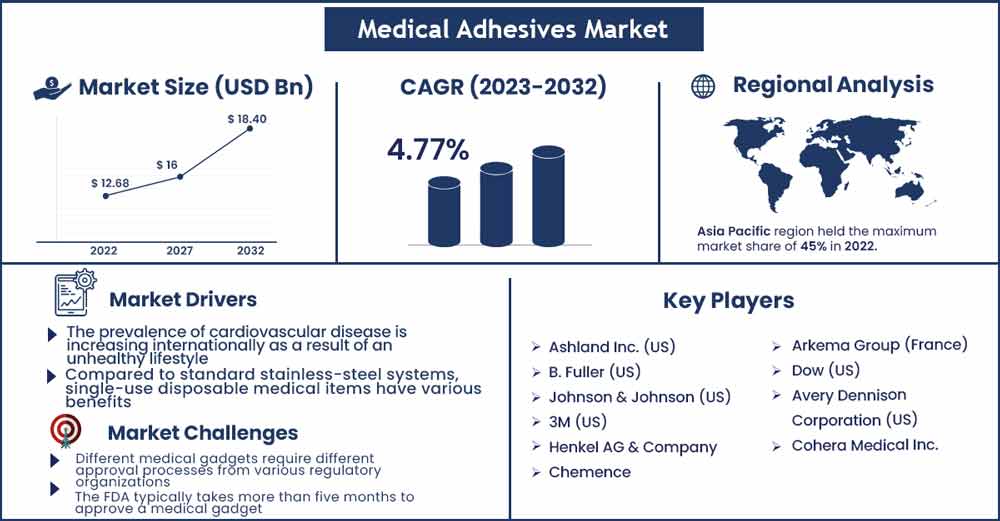 Medical adhesives are chemical formulations that are employed in medical treatments to adhere or bind two distinct types of surfaces. Medical adhesives are frequently employed in joint replacement therapy as well as a variety of dental applications. They are, however, finding new applications in a variety of medical operations. Adhesives and tissue sealing agents are quickly replacing staples and sutures as a viable option. Some of these products are used as general hemostatic agents in the surgical sector to reduce bleeding. Over the years, advancements in surgical sealants and glues have resulted in the creation of procedure-specific solutions, particularly in instances when staples and sutures are difficult to use. Surgical sealants are typically used with staples or sutures to assist fully seal internal and exterior wounds following surgery. They are constructed of synthetic (polyethylene glycol) or naturally occurring materials (collagen).
Populations in wealthy countries such as the United States, Germany, and Japan are rapidly ageing. According to the United States Census Bureau, persons over the age of 65 will account for 20% of the overall population by 2030. According to the United Nations University (UNU), one million individuals turn 60 each month throughout the world. Furthermore, the proportion of the world population over the age of 65 is expected to rise from 7% in 2000 to 16% in 2050. The average life expectancy in Japan is 83 years. Approximately 21% of the entire population in the nation is above the age of 65. (According to the U.S. Census Bureau).
It is also employed in the repair of enamel and bone during dental and orthopaedic surgery. Tapes, dressings, electrodes, patches, and ostomy supplies are examples of medical adhesive items. Natural medical adhesives and synthetic medical adhesives are the two primary categories of medical adhesives. Natural medical adhesives are collagen, albumin, and fibrin, whereas synthetic medical adhesives are polyethylene glycol, cyanoacrylate, acrylic, and silicon. Medical adhesive must only be applied by medical professionals using correct technique; otherwise, it may cause discomfort or infection. Tooth decay, tooth erosion, tooth tissue weakening, and denture-related issues are all caused by ageing. These factors considerably contribute to the growth of the dental adhesives and sealants market. Furthermore, aging increases the risk of bone fractures, joint weakness, blood disorders, and other cardiovascular issues. The majority of these problems are treated by surgery, which necessitates the use of medical adhesives and sealants. The rise in the prevalence of these aging-related issues is expected to fuel demand for medical adhesives in the coming years.
Report Highlights:
The growing elderly population and increased need for electrical and automotive applications are the key factors driving the growth of the medical adhesive market. Other factors driving the growth of the medical adhesive market include technological innovation and the emphasis of prominent industry players on developing better medical adhesives.
Natural resins are likely to be the market's dominant segment during the projection period. Natural resin is further subdivided into fibrin, collagen, and other substances. Acrylic, silicone, cyanoacrylate, epoxy, polyurethane, and other synthetic and semi-synthetic resins are further classed.
Medical adhesives based on solids and hot melts are predicted to expand the most throughout the forecast period. These adhesives are entirely made of thermoplastic polymers, which are heated and applied in a molten state before solidifying to form a bond.
During the projection period, APAC is expected to be the fastest-growing market. The area is made up of countries with varying levels of economic development. The usage of medical adhesive in many application sectors like as dental, surgical, medical devices and equipment, and others is primarily responsible for the region's growth.
Increased medical tourism is driving the rapid expansion of the medical adhesives industry in Western Europe. Because of the growing elderly population in the APEJ region, China and India are likely to lead the market.
Medical Adhesives Market Report Scope:
| | |
| --- | --- |
| Report Coverage | Details |
| Market Revenue in 2023 | USD 13.28 Billion |
| Projected Forecast Revenue in 2030 | USD 18.4 Billion |
| Growth Rate from 2022 to 2030 | CAGR of 4.77% |
| Largest Market | North America |
| Base Year | 2022 |
| Forecast Period | 2022 To 2030 |
| Regions Covered | North America, Europe, Asia-Pacific, Latin America, and Middle East & Africa |

Regional Snapshots:
Medical adhesives and medical devices are grouped into seven primary regions based on region: North America, Latin America, Western Europe, Eastern Europe, APEJ, Japan, and the Middle East and Africa. In terms of value and volume, North America is predicted to dominate the medical adhesives market, followed by Western Europe and Japan. Increased medical tourism is driving the rapid expansion of the medical adhesives industry in Western Europe. Because of the growing elderly population in the APEJ region, China and India are likely to lead the market.
Asia Pacific is the most densely inhabited area, with India and China having the fastest rising economy. Increased incidence of lifestyle disorders such as diabetes, as well as increased vehicle accident rates, has necessitated the development of improved wound closure devices. This increase in demand is being fueled by these countries' rapidly rising health-care industries. Permissive regulatory regulations and attractive international trade policies will help the Asia Pacific medical adhesives market flourish.
Market Dynamics:
Drivers:
Compared to standard stainless-steel systems, single-use disposable medical items have various benefits. Injection-molded plastic is used mostly in disposable device assembly, which is done by bonding, glueing, ultrasonic welding, or radio-frequency welding. Because of the enormous volume of single-use gadgets produced, automated assembly in clean rooms is required to minimize human touch. The benefits include less cross-contamination risk, fewer regulatory issues, reduced validation requirements for cleaning systems, cheaper capital investment, more portability and scaling flexibility, and enhanced sterility assurance. Dow Corning (maker of disposable silicone tubing), one of the main businesses in the single-use disposable goods industry, predicts that the market will increase at a pace of 17-20% over the next several years.
Restraints:
The growing expense of healthcare facilities is stifling the healthcare industry's expansion. Rising income will allow customers to spend more on healthcare facilities, but only up to a certain point. Healthcare facility providers and medical device makers must control costs; yet, they are having difficulty doing so when the price of raw materials rises. The rising cost of adhesive raw materials like as collagen and fibrin is also slowing the expansion of the medical device industry. The high cost of bio-based raw materials for medical adhesive makers has hampered their expansion in cost-sensitive markets such as India, China, Brazil, and others.
Opportunities:
Because of rising population, health awareness, and economic levels, the healthcare business is expanding in developing countries such as APAC, the Middle East and Africa, and South America. Medical device makers are currently establishing facilities in these places where multinational firms are increasing their investments.
Challenges:
Different medical gadgets require different approval processes from various regulatory organizations. As a result, the time necessary for clearance varies. The FDA typically takes more than five months to approve a medical gadget. Medical equipment are subjected to design verification testing to ensure that they satisfy the standards. Medical equipment must be approved for usage by regulatory organizations; however, adhesives are not approved individually. Major glue producers test their own adhesives and keep a Master File with the FDA that lists all of the unique components and procedures used in the production of a certain product. Adhesive producers rely on their licensee to have their goods approved. Regulation changes might have an impact on their business. In the future, FDA rules are expected to become more intricate and costly, providing further obstacles for producers.
Major Key Players:
Ashland Inc. (US)
B. Fuller (US)
Johnson & Johnson (US)
3M (US)
Henkel AG & Company
Chemence
Arkema Group (France)
Dow (US)
Avery Dennison Corporation (US)
Cohera Medical Inc.
Market Segmentation:
By Resin
Acrylic
Cyanoacrylate
Polyurethane
Epoxy
Silicone
Others
By Natural Resin
Collagen
Fibrin
Albumin
Others
By Technology
Water based
Solvent based
Hot melt
Reactive & others
By Application
Dental
Surgery
Medical Device & Equipment
Internal Medical Application
External Medical Application
Others
Buy this Research Report@ https://www.precedenceresearch.com/checkout/2141
You can place an order or ask any questions, please feel free to contact at sales@precedenceresearch.com | +1 9197 992 333