The global nephrology and urology devices market size surpassed USD 6.12 billion in 2022 and it is expected to rake around USD 11.69 billion by 2032, poised to grow at a CAGR of 6.69% during the forecast period 2023 to 2032.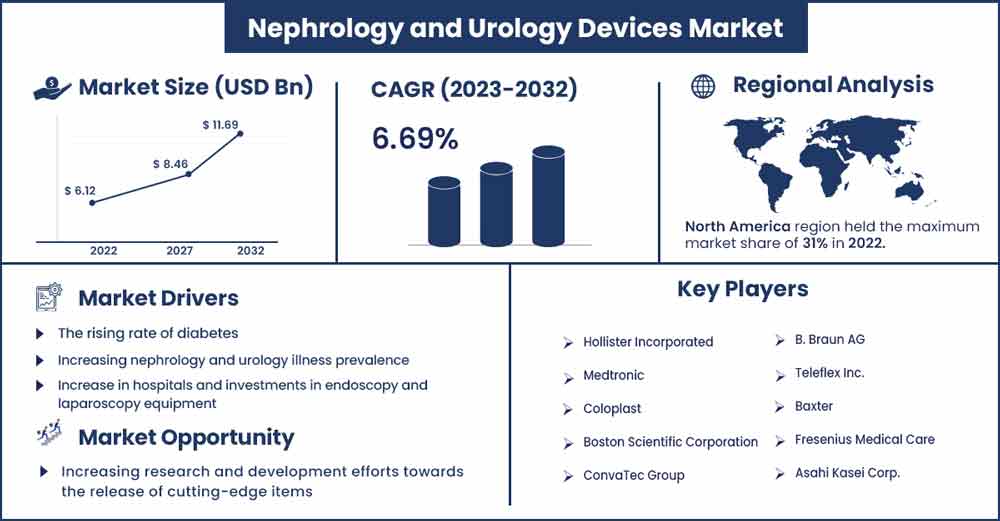 The selling of nephrology and urological devices and associated services by organizations, single proprietorships, and partnerships that create nephrology and urology devices used in the diagnosis and treatment of kidney and genitourinary illnesses constitutes the nephrology and urology devices market.
The primary categories of nephrology and urology devices include dialysis tools, tools for treating kidney stones, tools for treating urinary incontinence and pelvic organ prolapse, tools for treating benign prostatic hyperplasia (BPH), and tools for endoscopy. When a patient's kidneys are compromised, ineffective, or absent, dialysis machines filter the patient's blood to remove excess water and waste materials.
The actual dialysis machine is a synthetic kidney. Public and private expenditures are the two types. Instruments/equipment and disposables are the goods used. Hospitals and clinics, diagnostic laboratories, and other organizations are among the end users. During the historic era, the market for nephrology and urology devices grew dramatically as a result of the expansion of the patient pool brought on by the expanding elderly population worldwide.
The percentage of people over 65 in the world's population rose to 9% in 2019, according to the Population Reference Bureau. 703 million people worldwide were 65 or older as of 2019. The aging of the population raised the need for medical attention and increased healthcare spending. Certain elements fueled the market during the historical period by raising demand for these items.
During the historical period, the market for nephrology and urology equipment was constrained by a lack of competent labor in both developed and developing nations. It takes specialist knowledge in the fields of software, electronics, biological sciences, and pharmaceuticals to fabricate and integrate equipment. Only a small number of firms, the most of which are based in the USA and Europe, have access to these skill sets. During the historical period, this lack of skilled labor served as a significant impediment to the market's expansion.
New product introductions are increasing in the nephrology and urology sectors. Many businesses are investing in cutting-edge technology as a result of the intense market rivalry in order to diversify their product lines and grow their market share. For instance, in March 2020, Medi-Tate, an Israeli manufacturer of medical equipment, obtained approval for their iTind system, which is used to insert and remove nitinol devices during bladder neck remodeling. Researchers from Northwestern University, University of Illinois at Urbana-Champaign, and Washington University in St. Louis collaborated to create a wireless implant that uses LED lights to manage an overactive bladder.
Regional Snapshots:
Due to the region's high prevalence of kidney-related disorders and supportive government programs for the treatment, North America is anticipated to account for a significant portion of the market during the projected decade. In addition, the presence of experienced medical professionals and reputable healthcare facilities serves as another important regional market driver. However, it is projected that the Asia Pacific market would grow quickly during the forecast period due to a number of factors, such as greater awareness of renal and urinary disorders, rising healthcare spending, and better healthcare infrastructure in the area.
Nephrology and Urology Devices Market Report Scope:
| | |
| --- | --- |
| Report Coverage | Details |
| Market Revenue in 2023 | USD 6.53 Billion |
| Projected Forecast Revenue in 2032 | USD 11.69 Billion |
| Growth Rate from 2023 to 2032 | CAGR of 6.69% |
| Largest Market | North America |
| Base Year | 2022 |
| Forecast Period | 2023 to 2032 |
| Regions Covered | North America, Europe, Asia-Pacific, Latin America, and Middle East & Africa |

Report Highlights:
Due to the growing incidence of urological and nephrological-related illnesses worldwide and the development of technologically sophisticated products by the leading players, the other category led the market in 2022 with a revenue share of over 27%.
From 2023 to 2032, PCN catheters are anticipated to experience the highest CAGR of 8.1% due to the growing number of kidney-related medical conditions for which they are used as a temporary diversion during urinary obstruction.
In 2022, North America had a revenue share of over 31%, dominating the market. Some of the elements causing the regional market growth include the presence of major players, advanced healthcare infrastructure, and high public funding for the healthcare system.
Market Dynamics:
Drivers:
The market is expanding as a result of an increase in hospitals and investments in endoscopy and laparoscopy equipment. Hospitals are increasingly offering urology procedures like endoscopy and laparoscopy as patient desire for less invasive procedures rises. In addition to investing in new technology, hospitals that currently have endoscopic equipment are also expanding their endoscopy sections. All parts of the world experience this situation. Fairfield General Hospital inaugurated a brand-new Greater Manchester Endoscopy modular facility in Bury in January 2022.
Following the pandemic disruption, the Greater Manchester Health and Social Care Partnership has specifically commissioned the unit to support the delivery of endoscopy services. The market for urology devices like endoscopes and endovision systems for effective treatment and management of urological conditions is anticipated to grow as a result of such investments by hospitals in the acquisition of cutting-edge instruments, the expansion of units, and the establishment of new centers.
Restraints:
One of the main factors impeding the market's growth is the high price of urology endoscopes and endovision systems, particularly in regions where pricing is sensitive, such Asia Pacific and the rest of the world. Particularly in poor nations like Brazil and Mexico, healthcare providers lack the financial capacity to invest in such expensive, advanced devices. Additionally, the personnel has to get training in the proper use and upkeep of urological equipment. It is crucial to maintain urological equipment, such as endoscopic equipment, because incorrectly reprocessed endoscopes can cause cross-contamination and expose patients to infections. The already high expenses may increase as a result of this. This is one of the main causes for why doctors and people choose less expensive alternative treatments.
Opportunities:
One of the key factors driving the market growth is the expansion of the private healthcare sector to meet the demands of the expanding middle class population. By 2032, the number of middle-class people in the Asia-Pacific region is predicted to rise from 28% in 2009 to 66%. By 2020, the middle class population, which is expanding, was projected to have a purchasing power of 50%, up from 23% in 2009. The middle class population's growing medical demands and increased disposable budgets force urology device manufacturers to come up with innovative solutions to fulfill this need. Major companies are under-represented in the emerging regions, which suggests enormous unrealized market potential.
Challenge:
The development of the global market for nephrology and urology equipment is anticipated to be hampered by the high installation costs of lithotripters and sophisticated machines. For tiny and many midsized healthcare facilities, advanced technological items like ESWL, dialysis machines, and endoscopic gadgets are out of reach financially. In Europe, lithotripsy equipment with localization systems and lithotripsy tables range in price from US$380 thousand to US$450 thousand. Low-cost lithotripsy machine installation is around US$250,000 on average, whereas lithotripter machine installation runs about US$350,000 on average in India.
Additionally, it is anticipated that product recalls would restrain the development of the world market for nephrology and urology equipment.
Recent Developments:
The US Food and Drug Administration gave its approval to the AWAK's Peritoneal Dialysis device in January 2019. This wearable and ultra-portable PD system uses AWAK's unique sorbent technology. Awak Technologies is a leading provider of medical technology with a focus on final stage renal disease dialysis employing regeneration technology.
Major Key Players:
Hollister Incorporated
Medtronic
Coloplast
Boston Scientific Corporation
ConvaTec Group
B. Braun AG
Teleflex Inc.
Baxter
Fresenius Medical Care
Asahi Kasei Corp.
Cook Group
C. R. Bard Inc.
Terumo Corporation
Nxstage Medical Inc.
Nipro Corporation
Market Segmentation:
By Product
Ureteral Catheters
PCN Catheters
Urinary Stents
Stone Basket
Urology Guidewires
Renal Dilators
Others
By Application
Urolithiasis
Urological Cancer & BPH
Bladder Disorders
Kidney Diseases
Others
By End-Use
Hospitals
Clinics
Ambulatory Surgical Centers
Others
Buy this Research Report@ https://www.precedenceresearch.com/checkout/2570
You can place an order or ask any questions, please feel free to contact at sales@precedenceresearch.com | +1 9197 992 333