The global nitrile butadiene rubber (NBR) latex market revenue was evaluated at USD 3.86 billion in 2022 and is expected to attain around USD 5.7 billion by 2030, growing at a CAGR of 5% from 2022 to 2030.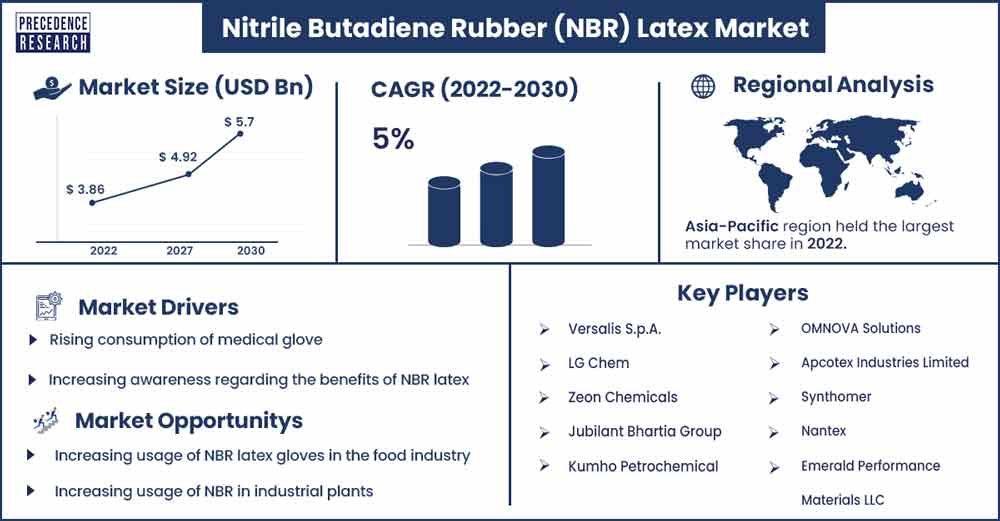 Market Overview
Nitrile butadiene rubber latex is generally in an off-white liquid form and is considered a type of synthetic latex. Due to the tremendous tensile strength of NBR latex, it plays an excellent role where fuel, oil, and chemical resistance are required. NBR latex is widely used in medical, industrial, and cooking applications as disposable medical gloves, disposable laboratory gloves, and disposable cooking gloves. NBR latex disposable gloves have excellent wearability and durability benefits to be used for medical, industrial, and cooking purposes. NBR latex disposable gloves offer a good fit and allow the smooth movement of hands which helps the medical staff can perform their work effectively.
The growth of the nitrile butadiene rubber (NBR) latex market is driven by several factors such as the rising prevalence of infectious diseases, technological advancements, increasing investments in the healthcare sector, rapid industrialization, and rapid expansion of healthcare facilities and diagnostic centers. The robust growth of the automotive industry coupled with the increasing trend towards electric vehicles and the development of autonomous vehicles is projected to fuel the demand for NBR latex products in the coming years. In addition, the growing concern for the employees' safety working in hazardous conditions and the rise in public health incidents has accelerated the demand for medical gloves.
In March 2022, Malaysian Billionaire Stanley Thai announced an investment plan of $350 million to construct a manufacturing facility for medical gloves in Brazoria County in Texas.
In March 2023, Ansell invested $80 million in the plant of its new Kovai manufacturing facility in Tamil Nadu, India. This facility will manufacture high-quality surgical gloves for healthcare personnel across India and around the world. The company also stated that Ansell India will be the only glove manufacturing company in India with an integrated Gamma sterilization unit which ensures the offering of high-quality surgical gloves at an affordable cost to meet the rising demand of India. Ansell is also planning to invest another $40 million in the final phase, which will bring the total investment to $120 million.
In October 2022, MI Americas launched a latex glove manufacturing plant in Alabama. This facility helps the company to increase its gloves production. The company produces over 9 million latex gloves a month with one machine.
In March 2022, American Nitrile formed a strategic partnership with Orion Infrastructure Capital to finish the development of its manufacturing plant in Grove City, Ohio. Under this agreement, Orion will provide $105 million to support the completion of 12 production lines with a combined capacity of 3.6 billion nitrile gloves annually.
Regional Insights
Asia Pacific is expected to hold the largest market share over the forecast period owing to the increasing consumption of medical gloves, increasing incidence of chronic disorders, technological advancement, improving economic growth, and rapid industrialization. Asia Pacific is one of the foremost producers of NBR latex. Among all Asian countries, Malaysia is the major producer and consumer of NBR latex. Malaysia is expected to witness significant growth with a larger market share. The presence of prominent market players in the region such as LG Chem, Zeon Chemicals, OMNOVA Solutions, Apcotex Industries Limited, Jubilant Bhartia Group, Synthomer, Kumho Petrochemical, Nantex Industry Co., Ltd, and others is expected to impact the market's growth positively.
The region's rising industrial and manufacturing activities have spurred fuel demand for NBR latex in applications requiring fuel, oil, and chemical resistance. The significant expansion of a variety of industries such as healthcare, automotive, industrial, and textiles in the region is driving the growth of the nitrile butadiene rubber (NBR) latex market. Furthermore, the increasing investment in the healthcare industry and rising health awareness have led to an increasing demand for high-quality disposable gloves. The major companies operating in the market are primarily focusing on regional expansion, such as investment, mergers & acquisitions, and partnership or collaboration is projected to impact the market's growth positively.
In February 2022, Hong Seng Consolidated Bhd formed a strategic partnership with Mitsui & Co (Malaysia) Sdn Bhd for its nitrile butadiene latex (NBL) business in Kedah Rubber City and tank farm integrated logistics services business in Penang. This collaboration would strengthen Malaysia's dominance in the global glove industry with its improved technologies and capabilities.
In August 2022, Kumho Petrochemical announced an investment of KRW6,000 billion into existing and new businesses in the next 5 years. Kumho aimed to invest in KRW3,300 billion in its core business areas as part of the initiative, which includes NB latex production and SSBR manufacturing. The company aims to expand its NB latex production to maintain its leading global position.
Nitrile Butadiene Rubber (NBR) Late Market Report Scope:
| | |
| --- | --- |
| Report Coverage | Details |
| Market Revenue in 2023 | USD 4.05 Billion |
| Projected Forecast Revenue by 2030 | USD 5.7 Billion |
| Growth Rate from 2022 to 2030 | CAGR of 5% |
| Largest Market | Asia Pacific |
| Base Year | 2022 |
| Forecast Period | 2022 to 2030 |
| Regions Covered | North America, Europe, Asia-Pacific, Latin America, and Middle East & Africa |

Market Dynamics
Drivers
Rising consumption of medical glove
The rising consumption of medical gloves around the world owing to the increasing prevalence of healthcare-associated infections, the rise in the number of surgical procedures, the rising prevalence of infections during surgeries, and the increasing number of diagnostic centers are few factors expected to boost the growth of the nitrile butadiene rubber (NBR) latex market. Additionally, the increasing investment in constructing medical glove manufacturing facilities is likely to propel the market growth.
In August 2023, Trendco USA announced its plans to invest $43 million to construct a nitrile medical glove manufacturing facility in Tuskegee. The facility will be built new Regional East Alabama Logistics (REAL) Park in Macon County. It is expected that the company's investment plan will generate nearly 300 jobs.
Increasing awareness regarding the benefits of NBR latex
The rising awareness regarding the benefits of NBR latex is expected to accelerate the market value. NBR latex is a synthetic latex that has a milky color and is extensively used where fuel, oil, and chemical resistance are required. NBR latex is deployed in medical, industrial, and cooking applications as disposable gloves. Disposable gloves are generally used for hand protection or hygiene purposes. The use of disposable gloves in medical activities such as examinations and surgeries help to restrict microorganisms' transmission in the patient.
Restraints
Stringent government regulations
The rising concern for environmental protection associated with the formulation and use of rubber is projected to hamper the market's growth. In addition, the volatile raw material prices and ongoing price fluctuations in the crude oil industry are likely to limit the expansion of the global nitrile butadiene rubber latex market. Several governments are actively promoting measures to utilize sustainable materials in industrial procedures, this factor can limit the adoption of nitrile butadiene rubber latex.
Availability of natural rubber
The availability of natural rubber is expected to hamper the growth of the nitrile butadiene rubber latex market. The easy availability of natural rubber trees in forests in various parts of the world is likely to restrain the utilization of NBR latex to manufacture gloves. Natural rubber is generally available at a lower cost than synthetic rubber.
Opportunities
Increasing usage of NBR latex gloves in the food industry
The increasing usage of nitrile butadiene rubber (NBR) latex gloves in the food industry is expected to boost market growth in upcoming years while acting as a major opportunity for the industry. These gloves offer protection during food preparation. NBR latex gloves are hygienic, contaminate-free, and safe to use for food handling purposes. These gloves are ideal for managing various types of foods, such as vegetables, fresh fruit, and raw meats. The use of these gloves limits the chances of foodborne illnesses. The rapidly rising adoption of FDA and HACCP-certified nitrile gloves is another key factor positively influencing the market growth.
Increasing usage of NBR in industrial plants
Nitrile butadiene rubber latex is widely being adopted in multiple industries. The use of nitrile gloves ensures protection against hazardous substances including chemicals, pesticides, various cleaning products, and others. These gloves have recorded an escalated usage in several industrial applications to protect the labourer's hands from harsh chemicals. In addition, the growing focus on R&D investments by such industry players is also projected to propel the demand for gloves during the forecast period.
Recent Developments
In July 2023, Darby Group Companies announced a strategic investment in American Nitrile, the leading manufacturer of nitrile gloves in the US. Darby will be the first dental supplier to distribute the DenTouch gloves. These gloves are designed to meet the unique needs of the dental market with patented compression tip technology that improves dexterity and simplifies the handling of small, intricate instruments used by dentists and dental hygienists.
Major Key Players
Versalis S.p.A.
LG Chem
Zeon Chemicals
Jubilant Bhartia Group
Kumho Petrochemical
OMNOVA Solutions
Apcotex Industries Limited
Synthomer
Nantex
Emerald Performance Materials LLC
Market Segmentation
By Application
By End-User
Healthcare
Industrial
Food
Buy this Research Report@ https://www.precedenceresearch.com/checkout/1169
You can place an order or ask any questions, please feel free to contact at sales@precedenceresearch.com | +1 9197 992 333