The global small-scale bioreactors market size is anticipated to reach around USD 7.78 billion by 2032 up from USD 1.92 billion in 2022 with a CAGR of 15.02% between 2023 and 2032.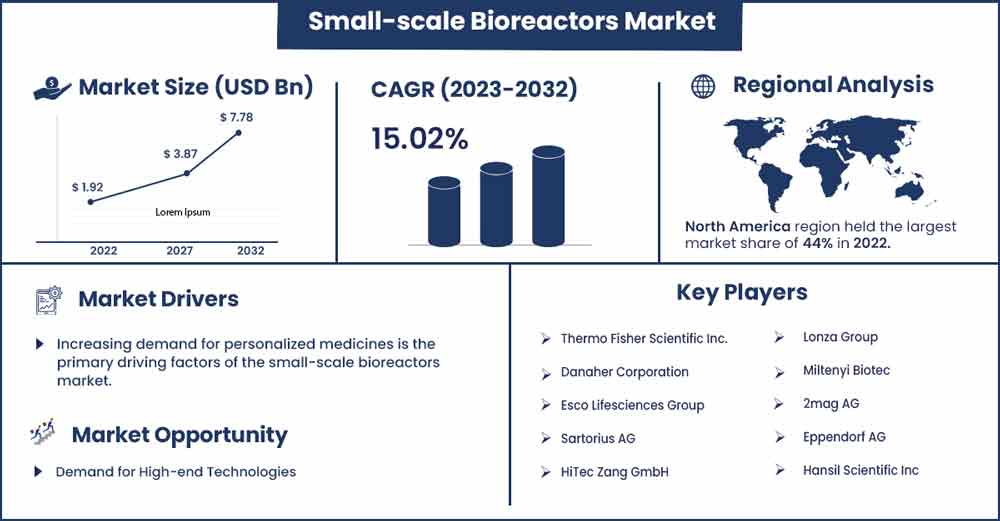 Market Overview:
Small-scale bioreactors are laboratory-scale equipment used to cultivate microorganisms, such as bacteria, fungi, or cells, in a controlled environment for research or production purposes. These bioreactors typically have a working volume of fewer than 20 liters and are designed to stimulate the conditions required for optimal cell growth and metabolism. Small-scale bioreactors can be used for a wide range of applications, such as screening for new strains of microorganisms, optimizing growth conditions, producing small quantities of products for research purposes, and conducting pilot studies before scaling up to larger bioreactors for commercial production.
The COVID-19 pandemic has led to the urgent need for vaccines and therapeutics and has accelerated the development and scale-up of bioreactor processes. Scientists and manufacturers have been working around the clock to optimize bioreactor systems to produce large quantities of biologics quickly. The pandemic has highlighted the need for decentralized manufacturing capabilities to ensure a reliable supply of essential medicines and vaccines. Small-scale bioreactors can be used in local manufacturing facilities, which could reduce dependence on centralized manufacturing facilities and mitigate supply chain disruptions. It disrupted global supply chains and logistics, affecting the availability of raw materials and equipment needed for bioreactor manufacturing. This has led to delays and increased costs for some manufacturers.
Regional Insights:
The small-scale bioreactors market varies significantly by region due to differences in the healthcare infrastructure, research and development capabilities, and government regulations. The North American small-scale bioreactors market is most significant globally, driven by the high demand for biologics, cell therapies, and personalized medicine. Influential biopharmaceutical companies and regional research institutions have also contributed to the market's growth. The United States dominates the market in the area, with Canada following behind.
Europe is a significant market for small-scale bioreactors due to the increasing prevalence of chronic diseases and rising expenditure. The region has a well-developed healthcare infrastructure and a strong focus on research and development. The United Kingdom, Germany, France, and Italy are the key markets in Europe.
The Asia-Pacific region is expected to experience the fastest growth in the small-scale bioreactors market. The change is driven by increased investment in biopharmaceutical research and development, the rising prevalence of chronic diseases, and the increasing demand for personalized medicine. China, Japan, and India are the primary market in the region.
Latin American covers Brazil and Mexico markets. The Middle East and Africa market is still developing, and South Africa, UAE, and Saudi Arabia are the key markets in the region. In conclusion, the small-scale bioreactors market is growing in all areas, with the highest growth expected in Asia-Pacific.
Report Highlights:
By Product: Due to their expanding use in the production of bulk products, the reusable bioreactors market will make up the majority of total sales. High production capacity and improved scalability are the main factors driving product demand. Because of repeated sales and installs, single-use bioreactor uses in industrial manufacturing raise product costs. Reusable systems are desirable in these facilities. Moreover, reusable bioreactors are less likely to sustain punctures.
By Cells: The mammalian cell bioreactors industry will be the most lucrative. The extensive use of mammalian cells in producing therapeutic proteins and viral vaccines, among other biopharmaceuticals, will increase the demand for bioreactors. These cells are used to stimulate tissue analogs for regenerative treatments. Because of these cells' susceptibility to shear damage and fragility, modern bioreactors that use low agitation rates to achieve high throughput have had substantial growth potential. Mammalian cells are widely used in the development of biopharmaceuticals, and hence the market for these products is anticipated to increase.
By Molecules: The vaccine category dominated the bioreactors market. Due to substantial research and development efforts for vaccine production, bioreactors will be in high demand. The rise of deadly infectious diseases in recent years has driven vaccine production efforts, and the appearance of COVID-19 has sparked a worldwide upsurge in vaccination research and development. As an illustration, the Indian government just unveiled its third stimulus plan for COVID-19 vaccine development.
By End-User: Biopharmaceutical companies dominate the market by investing heavily in research and development to create new products and improve existing ones. Small-scale bioreactors are essential in the development process, allowing companies to optimize production and reduce costs. It even has the resources to invest in large-scale production, and small-scale bioreactors are a critical component of the scale-up process.
By Geography: North America is leading the market as it has a high adoption rate of new technologies, including small-scale bioreactors, due to a strong culture of innovation and a willingness to invest in new technologies. The demand for biologics is increasing as they are used to treat many chronic diseases, such as cancer and autoimmune disorders. This has led to a rise in the demand for small-scale bioreactors used to produce these biologics.
Small-scale Bioreactors Market Report Scope:
| | |
| --- | --- |
| Report Coverage | Details |
| Market Revenue in 2023 | USD 2.21 Billion |
| Projected Forecast Revenue by 2032 | USD 7.78 Billion |
| Growth Rate from 2023 to 2032 | CAGR of 15.02% |
| Largest Market | North America |
| Base Year | 2022 |
| Forecast Period | 2023 to 2032 |
| Regions Covered | North America, Europe, Asia-Pacific, Latin America, and Middle East & Africa |

Market Dynamics:
Drivers:
Personalized medicines
Small-scale bioreactor sales are driven by the demand for more adaptable and effective manufacturing procedures brought on by personalized medicine. It entails adjusting medical care to each patient's unique features, such as their genetic make-up, way of life, and environment. Smaller batches of medications or treatments must be produced to cater to the needs of each patient. Small-scale bioreactors offer a practical and affordable method for making these lower quantities of drugs. They enable the manufacturing of intricate items in small amounts, such as customized vaccinations, cell treatments, and gene therapies. For instance, the Congressional Personalized Medicine Caucus co-chairs held a briefing on "Promoting Innovation and Delivery of Cell and Gene Therapies" to educate attendees about the burgeoning opportunities of personalized medicines and discuss public policies to encourage clinician adoption of these therapies. The meeting emphasized the urgent need for strategies to make potentially curative treatments for cancer and other uncommon diseases available to patients as soon as they are commercially available.
Moreover, small-scale bioreactors have several benefits over conventional large-scale production techniques, such as better process control, better product quality, and quicker time to market. Also, the expense and complexity of manufacturing small-scale bioreactors have significantly decreased due to the introduction of new technologies, including automation systems and single-use bioreactors. Small-scale bioreactors are therefore being utilized more frequently in clinical trials, academic research, and the small-scale manufacture of biopharmaceuticals.
Restraint:
Expensive
Small-scale bioreactors can be expensive to buy and keep up, especially when you take the price of consumables and replacement parts into account. Smaller businesses and academic research teams may find it difficult to enter the market due to the high expense of operating and maintaining bioreactors.
Regulatory challenges
Strict regulatory control applies to the use of bioreactors in the manufacture of biologics or other medicinal substances. Current good manufacturing practises (cGMP) regulations may not be met by small-scale bioreactors, which could restrict their usage in clinical applications.
Opportunities:
Research and development (R&D) play a significant opportunity in the small-scale bioreactor market by driving innovation, improving product quality, and increasing market competitiveness. Small-scale bioreactors are especially important for small and medium-sized enterprises (SMEs) looking to enter the biotech market. These reactors are less expensive and require less space than large-scale bioreactors, making them more accessible to SMEs. R&D in small-scale bioreactors can improve their efficiency, reliability, and scalability, enabling SMEs to produce high-quality biopharmaceuticals or industrial enzymes at a lower cost. Furthermore, R&D in small-scale bioreactors can lead to the developing of novel bioreactor designs that can address specific production challenges. For instance, there is a growing demand for bioreactors that can reduce production time and increase yield. Developing new bioreactor designs that can support continuous bioprocessing is an area of active R&D in the biotech industry.
Challenges:
Continuous processing is becoming increasingly popular in biopharmaceutical production due to its potential benefits in productivity, cost-effectiveness, and reduced variability. Unlike traditional batch processing, which involves stopping and starting a process at predetermined intervals, continuous processing allows for a constant flow of material through the bioreactor, enabling a more steady-state operation. While continuous processing has significant advantages over batch processing, it poses several challenges to the small-scale bioreactor market. One major challenge is the complexity of the technology required to support continuous processing. It integrates multiple unit operations, such as cell culture, media preparation, and product purification, into a single continuous system. As a result, small-scale bioreactor manufacturers must develop more complex ad sophisticated systems that can handle the constant flow of material.
The requirement for stricter process control and monitoring presents another difficulty. Material flows continuously during continuous processing, so any irregularities might significantly impact the final product's quality. More sophisticated process control methods are needed to ensure that the process stays within the required bounds, such as online monitoring and feedback control. Moreover, continuous processing frequently necessitates higher cell densities and media volumes, which can be difficult for small-scale bioreactors to manage. It might be necessary to redesign or alter small-scale bioreactors to meet the increasing volume and cell density demands.
The need for standards in the small-scale bioreactor market might make it challenging for businesses to compare and select various systems. This may cause a lack of understanding and faith in the technology, which could impede the expansion of the market. Small-scale bioreactors are frequently highly complicated systems requiring specialized training and experience to run efficiently. This may limit their market potential by making them challenging to employ for researchers and businesses without extensive bioprocessing skills.
Recent Developments:
On 25 April 2022, in order to help their clients more accurately evaluate the dangers of off-target binding of biologic therapeutic candidates, Lonza and Integral Molecular announced a proposal to offer complementary knowledge.
Major Key Players:
Thermo Fisher Scientific Inc.
Danaher Corporation
Esco Lifesciences Group
Sartorius AG
HiTec Zang GmbH
Lonza Group
Miltenyi Biotec
2mag AG
Eppendorf AG
Hansil Scientific Inc
Adolf Kuhner AG
Getinge AB
MicroDigital Co. Ltd
Solaris Biotechnology Srl
Infors AG
MDX Biotechnik International GmbH
Merck KGaA
Biosan
Ori Biotech
Aglaris
AdvaBio
Market Segmentation:
By Capacity
5ml-100ml
100ml-250ml
250ml-500ml
500ml-1l
1l-3l
3l-5l
By Product
By Cells
Bacterial Cells
Yeast Cells
Mammalian Cells
By Molecules
Monoclonal Antibodies
Stem Cells
Recombinant Proteins
Vaccines
Gene Therapy
By End-User
Biopharmaceutical Companies
CRO's & CMO's
Academics & Institutions
Buy this Research Report@ https://www.precedenceresearch.com/checkout/2747
You can place an order or ask any questions, please feel free to contact at sales@precedenceresearch.com | +1 9197 992 333