The global small-scale bioreactors market size was evaluated at USD 1.92 billion in 2022 and is projected to hit around USD 7.78 billion by 2032, growing at a CAGR of 15.02% during the forecast period from 2023 to 2032.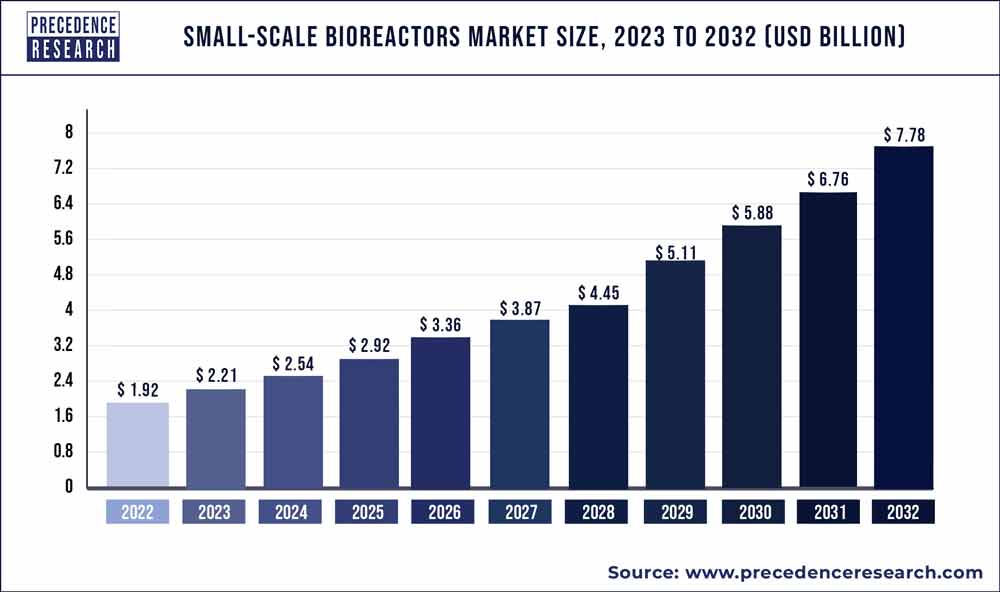 Access our Premium Real Time Data Intelligence Tool, Visit: Precedence Statistics
Key Takeaways:
North America generated more than 44% of the revenue share in 2022.
By capacity, the 1L-3L segment dominated the global market and contributed more than 32.00% of revenue share in 2022.
By product, the reusable segment dominated the market and generated more than 81% of the revenue share in 2022.
By end-user, The CROs & CMOs segment captured more than 46% of revenue share in 2022.
Market Overview
Small-scale bioreactors are becoming increasingly crucial for developing and producing biopharmaceuticals, complex molecules produced through biotechnology. These molecules require specialized manufacturing processes, including bioreactors and vessels where living cells or microorganisms are grown under controlled conditions to produce the desired molecule. Some examples of small-scale bioreactors include shake flasks, microtiter plates, and benchtop bioreactors. Shake flasks are the most basic type of bioreactor and are often used for the initial screening of strains or growth conditions. Microtiter plates are designed to enable high-throughput screening of multiple cultures simultaneously. Benchtop bioreactors are more advanced and can provide greater control over environmental conditions such as temperature, pH, and dissolved oxygen.
Growth Factors
The growth of the biopharmaceutical and biotechnology industry has fueled the demand for small-scale bioreactors. These both typically use small-scale bioreactors in the early stages of drug development to evaluate the feasibility of a particular production process, optimize cell growth conditions, and test different product formulations. These small-scale bioreactors enable researchers to conduct rapid and cost-effective screening of multiple parameters, which can help to identify the optimal conditions for large-scale production. As more companies invest in biologics, the demand for small-scale bioreactors will likely grow. Also, advancements in biotechnology research, such as the emergence of personalized medicine and gene therapy, are expected to drive the market in the forecast period.
Chronic diseases often require long-term treatment, and in many cases, no cures are available. This has led to a growing demand for cell-based therapies, such as stem or gene therapy, which can help manage symptoms or slow disease progression. Small-scale bioreactors are critical tools for developing and manufacturing these therapies. Also, chronic diseases represent a significant public health challenge and are the subject of intense research and development efforts. So, these bioreactors are crucial tools researchers use to develop new treatments and therapies for chronic diseases.
Clinical trials are essential to drug development, where drugs and other biologics are tested in humans to evaluate their safety and effectiveness. During the early stages of clinical trials, researchers typically need to produce small quantities of the drug or biological product for testing in a limited number of patients. This is where small-scale bioreactors emerge, enabling researchers to make small batches of high-quality natural products for early-stage clinical trials. With an increasing number of drugs and biologics entering clinical trials, there is likely a growing demand for small-scale bioreactors that can produce high-quality biological products in small batches.
Report Scope of the Small-scale Bioreactors Market
| | |
| --- | --- |
| Report Coverage | Details |
| Market Size in 2023 | USD 2.21 Billion |
| Market Size by 2032 | USD 7.78 Billion |
| Growth Rate from 2023 to 2032 | CAGR of 15.02% |
| Largest Market | North America |
| Base Year | 2022 |
| Forecast Period | 2023 to 2032 |
| Segments Covered | By Capacity, By Product, By Cells, By Molecules and By End-User |
| Regions Covered | North America, Europe, Asia-Pacific, Latin America and Middle East & Africa |

Market Drivers:
Production of Monoclonal Antibodies
In recent years, monoclonal antibodies (mAbs), particular molecules made to attach to a single antigen, have emerged as one of the most promising therapeutic classes. mAbs are produced in small-scale bioreactors in various contexts, including research and development, clinical trials, and commercial manufacturing. Because they are easily expandable to more significant amounts, if necessary, these bioreactors are perfect for small-scale manufacturing. Additionally, the manufacture of mAb can be done more cheaply and effectively using small-scale bioreactors. This is so that there is less need for manual work, as smaller-scale bioreactors require less space and resources than larger-scale ones and can be easily automated. Small-scale bioreactors also give mAb manufacturers a more regulated environment, which can enhance product consistency and quality. This is particularly crucial for mAbs since they need high purity and specificity to function correctly.
Market Restraints
Competition from Alternative Technologies
Other technologies, such as cell-free protein synthesis or microfluidic devices, which may provide advantages in terms of cost, scalability, and development speed, compete with small-scale bioreactors. These technologies could become more alluring replacements for conventional bioreactors as they advance.
Small-scale bioreactors have a restricted capacity because they are created for research and development. Larger bioreactors are needed when the manufacturing process is scaled up, which may cause the production process to shift significantly.
The kinds of cells or organisms that can be cultivated in small-scale bioreactors may be limited. Environmental elements that can affect the performance of the cells, such as temperature, pH, and dissolved oxygen levels, may also be under their limited control.
Market Opportunities
Demand for High-end Technologies
Small-scale bioreactor manufacturers can automate many of the operations involved in the bioreactor manufacturing process with advanced technologies like artificial intelligence and machine learning. Lower expenses, as well as more reliable and effective production, may result from this. Advanced sensors and analytics can be utilized to monitor and optimize the bioreactor environment in real-time to ensure that the cells or microorganisms are growing in the best conditions possible. Higher yields and higher-quality products may result from this. Biopharmaceutical uses high-end single-use bioreactor systems more frequently since they do not require cleaning or sterilizing between batches. Small-scale bioreactor producers may find this an appealing alternative because it can save time and money. Small-scale bioreactors can be made with more premium materials to increase their strength, durability, and other qualities. These materials include modern metals and innovative polymers. This may result in longer equipment that is less likely to break down or experience other problems.
Impact of COVID-19:
The pandemic has disrupted supply chains for raw materials and components used in bioreactor production. This has resulted in delays in the manufacturing and shipment of bioreactors, affecting the availability of products in the market. Reduction in research activities and funding, particularly in academia and small biotech companies that declined the demand for small-scale bioreactors. However, the outbreak has also increased demand for large-scale bioreactors used in vaccine development and manufacturing. Still, this demand has not necessarily translated into increased demand for small-scale bioreactors.
Segments Insights:
Capacity Insights
Capacity is a critical factor in the small-scale bioreactor market as it directly affects the scale of production that can be achieved. As a result, the capacity of the bioreactor determines the amount of product that can be produced in each batch. The 1L–3L capacity segment dominated the global market regarding market share and revenue. The bioreactors with a working volume of 1L–3L enable the parallel processing and evaluation of several experiments while maintaining the advantages of a larger-scale bioreactor. As a result, the demand for these bioreactors is anticipated to grow dramatically during the following years. Throughout the forecast period, the 3L-5L capacity segment is predicted to increase at the second-fastest rate. For developing R&D fermentation processes, products with 3-5L capacities have several advantages, such as quick system setup, greater size & turnaround flexibility, reduced infrastructure, reduced danger of cross-contamination, and little maintenance need. Selecting a bioreactor with a capacity suitable for your production needs is essential, considering the desired yield, flexibility, and cost-effectiveness.
Product Insights:
With the most significant overall revenue share, the reusable bioreactors market segment dominated the sector. Because reusable bioreactors can create more substantial amounts of products, the pharmaceutical and biopharmaceutical sectors have a greater demand for them.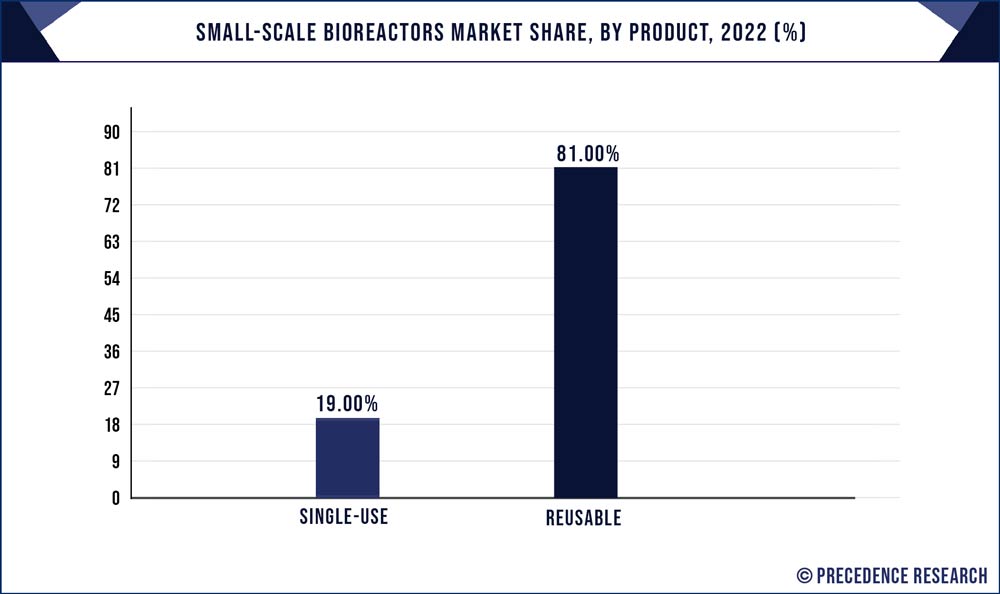 The reusable bioreactor's rigid architecture confers several other advantages, including affordability, longevity, adaptability in accessory arrangement, and ease of handling. These advantages have led to a significant level of market penetration in the area of reusable products. Due to their increased recent use in novel biotech procedures, the single-use bioreactors product sector is anticipated to grow at the quickest rate throughout the projected period. This is mainly attributable to their extraordinary capacity to increase flexibility, reduced investment, and lower operating costs. The segment growth is anticipated due to the advantages single-use products have over other small-scale bioreactors. For instance, a manufacturer of single-use bioprocessing equipment, PBS Biotech, recently closed a USD 10 million private fundraising round with BroadOak Capital Partners.
Cell Insights
The yeast cells, bacterial cells, mammalian cells, and a few other types of cells can all be classified as segments of the bioreactors market. Mammalian cells will be the main area of financial gain. The growing commercial production and research of numerous vaccines and proteins used in medical procedures will result in an increase in the need for bioreactors. Also, these cells may be used to produce viral mimics, which are crucial for regenerative medicine and will considerably boost the revenue from the bioreactors industry.
Molecules Insights
In the upcoming years, the vaccine category will greatly outpace the market in terms of growth. A significant rise has been observed as a result of the recent sharp surge in demand for COVID vaccinations. The need for bioreactors has greatly expanded due to a variety of chronic diseases and rare disorders. The creation of new vaccinations will be accelerated by research and development initiatives. The process of developing vaccinations will encourage market growth.
End-User Insights
The demand for biopharmaceutical products has been growing rapidly over the past few years, which has led to a significant increase in the demand for small-scale bioreactors. Biopharmaceutical companies have been at the forefront of this growth, as they are the primary producers of these products. It ensures that their products meet strict quality standards before they are released to the market. Moreover, they often hold patents on their products, which can give them a competitive advantage. By using, small-scale bioreactors to develop their products, they can protect their intellectual property and maintain their market position.
Regional Insights
North America dominates the small-scale bioreactors with maximum revenue share. As, North America has an established biotech industry, with many companies specializing in biologics production. It also has a strong research and development infrastructure, which includes top universities, research institutions, and pharmaceutical companies that are continuously exploring new and innovative ways to improve bioreactor technology. Further, the government of North America has been supportive of the bioreactor industry, providing funding and tax incentives to encourage the development and adoption of bioreactor technology. This has created a strong market for small-scale bioreactors.
Asia-Pacific has a large population and a growing middle class, which has led to increased healthcare spending and a greater demand for innovative therapies. This has created a favorable environment for the development and adoption of small-scale bioreactors, which are used in the production of biopharmaceuticals, vaccines, and other biotech products. Further, the region has a strong manufacturing base and a growing number of local biotech companies, which has helped to drive the growth of the small-scale bioreactor market in the region. As, the result, many global biotech companies have also expanded their presence in Asia- Pacific to take advantage of the favorable market conditions. However, it is important to note that market conditions can change rapidly, and it is possible that other regions may emerge as fast-growing markets for small-scale bioreactors in the future.
Recent Developments:
In December 2022, Together, Ori Biotech and Inceptor Bio established a new cooperation to support the initial process development to scale up the production of Inceptor's unique CAR-M, CAR-T, and CAR-NK programs. The third partner to sign up for Ori's LightSpeed Early Access Program (LEAP), Inceptor Bio, can now use the fully automated CGT manufacturing platform and digital capabilities before they are commercially available.
In April 2022, Luzhu Biotech and Lonza entered a research and commercial license agreement to use Lonza's Gene Expression System and GS piggyBac transposon technology.
Key Market Players:
Thermo Fisher Scientific Inc.
Danaher Corporation
Esco Lifesciences Group
Sartorius AG
HiTec Zang GmbH
Lonza Group
Miltenyi Biotec
2mag AG
Eppendorf AG
Hansil Scientific Inc
Adolf Kuhner AG
Getinge AB
MicroDigital Co. Ltd
Solaris Biotechnology Srl
Infors AG
MDX Biotechnik International GmbH
Merck KGaA
Biosan
Ori Biotech
Aglaris
AdvaBio
Segments Covered in the Report:
(Note*: We offer report based on sub segments as well. Kindly, let us know if you are interested)
By Capacity
5ml-100ml
100ml-250ml
250ml-500ml
500ml-1l
1l-3l
3l-5l
By Product
By Cells
Bacterial Cells
Yeast Cells
Mammalian Cells
By Molecules
Monoclonal Antibodies
Stem Cells
Recombinant Proteins
Vaccines
Gene Therapy
By End-User
Biopharmaceutical Companies
CRO's & CMO's
Academics & Institutions
By Geography
North America
Europe
Asia-Pacific
Latin America
The Middle East and Africa