The global sodium hydroxide market size surpassed USD 42.5 billion in 2022 and is projected to rise to USD 66.95 billion by 2032, anticipated to grow at a CAGR of 4.7 percent during the projection period from 2023 to 2032.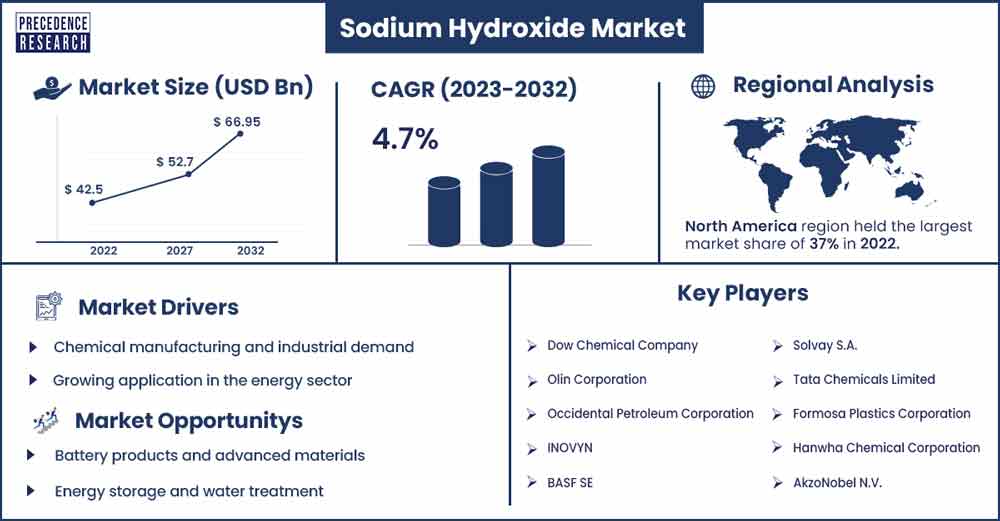 Market Overview
Sodium hydroxide, with the chemical formula NaOH, is a strong and highly versatile inorganic base or alkali. It is commonly referred to as caustic soda or lye. Sodium hydroxide is known for its highly corrosive and alkaline nature. In its pure form, it appears as a white, translucent, and odorless solid at room temperature.
It is highly soluble in water and readily absorbs moisture from the air, making it hygroscopic. Due to its wide range of applications and critical role in various industries, sodium hydroxide is a significant and highly demanded chemical in the global market. Its production typically involves the electrolysis of sodium chloride (table salt) solution, a process known as the chlor-alkali process. This process separates sodium hydroxide, chlorine gas, and hydrogen gas from the salt solution.
In 2022, "Sodium hydroxide (caustic soda), solid" was exported for more than $774 million worldwide, based on data from 72 nations' external trade. Based on data from 82 nations' merchandise trade, it was $528 million the year before.
The sodium hydroxide market is driven by several factors including rising industrialization, growing utilization in the petroleum industry, growing usage in food processing applications and technological advancements. In addition, the need for clean and safe water supplies is a growing concern worldwide. Sodium hydroxide is used in water treatment to adjust the pH of water and reduce corrosion in distribution systems. As populations grow and environmental regulations become more stringent, the demand for sodium hydroxide in water treatment applications increases.
Regional Insights
North America is expected to hold the largest market share over the forecast period. The region has a strong industrial base, and many industries rely on sodium hydroxide. Chemical manufacturing, in particular, is a significant driver, using caustic soda as a key ingredient in the production of various chemicals. The growing water and wastewater treatment in the region is a main factor that propels the market growth. Sodium hydroxide is used to control pH levels and reduce corrosion in water distribution systems, which is crucial for ensuring safe drinking water.
According to the United States Environmental Protection Agency, approximately 34 billion gallons of wastewater are processed daily by wastewater treatment plants in the United States.
Furthermore, due to the region's rise as a global leader in sodium hydroxide consumption as a result of the industrial sector's high technical improvements and the growing demand for chemicals, paper & pulp, and textiles. It is also anticipated that the market will increase due to the ongoing rise in consumer disposable income and the improvement of living standards in highly developed nations like the United States and Canada. Thereby, driving the market growth in the region.
Sodium Hydroxide Market Report Scope
| | |
| --- | --- |
| Report Coverage | Details |
| Market Revenue in 2023 | USD 44.28 Billion |
| Projected Forecast Revenue by 2032 | USD 66.95 Billion |
| Growth Rate from 2023 to 2032 | CAGR of 4.7% |
| Largest Market | North America |
| Base Year | 2022 |
| Forecast Period | 2023 to 2032 |
| Regions Covered | North America, Europe, Asia-Pacific, Latin America, and Middle East & Africa |

Market Dynamics
Drivers
Water and wastewater treatment
The global concern over the availability of safe and clean water supplies is rising. sodium hydroxide is used in water treatment to lower corrosion in distribution systems and modify the pH of the water. In water treatment applications, sodium hydroxide is becoming more and more in demand as populations rise and environmental rules strengthen.
According to the OCHA report, each year 380 billion m3 of municipal wastewater is generated globally, Wastewater production is expected to increase about 24% by 2030 and 51% by 2050. In addition, according to UN Water, high-income countries treat on average about 70% of the wastewater they generate.
Growing application in the energy sector
Numerous techniques may be used to manufacture hydrogen from nonrenewable or sustainable resources. Nevertheless, the lack of large-scale clean hydrogen production technologies is one of the obstacles to establishing a hydrogen economy. The role of sodium hydroxide as a critical component in the synthesis of hydrogen is growing. However, sodium hydroxide's broad utilization is restricted because of its propensity for corrosion and its energy-intensive manufacturing method. In the energy sector, sodium hydroxide is utilized in the production of fuel cells. Similar to batteries, fuel cells provide energy effectively and cleanly for a range of uses, including emergency backup generators, mobility, and material handling. NaOH-based epoxy resins are used in wind turbines. Thus, this is expected to drive the market growth over the forecast period.
Restraints
Environmental concerns
Chlorine gas is a typical byproduct of the chlor-alkali process, which is used to make sodium hydroxide. If not handled appropriately, this gas can harm the environment. The usage of this technique may be restricted in response to growing environmental regulations and worries about chlorine emissions, which may prompt the development of more ecologically friendly alternative manufacturing methods.
Availability of substitutes
Sodium hydroxide can be substituted with other substances or methods in some applications. For instance, surfactants, an alternative to lime, can be used in the manufacturing of detergents, whereas calcium hydroxide (lime) can be utilized in some water treatment applications. These substitutes' rivalry may restrict the market's ability to grow for sodium hydroxide.
Opportunities
Industrial growth
Increasing industrial activity and economic growth are the main factors driving sodium hydroxide demand. Caustic soda is in higher demand as industries like chemicals, textiles, pulp and paper develop as these sectors depend on sodium hydroxide for their operations.
As per research published by the Indian Paper Manufacturers Association (IPMA), the average global paper consumption is 57 kg, however, the per capita consumption of paper in India is now about 13 kg. By 2024–2025, this is expected to rise to at least 17 kg. Thus, this is expected to offer a lucrative opportunity for the market growth.
Battery products and advanced materials
The development of electric vehicles and renewable energy storage solutions has increased the demand for batteries. Sodium hydroxide is used in some battery production processes, and as these industries grow, the demand for the chemical may rise. In addition, Sodium hydroxide can be used in the synthesis of advanced materials such as zeolites and carbon nanotubes. As research and development in nanotechnology and advanced materials continue, sodium hydroxide may find new applications in these fields. Thus, this is expected to offer a lucrative opportunity for market growth over the forecast period.
Recent Developments
In June 2022, the announcement was made by Brenntag that it has formed a 75/25 joint venture with Al-Azzaz Chemicals Co. Despite Brenntag's prior activity in Saudi Arabia, this new venture is expected to increase the company's reach and visibility with one of the biggest distributors of speciality chemicals in the Arabian Peninsula.
In April 2023, a Memorandum of Understanding (MoU) about the cooperative operation for the creation of the chlor-alkali production plant was formally signed by PT Chandra Asri Petrochemical Tbk (TPIA) and Indonesia Investment Authority (INA). Through this Memorandum of Understanding, TPIA's business portfolio at the chlor-alkali plant, PT Chandra Asri Alkali (CAA), will be evaluated for share acquisition by INA and other possible investors. It is anticipated that this industrial plan would produce 400 thousand metric tons of sodium hydroxide, or caustic soda, annually. Moreover, the factory is reported to have a 500 thousand metric ton annual capability to produce ethylene dichloride (EDC).
Key Market Players
Dow Chemical Company
Olin Corporation
Occidental Petroleum Corporation
INOVYN
BASF SE
Solvay S.A.
Tata Chemicals Limited
Formosa Plastics Corporation
Hanwha Chemical Corporation
AkzoNobel N.V.
PPG Industries, Inc.
Tosoh Corporation
Shin-Etsu Chemical Co., Ltd.
FMC Corporation
Westlake Chemical Corporation
Market Segmentation:
By Grade
Solid
50% Aqueous Solution
Others
By Production Process
Membrane Cell
Diaphragm Cell
Others
By Application
Biodiesel
Alumina
Inorganic Chemical
Organic Chemical
Food
Others
Buy this Research Report@ https://www.precedenceresearch.com/checkout/3302
You can place an order or ask any questions, please feel free to contact at sales@precedenceresearch.com | +1 9197 992 333