The global tissue engineering market size surpassed USD 14.09 billion in 2022 and is projected to rise to USD 31.23 billion by 2030, anticipated to grow at a strong CAGR of 10.46 percent during the projection period from 2022 to 2030.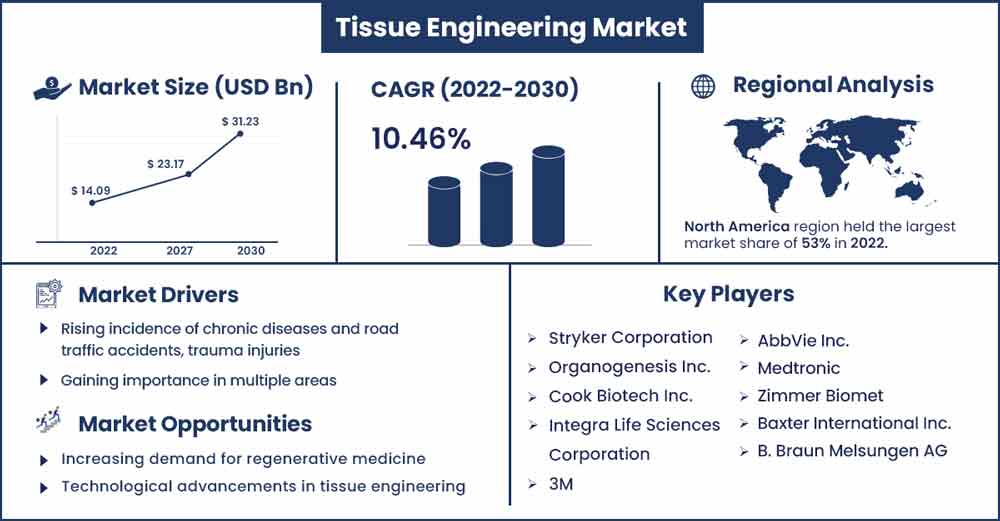 The ability of tissue engineering techniques to heal irreparable tissue damage has fueled market expansion. A surge in the demand for tissue engineering and regenerative medicine methods to repair damaged tissues also contributes to this trend. In order to restore injured tissues, tissue engineering offers substitutes for surgery, organ transplants, and other mechanical devices. The market for tissue engineering is also driven by a rising need for efficient regeneration therapies as a result of an aging population, changing lifestyles, an increase in diabetes and obesity, and an increase in trauma cases. Growth is anticipated to be accelerated by technological developments in 3D tissue engineering, including the utilization of organ-on-a-chip technology, the replacement of embryonic cells with stem cells, and the efficient design of in vitro implants using 3D bioprinters.
Additionally, throughout the projection period, the market for tissue engineering would benefit from a rise in government funding for medical and academic research activities. The therapeutic potential of stem cell treatments spans a wide range of clinical applications. As a result, there have been significant global expenditures in both clinical translation and research. Stem cell research is advancing quickly, which helps with better illness management. So, as the prevalence of cancer, diabetes, and other chronic diseases has grown, so has research into stem cells.
Using cultivated stem cells, researchers are reprogramming stem cells to repair an organ's natural function or create an artificial organ transplant. Since stem cells have several uses, the tissue engineering industry is anticipated to profit from this. For instance, sophisticated stem cell-based reprogramming technologies are anticipated to displace artificial pacemakers. Due to the growing organ damage caused by COVID-19 and the rising number of tissue engineering applications, the COVID-19 pandemic had a positive effect on the global tissue engineering market. Tissue engineering (TE) strategies may be used to treat the harm with their interdisciplinary approaches. The injured tissues and organs might benefit from the creation of biomaterials, scaffolds, and medication delivery systems by tissue engineers. The main market companies were concentrating on creating and gaining permission for cutting-edge technologies like 3D printing.
Report Highlights:
Due to a sharp rise in the prevalence of cardiovascular illnesses throughout the world, the sector for cardiology and vascular tissue engineering is predicted to develop at the greatest pace during the analysis period.
The category for biologically derived materials is anticipated to dominate the market in 2022. A biomaterial is essential for the advancement of tissue engineering & biomedical technologies that innately boost tissues' capacity for regeneration in order to repair deteriorating physiological mechanisms.
In 2022, North America's revenue share was the highest, mostly because of the region's expanding elderly population and increased awareness of stem cell treatment. Due to the availability of government funding as well as considerable expenditures made by private groups, the United States is anticipated to account for a sizeable portion of global income.
The market's development rate is largely being accelerated by the rising prevalence of chronic illnesses and injuries, higher knowledge of tissue engineering, rising technical breakthroughs, and the accessibility of refined goods.
During the projection period, factors including a lack of qualified experts, a lack of knowledge of tissue engineering professionals, and rigorous regulatory policies of the relevant governments are projected to impede market growth.
Tissue Engineering Market Report Scope:
| | |
| --- | --- |
| Report Coverage | Details |
| Market Revenue in 2023 | USD 15.57 Billion |
| Projected Forecast Revenue in 2030 | USD 31.23 Billion |
| Growth Rate from 2022 to 2030 | CAGR of 10.46% |
| Largest Market | North America |
| Base Year | 2022 |
| Forecast Period | 2022 To 2030 |
| Regions Covered | North America, Europe, Asia-Pacific, Latin America, and Middle East & Africa |

Regional Snapshots:
During the forecast period, North America is expected to have a significant market share in the global tissue regeneration market. The region's tissue regeneration market is expected to be driven by new product releases, the existence of major market players that place a strong emphasis on research and development, and an increase in the incidence of chronic illnesses over the coming years.
Due to an increase in the number of elderly people, the tissue regeneration market in the Asia Pacific is anticipated to expand quickly throughout the projected period. Government programs to improve the region's healthcare infrastructure will also probably boost demand.
For example, the prevalence of chronic kidney disease (CKD) in the general population is predicted to reach 14% globally in February 2022, according to the American Chemical Society.
Market Restraints:
There are a number of issues with current tissue engineering techniques, including ineffective cell growth, unstable and insufficient growth factor production, which is necessary to stimulate cell communication and response, and a lack of suitable biomaterials as well as techniques to capture suitable physiological architectures. Other restrictions related to tissue engineering include issues with biomolecular detection and biosensors as well as the inability to manage cellular processes and their many characteristics. Additionally, despite the rising interest in tissue engineering research, the expensive cost of the therapy and the pace of advancement is impeding the market's expansion.
Market Opportunities:
The desire for more effective medical treatments and the rise in chronic illnesses are driving the need for qualified tissue engineering researchers, which is anticipated to propel market expansion over the course of the projected period. There is a demand for more efficient medical treatments due to the aging population and the increase of chronic illnesses, and as a result, there is a need for qualified tissue engineering researchers to develop these technologies. This is a key element that is anticipated to fuel the market's expansion.
Alternatives to surgical reconstruction, transplanting, and using mechanical devices to restore injured tissues include tissue engineering. For instance, the National Library of Medicine stated in March 2020 that severe motor and sensory functional deficits from spinal cord injury (SCI) influence the personal and social behaviors of an estimated three million people globally and that 180,000 new instances are recorded year. A thorough understanding of tissue engineering's mechanics is crucial as the technology is developed for usage in many other sectors, notably the biomedical one.
Market Challenges:
The market for tissue engineering faces several severe practical issues, such as the lack of tissue biopsy material and the increasing challenges associated with cell multiplication in order to retain the phenotypic. Although the top industry participants have seen ongoing refinement and advancement of tissue engineering methods.
Recent Developments:
Integra LifeSciences Holding Corporation reported successful trial results for PriMatrix Dermal Repair Scaffold to treat difficult-to-heal diabetic foot ulcers in July 2021.
In May 2021, Allevi, Inc., a technological business that produces 3D bioprinters and bioinks, was acquired by 3D Systems, a prominent provider of 3D printing, in order to advance the regenerative medicine effort by fostering rapid expansion in medical and pharmaceutical research facilities.
Major Key Players:
Stryker Corporation
Organogenesis Inc.
Cook Biotech Inc.
Integra Life Sciences Corporation
3M
AbbVie Inc.
Medtronic
Zimmer Biomet
Baxter International Inc.
DePuy Synthes (Johnson & Johnson Services, Inc.)
B. Braun Melsungen AG
Market Segmentation:
By Application
Cord blood & Cell Banking
GI, Gynecology
Cancer
Skin & Integumentary
Dental
Orthopedics, Musculoskeletal, & Spine
Neurology
Urology
Cardiology & Vascular
Others
By Material Type
Synthetic Material

Synthetic Polymers
Others

Biologically Derived Material
Others
By End-Use
Regenerative medicine research
Hospitals
Healthcare and medical institutes
Others
Buy this Research Report@ https://www.precedenceresearch.com/checkout/2268
You can place an order or ask any questions, please feel free to contact at sales@precedenceresearch.com | +1 9197 992 333