The global servo motors and drives market size was valued at USD 18.56 billion in 2022 and is projected to hit around USD 36.41 billion by 2032, growing at a CAGR of 6.97% during the forecast period from 2023 to 2032. The Asia-Pacific region is predicted to generate the highest market share between 2023 and 2032.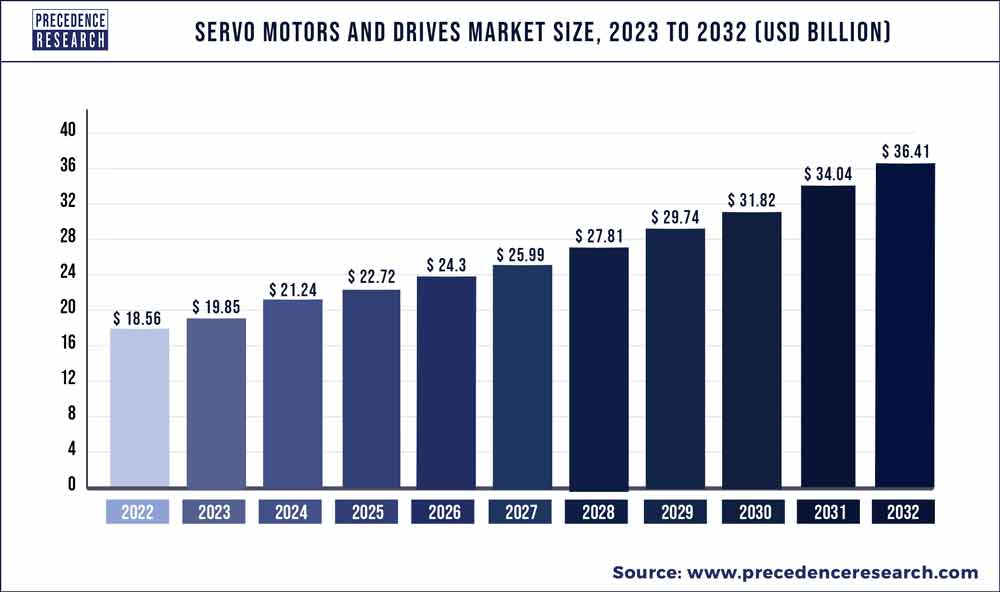 Servo motors and drives are integral components in motion control systems, used to regulate the position, speed, and acceleration of machinery and equipment. Specifically, a servo motor is an electric motor that is engineered to deliver precise control over its movements, while a servo drive is an electronic apparatus that supplies the requisite power and control signals to the servo motor. By working together, servo motors and drives enable greater accuracy and reliability in motion control systems, making them essential components for numerous industries that require precise control over their operations. The servo motors and drives industry is responsible for manufacturing and distributing components used in motion control systems. These components are utilized in a wide range of applications such as industrial automation, robotics, aerospace, and medical devices.
Due to the ever-increasing demand for automation in various industries, as well as technological advancements that enable more precise control and higher efficiency, the market for servo motors and drives is expected to expand. The emergence of Industry 4.0 and the Internet of Things (IoT) is also predicted to drive growth in this sector. With more and more industries adopting automated processes, the need for servo motors and drives is expected to rise. These components enable precise control over motion and provide higher efficiency, which translates to significant cost savings in the long run. Additionally, as Industry 4.0 and IoT continue to gain traction, there will be greater demand for sophisticated motion control systems, which will fuel further growth in this industry.
Growth Factors:
The emergence of energy-efficient motor systems, driven by recent technological progressions and the implementation of government regulations like the Minimum Energy Performance Standards (MEPS) in various countries, is boosting growth in the servo motor and drive market. These energy-efficient systems are designed to minimize power consumption and reduce carbon emissions, making them more environmentally friendly and cost-effective for users.MEPS are regulations that establish minimum energy performance requirements for motors, which are widely used in industrial processes. These regulations aim to reduce energy consumption and promote the use of energy-efficient technologies. As more countries implement MEPS, the demand for energy-efficient servo motor and drive systems is expected to increase significantly.
The servo motors' most noteworthy advantage is the flexibility they offer in machine tool operations. They overcome wear and malfunction problems related to traditional gears, belts, and pulleys, thereby enhancing productivity, reliability, and machine throughput. This attribute results in improved operational efficiency.
Moreover, developments in the market have placed high priority on peak torque, acceleration, and compact design. Servo motors are designed to deliver high peak torque, which is essential for many industrial applications. They also offer high acceleration, allowing for faster and more precise movements. These features are especially critical in industries such as CNC machining, robotics, and advanced automated manufacturing, where precision and speed are vital.
As more countries strive to achieve digitization, governments are increasingly becoming involved in the process. This trend is expected to create a more conducive business environment, especially as more investment is being directed toward infrastructure development. One area that is expected to benefit from this trend is the industrial sector, where there is a growing demand for high-speed and precision motor systems. This has led to an increase in the use of servo motors and amplifiers.
The market expansion for these technologies is further expected to be driven by technological progress, which is enabling the development of more advanced and efficient motor systems. Additionally, regulatory tax rebate policies aimed at encouraging operational updates are also expected to provide a boost to the market. Overall, the outlook for the servo motor and amplifier market is positive, as these technologies become increasingly essential in various industries.
The growing implementation of energy-efficient global norms is propelling the requirement for servo motors and drives. These technologies offer high accuracy, speed, and size reduction, making them a desirable choice for multiple sectors.
Report Scope of the Servo Motors and Drives Market:
| | |
| --- | --- |
| Report Coverage | Details |
| Market Size in 2023 | USD 19.85 Billion |
| Market Size by 2032 | USD 36.41 Billion |
| Growth Rate from 2023 to 2032 | CAGR of 6.97% |
| Largest Market | Asia-Pacific |
| Base Year | 2022 |
| Forecast Period | 2023 to 2032 |
| Segments Covered | By Type and By Application |
| Regions Covered | North America, Europe, Asia-Pacific, Latin America and Middle East & Africa |

Key Market Drivers:
Adoption of the energy international standards
With a growing focus on energy efficiency and environmental sustainability, governments and organizations worldwide are increasingly implementing regulations and standards for energy consumption and emissions. Additionally, as automation technology continues to advance, servo motors and drives are finding new applications in various sectors. Moreover, the inclusion of motor control components in motors is also contributing to the growth of the servo motors and drives market. These components help improve motor performance and efficiency, thereby increasing the demand for servo motors and drives.
Furthermore, energy international standards are driving the adoption of high-efficiency servo motors and drives in industries such as automotive, packaging, food and beverage, and others. Manufacturers are increasingly investing in R&D to develop advanced servo motors and drives that meet these energy efficiency standards, thereby increasing the demand for these products in the market.
Key Market Challenges:
Complex installation and maintenance
Servo motors and drives are sophisticated components that demand specialized knowledge and expertise to properly install and maintain. For many companies lacking the necessary in-house expertise, the task of finding and hiring external contractors to install and maintain their servo motors and drives can be a significant challenge. Due to their complex nature, servo motors and drives require a high level of technical expertise to install and operate. Without the proper knowledge, mistakes can be made during installation or maintenance, leading to performance issues or even failure of the equipment.
Key Market Opportunities:
Expansion into emerging markets
Servo motors and drive manufacturers have a valuable opportunity to tap into emerging markets in India, China, and Southeast Asia. These regions are currently experiencing substantial growth in industries such as manufacturing, automotive, and construction, which creates a significant potential demand for servo motors and drives. As the manufacturing sector in these regions continues to grow, the demand for automation and precision control systems is also increasing. Servo motors and drives are essential components in these systems, providing high levels of accuracy and efficiency, making them a crucial factor in the growth of these industries.
Segments Insight:
Type Insights:
The AC motor segment is predicted to achieve the highest compound annual growth rate (CAGR) during the forecast period. The growing popularity of electric vehicles is anticipated to be a key driver of this growth, as AC motors are commonly used in these vehicles due to their lighter weight and smaller size. AC motors are also widely used in various industries such as home appliances, HVAC systems, and manufacturing facilities, as they are highly efficient and cost-effective. They typically have low or no maintenance costs, making them an attractive option for businesses looking to reduce operating expenses.
As demand for electric vehicles and energy-efficient equipment continues to rise, the market for AC motors is expected to expand significantly in the coming years. The use of AC motors in a range of applications, combined with their superior efficiency and low maintenance costs, make them a highly sought-after technology in the industrial and commercial sectors. In summary, the AC motor segment is set to experience robust growth in the forecast period, primarily driven by the surging demand for electric vehicles. With their numerous advantages, such as being lightweight, small-sized, cost-effective, and requiring low maintenance, AC motors are an attractive choice for a variety of industries and applications.
Application Insights:
The increasing demand for electric and hybrid vehicles is driving the demand for servo motors and drives in the automotive sector. Servo motors and drives are used in electric power steering, braking systems, and engine cooling systems, among others. Additionally, the implementation of automation tools in various application industries has led to reduced operational time and cost savings in manufacturing and inventory processes. Recent advancements in technology, such as the integration of hardware and software, have expanded the capabilities and applications of AC servo motors.
Furthermore, Servo motors and drives are used in various applications in the oil and gas industry, such as pumps, compressors, and drilling equipment. The increasing demand for oil and gas is driving the growth of servo motors and drives the market in this sector. Moreover, Servo motors and drives are used in medical devices such as surgical robots, CT scanners, and MRI machines. The increasing demand for advanced healthcare equipment is driving the growth of servo motors and driving the market in the healthcare sector.
Regional Insights:
During the forecast period, the Asia-Pacific region is expected to hold the largest market share in servo motors and drives the market. This is due to the increasing number of oil and gas refineries to meet the growing demand for energy and power generation in the region. Additionally, the need for power-efficient voltage systems to support industrialization, urbanization, and population growth in developing economies like China and India is expected to fuel market growth. The demand for goods and services across multiple industry sectors in the region is also expected to drive the growth of the servo motors and drives market.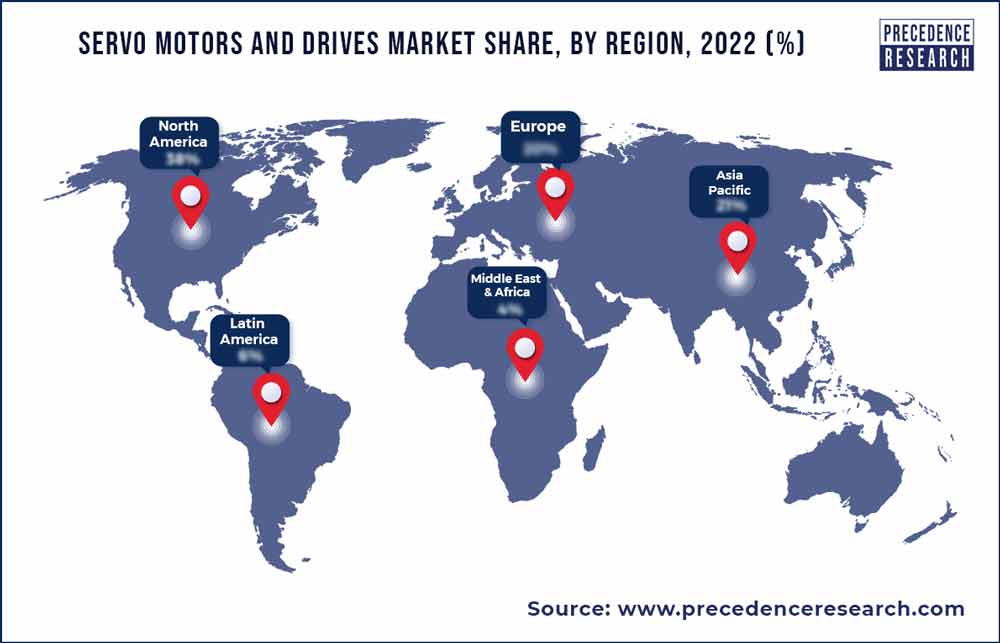 The global servo motors and drives market is expected to grow steadily, driven by the increasing adoption of automation in various industries. The North American market, in particular, is significant due to high demand from industries like automotive, food and beverage, packaging, and aerospace. Some of the leading players in the North American servo motors and drives market include ABB, Siemens, Schneider electric, Yaskawa electric corporation, and rockwell automation. These companies are investing in research and development to enhance the efficiency and performance of their servo motors and drives, as well as developing new products to meet the changing needs of their customers.
The automotive industry is a significant consumer of servo motors and drives in North America, driven by the increasing demand for electric and hybrid vehicles. The food and beverage industry is also a major user of servo motors and drives for various applications such as packaging, filling, and labeling.
Recent Developments:
Delta, a notable worldwide supplier of industrial automation solutions, demonstrated its top-performing industrial automation system portfolio in 2022 and the SPS Italia occasion in May. The objective was to meet the rising market's demand for intelligent manufacturing and production solutions.
Key Market Players:
ABB Ltd.
Siemens AG
Schneider Electric SE
Yaskawa Electric Corporation
Rockwell Automation, Inc.
Mitsubishi Electric Corporation
Delta Electronics, Inc.
Emerson Electric Co.
Parker Hannifin Corporation
Kollmorgen Corporation
Oriental Motor Co., Ltd.
Moog Inc.
Fuji Electric Co., Ltd.
Lenze SE
BonfiglioliRiduttori S.p.A.
Segments Covered in the Report:
(Note*: We offer report based on sub segments as well. Kindly, let us know if you are interested)
By Type
AC Servo Motor
DC Brush Less Servo Motor
Brushed DC Servo Motor
Linear Servo Motor
AC Servo Drive
DC Servo Drive
Adjustable Servo Drive
Other
By Application
Automotive
Oil and Gas
Healthcare
Packaging
Semiconductor and Electronics
Chemicals and Petrochemicals
Other
By Geography
North America
Europe
Asia-Pacific
Latin America
Middle East and Africa