The global small commercial vehicle market size surpassed USD 482.20 billion in 2022 and is anticipated to reach around USD 819.74 billion by 2032, registering a CAGR of 5.5% during the forecast period 2023 to 2032.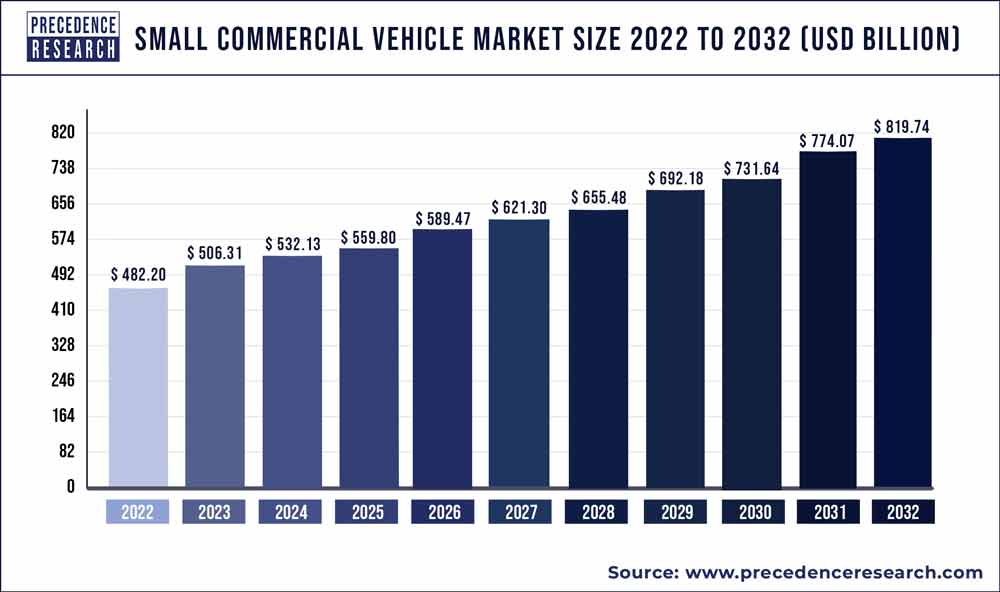 Access our Premium Real Time Data Intelligence Tool, Visit: Precedence Statistics
Key Takeaways
North America led the global market with the major market share of 56% in 2022.
Asia-Pacific is expected to grow at the fastest CAGR of 8.1% during the forecast period.
By Fuel Type, the diesel segment has held the maximum revenue share of 65% in 2022.
By Fuel Type, the gasoline segment is projected to expand at a notable CAGR of 6.7% during the projected period.
By Application Type, the bus segment had the largest market share of 26% in 2022.
By Application Type, The SUVs segment is anticipated to grow at the fastest CAGR over the projected period.
Small Commercial Vehicle Market Overview
The small commercial vehicle market pertains to the sector within the automotive industry focused on compact vehicles designed for transporting limited quantities of goods or people. These automobiles typically possess a reduced payload capacity and exhibit smaller dimensions compared to their larger commercial counterparts. SCVs are particularly favored in metropolitan and suburban environments, where they excel in tasks such as local deliveries, passenger conveyance, and managing modest-scale logistics. Their appeal lies in their agility, fuel efficiency, and adaptability for navigating through congested city thoroughfares.
The SCV market is marked by intense competition, with numerous manufacturers offering a diverse array of models tailored to the multifaceted demands of businesses and individuals in this niche.
Small Commercial Vehicle Market in the U.S. 2023-2032
The U.S. small commercial vehicle market size was valued at USD 156.62 billion in 2022 and is estimated to hit around USD 266.25 billion by 2032, growing at a CAGR of 5.5% from 2023 to 2032.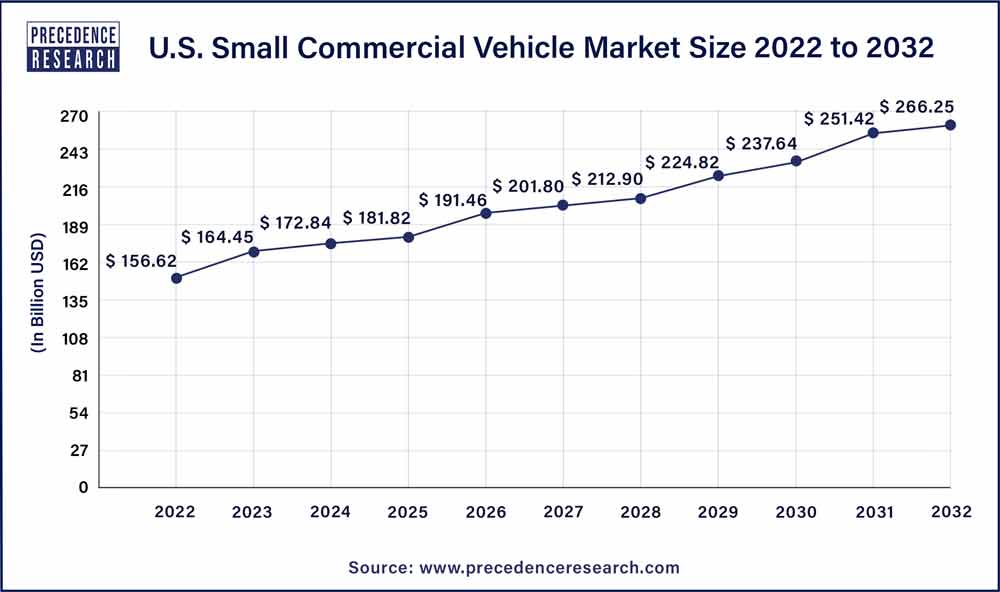 North America has held the largest revenue share 56% in 2022. North America commands a substantial share in the small commercial vehicle (SCV) market due to several factors. The region's strong economy fosters businesses reliant on SCVs for logistics, deliveries, and transportation. Robust infrastructure, including extensive road networks, supports SCV usage. Additionally, the surge in e-commerce and home deliveries, especially during the COVID-19 pandemic, amplified demand for SCVs. Moreover, North America has seen increased interest in eco-friendly electric SCVs, aligning with sustainability goals. These combined elements make North America a pivotal market for SCVs, solidifying its major share in the industry.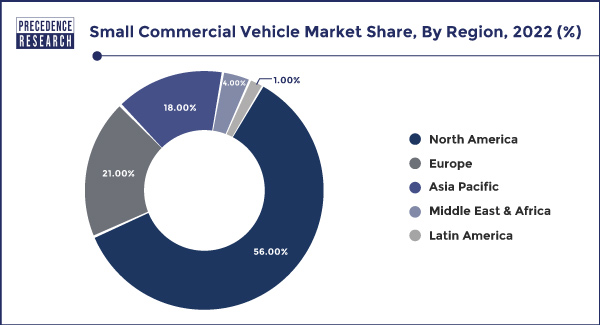 Asia-Pacific is estimated to observe the fastest expansion with the highest CAGR of 8.1% during the forecast period. The Asia-Pacific region dominates the small commercial vehicle (SCV) market due to several key factors. First, the region's rapid urbanization and population growth have increased the demand for efficient urban transportation and last-mile delivery solutions, where SCVs excel. Second, the thriving e-commerce sector has boosted the need for SCVs in logistics and delivery services. Third, cost-conscious consumers and businesses in the region often prefer the affordability and fuel efficiency of SCVs. Finally, the presence of established automotive manufacturers and a focus on developing electric and hybrid SCVs align with the region's commitment to sustainability, further bolstering its growth in the SCV market.
Growth Factors
The small commercial vehicle (SCV) market is a dynamic segment within the automotive industry, characterized by compact vehicles tailored for the transportation of limited quantities of goods or passengers. In recent years, several industry trends and growth drivers have fueled its expansion. These include increasing urbanization, rising e-commerce activities, and a growing emphasis on last-mile logistics. SCVs have become crucial for businesses seeking cost-effective and efficient solutions for local deliveries and urban mobility.
One significant growth factor for the SCV market is the global shift toward urban living. As more people move to cities, the demand for compact, maneuverable vehicles for transportation and delivery within congested urban environments has surged. Additionally, the exponential growth of e-commerce and online shopping has heightened the need for SCVs to facilitate quick and efficient last-mile deliveries. These factors have propelled the SCV market forward, creating lucrative opportunities for manufacturers.
While the SCV market presents substantial growth prospects, it also faces several challenges. One notable challenge is the need for continuous innovation in design and technology. As environmental concerns grow and emissions regulations tighten, there is a pressing demand for eco-friendly SCVs. This requires substantial research and development efforts to produce electric and hybrid SCVs that meet both environmental standards and market demands.
Moreover, increasing competition among manufacturers and the need to keep prices competitive can strain profit margins. Balancing affordability with features and capabilities is a delicate task for SCV manufacturers. Supply chain disruptions and rising material costs further add to the challenges in the industry.
Nevertheless, within these challenges lie promising business opportunities. Manufacturers have the chance to diversify their product offerings by introducing electric SCVs and autonomous delivery vehicles, capitalizing on the growing interest in green technology and autonomous solutions. Collaborations with logistics companies to create integrated last-mile delivery solutions are also emerging as a viable avenue for growth.
In summary, the small commercial vehicle market is experiencing robust growth due to urbanization, e-commerce, and last-mile delivery demands. However, the industry faces challenges such as stringent emissions standards, competitive pricing, and supply chain disruptions. To thrive, manufacturers must seize opportunities in electric and autonomous SCVs and explore partnerships with logistics companies to cater to the evolving needs of urban transportation and logistics.
Small Commercial Vehicle Market Scope
| | |
| --- | --- |
| Report Coverage | Details |
| Growth Rate from 2023 to 2032 | CAGR of 5.5% |
| Market Size in 2023 | USD 506.31 Billion |
| Market Size by 2032 | USD 819.74 Billion |
| Largest Market | North America |
| Base Year | 2022 |
| Forecast Period | 2023 to 2032 |
| Segments Covered | By Fuel Type and By Application Type |
| Regions Covered | North America, Europe, Asia-Pacific, Latin America, and Middle East & Africa |

Small Commercial Vehicle Market Dynamics
Driver
Regulatory emissions standards
The escalation of regulatory emissions standards is acting as a compelling catalyst propelling the growth of the small commercial vehicle (SCV) market. Governments across the globe are imposing progressively rigorous emissions regulations to combat environmental challenges like air pollution and climate change. These mandates exert a direct influence on the automotive sector, compelling manufacturers to engage in intensive research and development endeavors aimed at crafting cleaner, more fuel-efficient SCVs. In response to these stringent standards, SCV producers are making substantial investments to create electric and hybrid SCV variants. These innovative vehicles offer reduced emissions and heightened fuel efficiency when compared to conventional internal combustion engine SCVs. Consequently, businesses and fleet operators are increasingly embracing these environmentally conscious alternatives as a means of both complying with emissions regulations and lessening their ecological impact.
Furthermore, governmental incentives and subsidies designed to promote the adoption of electric and hybrid vehicles serve as additional incentives, motivating businesses to invest in SCVs that align with or surpass emissions standards. This synchronicity between regulatory pressures and the market's aspiration for eco-friendly vehicles underscores the significance of regulatory emissions standards as a prominent driving force for the SCV market's expansion. It positions SCVs as an appealing choice for businesses seeking to navigate the ever-evolving terrain of emissions compliance and sustainability.
Restraints
Infrastructure limitations
Infrastructure limitations serve as a significant restraint on the growth of the small commercial vehicle (SCV) market. One of the primary challenges is the inadequate charging infrastructure for electric SCVs. As the market increasingly embraces electric and hybrid SCVs for their environmental benefits, the lack of accessible charging stations, particularly in some regions, hampers their adoption. Businesses and individuals may be hesitant to invest in electric SCVs if they do not have reliable and convenient access to charging facilities. This infrastructure limitation can slow down the transition to cleaner transportation options.
Moreover, the availability of suitable parking and loading areas for SCVs, especially in urban environments, can be constrained. This can affect the feasibility of using SCVs for last-mile deliveries or commercial operations. Efforts to expand charging infrastructure and create dedicated spaces for SCVs in urban planning are essential to alleviate these limitations and promote the growth of the SCV market, particularly in the context of sustainable and eco-friendly transportation solutions.
Opportunities
Electric and hybrid SCVs
Electric and hybrid small commercial vehicles (SCVs) are ushering in transformative opportunities within the market. With an increasing global focus on environmental sustainability and stringent emissions regulations, these eco-friendly SCVs are positioned as a compelling solution. They not only enable businesses to reduce their carbon footprint but also align with government incentives and subsidies promoting electric mobility.
Moreover, the expansion of charging infrastructure, coupled with advances in battery technology, is making electric SCVs more practical and accessible. These vehicles offer reduced operating costs, as electricity is generally more economical than traditional fuels, and they require less maintenance. As a result, businesses can enjoy long-term cost savings, enhancing their competitiveness.
Furthermore, the growing consumer demand for eco-conscious products and services is driving businesses to adopt electric SCVs, opening up new markets and revenue streams. Overall, electric and hybrid SCVs represent a pivotal opportunity to cater to environmentally conscious consumers, comply with regulations, and bolster economic sustainability for both businesses and the SCV market as a whole.
Impact of COVID-19
The COVID-19 pandemic had a multifaceted impact on the small commercial vehicle (SCV) market. Initially, lockdowns and economic uncertainty led to a decrease in demand as businesses postponed purchases. Supply chain disruptions also affected production. However, the pandemic accelerated the shift towards e-commerce, increasing the need for last-mile delivery, and boosting demand for SCVs. Additionally, safety concerns led to a preference for individual mobility over shared transportation, further driving SCV sales. Supply chains adapted, focusing on resilience. Overall, the pandemic created short-term challenges but long-term opportunities for the SCV market, emphasizing its role in a changing economic landscape.
Fuel Type Insights
According to the fuel type, the diesel sector has held 65% revenue share in 2022. Diesel holds a major share in the small commercial vehicle (SCV) market primarily due to its efficiency and cost-effectiveness for heavy-duty applications. Diesel engines offer higher torque and fuel efficiency, making them well-suited for transporting goods over longer distances and carrying heavier loads, crucial for many commercial operations.
Furthermore, diesel fuel is often more readily available than alternative fuels in various regions, ensuring consistent supply. Although environmental concerns have led to the rise of electric and hybrid SCVs, diesel's robust performance and established infrastructure continue to make it a preferred choice for businesses requiring dependable, long-distance transportation solutions.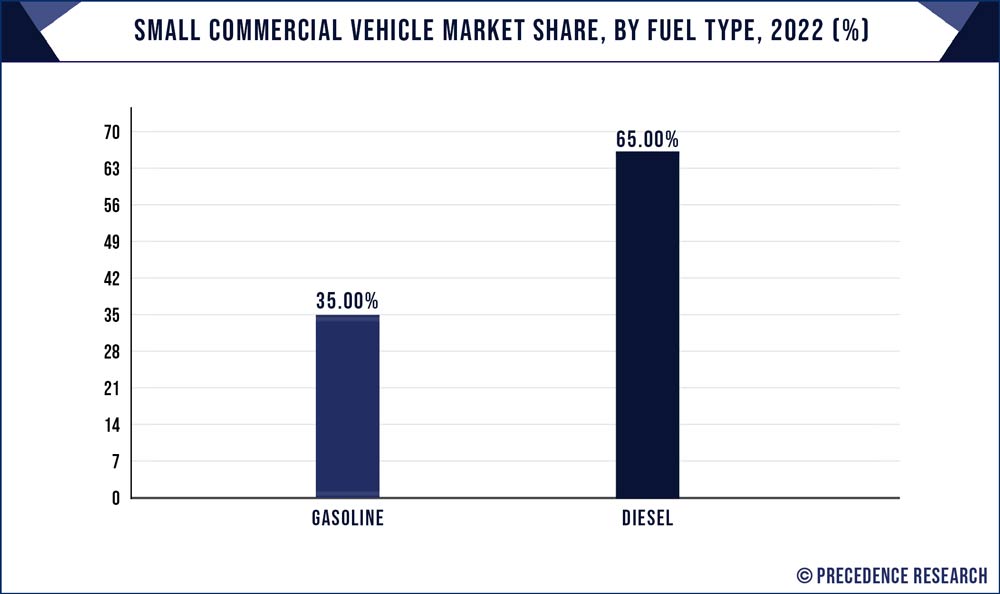 The gasoline sector is anticipated to expand at a significantly CAGR of 6.7% during the projected period. The gasoline segment holds a major growth in the small commercial vehicle (SCV) market primarily due to its widespread availability and lower upfront cost compared to alternative fuels like diesel or electric. Gasoline-powered SCVs are typically more affordable to purchase and maintain, making them attractive to small businesses and individual buyers. They also offer good fuel efficiency and are well-suited for urban and suburban use, where many SCVs operate. Additionally, gasoline engines emit fewer pollutants than diesel, aligning with emissions regulations. While electric SCVs are growing, gasoline remains a popular choice for its affordability and convenience.
Application Type Insights
In 2022, the bus segment had the highest market share of 26% on the basis of the application type. The bus segment holds a significant share in the small commercial vehicle (SCV) market due to its diverse applications. Buses serve as a crucial mode of public transportation in urban and suburban areas, meeting the growing demand for efficient and affordable mobility solutions.
Additionally, they find applications in tourism, school transportation, and corporate shuttles. Their versatility and ability to transport larger passenger groups make them a popular choice. Moreover, governments often invest in public transportation infrastructure, contributing to the sustained demand for buses in the SCV market, both for commercial and public sector use.
The SUVs segment is anticipated to expand at the fastest rate over the projected period. SUVs (Sport Utility Vehicles) hold significant growth in the small commercial vehicle (SCV) market due to their versatility and adaptability across various applications. They are preferred for both passenger and cargo transport, making them highly versatile for businesses and individuals. SUVs offer ample space, robust performance, and the ability to navigate diverse terrains, making them ideal for last-mile deliveries, transportation services, and various commercial applications. Their popularity also stems from their appeal to consumers seeking a combination of personal and commercial use, contributing to their dominant growth in the SCV market's application segment.
Recent Developments
In August 2022, Ashok Leyland announced its plans to introduce an electric light commercial vehicle in India by mid-2023. This move aligns with their commitment to advancing electric mobility in the country.
In May 2022, Tata Motors entered into a strategic Memorandum of Understanding (MoU) with prominent e-commerce and logistics service providers, including Amazon, BigBasket, City Link, DOT, Flipkart, LetsTransport, MoEVing, and Yelo EV. Under this MoU, Tata Motors is set to supply a substantial fleet of 39,000 ACE electric vehicles to support the logistics needs of these companies.
In May 2022, Tata Motors launched the Ace EV, an electric variant of its renowned Ace truck model. This marks Tata Motors' entry into the growing segment of small electric trucks designed for efficient freight delivery in India. The Ace EV boasts a 27kW (36hp) motor with 130Nm of peak torque and an impressive range of up to 158 kilometers on a single charge.
In February 2022, BYD introduced a new all-electric Type A school bus in the United States. This battery-powered bus comes in three different lengths (26.7 feet, 24.5 feet, and 22.9 feet), offering flexibility for routes with varying student populations. Notably, the BYD Type A features the innovative Predictive Stop Arm, enhancing student safety by monitoring oncoming traffic and signaling students when it's safe to disembark.
Small Commercial Vehicle Market Players
Hyundai Motor
Bajaj Auto
Renault
Nissan Motor
Mazda Motor
Isuzu Motors
Shaanxi Automobile Group
Shenyang Brilliance Jinbei Automobile
Ashok Leyland
Volkswagen AG
Toyota Motor Corporation
TATA Motors
Golden Dragon
Navistar International
General Motors
Ford Motor
Nissan Motor
Chongqing Changan Automobile
Anhui Jianghuai Automobile
Atul Auto
Segments Covered in the Report
By Fuel Type
By Application Type
Bus
Truck
Crossover
SUVs
Vans
By Geography
North America
Europe
Asia-Pacific
Latin America
Middle East and Africa