The global starch derivatives market size was estimated at USD 77.64 billion in 2022 and is expected to hit around USD 127.07 billion by 2032, poised to grow at a compound annual growth rate (CAGR) of 5.10% from 2023 to 2032. The food and Beverages segment had the largest market share of 56% in 2022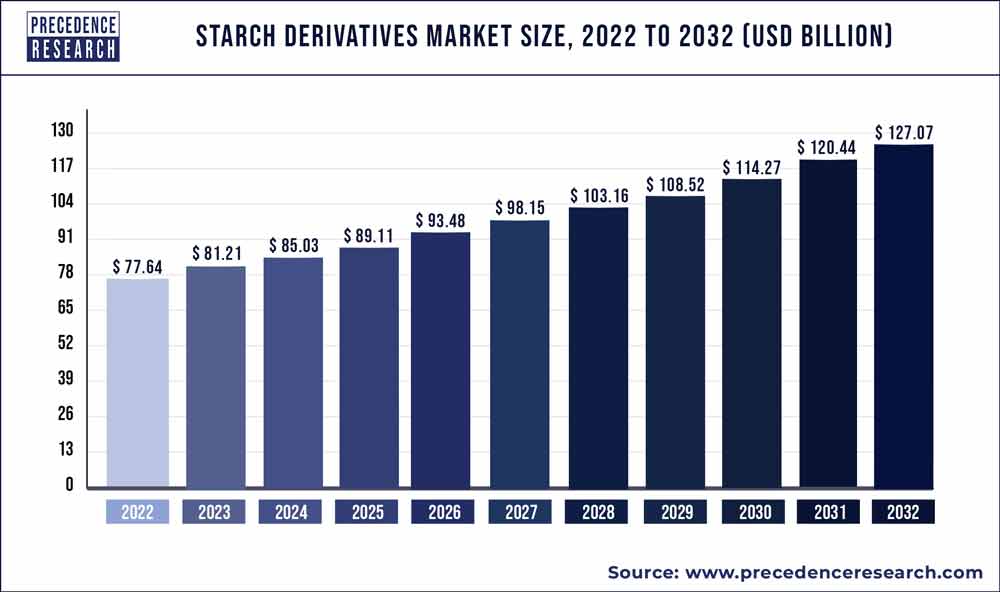 Starch derivatives, commonly referred to as modified starch, are draw up by modifying native starch by physical, enzymatic or chemical means. Different businesses employ derivatives of starch for a variety of purposes. They are employed in the food and beverage business as thickeners and stabilizers, in the pharmaceutical sector as a tablet binder, in the cosmetics sector as an emulsifier, and in the animal feed sector as a fiber additive. Other tasks performed by starch derivatives include improving flocculation, adhesiveness, film formation, pH stability, shear stability, acid stability, and process tolerance.
Growth factors
The rising demand for food as a result of rising global population and disposable income levels

The use of starch derivatives in the food and beverage industries

Rising population and rising per-capita income

Rising demand for convenient foods and beverages in developing nations
In the food business, starch derivatives are used as thickeners, emulsifiers, gelling agents, and film-forming additives, making up more than half of the market for starch derivatives. Additionally, the spectrum of applications for modified starches has significantly expanded due to their improved functioning. Starches' functional attributes play a crucial role in how well they operate in the marketplace.
A major factor driving the food industry and, in turn, the market for starch derivatives is the growing worldwide population and the rise in disposable personal income. It is a well-liked product in the pharmaceutical, paper, textile, and numerous other industries because to its low production costs, simplicity of processing, biodegradability, outstanding physiochemical qualities, and high calorific value. Market expansion is probably advantageous due to shifting customer preferences for a healthy appetite and growing consumer concerns about nutrition and health. Over the forecast period, penetration will rise due to the soaring demand for natural sweeteners in soft drinks and energy drinks without carbonation. Increased usage of the component in a variety of industries, including the production of biofuels, and glue, is projected to support market penetration.
Moreover, it is employed as a culture medium, as a bulking agent, a caking agent, a dehumidifier, and as a bulking agent in the chemical, agricultural, medical, and healthcare industries. Corrugated paper, surface sizer, layer binder, and gummed tape are all used in the paper and pulp industry as wet end additives. The textile industry uses it for printing, warp sizing, spray sizing, finishing, and glass fibers. Additionally, they are employed in dry cells, cement retardants, acid picking thickeners, ceramic fibers, and numerous other applications.
Report Scope of the Starch Derivatives Market
| | |
| --- | --- |
| Report Coverage | Details |
| Market Size in 2023 | USD 81.21 Billion |
| Market Size by 2032 | USD 127.07 Billion |
| Growth Rate from 2022 to 2030 | CAGR of 5.10% |
| Base Year | 2022 |
| Forecast Period | 2023 to 2032 |
| Segments Covered | Raw Material, Type, Function, Application, Form, Geography |
| Companies Mentioned | 3B - the fiberglass company, BASF SE, Bast Fibers LLC, Binani Industries, Century Enka Limited, Cordenka GmbH, Dupont De Nemours Inc., Formosa Taffeta Co. Ltd., Honywell International Inc., Hyosung Advanced Materials, JEC Group, Kolon Industries Inc., N.V. Bekaert S.A., NFC Fibres GMBH, NJR Steel, Owens Corning, Solvay, Teijin Limited, Toray Industries Inc, Toyobo Co. Ltd |

Raw Material Insights
Depending upon the raw material, the corn segment is the dominant player and is anticipated to have the biggest impact on starch derivatives market. The demand for corn starch derivatives, which are a crucial component of the food ingredients market and are also in high demand across various industrial sectors, is anticipated to propel the expansion of the worldwide starch derivatives market during the course of the forecast period. The worldwide corn-based starch derivatives market is anticipated to grow over the projected period due to the wide range of functional qualities demonstrated by corn starch derivatives and their simplicity in incorporating them into a variety of applications.
Due to cassava advantages in providing products to consumers as well as the flavor and sensory effects in food, cassava starch is changing quickly and pursuing a strong growth. Globally, consumers are growing more informed and concerned about their health, which is fueling demand for products that try to improve wellbeing, lengthen lifespans, and fend off the onset of chronic illnesses. The global market for nutritional foods is being stimulated by foods fortified with health-promoting and disease-preventing characteristics. The producers have been forced to introduce and innovate new functional foods and drinks in the worldwide market place due to the changing consumer food eating behaviors and their shifting taste preferences.
Type Insights
Depending upon the type, glucose syrup segment dominated the starch derivatives market during the forecast period. Due to increased demand for ice cream, desserts, bakery goods, processed meats, and sauces, the market is anticipated to grow significantly throughout the forecast period. Demand is anticipated to be driven by rising glucose consumption in non-food applications such as plywood, adhesives, textiles, paper, and pharmaceuticals. It also improves flavor, adds volume, improves texture, and prevents the crystallization of sugar in drinks.
The maltodextrin segment holds a significant share in the starch derivatives market. As a result of expanding use across numerous industries, including food, pharmaceuticals, cosmetics, textile, paper, construction, paints and coatings, maltodextrin is anticipated to increase at a high rate over the forecast period. Due to its low cost, maltodextrin will see an increase in demand as a thickening and filler in processed foods, which will drive industrial growth. Over the next years, growth will be boosted by the rising demand for baby and infant food.
In both the food and cosmetic industries, cyclodextrins are often applied. In the food business, they are used as food additives to stabilize flavors, eliminate unwanted smells or odors, and stop browning reactions and microbial contaminations. Due to their anti-oxidation, anti-heat, and anti-light properties, cyclodextrins are also utilized in the cosmetics sector. Due to their ability to lessen skin inflammation and itch, they are frequently utilized in skin care products.
Application Insights
During the projected period, the food & beverages segment is anticipated to be the largest in the starch derivatives market. For a considerable amount of time, starch derivatives have been created, and the food and beverage sector is beginning to place more emphasis on their uses. Considering their functional qualities, they are utilized in many food applications. As a binding and gelling agent, starch derivatives have emerged as a crucially successful environmentally friendly product. Due to rising sugar values, there has been a noticeable increase in the need for starch across the food and beverage industry.
Pharmaceutical segment is anticipated to grow significantly during the forecast period as a result of increasing disposable income and advancements in healthcare infrastructure. Additionally, it is expected that during the course of the forecast, the pharmaceutical industries in China, India, and the U.S. will all increase significantly. Additionally, starch is frequently utilized in the cosmetics sector for a variety of goods, including creams, shaving gels, lotions, bath treatments, and body powders. The market for starch derivatives is anticipated to increase due to rising interest in using natural cosmetics products.
Starch Derivatives Market Share, By Region, 2022 (%)
| | |
| --- | --- |
| Regions | Revenue Share in 2022 (%) |
| North America | 21% |
| Asia Pacific | 40% |
| Europe | 29% |
| Latin America | 6% |
| MEA | 4% |

Regional Insights
The highest market share and dominant position in the starch derivatives industry belongs to Asia-Pacific during the forecast period. This region includes China, India, Japan, South Korea, and rest of the world. The primary drivers driving the uses of starch derivatives in the region are the growth in functional food products, clean label demand, and attaining cost reduction in the production process in Asian-Pacific countries, particularly China, India, and Bangladesh. The factor that has led to a rise in the number of food and beverage processing businesses using modified starch is the paradigm change in consumer preferences toward low-calorie food items. This is necessary to address the rising demand for functional/low-calorie food products. As a result, the market value of starch derivatives in the nation increased. Such reasons made it possible for ingredient makers to create goods that may help food businesses meet the expanding demand.
Europe is considered as second largest region in the consumption of starch derivatives products. This region includes UK, Germany, and France. The region's expanding use of starch derivatives in the food and beverage industries is the main factor driving the market. Additionally, because they are imported from other nations, the price of starch derivatives is anticipated to increase. Parallel to the food industry's quick development, there is a rising demand for modified starches. Modified starches have a huge range of functional advantages for a wide range of foods, including baked goods, beverages, snacks as well as nutritive foods.
Due to the widespread availability of corn, which has a wide range of applications in food, non-food, and feed, North America held significant position in the market for starch derivatives. Starch and its derivatives are in high demand for a variety of uses in both the food and non-food industries, particularly in developed nations like the United States, Canada, and Mexico. This is due to increased adoption of and understanding of the functions of starch derivatives.
A prospective market for starch and starch derivatives is developing in the Middle East as a result of rapidly shifting demography and increased consumer demand for wholesome and practical food items. With its extensive cassava industry, Africa stands a good chance of becoming self-sufficient in the production of both native and modified starches. The sweeteners business is anticipated to have the highest demand.
Key market developments
In Krefeld, Germany, Cargill made a $200 million investment. With the investment, the facility that processed maize was converted to process wheat. The company will be able to meet the evolving market's growing need for industrial starches in the packaging sector owning to this move.
Key market players
Archer Daniels Midland Company

Ingredion

Tate & Lyle

Roquette Frères

Cargill

Fooding Company Limited

Foodchem International Corporation

Tereos

Molinos Juan Semino SA

Grain Processing Corporation

Global Sweeteners Holdings Ltd.

AGRANA

JP & SB International

Varun Industries (India)

Gujarat Ambuja Export

ShreeGluco Biotech Private Ltd.

Matsutani Chemical Industry Co., Ltd.
Segments are covered in the report:
(Note*: We offer report based on sub segments as well. Kindly, let us know if you are interested)
By Raw Material
Corn

Cassava

Potato

Others
By Type
Glucose Syrup

Modified Starch

Maltodextrin

Hydrolysates

Cyclodextrin
By Function
Stabilizing

Emulsifying

Binding

Thickening
By Application
Food & beverages

Bakery & confectionery products

Processed foods

Beverages

Other food applications ( snacks and cereals)

Industrial

Papermaking

Weaving & textiles

Medicines & pharmaceuticals

Cosmetics

Other industrial applications (adhesives, foundry, detergents, and cardboard manufacturing)

Feed
By Form
By Geography
North America
Europe
Asia-Pacific

China
India
Japan
South Korea
Malaysia
Philippines

Latin America

Brazil
Rest of Latin America

Middle East & Africa (MEA)

GCC
North Africa
South Africa
Rest of the Middle East & Africa