The global substation automation market size is expected to hit around USD 53.4 billion by 2032 from USD 28.7 bn in 2022 and is growing at a CAGR of 6.4% during the forecast period 2023 to 2032.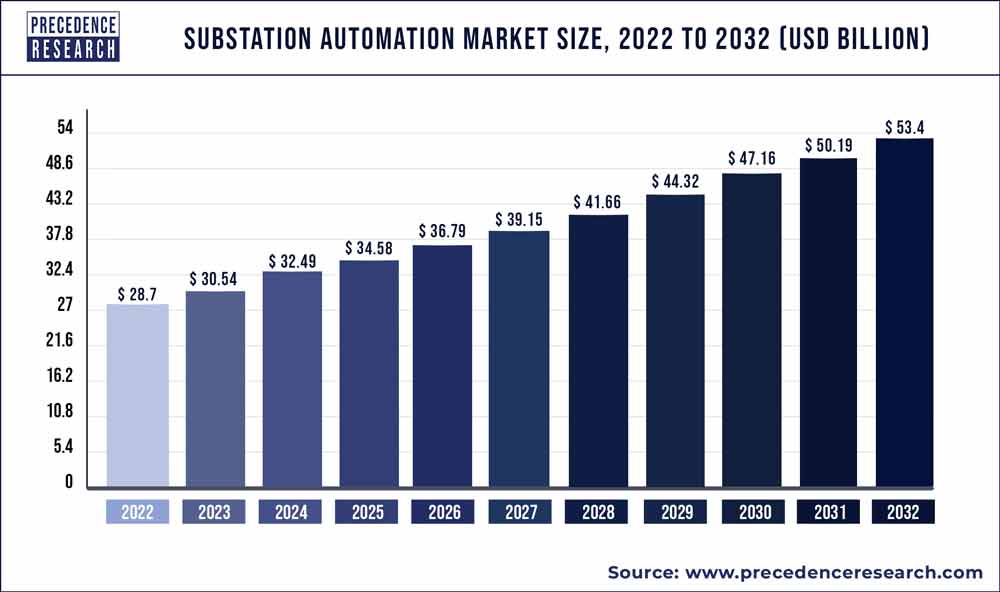 Access our Premium Real Time Data Intelligence Tool, Visit: Precedence Statistics
Market Overview:
Substation automation is a crucial element of the electrical system for the generation, transmission, and distribution of power. Substations are used to change the properties of electric forces, such as voltage and frequency, among other things. Substations are used to take high-voltage energy from transmission lines and reduce it to the proper level so that it can be used for initial distribution.
Growth Factors:
One of the main drivers of market expansion is the rising need for a consistent supply of power as well as the rising necessity to reduce transmission and distribution losses. Market growth is being fueled by the introduction of automated substation monitoring and control systems as well as the rising popularity of smart grid technologies. The market is also growing as a result of increased grid infrastructure performance optimization demands, an increase in the danger of cyberattacks on critical infrastructure, and rising renewable energy installations.
Due to the implementation of stringent government regulations to minimise carbon emissions and the rising desire to increase grid resilience against natural disasters, the market is developing. The use of cloud-based solutions and the integration of cutting-edge communication technologies like the Internet of Things (IoT) and artificial intelligence (AI) are also accelerating market expansion.
Report Scope of the Substation Automation Market:
| | |
| --- | --- |
| Report Coverage | Details |
| Market Size in 2023 | USD 30.54 Billion |
| Market Size by 2032 | USD 53.4 Billion |
| Growth Rate from 2023 to 2032 | CAGR of 6.4% |
| Largest Market | North America |
| Base Year | 2022 |
| Forecast Period | 2023 To 2032 |
| Segments Covered | By Module, By Offering, By Type, By Installation Type, By End-user, By Component, and By Communication Channel |
| Regions Covered | North America, Europe, Asia-Pacific, Latin America, and Middle East & Africa |

Market Dynamics:
Driver:
Increasing demand for electricity
The market for substation automation is significantly influenced by the rising demand for power. Factors like population increase, urbanization, and industrialization are the main drivers of this need. The demand for power increases tremendously as more people move to metropolitan areas and as industry grow. By guaranteeing effective power generation, transmission, and distribution, substation automation is essential in addressing this expanding demand. The transfer of high-voltage electricity from power plants into lower voltage levels suited for distribution to end consumers is facilitated by substations, which serve as important nodes in the electrical grid. Power utilities can improve the system's operating efficiency by using automation technologies in substations. Automated systems make it possible to more effectively monitor, regulate, and optimize the flow of power, ensuring that electricity is delivered dependably and effectively.
Additionally, they enable remote monitoring and diagnosis, which lessens the need for in-person inspections and enhances maintenance procedures. Substation automation also aids utilities in efficiently managing peak load needs. Automation systems can automatically modify voltage levels, switch capacitor banks, and control reactive power to guarantee a steady and uninterrupted power supply during periods of high electrical demand. This capability is crucial in urban and industrial regions where there is a strong demand for electricity.
Restraint:
Cybersecurity concerns in substation automation
The growing worry over cybersecurity is one of the major obstacles the substation automation business must overcome. The stability and security of the electricity system are under risk as substations become increasingly digitized and networked, making them possible targets for cyberattacks. Systems for automating substations rely on a variety of hardware components, software programs, and communication networks. These systems are susceptible to a variety of cyberthreats, such as denial-of-service (DoS) assaults, malware infections, unauthorized access, and data breaches. A successful cyber-attack on a substation might have devastating repercussions, including power disruptions, equipment damage, and even potential danger to the general public.
Strong security mechanisms must be deployed across the substation automation infrastructure in order to solve these cybersecurity threats. This entails protecting control systems, and communication networks, and putting in place strict access controls. In order to protect against cyber-attacks, security methods including firewalls, intrusion detection systems, and constant monitoring are used. Additionally, to address any known vulnerabilities, regular updates and patches must be applied to the software and firmware of substation automation systems. This necessitates a proactive approach to cybersecurity, keeping up with new threats, and promptly deploying any security updates that are required. User education and awareness is another important component. Employees who are in charge of operating and maintaining substation automation systems must receive training on system security best practices as well as information on potential cybersecurity hazards. This involves being aware of questionable activity and reporting it, maintaining proper password hygiene, and following security standards.
There are difficulties in dealing with cybersecurity issues in substation automation, nevertheless. Cyber dangers are always changing, necessitating ongoing monitoring and the capacity to adjust to new attack vectors. The automation projects may also become more complex and expensive to complete if strong cybersecurity measures are implemented and maintained. In order to address these issues, utilities and vendors devote enough resources, including purchasing security tools, employing cybersecurity experts, and continuing employee training.
Opportunity:
Enhanced grid security
In order to improve grid security, substation automation is essential, especially in light of the changing cybersecurity threats. The risk of cyberattacks on vital infrastructure, particularly substations, has greatly increased as the energy sector becomes more digitalized and networked. Automation systems for substations offer cutting-edge security features and capabilities to reduce these threats. Real-time monitoring is one of the most important components of substation automation. Data from numerous sensors and equipment inside the substation are continuously collected and analysed by sophisticated monitoring systems.
This data may contain specifics like voltage levels, current flow, the condition of the equipment, and other things. Any unusual behavior or potential security breaches can be quickly found by closely monitoring these parameters. Early defect detection is also made possible via substation automation. Automated systems are able to swiftly spot anomalous behavior, flaws, or unauthorized entry attempts inside the substation. This early identification gives operators the opportunity to react quickly and take the required steps to stop or lessen any security hazards. Substation automation systems can also include quick reaction mechanisms, enabling operators to quickly identify problematic sections and put in place corrective actions.
Substation automation incorporates strong security standards and steps to address cybersecurity threats. These may include firewalls, intrusion detection systems, encryption methods, and authentication procedures. Substations can guard against unauthorized access, data breaches, and other cyber dangers by putting in place such security measures. Additionally, remote monitoring and control systems are frequently integrated into substation automation processes. This reduces the need for physical intervention and improves overall security by allowing operators to access and administer substations from a centralized control centre. Usually, secure virtual private networks (VPNs) or other secure communication protocols are used to protect remote access.
Impact of COVID-19:
The market for substation automation products and solutions from national grid projects is projected to fall during COVID-19 as governments around the world cut spending in several industries to concentrate more on improving healthcare infrastructure. Furthermore, power consumption declined dramatically in 2020 and 2021 as a result of commercial areas working at significantly reduced capacity in the majority of the world, which could delay the modernization of the grid infrastructure for electric utilities. It is anticipated that each of these factors will negatively affect the market for substation automation.
Segments Insight:
Module Insights:
Based on module, Communication Networks, Scada Systems, and intelligent electronic devices are the market segments. As smart grid adoption and demand from the renewable energy industry have increased, intelligent electronic devices now have the largest market share.
Component Insights:
On the basis of components, Hardware, software, and Services make up the three market segments. The services category is anticipated to increase at the maximum rate over the projected period, while the hardware segment dominated the global substation automation market in 2022.
Type Insights:
Distribution substations and transmission substations make up the type segment. During the projected period, the distributed substation segment is anticipated to increase at the fastest rate.
Communication Channel Insights:
The Communication Channel sector is divided into Ethernet, Copper wire communication, Optical fibre communication, and other types. Due to its widespread availability and affordable price, copper wire communication dominated the global market in 2022.
Regional Insights:
Due to the increasing acceptance and use of sophisticated intelligent electronic device and communication technologies, North America is now dominating the industry. Both the market for substation automation and the development of electrical technology in countries like the United States and Canada are being aided by this. Europe is emerging as a key revenue-generating region for the substation automation sectors due to growing demand for smart grids and increased usage of renewable energy. These elements will make Europe the region with the fastest rate of growth during the projection period.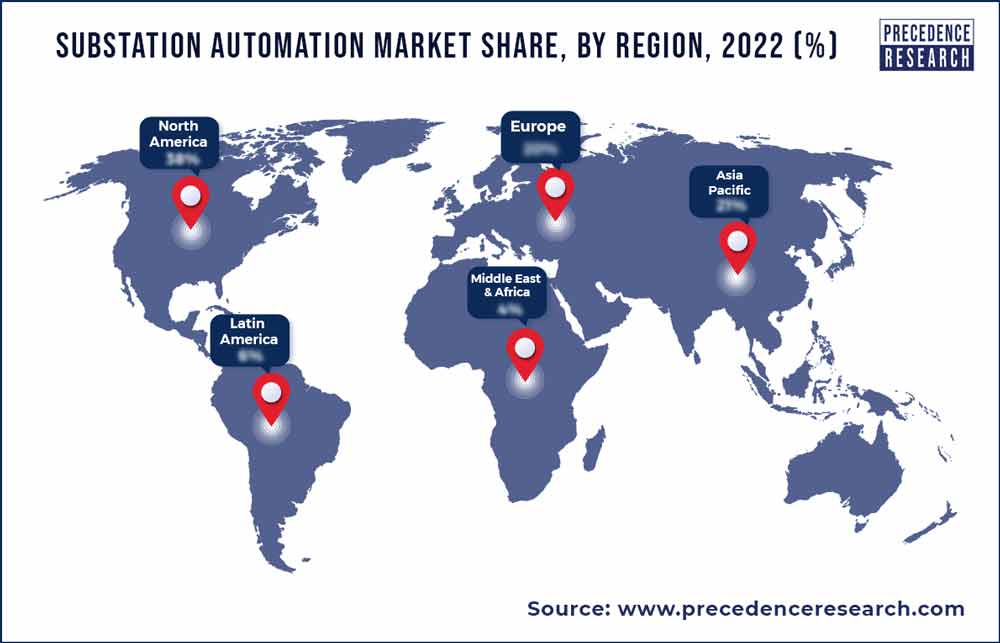 The substation automation market is expected to develop at the fastest rate in Asia Pacific. Some of the major nations in the Asia-Pacific region that are concerned about grid stability across their distribution systems are China, Japan, India, Malaysia, and Thailand. In addition, Asia Pacific is anticipated to grow quickly over the course of the forecast period due to increasing demand for rural electrification and the use of equipment that increases substation efficiency and safety. The expansion of the region will also be aided by the presence of businesses offering new improvements in electrical equipment.
Recent Developments
In February 2022, The GE Group oversaw the installation of the upgraded digital monitoring, controls, and software systems that make up the digital substation, as outlined by GE and Bond. GE would provide the connection and power balance required between the offshore wind farm and the point of connection to the New York power grid.
In September 2022, A Memorandum of Understanding (MoU) was signed by Shell Global Solutions International BV and Siemens Smart Infrastructure to collaborate on developing highly effective, low-carbon energy solutions that assist the energy transition. This collaboration will be focused on initiatives that produce green hydrogen for Shell and its clients' industrial applications.
In October 2022, Danway EME has been given a contract by DAMAC Properties to build electrical substations in its master-planned community, DAMAC Lagoons. The substations, which are projected to speed up the construction of DAMAC Lagoons and supply power to the first stage of development, will be constructed to the highest quality standards and in accordance with DEWA's tightest norms and requirements.
Key Market Players:
Cisco Systems, Inc.
Eaton Corporation plc
General Electric
Hitachi ABB
Ingeteam
Itron Inc.
Mitsubishi Electric Corporation
NovaTech, LLC.
Schneider Electric SE
Schweitzer Engineering Laboratories, Inc.
Siemens AG
Trilliant Inc.
Segments Covered in the Report:
(Note*: We offer reports based on sub-segments as well. Kindly, let us know if you are interested)
By Module
Communication Networks
Scada Systems
Intelligent Electronic Devices
By Offering
Hardware
Software
Services
By Type
Distribution Substations
Transmission Substations
By Installation Type
New Installations
Retrofit Installations
By End-user
Utilities
Steel
Oil and Gas
Mining
Transportation
By Component
IEDs
Communication Networks
SCADA Systems
By Communication Channel
Optical Fiber Communication
Ethernet
Copper Wire Communication
Others
By Geography
North America
Europe
Asia-Pacific
Latin America
Middle East and Africa