The US revenue cycle management market size was evaluated at USD 154.25 billion in 2022 and is projected to reach around USD 398.27 billion by 2032, registering a CAGR of 10% from 2023 to 2032.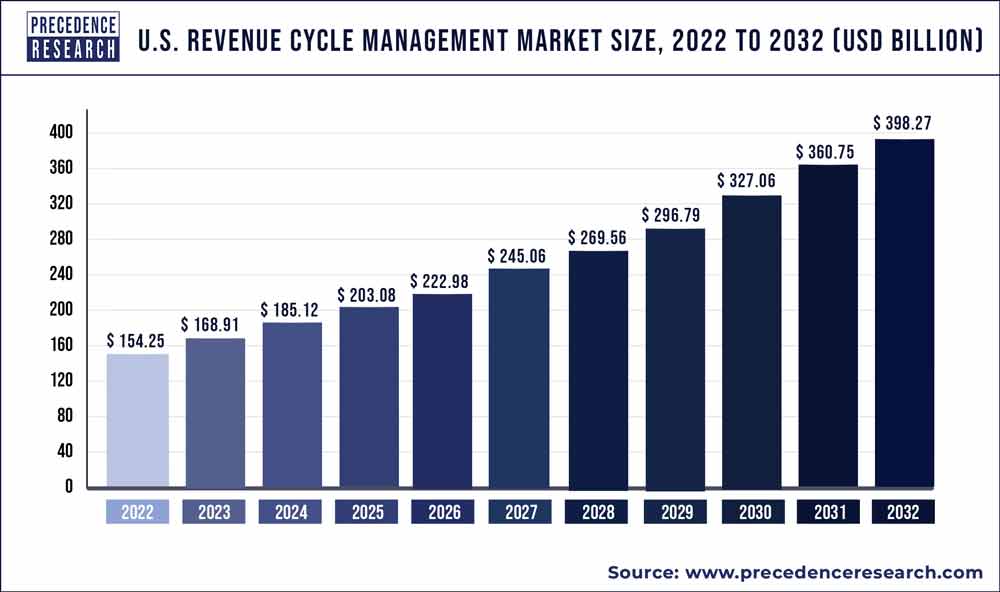 Revenue Cycle Management (RCM) is a financial process that uses medical billing software. Healthcare facilities use to track episodes of patient care, from registration and appointment scheduling to final balance payment connects the business and clinical aspects of healthcare by associating administrative data such as patient names, insurance companies, and other personal information with the treatments they receive and their health records. Communication with health insurance companies is an important part of RCM. Typically, when a patient makes an appointment, the doctor's office or hospital staff will review the patient's reported insurance coverage prior to the visit. After an insured person receives treatment for a particular condition and makes a co-payment, the healthcare provider or coder classifies the type of treatment according to the ICD-10 code. The hospital or nursing home then sends a treatment summary, including the ICD and current procedural technology code, to the patient's insurance company to confirm the portion of the treatment covered by the policy and bill the patient for the remainder.
Key Takeaway:
By component, the services segment has generated a revenue share of 66% in 2022.
By product type, the integrated system segment has captured a revenue share of around 72%
By delivery mode, the web-based delivery mode segment accounted for 55.4% of revenue share in 2022.
By end-user, the hospitals segment has held the highest revenue share of around 56%.
By physician specialty, the others segment has held a revenue share of around 71% in 2022.
By sourcing, the in-house segment accounted for 70.5% of revenue share in 2022.
Report Scope of the US Revenue Cycle Management Market
Report Coverage
Details
Market Size in 2023
USD 168.91 Billion
Market Size by 2032
USD 398.27 Billion
Growth Rate from 2023 to 2032
CAGR of 10%
Base Year
2022
Forecast Period
2023 to 2032
Segments Covered

By Function
By Product
By Type
By Delivery Mode
By End User

Market Dynamics:
Driver:
Increasing patient volume and subsequent growth in health insurance drive the market growth
The growing elderly population in the United States is creating a highly favorable environment for electronic health records and RCM Revenue Cycle management. For instance, the WHO report also found that the global population aged 60 and over will double from 12% to 22% between 2015 and 2022. In addition, the increasing number of cases of chronic diseases across the world is expected to significantly increase the demand for care services in the coming years. For instance, the American Heart Association (AHA) estimates that 48% of the U.S. population has some type of heart disease. Furthermore, favorable insurance and reimbursement policies from several healthcare providers are expected to drive demand for aged care services.
Restrain:
IT infrastructural constraints in underdeveloped and developing countries
RCM solutions are typically integrated with an EHR or practice management suite, where the EHR manages patient clinical data and the RCM system handles billing. However, the success of RCM is highly dependent on the IT infrastructure and support within your organization. The software solutions that RCM companies provide to vendors require IT expertise and infrastructure to function properly. This is required to receive patient information from various departments and healthcare providers. Data collected from all these departments is used for correct claims and clear coding claims rejection management, and establishing effective health data security. Budget constraints in most developing markets lack the interoperable infrastructure required to implement an RCM solution. These gaps in infrastructure are proving to be the major obstacles to the growth of the RCM solutions market in developing regions.
Opportunities:
Reduced administrative overhead and improved efficiencies are expected to provide future opportunities
Vendor models have the potential to increase the efficiency of the RCM process. Efficiency opportunities include reducing the administrative burden and time associated with vendor management and creating and implementing best practices. Outpatient care, improved collections, optimized delivery times, and improved patient satisfaction all lead to fewer patients. Moreover, vendor systems recognize the efficiencies of outsourcing RCM functions to a single integration vendor. Additionally, the trend toward RCM integration and the increasing number of RCM vendors striving to provide a robust "end-to-end" solution helps in drive the market in the future.
Covid 19 Impact
The COVID-19 outbreak is putting tremendous pressure on healthcare practices of all sizes, with healthcare facilities around the world overwhelmed by the number of patient visits each day. With the increasing number of patients, there is a growing demand for healthcare IT solutions such as EHR, patient registries, and platforms to manage complex patient data. The hospital is increasingly focused on extending its capabilities by integrating various hospital systems with its EHR. A player operating in this market is integrating its RCM platform with AI and updating software solutions to help healthcare providers effectively manage his COVID-19 patients. Leading vendors such as Cerner Corporation, Optum, McKesson, and 3M Company have introduced various RCM solutions that integrate advanced technologies to address this situation.
Additionally, government and private payers are constantly changing their policies regarding co-payments for COVID-19 treatment, patient co-payments, and how they are collected. Handling the new code and responding to evolving guidelines has resulted in increased appeals, additional resubmissions due to changes in patient responsibilities, and revised patient declarations. All these situations create difficult situations for healthcare providers. However, this situation is driving the adoption of RCM solutions, especially outsourced services, and end-to-end solutions.
Segments Insight
Function Insights
Based on function insights, claims management accounted for the largest revenue share of around 50.50% in the year 2022. The segment's dominance is attributed to the growing geriatric population, the rising patient population, and the introduction of several government initiatives supporting medical insurance coverage. In addition to this, several suppliers in the United States continue to suffer from inadequate profitability as a result of poor trade receivables and steadily increasing rejection rates. A rise in risk or value-based compensation models along with the changing demographics of the population is giving rise to the demand for better revenue flow forecasting and monitoring, particularly for high-risk patient groups.
The care management segment is projected to be the fastest-growing segment over the forecast period due to the rising need associated with telehealth services in order to deal with medical crises across the U.S. On the other hand, the continuously rising prevalence of chronic disorders is another major aspect responsible for intensifying the growth of this segment. Chronic diseases have had the greatest illness and death rates across the United States, as well as financial reporting expenses. The annual cost of treating chronic diseases is almost USD 3.02 trillion, with a loss of output cost of more than USD 1.01 billion in the U.S. Such health implications and significant expenses can be prevented to a great extent because some chronic illnesses can be managed or regulated to minimize their effects. Smart healthcare applications are projected to pose the potential to transform the healthcare industry by improving a patient's ability to deal with situations in significantly easy ways.
Product Insights
Based on the product, the revenue cycle management is segmented into software and services. The software segment dominated the revenue cycle management market, accounting for the largest revenue share in 2022. As data generated by multiple healthcare functions increases, there is a growing need to increase efficiency and improve patient care by digitizing processes and streamlining workflows. The growing amount of unorganized data requires integrations that support the growing need for RCM software solutions.
RCM services offered to healthcare organizations include medical coding, medical billing, and patient management solutions. The software segment is expected to grow steadily due to the increasing demand to digitize and streamline operational workflows to improve patient care. The growing amount of unorganized data originating from multiple healthcare functions requires centralization and integration and is expected to contribute to the growth of the software segment.
Type Insights
Based on type, the market is segmented into integrated and standalone. An integrated system is an end-to-end system that enhances an organization's data sharing and interoperability capabilities. Integrated solutions enable healthcare professionals to increase productivity, minimize costs and increase net operating margins. Finally, the growing need to reduce human error and speed up administrative functions is driving the growth of integrated RCM solutions. The integrated solutions segment is expected to witness the fastest growth rate in the coming years. The integrated solution uses standardized data collection and analysis processes to provide a synchronized, streamlined platform for financial activities.
Delivery Mode Insights
Based on delivery mode, the market is segmented into web-based and cloud-based. Web-based delivery mode dominated the market in 2022. Web-based solutions are increasingly being implemented as these solutions can be installed externally and do not require additional hardware or storage. Affordability and rapid deployment are some of the benefits that web-based solutions offer. athermanous, e-Hospital Systems, Simplex HIMES, and Advanced HIMS are examples of web-based practice management solutions.
The cloud-based segment is expected to have the fastest growth rate in the next few years. Cloud computing is revolutionizing the healthcare industry, offering users greater cost efficiency and greater flexibility. Additionally, cloud-delivered solutions provide a secure exchange of medical data and automate back-end processes. Cloud-based solutions enable healthcare facilities to seamlessly manage electronic medical records and patient portals to power mobile applications. Finally, cloud deployment solutions are being developed to improve operations, improve resource procurement, and improve infrastructure reliability.
End User Insights
Based on end-user, the market is segmented into physician offices, hospitals, laboratories, and others. The increasing presence of well-known and established hospitals in the United States and increasing regulatory reforms and patient care policies introduced by regulators are driving the hospital sector. Hospitals are focused on implementing innovative revenue cycle management solutions by working with vendors to transform reimbursement scenarios. This is expected to drive growth in the segment. Additionally, the growing demand to streamline hospital workflows to improve efficiency and productivity is driving the adoption of integrated RCM systems in hospitals.
The Physician Office segment is expected to witness the fastest growth rate during the forecast period as the number of physicians increases in the United States. Additionally, the Covid-19 pandemic is expected to increase the demand for remote monitoring and doctor visits, which is expected to contribute to the growth of the segment. Private medical practices and clinical services readily outsource RCM systems and services to meet unmet financial needs.
Lab RCM solutions advocate a policy that labs maintain critical communication with referring physicians and keep the pulse of the relationship to ensure they receive the information essential to paying for their services. In order to make these efforts effective, lab professionals will support these efforts, use the information received to generate revenue more quickly, and manage the lab's claim filings more effectively.
Recent Developments
In May 2022, N. Harris computer corporation (Constellation Software inc) announced the acquisition with Allscripts healthcare solutions
In July 2021, R1 RCM Inc., a provider of technology-driven solutions that improve the patient experience and the financial performance of healthcare providers, announced that it has completed the acquisition of Visit Pay, a provider of digital payment solutions. Acquisition brings together Visit Pay's customer payment infrastructure and R1's leading patient access technology, enabling providers to offer patients a seamless financial journey
Key Market Players
Allscripts Healthcare Solutions
Change Healthcare Inc.
Cognizant Technology Solutions Corp.
Computer Programs and Systems Inc.
Experian Plc
Medical Information Technology Inc.
MEDIREVV
OSP Labs
Quest Diagnostics Inc.
R1 RCM Inc.
Segments Covered in the Report
(Note*: We offer reports based on sub-segments as well. Kindly, let us know if you are interested)
By Product
By Type
By Function
Product Development
Member Engagement
Network Management
Care Management
Claims Management
Risk and Compliances
By Delivery Mode
By Physician Specialty
Oncology
Cardiology
Anesthesia
Radiology
Pathology
Pain Management
Emergency Service
Others
By Sourcing
In-house
External RCM Apps/ Software
Outsourced RCM Services
By End User
Physician Back office,
Hospitals
Diagnostic Laboratories
Other