The global virtual clinical trials market size was estimated at USD 9.68 billion in 2022 and is expected to surpass around USD 16.46 billion by 2032, poised to grow at a CAGR of 5.50% during the forecast period 2023 to 2032.
Key Takeaways:
By study design, the U.S. virtual clinical trials market was valued at USD 4 billion in 2022 and growing at a CAGR of 6% from 2023 to 2032.
By study design, the interventional configuration segment contributed 48% market share in 2022.
By indication, the oncology section leads the market and accounted revenue share of around 27% in 2022.
North America region has garnered market share of 51% in 2022.
In Asia Pacific region is expected to grow at CAGR of 8% during the time frame
Growth Factors
The COVID-19 pandemic has altogether affected the market. The market is significantly determined by an ascent in R&D exercises, the rising medical services digitization, as well as reception of telehealth. In addition, mechanical progressions, unions between clinical exploration associations, drug, and biotechnology organizations as well as strong government drives are expected to drive the market. The pandemic of COVID-19 is making the clinical preliminary industry alter the approach to directing progressing or impending trials.
Nonetheless, more prominent measure of assortment information, demonstrate and oversee unwavering quality to the controllers, innovation disappointment, information exactness, are a portion of the difficulties that are expect to hamper the development of worldwide virtual clinical trials market. The development of the worldwide market is significantly determined as of late inferable from the Covid-19 episode across the globe. Biopharma organizations and administrative offices are holding back nothing innovations, virtual trials and telemedicine as they are the expected answers for restricting preliminary disturbances. The Food and medication Administration has proposed virtual visits and remote checking through telemedicine as an option in contrast to face to face visits. Thusly, organizations then again have pointed on drawing out a change in through mechanical improvement to meet quickly enlarging medical services digitalization. For example, in February 2020, Johnson and Johnson started a virtual preliminary plan Heartline study to looking at whether the Apple Watch and new iPhone application could diminish the chance of stroke finding atrial fibrillation.
Moreover, headway in innovation in the medical care industry are further expect to fuel the general development of the market. Direct delivery of IMPs (Investigational restorative items) to patients is the part of the decentralized (virtual) trials which has gotten forward movement throughout the course of recent years, and is supposed to upgrade the general market development across the globe.
Also, expanding events of individuals experiencing constant illnesses, irresistible sicknesses and neurological infections combined with rising geriatric populace are a portion of the variables driving the development of worldwide market, universally. For example, as per Center for Disease Control and Prevention, in the United States, on a normal 6 out of 10 individuals are experiencing a constant sickness and 4 out of 10 individuals are experiencing at least two, bringing about the main source of death in the country. This is additionally expected for fuel the mechanical improvement in the medical services industry and subsequently, expands the market development.
There has been an ascent in the R&D of new medications and immunizations that has expanded the volume and intricacy of clinical trials. Virtual clinical trials kill difficulties presented by conventional clinical trials for instance defers in quiet enrollment and tedious methods. Likewise, studies have uncovered that around 75.2% of individuals leaned toward a versatile preliminary more than conventional ones and 80.1% of patients are bound to take part in a clinical preliminary that utilizes portable innovation.
The market is recuperating at a critical speed after the pandemic as it offers different advantages to patients as well as patrons. During the pandemic, voyaging was possibly hazardous. It very well may be costly, in any event, bringing about lost compensation or expecting that childcare/eldercare be employed. These disadvantages limit introductory interest and give a straightforward answer for virtual clinical trials. Virtual clinical trials offer different advantages like successful information assortment, examination, and checking a lot of information progressively.
Virtual trials utilize observing gadgets, programming applications, online social commitment stages to direct every step of the clinical preliminary cycle including patient enrollment, guiding, estimating clinical endpoints, informed assent, and antagonistic responses. Telehealth, home consideration, and far off understanding checking has been picking up speed as a medical care offering, and the COVID-19 is adding more pull to this drive.
According to the continuum clinical report distributed in April 2020, roughly 30% of the overviewed clinical preliminary spots are projected to tremendously affect selecting patients for new preliminary examinations as well as holding as of now enlisted patients consistent with their review plans. Likewise, 81% of the European clinical preliminary review locales and 56% of the U.S. destinations showed that the patients are more averse to keep partaking in examinations. Furthermore, as of March 30, around 30 pharma or biotech organizations have detailed interruption to a preliminary because of the emergency. Virtual trials are otherwise called decentralized trials played a huge part to play in the COVID-19 emergency and are set to turn into a standard in the manner trials and certifiable examinations are run
A virtual strategy allows individuals to participate in the preliminary from their homes guaranteeing exploration can proceed with in any event, when site visits can't, subsequently, addressing a clever methodology of gathering wellbeing and viability information from members of clinical examinations. Virtual visits and distant patient observing of face-to-face site visits give members a decision and genuine serenity of not being presented to pointless dangers. The virtual examinations empower supporters to remember a bigger populace for the review, hence further developing enlistment, commitment, and maintenance. Additionally, it empowers consistent constant information assortment through computerized wellbeing advances. In the end, virtual network, observing too as the executives can altogether diminish the work, time responsibility, and weight on the members, CRCs, and examiners.
Report Scope of the Virtual Clinical Trials Market
| | |
| --- | --- |
| Report Coverage | Details |
| Market Size by 2032 | USD 16.46 Billion |
| Growth Rate from 2023 to 2032 | CAGR of 5.50% |
| North America Market Share in 2022 | 51% |
| Interventional Configuration Segment Market Share in 2022 | 48% |
| Base Year | 2022 |
| Forecast Period | 2023 to 2032 |
| Segments Covered | Study Design, Indication, Phase, Geography |
| Companies Mentioned | ICON, plc, Parexel International Corporation, IQVIA, Covance, PRA Health Sciences, LEO Innovation Lab, Medidata, Oracle. CRF Health, Clinical Ink, Medable, Inc. |

Study Design Insights
The interventional configuration portion drove the virtual clinical trials market in 2022. The quick expansion in the quantity of trials to foster novel drugs for different illnesses and the digitalization of research centers are factors driving the portion. The flare-up of Covid has raised the interest for testing and trials of new medications and immunizations to battle what is happening all over the planet as the customary strategy for clinical trials accompanies an enormous gamble of contamination in individuals. Consequently, moving the interest for interventional concentrate on plans.
The firm that initially begun this idea directed a whole interventional Phase2b "site-less" clinical preliminary with 372 patients across 10 states utilizing their restrictive versatile telemedicine-based stage to be specific "NORA". The extended admittance section is supposed to represent the most elevated CAGR over the estimate period. Extended admittance is a potential pathway that is proper where the possible advantage for the patient stifles the likely dangers, thus ceaseless development of new variations of COVID-19 is supposed to drive interest for extended admittance to new medications over a present moment.
Indication Insights
The oncology section was second largest revenue holder in 2022. The fragment is additionally expected to add to the most extreme portion of the market during the estimate time frame. This is ascribed to the rising instances of malignant growth all around the world and the rising number of oncology clinical trials. Disease patients are the most powerless during the COVID-19 pandemic. Agents and backers overseeing oncology clinical trials have in no time consolidated virtual and distant trials to keep patients safe and trials pushing ahead.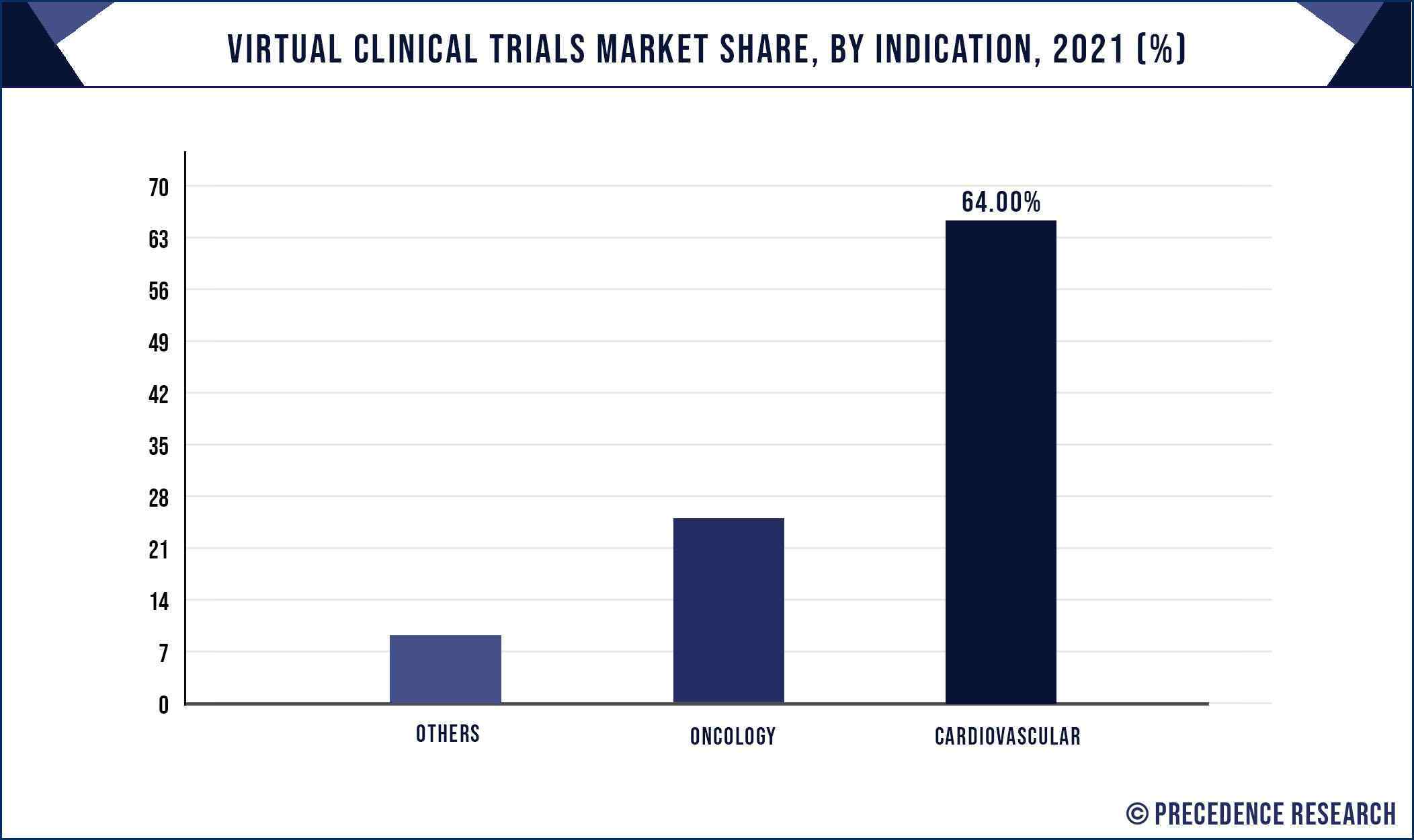 Also, disease scientists face extensive difficulties in persistent enrollment. As of June 2019, roughly 14, 000 oncology trials were effectively enrolling with a support pace of 3% to 8% of potential competitors, with a much more set number in minority and geriatric populaces. Low pace of enlistment presents dangers to the progress of explicit clinical examinations, they might hamper the treatment propels and comparing advantages to results. Thus, the low enlistment rate and the requirement for a different populace for oncology clinical examinations are expected to help the reception of virtual clinical trials.
In October 2019, Georgetown University Medical Center involved cloud-based virtual interconnected figuring procedures for deducting the time in getting to malignant growth patients profile. Results showed that from 2014 to 2017, how much cases basically surveyed expanded from 46 to 622 when contrasted with the regular evaluations from 3 to 14 cases.
Regional Insights
North America region dominated the virtual clinical trials market in 2022. The fragment is supposed to proceed with its predominance over the figure period. This can be credited to expanding R&D around here, expanding the reception of new advances in clinical examination as well as government support. Moreover, market players are additionally utilizing computerized advances to address client issues. For example, Parexel performed in excess of 100 decentralized trials including cross breed and virtual methodologies. Covance additionally has around 1,900 LabCorp Patient Service Centers across the U.S. that carry the preliminary to patients.On November 2019, Janssen drug auxiliary of Johnson and Johnson in a joint effort with the PRA Health Sciences, sent off computerized clinical preliminary set-up CHIEF-HF, a totally decentralize, sign chasing, portable clinical review. The organization plans to use wearable gadgets and brilliant innovation to proficiently accumulate and dissect proof for evaluating viability of Canagliflozin in the general population with cardiovascular breakdown with presence of nonattendance of type 2 diabetes.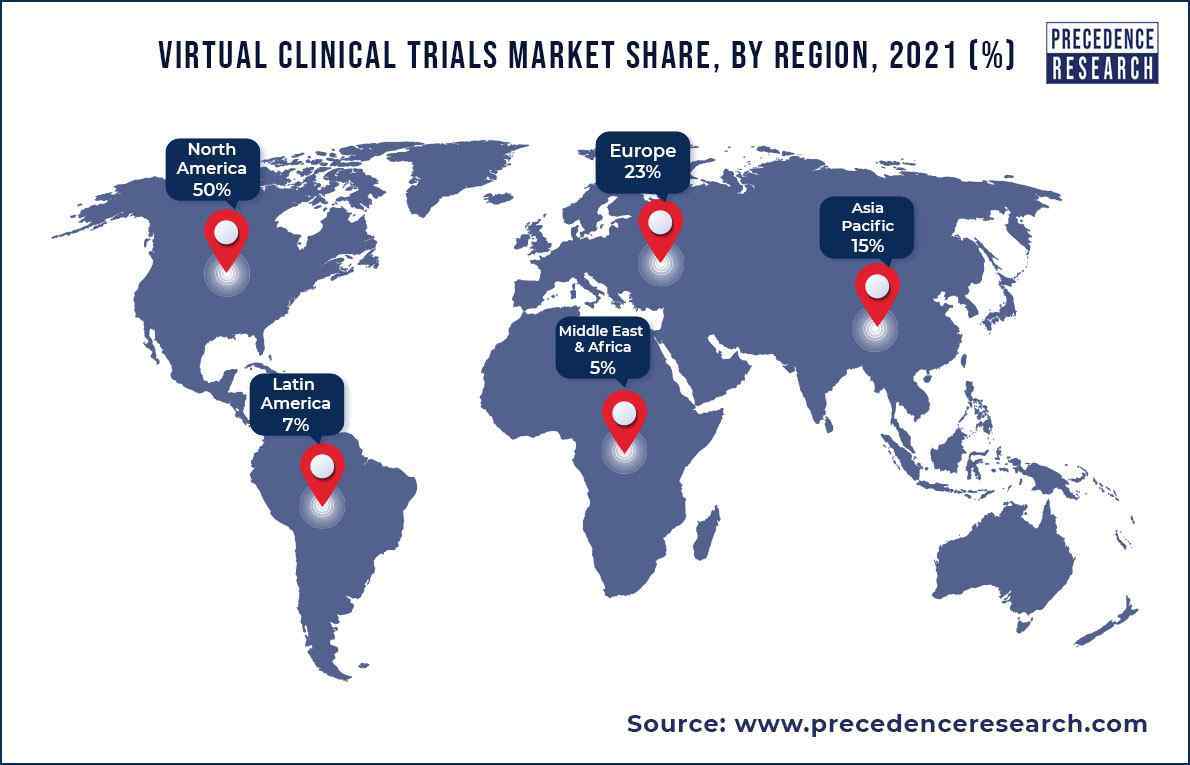 In Asia Pacific is projected to grow at the highest CAGR during the estimate time frame inferable from the rising accessibility of a huge patient pool empowering simple enlistment of competitors alongside improved entrance of computerized advances in the locale. Besides, the flare-up of Covid is expected to support the reception of telemedicine, accordingly driving the market in the locale. Japan was the biggest market in Asia Pacific in 2020, significantly because of high medical care and R&D consumption and expanding interest for virtual clinical trials on the lookout.
Europe saw a huge development as far as CAGR in the worldwide virtual trials market throughout the course of recent years attributable to rising R&D in the medical services area and for being one of the most unfavorably impacted districts by Covid-19. In July 2020, Synairgen, a pharma organization, sent off 2 trials of their IFN-beta medication for the patients that are in danger for Covid-19, one at-home and the other extreme patients in clinic. The organization understood its interferon beta medication, SNG001, which was created for ongoing obstructive aspiratory illness (COPD) and asthma could help against Covid-19. In addition, in 2018, Novartis' NerveLive, declared that it was using information examination for mixing virtual and conventional preliminary models and decipher information precisely and all the more unequivocally which can prompt logical and clinical forward leaps.

KEY RECENT DEVELOPMENTS
In March 2020, Medable fostered another Televisit versatile application that assists patients with following their clinical preliminary locales practically. The application makes it feasible for clinical preliminary examination to advance in a climate where numerous patients are being told to remain at home and stay away from social communication.

In June 2020, Janssen Pharmaceuticals and PRA Health Sciences as of late planned the very first totally decentralized, versatile, sign looking for clinical preliminary.
Key market players
ICON, plc
Parexel International Corporation
IQVIA
Covance
PRA Health Sciences
LEO Innovation Lab
Medidata
Oracle
CRF Health
Clinical Ink
Medable, Inc.
Segments Covered in the Report
(Note*: We offer report based on sub segments as well. Kindly, let us know if you are interested)
By Study Design
Interventional
Observational
Expanded Access
By Indication
Oncology
Cardiovascular
CNS
Autoimmune/Inflammation
Metabolic/Endocrinology
Infectious Disease
Genitourinary
Ophthalmology
Others
By Phase
Phase I

Phase II

Phase III

Phase IV
By Geography
North America
Europe
Asia-Pacific

China
India
Japan
South Korea
Malaysia
Philippines

Latin America

Brazil
Rest of Latin America

Middle East & Africa (MEA)

GCC
North Africa
South Africa
Rest of the Middle East & Africa