The global zero-emission aircraft market size was valued at USD 20.98 billion in 2022 and is expected to reach around USD 87.49 billion by 2032, poised to grow at a compound annual growth rate (CAGR) of 15.40% from 2023 to 2032.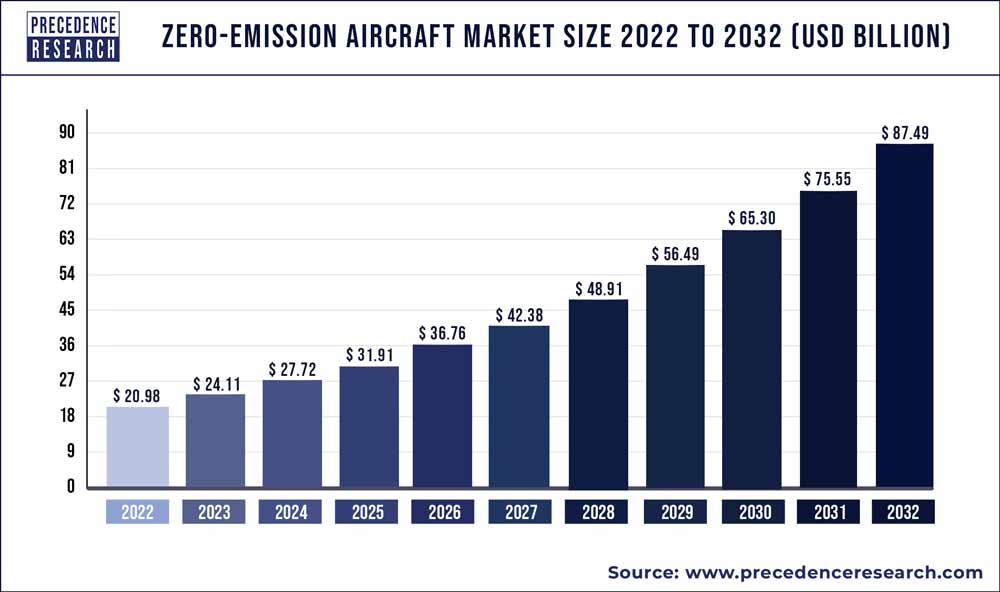 Key Takeaways:
By type, turbofan system segment is expected to hit remarkable growth between 20223 to 2032.
By range type, the short haul segment has had largest market share in 2022.
Europe region had highest share 47% in 2022.
Asia-Pacific region will grow at a highest CAGR from 2023 to 2032.
Traditional airplanes, which contribute significantly to the release of carbon dioxide from the combustion of enormous amounts of aviation fuel, significantly influence the levels of many other chemicals and contaminants in the environment. Sulfur particle releases, freshwater chemtrails, and lengthy increases in ozone concentrations are all caused by the discharge of these dangerous chemicals. These contaminants' emissions have a big global warming effect. These impact possible prompt attention from the representatives of the aviation sector (Boeing, Airbus) toward switching to alternative energy (hydrocarbons or rechargeable batteries); from the government agencies to start creating regulatory requirements to monitor the gases generated by current aircraft, and from the initiatives to foster the impending introduction of fuel airframe.
Governments all around the world are preparing paper maps to limit emissions generated by gasoline aviation effort to control increasing levels of CO2 as well as other toxic pollutants from existing industrial aviation. For example, nations including South Korea, France, the United States, and Germany had created planning again to switch to aviation powered by electricity or protons. Additionally, numerous businesses worldwide are developing airplanes using solar energy, hydrocarbons, battery, and electric drivetrains (electric and hydrocarbons). Within a few decades, seamless metropolitan transport will be available thanks to systems like a jet (for example, CityHawk from Urban Aviation) and negligible jets powered by these sources of energy. The introduction of these jets can pave the way for new sustainable alternative opportunities while reducing our fossil fuel dependence throughout time.
Report Scope of the Zero-Emission Aircraft Market
| | |
| --- | --- |
| Report Coverage | Details |
| Market Size in 2023 | USD 24.11 Billion |
| Market Size by 2032 | USD 87.49 Billion |
| Growth Rate from 2023 to 2032 | CAGR of 15.58% |
| Base Year | 2022 |
| Forecast Period | 2023 to 2032 |
| Segments Covered | Source, Range, Application, Type, Geography |
| Companies Mentioned | AeroDelft, Airbus S.A.S., Blue Origin Federation, LLC, Boeing Aerospace NYSE: BA, Bye Aerospace, Eviation Aircraft, HES Energy Systems, Joby Aviation, Lilium, Lockheed Martin Corporation NYSE: LMT, Northrop Grumman Corporation NYSE: NOC, Pipistrel d.o.o, Reaction Engines, Rolls-Royce Holdings PLC, SpaceX Aerospace Company, Thales SA, Wright Electric, ZeroAvia, Inc. |

Growth Factors
Owing to traveling limitations, this COVID-19 epidemic impacted the corporate and commercial aircraft markets. Additionally, it affected the effect on wages, which led to some aircraft businesses pausing funding for creative initiatives. Such choices have momentarily slowed the market expansion for relatively low airplanes. But throughout the projection timeframe, there is going to be a considerable increase in spending, development, and acceptance of all aviation while airline companies try to cut their operating emissions and costs. Businesses have shifted to a negligible strategy as a result of stringent emissions requirements. For the transport sector to transition towards the paradigm shift, motor makers would be crucial. Since the fact that firms including Boeing and Airplane aim to operate all of their flights using sustainable jet fuel. SAF also serves as a significant component of an aircraft company's reduction of CO2 emissions strategy.
An aircraft company's shift would necessitate changes to the legislative and technical environments in addition to technological hurdles. To reduce construction and operating costs, merger cooperation would be necessary. This will be advantageous to both parties and hasten the construction of a zero-emission jet. The light aircraft industry has been impacted by aircraft engines. Therefore, despite significant advancements anticipated during the second half of such a projected timeframe, their implementation in lengthy passenger airliners remains a considerable distance from being actuality anytime shortly the near future.
Source Insights
Due to their low overhead expenses, lack of carbon dioxide emissions, and their ability to run on renewable energy sources such as sunlight and hydrocarbons fuel, lower aviation has great potential. Technicians must develop novel methods to address important difficulties linked to the mass to-power proportions associated with power jets, the reduced renewable radiation collected by solar panels hung on such a solar aircraft, and thus the poor stability of hydrocarbons, even though they are receiving enormous funding from governments and organizations around the globe. The elevation at which the sunlight strikes the photovoltaic power of solar aviation is incredibly erratic because the sunlight and also the jet are constantly moving through the environment. This is one reason why photovoltaic arrays don't gather a large amount of energy.
Today, approximately 10 to 20 percent of thermal light is captured by energy from the sun aircraft. Additionally, because renewables airplanes have vast longer arms with delicate, illumination photovoltaic cells, planes are very vulnerable to strong winds. The lack of a high-density battery represents one of the main problems concerning aircraft engines. Whereas commonly produced battery packs get a power density just at cellular levels of about 250 Wh/kg, aviation fuel has had a power density of roughly 12,000 Wh/kg. Just at the packing stage, energy content is typically 20% lower. Additionally, higher voltages are needed for electrical propulsion systems to reduce the size & weight of the system that distributes power.
The electrochemical method, which separates h2 and o2 molecules in liquid by running strong alternating energy through it, was typically used to remove protons (in gas form) from water. Due to the significant power costs involved, electrolytic is a somewhat pricey operation. The bulk & size demands for gas, in addition to energy storage and handling on board aircraft, provide difficulties for engineers. When compared to older kerosene-fueled aviation, hydrogen-fueled aircraft must carry a significantly greater amount of fuel because of the superior quantity characteristic of hydrogen. This increases air drags, therefore, reducing the plane's effectiveness.
Range Insights
During the projection timeframe, this medium-haul segment is anticipated to outperform others concerning revenue annual growth. The medium-distance flight that is continuous or straightforward about six hours fewer. As sunlight and electrical energy can able to travel fewer miles, a medium-haul could be advantageous in zero carbon aviation. As just a reason, using photovoltaic and electromagnetic power sources in medium-haul aviation won't cause pollution, which boosts the effectiveness of the jet.
As opposed to sustainable alternative fuels and aviation fuel, utilizing liquid hydrogen, electrical generation, and renewable power as a resource to electricity lowest airplanes would result in a significant decrease in greenhouse fume pollutants. There seem to be 2 techniques through which they can utilize protons as just a source of power. And with gasoline powering, only one air pollutants out from flight are liquid water, which is a consequence of both the process of generating energy. This development of this kind of minimal aviation is anticipated to lead to healthier, cleaner, and more operational processes for both the airline and aerospace industry in the future. In such a related manner, airplanes powered by a rechargeable battery and renewable power are also carbon-free in origin. Rising laws addressing the emission of hazardous pollutants by airplanes are the primary driver of an expansion in Investment in R&D towards identifying other sources of energy for aviation.
The U.S. Department of the Environment, for example, published their rulemaking on greenhouse effect emission regulations for large wind flights operated for corporate & commercial aircraft companies in Dec 2020. The EPA views this legislation as significant and anticipates that it will serve as a benchmark for aviation Gas (GHG) emissions. Additionally, the European Union is working with other nations to initiate policies with a worldwide reach to minimize pollution related to air transport in Europe. This same suggestion will form a component of an extensive European Green Agreement and is scheduled for release in the second half of 2021. Additionally, the Worldwide Civil Aviation Organization has predicted that global aircraft pollutants would triple before 2050 relative to 2015 levels. Even during the anticipated period, these variables are anticipated to accelerate the advancement of negligible aircraft innovations.
Application Insights
Based on the World Civil Aviation Organization Institution's monthly figures for the entire world, there were passengers transported on regular flights during 2019 an increase in percent from the year before. The Developing world saw the largest passenger numbers. The International Air Travel Association reported in October 2018 stated recent trends in aviation suggest that the number of passengers may double. Even though previously, in May 2021, the Worldwide Air Transport Association mentioned that now the scheduled international passenger numbers are anticipated to restore almost to 88 percent of which was before stages all through 2022, and therefore is predicted to surpass this amount throughout 2023, the COVID-19 global epidemic caused a significant decline in air transport statistics. This shows that there is a large market for air transport worldwide.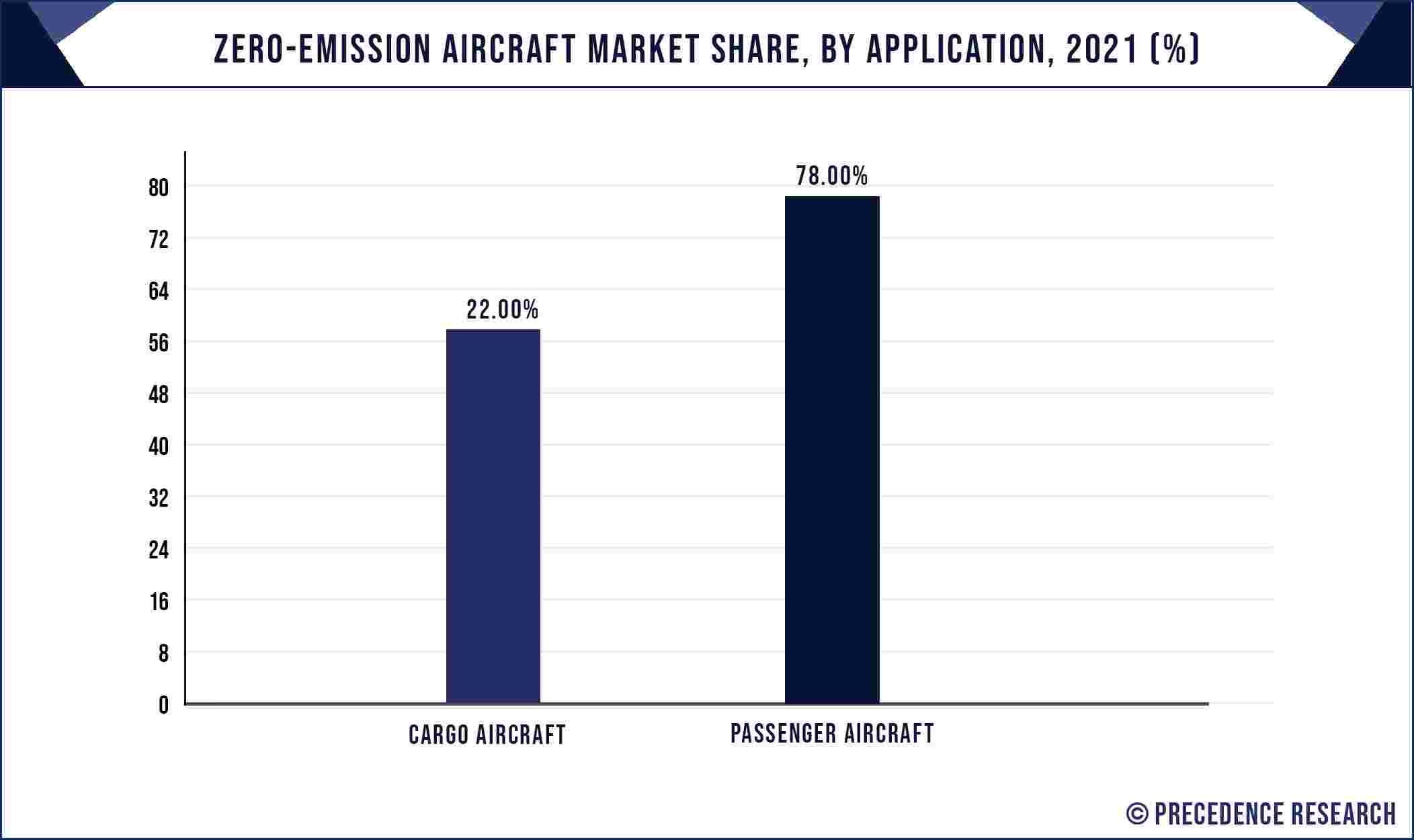 According to the numbers presented previously, global aviation traffic volumes have increased over time. Petroleum, a diesel generator, powers the current fleet of airplanes, and so as airline passenger numbers have increased, so has jet fuel usage. This necessitates the research for alternate sources of energy for operating the young leaders of airplanes, including such energy and gas. Because of its remarkable characteristics as such a power source for use in aircraft including its low environmental impact, lightweight, universal availability, and safety hydrogen is ideal jet fuel.
Airplanes driven by energy or batteries are near silent than those fueled by fuel, cost very little to build and operate and provide faster, better enjoyable flights. Because gasoline and rechargeable batteries aircraft don't produce carbon pollution, using these techniques can be advantageous for both the aviation sector and the ecology. Consequently, it is projected that throughout the projection period, an increase in air passengers will fuel the demand for negligible aviation.
Type Insights
Due to the continuing development of commercial airplane operations, the turbofan sector is expected to represent again for three biggest income shares during the projection timeframe. Turbofans are utilized in corporate commercial airliners because they weigh less than transport aircraft and can therefore travel at incredible velocities.
In contrast, the plane's turbofan is superior to certain other motors for operating with a great inclination, produces less pollution than some other motors, and therefore is inexpensive, making it perfect for a long journey. Additionally, due to their great reliability and fuel efficiency, turbofans are found in the majority of commercial airliners.
Zero-Emission Aircraft Market Share, By Region, 2021 (%)
| | |
| --- | --- |
| Regions | Revenue Share in 2021 (%) |
| North America | 24% |
| Asia Pacific | 21% |
| Europe | 47% |
| Latin America | 5% |
| MEA | 3% |

Regional Insights
The aerospace industries are developed in North America and Europe. Owing to their closeness to significant aviation OEMs, those areas are home to several number of aerospace businesses. The development of both the market for negligible aviation will be aided by the participation of industry heavyweights like Airbus, NASA, Rolls Royce, Boeing, and many others. The United States and Eu were home to more than a 90percent of businesses developing the negligible idea. Several proposals for negligible commercial airliners that would be in operation before 2035 were unveiled by Airbus in Sept 2020. Those ideas all depend on helium as their main source of electricity. Previously, Wraps disclosed its intention to spend £80 million in the coming ten years on technologies for energy storage.
The business is creating storage systems for energy that will permit aircraft to fly over 100 miles without emitting any emissions on a single battery charge. Electronic and frequency harmonic technologies for electric vertical departure and landed) within the urban autonomous aerial industry and corrected aviation, having up to 19 passengers, inside the passenger industry would be powered by Lockheed Martin ESS technologies by Moves. Zero Avia, a development company of hydrocarbon airplanes, finished the first ever crowdfunding round in Late 2020 but also received USD 21.4 million from several influential shareholders, which include Shell, and Amazon to fund its proposals to operate first-ever advertising negligible aircraft as early as 2023.
Additionally, the business has teamed up alongside British Airways to investigate the creation of zero carbon jets again for a portfolio of the carrier. It has obtained authorization for Us 16.3 dollars in funding from the British government through the Aviation Technical Institute. Even during the projected timeframe, these advancements are expected to drive overall growth inside the regions of Europa and North America.
Key Market Developments
18 March 2021, the initial in-flight pollution investigation of broad industrial passenger jetsbroad industrial passenger jets utilizing only sustainability jet fuel has been started by a group of aviation experts. Together, Siemens and German research center Rolls-Royce, DLR, and SAF manufacturer Neste have launched the ground-breaking "Emissionsth and Environmental Effect of Alternative Energy sources" (ECLIF3) research, which examines how 100percentage SAF impacts airplane pollutants & productivity.
This one will allow the firm to develop chances in commercial and collaboration with facilities, aircraft producers, and aircraft, inside the Netherland & larger European Union. With this new invention, ZeroAvia can further the advancement of fuel cells with hydrogen rocket technology.
Rolls-Royce will launch some all aircraft with a record-breaking goal performance of 300+ MPH On April 19, 2021.
Opportunities for both existing companies as well as those looking to break into the sector have been addressed by Visiongain.
Airbus Helicopters flew a comprehensive prototype of its electrified aircraft in July 2021. The cross design of CityAirbus includes four ducting elevated motor engines. To provide a minimal sound impact, its 8 shafts are propelled by electric engines rotating at about 950 rpm.
Beta Technologies accomplished the 205-mile-long highest manned test launch of their Alia jet in Jul 2021. (330 kilometers). Merely 3 of Alia's 5 rechargeable batteries were being used when the device was in airplane mode.
Key market players
AeroDelft
Airbus S.A.S.
Blue Origin Federation, LLC
Boeing Aerospace NYSE: BA
Bye Aerospace
Eviation Aircraft
HES Energy Systems
Joby Aviation
Lilium
Lockheed Martin Corporation NYSE: LMT
Northrop Grumman Corporation NYSE: NOC
Pipistrel d.o.o
Reaction Engines
Rolls-Royce Holdings PLC
SpaceX Aerospace Company
Thales SA
Wright Electric
ZeroAvia, Inc.
Segments are covered in the report
(Note*: We offer report based on sub segments as well. Kindly, let us know if you are interested)
By Source
By Range
Short-Haul
Medium-Haul
Long-Haul
By Application
Passenger Aircraft
Cargo Aircraft
By Type
Turboprop Rear Bulkhead
Turbofan System
Blended Wing Body
By Geography
North America
Europe
Asia-Pacific

China
India
Japan
South Korea
Malaysia
Philippines

Latin America

Brazil
Rest of Latin America

Middle East & Africa (MEA)

GCC
North Africa
South Africa
Rest of the Middle East & Africa