The global agricultural packaging market size accounted for USD 7.46 billion in 2022 and it is expected to hit around USD 13.13 billion by 2032, poised to grow at a CAGR of 5.82% during the forecast period from 2023 to 2032.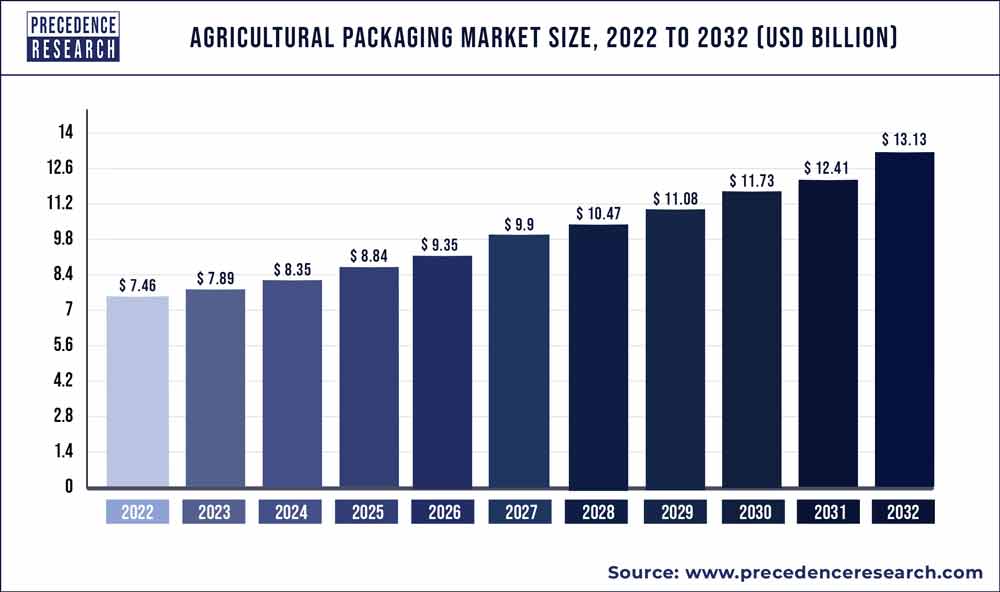 Key Takeaways:
Asia Pacific is predicted to register the highest market share from 2023 to 2032.
North America is expected to hold a maximum market share from 2023 to 2032.
By Product, the pouches & bags segment is expected to lead the market between 2023 and 2032.
By Material, the plastic segment is projected to dominate the market from 2023 to 2032.
By Application, the fertilizer segment is expected to lead the market between 2023 and 2032.
Market Overview:
Agriculture packaging refers to the specialized packaging solutions designed and used specifically for agricultural products. It involves the development and manufacturing of packaging materials and containers that protect and preserve the quality of various agricultural goods throughout the supply chain, from production to distribution and retail. The primary purpose of agriculture packaging is to ensure the safe transportation and storage of agricultural products, preventing physical damage, contamination, spoilage, and loss of quality.
It helps in maintaining the freshness, nutritional value, and overall integrity of products, ultimately extending their shelf life. Agricultural packaging is utilized for a wide range of agricultural commodities, including but not limited to grains, fruits, vegetables, meat, poultry, seafood and dairy products. The packaging materials and formats may vary depending on the specific requirements of the product, transportation mode, and storage conditions. Different types of packaging options are available for agriculture products such as bags, pouches, containers, crates, boxes and bottles. These packaging solutions are typically made from materials like plastics, paper, glass, metal, or a combination of these, chosen based on factors such as product compatibility, protection needs, cost-effectiveness, and sustainability considerations. In recent years, there has been a growing emphasis on sustainable agriculture packaging solutions. This includes the development and utilization of eco-friendly and recyclable materials, as well as the adoption of packaging practices that minimize waste generation and environmental impact.
According to the Fertiliser Association of Inda, the output of fertilizers increased by 0.5% over 2020-21 to 18.58 million MT (N+P2O5) in 2021-22. Phosphate (P2O5) production decreased by 0.5% to 4.71 million MT in 2021-2022 while nitrogen output climbed marginally by 0.9% to 13.87 million MT.
As per USDA, in 2022, US agricultural exports to China totaled USD 36.4 billion, breaking the previous year's record. China was the top export destination for the second year in a row.
Report Scope of the Agricultural Packaging Market:
| | |
| --- | --- |
| Report Coverage | Details |
| Market Size in 2023 | USD 7.89 Billion |
| Market Size by 2032 | USD 13.13 Billion |
| Growth Rate from 2023 to 2032 | CAGR of 5.82% |
| Largest Market | Asia Pacific |
| Base Year | 2022 |
| Forecast Period | 2023 to 2032 |
| Segments Covered | By Product, By Material, and By Application |
| Regions Covered | North America, Europe, Asia-Pacific, Latin America, and Middle East & Africa |

Market Dynamics:
Driver:
Increasing global population and food demand
The increasing global population and the subsequent increase in food demand drive the need for efficient and sustainable agriculture packaging solutions. Packaging plays a critical role in preserving the quality, safety, and shelf life of agricultural products, ensuring they reach consumers in optimal conditions. For instance, according to United Nations data, the population of the globe has increased by more than three times since the middle of the 20th century.
In mid-November 2022, there were 8.0 billion people on the planet, up from 2.5 billion in 1950, 1 billion since 2010, and 2 billion since 1998. The population of the world is projected to rise by about 2 billion people over the next 30 years, from the present 8 billion to 9.7 billion in 2050, with a potential peak of roughly 10.4 billion in the middle of the 2080s. Similarly, the demand for food is expected to rise anywhere between 59% to 98% by 2050. Therefore, the growth in the global population coupled with the rise in the demand for food will drive the agricultural packaging market over the forecast period.
Restraints:
Environmental concerns and plastic waste
The use of plastic packaging in agriculture has faced increasing scrutiny due to its environmental impact. Plastic waste and pollution have raised concerns, leading to demand for reduced plastic usage and increased adoption of sustainable packaging alternatives. This presents a challenge for the agricultural packaging industry to develop and implement more eco-friendly solutions.
Opportunities:
Technological advancements and innovation
The agriculture packaging industry is driven by technological advancements and innovations. New materials, packaging formats, and technologies are continuously being developed to meet the evolving needs of the industry. This includes advancements in barrier properties, smart packaging, intelligent labeling, and active packaging solutions that enhance product freshness, traceability, and consumer experience. In March 2021, Amcor China and JD Farm partnered to develop the next generation of packaging for a more successful and engaging customer experience. Consumers may learn more about the quality, safety, and provenance of JD Farm goods through the jointly developed NFC-enabled packaging that makes use of market-leading technology. Thus, these kinds of innovations in the market provide an attractive opportunity for market growth over the forecast period.
Segments Insight:
Product Insights:
Based on the product, the global agricultural packaging market is segmented into pouches & bags, drums, bottles & cans and others. The pouches & bags segment is expected to dominate the market over the forecast period. Pouches & bags play a vital role in agriculture packaging by providing protective, convenient, and customizable packaging solutions for a wide range of agricultural products. They offer versatility and are adaptable to various product sizes and packaging requirements, ensuring the preservation and presentation of agricultural goods throughout the supply chain. Thereby, driving the segment growth.
Material Insights:
Based on the material, the global agricultural packaging market is segmented into plastic, metal, paper and paperboard, composite materials and others. The plastic segment is expected to dominate the market during the forecast period. The growth of the segment is ascribed to its properties including lightweight, durability and cost-effectiveness. On the other hand, the paper and paperboard segment is expected to grow at the highest CAGR over the forecast period. The growth in this segment is attributable to its eco-friendly and recyclable nature.
Application Insights:
Based on the application, the global agricultural packaging market is divided into fertilizers, pesticides, seeds and others. The fertilizer segment is expected to dominate the market over the forecast period. Fertilizers are sensitive to moisture, heat, and exposure to air. Packaging materials used for fertilizers need to provide adequate protection against these elements to maintain product quality and efficacy. Packaging should prevent moisture ingress, minimize exposure to light and oxygen, and offer barrier properties to prevent nutrient loss or degradation. Thus, the fertilizers segment propels the growth of the market at a significant rate over the projected period.
Regional Insights:
The Asia Pacific is expected to capture the largest market share during the forecast period owing to the increasing agriculture sector. The region is home to some of the world's largest agriculture producers, including China and India. They have a diverse range of agricultural products, including grains, fruits, vegetables, meat, and dairy products. The increasing population and rising middle-class consumer base in countries like China and India are driving the demand for efficient packaging solutions to ensure the quality and safety of agricultural products.
For instance, according to WorldData.info, India's population climbed from 450.55 million in 1960 to 1.43 billion in 2023. This is an increase of 216.5% in 63 years. The year 1974 saw the highest growth in India, at 2.36% and 2023 will have the smallest growth, at 0.61%. Furthermore, the rising exports of agricultural products to both regional and global market is also driving the market growth over the forecast period. Packaging plays a crucial role in preserving the quality of these products during transportation.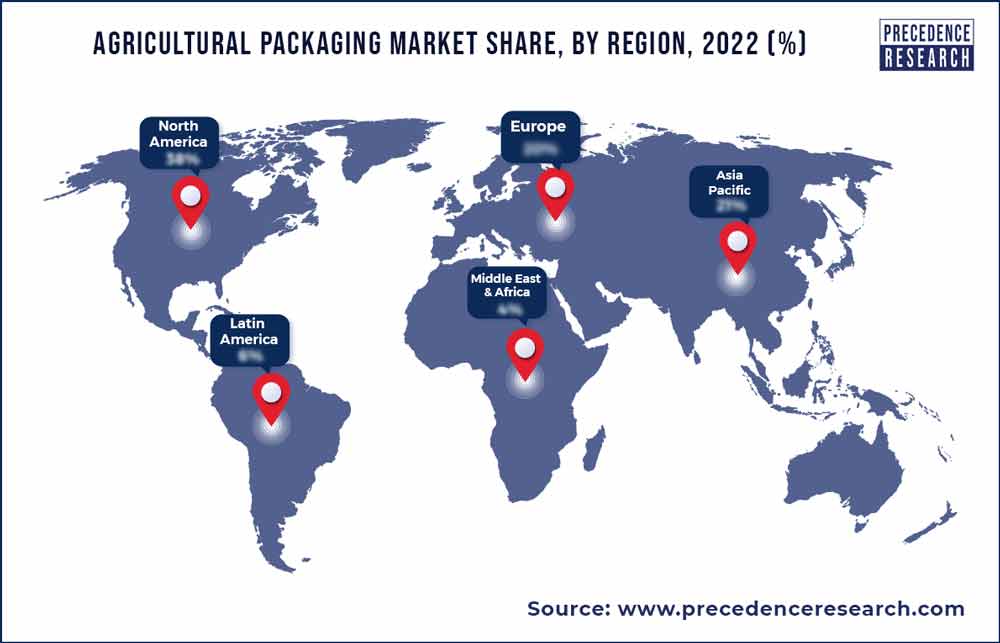 As the demand for Asian agricultural products continues to grow, there is a corresponding need for reliable and effective packaging solutions that meet international quality standards. For instance, as per the statistics from DGCI&S, India's exports of agricultural goods increased by 19.92% in 2021-2022 to reach USD 50 billion. The growth rate is noteworthy since it exceeds the increase of 17.66% at USD 41.87 billion recorded in 2020-21. Thus, the aforementioned statistics support the penetration rate of the agricultural packaging market in the region during the projected period.
North America is expected to hold a substantial market share over the forecast period owing to the advanced infrastructure and stringent quality standards. The region has a robust infrastructure that supports the agriculture industry, including efficient transportation networks, modern storage facilities, and advanced packaging technologies. This infrastructure facilitates the movement of agricultural products from farms to markets, driving demand for reliable and efficient packaging solutions. In addition, the agriculture industry in the region is known for its high-quality standards and stringent regulations. This emphasis on quality extends to packaging, as it plays a crucial role in preserving the freshness, safety, and overall integrity of agricultural products. Packaging solutions in areas often need to meet strict requirements related to product protection, labeling, and traceability. Furthermore, North America is home to several major players in the agriculture packaging market. Companies like Amcor Limited, Sonoco Products Company, and Berry Global Inc. have a significant presence and offer a wide range of packaging solutions tailored to the specific needs of the region's agriculture industry. These companies often invest in research and development to develop innovative packaging solutions.
For instance, in November 2022, Amcor, a pioneer in creating and manufacturing ethical packaging solutions, disclosed a USD 3 million investment in PulPac, A Swedish business that offers innovative manufacturing technology for inexpensive, high-performance fibre-based packaging. Amcor is one of several strategic investors in an inter-industry partnership that aims to accelerate the adoption of PulPac's technology on a worldwide scale.
Europe is expected to capture a significant position in the agriculture packaging market. They have a strong emphasis on sustainability and eco-friendly packaging solutions. The region has implemented strict regulations and policies regarding packaging waste and recycling. There is a growing demand for recyclable and biodegradable packaging materials to reduce environmental impact. Packaging companies in Europe are actively investing in sustainable packaging innovations, such as compostable packaging, bio-based plastics, and eco-friendly printing technologies.
In March 2023, one of the most significant manufacturers and co-packers of tomato products in Europe, Casalasco Societa Agricola, is the first company in the continent to introduce food items in aseptic carton packs from SIG, which are built of even more environmentally friendly Signature Nature Full Barrier. A mass balancing mechanism linked the few polymers used n this packaging material to verified forest-based renewable sources, significantly lowering the carbon footprint of the carton pack. Therefore, these types of product launches by the key players will drive regional market growth.
Recent Development:
In April 2023, packaging manufacturer Mondi collaborated with Swiss converter ATS-Tanner to create a paper band to hold products or bundles, reducing unnecessary plastic. ATS-Tanner uses Mondi's kraft paper Advantage MF SpringPack and converts it into a band by adding a functional barrier on each side of the paper. The paper is sealed using ultrasound which eradicates the need for adhesive, ensuring that products are secured with minimum packaging, reducing waste and delivering cost-efficiency. ATS-Tanner markets the coated bands under the brand name TruePaper.
In May 2022, Agri-Flex, a Canadian supplier of agricultural supplies, has been acquired by Zeus, an international packaging solutions company with Irish ownership. The next step in the company's USD 36.88 million investment plan is represented by this acquisition. Zeus will now rank among the world's leading suppliers of agricultural crop packaging goods.
Key Market Players:
Mondi Group
Proampac LLC
Pactiv LLC
NNZ Group
Sonoco Products Company
BAG Corporation
Greif Inc.
Flexpack FIBC
Amcor plc
Anderson Packaging Inc.
LC Packaging International BVs
Western Packaging
Segments Covered in the Report:
(Note*: We offer reports based on sub segments as well. Kindly, let us know if you are interested)
By Product
Pouches & Bags
Drums
Bottles & Cans
Others
By Material
Plastic
Metal
Paper and Paperboard
Composite Materials
Others
By Application
Fertilizers
Pesticides
Seeds
Others
By Geography
North America
Europe
Asia-Pacific
Latin America
Middle East and Africa