The global automotive parts packaging market size surpassed USD 8.14 billion in 2022 and it is predicted to reach around USD 12.82 billion by 2032, poised to grow at a CAGR of 4.65% during the forecast period 2023 to 2032. Asia Pacific generated more than 45% of the revenue share in 2022.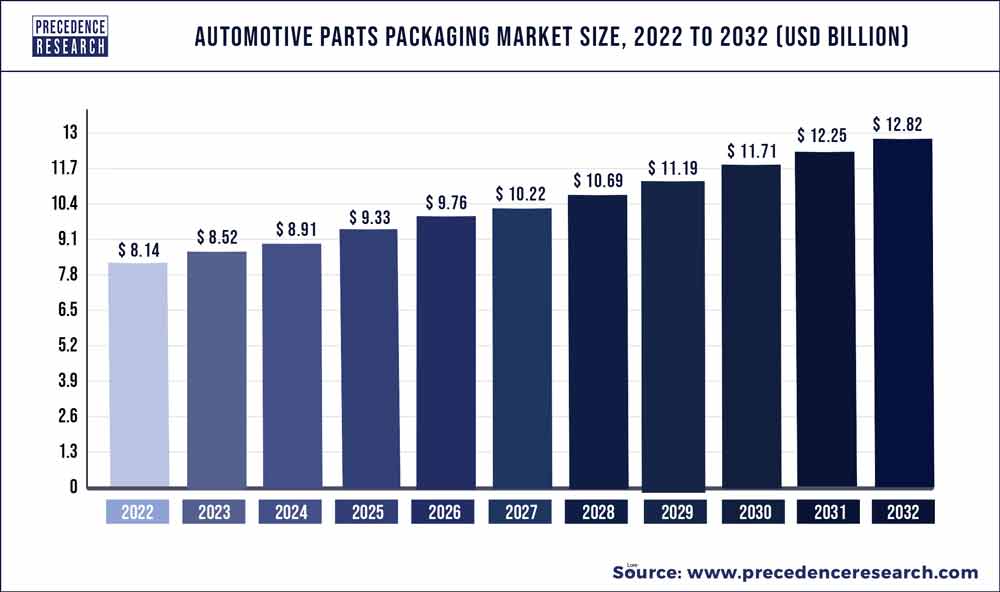 Access our Premium Real Time Data Intelligence Tool, Visit: Precedence Statistics
Key Takeaways:
By product, as per volume, protective packaging will probably represent the most significant market, while bulk cases and containers will hold the largest market share globally.
By packaging, the market share of disposable packaging will be the largest.
By component, the lighting segment will lead the market for packaging automobile parts.
By region, China has the most significant and fastest-growing automotive industries.
Market Overview:
The global automotive parts packaging market revolves around the innovation, production and distribution of packaging solutions, especially developed for packaging automotive parts. Packaging for automotive, aftermarket, spare, or service parts is called automotive parts packaging. This can include packaging for the aftermarket, engines, or industrial uses, such as custom crates, wood packing, corrugated materials, pallets, bubble wrap, and more.
The automobile packaging sector is changing due to sustainable advances in packaging like recyclable packaging materials, biodegradable packaging materials, sustainable logistics, reusable packaging, and optimized packaging. Automobile manufacturers are concentrating on package optimization to utilize fewer calories while preserving their products during transportation. This strategy lessens waste production and the industry's environmental impact.
Growth Factors:
Due to the continuously and rapidly growing population and urbanization, the demand for automobile components packaging is expanding. Additionally, the growing manufacturing and packaging of bulky components like cooling systems and engine parts are negatively impacting the growth of the packaging for automotive parts throughout the forecast period. Due to the factors listed above, the market is expected to expand significantly throughout the forecast period, despite the significant consumer shift towards bio-based packaging materials brought on by rising environmental concerns and the growing popularity of electrical and electronic equipment in the automotive industry.
Additionally, the packing of heavy components and the growing use of reusable packaging has increased the demand for protective packaging in the automotive industry, which is anticipated to fuel the expansion of the automotive parts packaging industry during the anticipated period. The increased desire for reusable packaging is the primary driver that actively fuels the market for packaging automotive parts. Likewise, during the estimated duration, there will be numerous chances for expanding the market for automotive parts packaging due to the rising demand and requirements for automobiles and the after-sale market for spare parts.
Report Scope of the Automotive Parts Packaging Market:
| | |
| --- | --- |
| Report Coverage | Details |
| Market Size in 2023 | USD 8.52 Billion |
| Market Size by 2032 | USD 12.82 Billion |
| Growth Rate from 2023 to 2032 | CAGR of 4.65% |
| Largest Market | North America |
| Base Year | 2022 |
| Forecast Period | 2023 to 2032 |
| Segments Covered | By Product, By Packaging, and By Component |
| Regions Covered | North America, Europe, Asia-Pacific, Latin America, and Middle East & Africa |

Market Dynamics:
Driver:
Growing urbanization
The need for automotive production is increasing due to rising urbanization, particularly in developing nations. To meet consumer and industrial demand, the automotive industry has boosted its production in recent years. Packaging for aftermarket parts is more in order due to the automotive industry. After the original equipment manufacturer (OEM) sells the car to the consumer, the automotive aftermarket, the secondary parts market of the automotive market deals with the production, distribution, retailing, and installation of all the equipment/parts, chemicals, and accessories for vehicles.
As the automotive industry across the world concentrates on creating packaging options for automotive parts, the increase is observed to show a significant effect on the packaging market. Packaging for automotive parts allows the safe storage of vital functions, and parts must be packaged effectively to prevent damage. By the end of 2022, India had produced 1,557,238 units in total of passenger cars, three-wheelers, two-wheelers, and quadricycles.
Restraint:
Strict government regulations
Government regulation of the automobile industry has a direct impact on the appearance, construction, inclusion of safety features, and overall performance of each vehicle. Government regulation thus has a significant effect on the auto industry by raising production costs and restricting how cars are sold and promoted. Automakers may be punished with harsh fines if they violate automotive regulations intended to benefit consumers and safeguard the environment. Such stringent government policies directly impact on the sales of automotive parts and further act as restraints for the market's expansion.
Opportunity:
Rising direct consumer sales through e-commerce platforms
Compared to conventional, over-the-phone ordering and buying components online have now become more convenient options because of the ease of e-commerce and modern shop management systems. Because local garages frequently hold the negative image of being unclear in their pricing and procedures, in addition to their product descriptions, consumers enjoy the information and price clarity available online. The range of aftermarket car parts includes everything from fenders or headlights to replacement windscreens. Each product must be protected with unique packaging to prevent damage while shipping. The best product packaging solution can be made using various materials and methods, depending on the application and destination.
Some examples include plastic corrugated divisions lined with foam, heat-sealed bubble pouches, and films to prevent scratching, marring, and abrasion. Thus, the market for manufacturing automobile components is expanding as there is an increase in demand for direct sales through e-commerce platforms. The expansion of e-commerce platform across the globe along with the rising focus of the automotive industry on their presence on online platforms is expected to offer plethora of opportunities for the global automotive parts packaging market.
Segment Insight:
Product Insights:
According to volume, protective packaging will probably represent the most significant market, while bulk cases and containers will hold the largest market share globally. Due to the substantial amount of delicate electrical parts that are needed in automobiles, protective packaging is used significantly. Protective packaging causes significant waste because it is only used once before being discarded. Additionally, a substantial amount of non-biodegradable garbage is created globally due to the cheaper cost of protective packaging from non-biodegradable plastics than from biodegradable materials. Due to their wide range of applications, light weight, high strength, and biodegradable nature, corrugated packaging products are in high demand. On the other hand, several political and regulatory restrictions impact the trade of pulp used to make corrugated packaging products. These variables have affected the packaging market for automobile parts on a global scale.
Packaging Insights:
The market share of disposable packaging will be the largest. When a vehicle part is used for its intended function, these goods are typically considered single-use packaging options that should be recycled or discarded. The lifecycle of the production and packaging process needs to include a regular material disposal procedure. Returnable packaging options have been developed for reuse in systems of manufacture and distribution. With this kind of packaging, there is no longer any need to buy disposable packaging that must be discarded in a landfill or recycled.
Component Insights:
The lighting segment will lead the market for packaging automobile parts. Novel technologies for lighting are being developed by automobile manufacturers, focusing on popular lighting fixtures like headlights. They are creating allies to take the lead against competitors in the market. An essential element in making an environment that is secure for nighttime driving is the use of headlights.
Regional Insights:
Asia Pacific dominated the automotive parts packaging market in 2022, the region is expected to hold the largest share of the market during the forecast period. In comparison to other nations, China has the most prominent and fastest-growing automotive industries. Although many established packaging providers in the Asia Pacific region already offer packaging solutions at affordable prices, global packaging industry leaders have the chance to enter the China automotive industry and take advantage of the enormous opportunity created with advanced packaging solutions.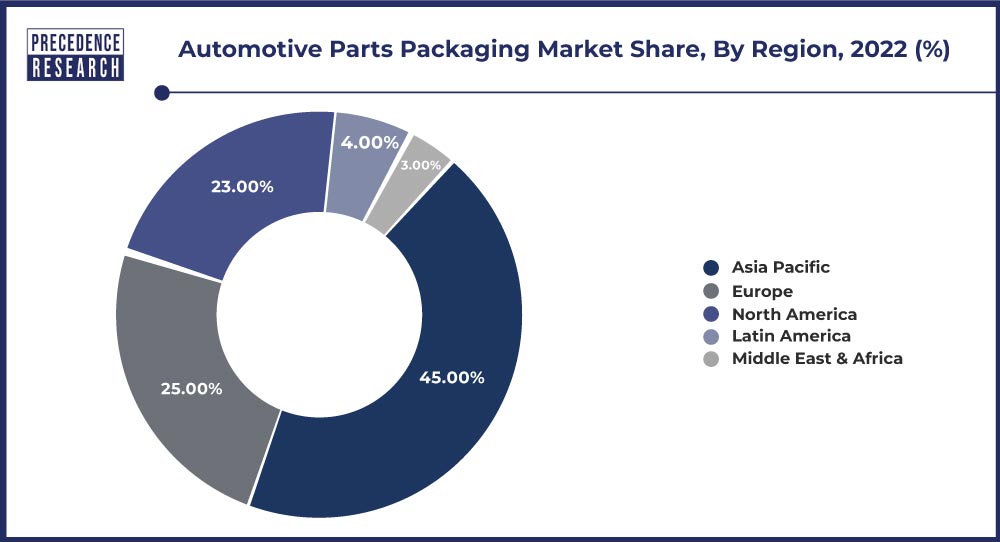 Packaging companies in the Asia-Pacific area invest substantially less in R&D than their competitors in North America and Europe. Therefore, rather than creating product-specific innovative packaging solutions, the competition in China's packaging business is concentrated on conventional packaging products. Additionally, advances in material science have produced a wide range of affordable biodegradable plastics that may be used in making disposable packaging for car parts. Due to its many advantages over reusable packaging, the automotive sector is moving towards embracing the use of disposable packaging. As a result, the market for packaging automotive parts globally has seen some attractive opportunities.
Recent Developments:
In November 2022, to help designers in challenging automotive applications, particularly motor control and DC/DC conversion, a leader in sensing technologies and intelligent power, Onsemi, introduced a line of new MOSFET devices that include novel top-side cooling. The business displayed the latest gadgets at electronica, the largest trade show, and conference for electronics. According to Fabio Necco, vice president and general manager of Automotive Power Solutions at Onsemi, cooling remains one of the most challenging problems in high-power design, and solving it is the key to lowering size and weight, which is essential in contemporary car design. The design is greatly simplified, shrinking in size and cost while maintaining excellent electrical effectiveness and removing the PCB from its thermal path. The most excellent power density solution available in the market is provided by this solution, which makes use of onsemi's deep packaging experience.
In March 2023, Pregis, a US-based developer of protective packaging, debuted its high-performance AirSpeed Ascent air cushioning system in Europe. Hybrid cushioning (HC), with a patented square design, is produced using high-pressure air systems. This provides increased shock-absorbing surface area, improving overall product protection. The AirSpeed HC Renew film from Pregis is made to adhere to the Circular Economy Flexible Packaging (CEFLEX) standards and contains at least 30% post-consumer recycled material. By 2025, CEFLEX wants flexible packaging to be circular in Europe. The 'compact' design of the AirSpeed Ascent, which conserves floor space, and its top speed of 30 m/min, according to Pregis, will be advantageous to consumers. The Ascent enables one-person roll changeovers and has no exposed parts, increasing packer safety.
Additionally, Ascent has smart logic' built into the design that can identify and calibrate the best system settings for movies being loaded onto the device. This "load and go" efficiency seeks to reduce human mistakes by streamlining machine operations with no changes. Pregis, headquartered in Chicago, Illinois, offers clients protective products, flexible packaging, equipment systems, and surface protection solutions.
In August 2022, at this year's North American Battery Show, ORBIS Corporation, a global pioneer in reusable packaging, showcased reusable packaging options for the battery supply chain and electric vehicle by displaying their robustness, sustainability, and automation advantages. Protective dunnage, hand-held containers, bulk containers, and metal racks are just a few of the packaging goods and services that ORBIS provides to assist automotive supply chains in finding efficiencies, enhancing product flow, enhancing sustainability, and lowering costs. The widespread use of electric vehicles has presented new difficulties for OEMs and the supply networks that support them. Due to their high price, intricate restrictions, and significant risk of thermal runaway, batteries made with lithium-ion are finding themselves at the heart of these issues. It is crucial to choose packing and transport techniques that comply with rules and guarantee that the battery and the environment around it are effectively protected during transport.
In September 2022, Anders Zobbe and Richard Campbell were added as worldwide heads of packaging and inbound logistics engineering, respectively, by Volvo Cars. The strategic network design and commercial growth related to the inbound transport of all manufactured parts for all Volvo plants will be Zobbe's. He previously spent 16 years in a variety of top logistics positions with Carlsberg Group, his last one being director of customer supply chain for the Baltics. At Toyota, he had previously worked in logistics. With an emphasis on logistics engineering, international business, and strategic network design, Zobbe began heading the Volvo logistics teams in the Asia-Pacific, the Americas, and the larger European region.
Key Market Players:
Knauf Industries
DS Smith plc
Mondi plc
Primex Plastics Corporation (ICC Industries Inc.)
Nefab AB
Schoeller Allibert Services B.V.
Signode India Ltd.
Sealed Air Corporation
Smurfit Kappa Group plc
Sunbelt Paper & Packaging Inc.
Sonoco Products Company
WestRock Company
Segment Covered in the Report:
(Note*: We offer report based on sub segments as well. Kindly, let us know if you are interested)
By Product
Crates
Pallets
Bags & Pouches
Bulk Containers & Cases
Folding Carton
Trays
Corrugated Products
Protective Packaging
By Packaging
By Component
Cooling system
Battery
Underbody components
Automotive filter
Engine components
Lighting Components
Electrical components
By Geography
North America
Europe
Asia-Pacific
Latin America
Middle East and Africa