The global automotive relay market size was reached at USD 18.23 billion in 2022 and it is expected to attain around USD 31.98 billion by 2032, growing at a CAGR of 5.78% during the forecast period 2023 to 2032.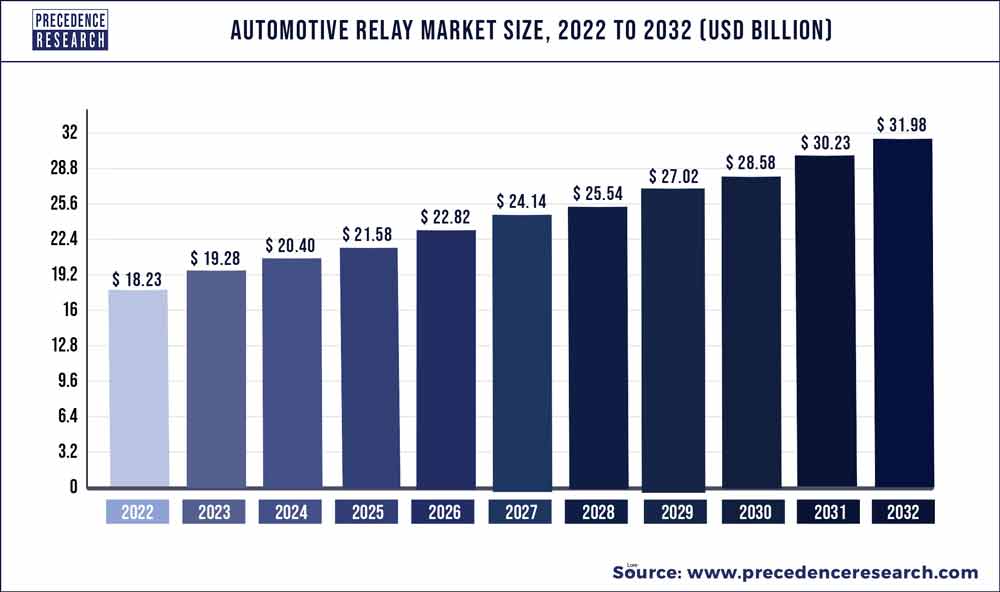 Access our Premium Real Time Data Intelligence Tool, Visit: Precedence Statistics
An automotive relay is an electronically operated switch. They physically move a switch to complete or disrupt an electrical circuit using a magnetic device. An automotive relay is an electronic device used in vehicles to control high currents and high voltages. It acts as a switch that allows a small current to control a much larger current. Automotive relays are typically used to control a variety of functions in a vehicle, such as headlights, horns, wipers, and other electrical components. Automotive relays have the potential to switch multiple circuits.
Key Takeaways:
Asia Pacific region generated the maximum market share in 2022.
By Product Type, the PCB relay segment has contributed the largest market share in 2022.
By Application, the capacitive loads segment has captured more than 52% of revenue share in 2022.
By Vehicle Type, the passenger cars segment had the biggest market share in 2022.
Growth Factor:
The automotive relay market is experiencing significant growth as the demand for electrical and hybrid vehicles increases. Automotive relays play a crucial role in the operation of electrical systems in vehicles by providing a switch for power supply and control signals. In addition, the growing complexity of electrical systems in vehicles also bolsters the growth of the automotive relay market.
The variety of electric vehicle components has increased the need for relays used for switching; each relay needs a distinct set of characteristics. Further development of high contact capacity and miniaturization are required, particularly in the Electric Control Unit (ECU), where the mounting area is constrained by the existence of a collection of relays. Relays must have a high level of dependability in order to be secure. Due to the demand for switching technology for the newest iteration of electrical functions in a vehicle, components with characteristics like latching, low noise, and ultra-miniaturization have become more popular.
Due to the rising usage of advanced electronic equipment and the increased focus on safety and security, it is anticipated that the average number of relays fitted per car will rise over the course of the forecast period. In addition to the standard relays used in powertrain systems, switching of auxiliary devices needed for safety, security, communications, and entertainment requires additional relays. Over the course of the projection period, increased advancements in PCB relays to reduce total vehicle weight for improved fuel economy are anticipated to boost the market growth.
The typical amount of electronics and software per car is increasing quickly as the automobile industry shifts from hardware-oriented to software-oriented vehicles. Electronic components with a broad variety of applications, including safety management, engine, comfort, and entertainment, which make use of car relays, are used to incorporate new features into vehicles. During the anticipated time, this is anticipated to increase market demand.
Another significant element driving the development of automated systems in cars is passenger protection. Over the past few decades, road accidents and deaths have decreased significantly thanks in large part to safety measures in cars. Additionally, the car sector is trying to improve customers' driving experiences. Self-diagnosing smarter vehicles are becoming more and more common, which is expected to accelerate market expansion during the forecast period.
Manufacturers are being compelled to engage in solid-state relays rather than the more conventional big electromechanical relays due to the increasing demand for hybrid and electric cars with sophisticated, lightweight, and high-performance relays. Thus, it is expected that this will present a chance for the industry to expand.
The increasing need for relays in cars is primarily being driven by the rising demand for fuel-efficient vehicles and technical advancements in vehicle electronics.
Manufacturers are investing in the production of more solid-state relays due to the demand for sophisticated relays with lightweight and high-performance features.
The primary driver driving the growth of the car relay market is the development of needs for electric power modules and automated components.
Report Scope of the Automotive Relay Market:
| | |
| --- | --- |
| Report Coverage | Details |
| Market Size in 2023 | USD 19.28 Billion |
| Market Size by 2032 | USD 31.98 Billion |
| Growth Rate from 2023 to 2032 | CAGR of 5.78% |
| Largest Market | Asia Pacific |
| Base Year | 2022 |
| Forecast Period | 2023 to 2032 |
| Segments Covered | By Product Type, By Application, and By Vehicle Type |
| Regions Covered | North America, Europe, Asia-Pacific, Latin America and Middle East & Africa |

Key Market Drivers:
Growing demand for cars that are safer and more convenient
In recent years, there has been a significant rise in demand for cars with more safety and convenience features. Automakers now offer cutting-edge technologies and features in response to the desire for improved safety and comfort features. Relays are now used more frequently in these electrical devices as a result. For example, adding advanced driver-aid systems (ADAS) has also led to a rise in the number of electronic parts in cars. Electronic relays, which are efficient and small, have also supplanted manual relays. The sophisticated processors in electronic car systems have benefited significantly from developments in cloud mobility, deep learning, and artificial intelligence technologies.
By using relays to send outputs, these computers are used to create a 3D spatial representation of a car's surroundings and identify danger levels. The use of more relays is made possible by the GPS monitoring system, which sends signals to electrical devices showing direction, speed, and time. Industry specialists estimate that as electrification progresses, each vehicle will use between 30 and 40 relays for budget ICE passenger vehicles and between 60 and 70 relays for electric vehicles.
Additionally, a larger number of safety elements must be standard in vehicles due to the expanding global safety regulations. The Federal Motor Car Safety Standards (FMVSS) and National Highway Traffic Safety Administration (NHTSA) are the regulatory agencies in charge of overseeing car safety in the United States. They have put in place safety rules that take into account different electronic devices in cars.
The General Safety Regulation (GSR), a measure to decrease fatalities and serious injuries in accidents, was approved by the European Union in 2019. This required numerous safety systems in addition to lane departure warning systems and emergency brake aid systems, as well as specific safety standards for buses and large industrial vehicles. The market is fueled by all these consequences, which further encourage the use of relays in electrical safety systems.
Key Market Challenges:
Rapid technological change
The automotive relay industry is facing several challenges due to the rapid technological changes in the automotive sector. One of the main challenges is to keep pace with the evolving needs of the automotive industry. As new technologies are introduced, such as electric vehicles and autonomous driving, the requirements for automotive relays are constantly changing. This means that manufacturers must adapt their production processes and design new products to meet the demands of the market.
The rapid pace of technological change in the automotive industry can make it challenging for automotive relay manufacturers to keep up with the latest developments. Manufacturers must continually invest in research and development to remain competitive and ensure their products meet the latest industry standards.
Key Market Opportunities:
Electric, hybrid, and autonomous car demand will increase the need for greater switching capability relays
The demand for high-voltage DC switches for switching purposes has grown as a result of the growing tendency of electrification of the engine (BEV, PHEV, and HEV) in passenger automobiles and industrial vehicles. Different electric vehicle (EV) uses, including battery management systems, HVAC, power steering units, and others, call for a suitable design for turning the relay on or off. For a variety of uses in electric cars and driverless vehicles, a relay with high switching capacity, magnetic blowout, and adequate spacing is needed due to the extremely inductive nature of the load. Relays are used for main, pre-charging, and DC charging connections in the case of electric cars.
With switches that are adaptable to greater system voltage and suited for severe short circuit situations, Panasonic has trademarked its EV relays section. In order to better transmit heat than air, hydrogen gas is placed inside the contact compartment of these relays' hermetically sealed ceramic capsule construction. This contributes to the rapid and effective release of heat produced while bending, improving switching performance.
Other significant makers make significant R&D investments to create EV relays for high-switching uses. Sales of hybrid and electric cars have skyrocketed, and these cars' electrification is having an impact on the market for switches.
Segments Insight:
Product Type Insights:
According to estimates, PCB relay has the biggest market share. Most electrical devices use it, including those with ABS, speed control, doors, power steering, power windows, and sunroofs. They are widely used in areas like Europe and North America. However, Tier-1 makers and OEMs still favor plug-in variants in places like Asia-Oceania and RoW.
Plug-in switches are used in situations where switching operations must be done while being subjected to high temps, vibrations, and voltage changes. They are utilized in switching gasoline injectors, heating control and air conditioning (HVAC) systems, and fuel injection systems. Due to their small dimension, which greatly reduces the amount of room they take up in the junction box, these components are in higher demand. In turn, this occurrence aids in lowering the junction box's total weight. There is a growing need for compact, more powerful devices as a result of the growth of electronic control units and electronic components.
Given their many uses in electric and hybrid cars, high voltage switch sales are also anticipated to rise in the future. Based on the corresponding uses, automotive OEMs and producers incorporate the relays into the circuit of the car. To guarantee correct component maintenance and replacement, they establish partnerships and alliances with service facilities.
Application Type Insights:
In terms of revenue, the section for capacitive loads is anticipated to rule the market during the projection period. Automotive electronics are made up of semiconductor components that are employed in many different vehicle systems. Without technology, it would have been impossible to create some of the safety and convenience features in automobiles. Modern automobiles have some fundamental electronic apps that must be relayed for proper function. Power windows, air conditioning, wipers, and gasoline infusion are a few of these.
Compared to the LCV sector, the passenger vehicle segment has more electronic uses. This is a result of the rising desire for high-end vehicles with cutting-edge features. Modern cars come equipped with a wide range of intelligent systems that improve all driving conveniences and safety features. Even in the mid-sized vehicle market, navigation systems with live traffic condition interfaces have become the norm.
The worth of the electric and computer components adds up to almost a quarter of the overall vehicle value in high-end automobiles. The number of link systems between various harnesses, ECUs, and actuators can increase the cabling length to several thousand meters. For the car to be reliable generally, the switching of lights, engines, heaters, and ECUs must be reliable.
Vehicle Type Insights:
In 2022, the market for automobile relays for passenger cars had the greatest market share. Many countries give generous incentives to encourage the purchase and use of EVs. The growing preference for electronic e-fuses over their electromagnetic alternatives as a result of car upgrading is a good thing driving the segment's expansion.
Many European nations run incentive-based EV promotion campaigns. There are tax discounts and allowances offered by nations like Germany and Austria. France and the UK provided EV purchasers with bonus payments and insurance savings. In comparison to other segments, the electric car category is anticipated to expand at the highest rate during the forecast time. Many countries give generous incentives to encourage the purchase and use of EVs. At the moment of buying, tax benefits are offered. The quantity of the batteries used in the car also affects how much is exempt.
In the United States, utility companies offer cheap energy prices while insurance companies give clients discounts on insurance policies. Additionally, only a few states give makers and purchasers of electric vehicles compensation for their expenses and the cost of charging infrastructure. For plug-in electric vehicles, the federal government provides tax rebates of up to USD 7,500.
Regional Insights:
A significant market share was held in 2022 by Asia Pacific, a sizable revenue-generating area. The adoption of safety standards is anticipated to propel the market in several Asian nations. The regional development is due to the penetration of cars in emerging economies like China. Because there is a high demand for vehicles in the Asia Pacific, the area has a high development potential. Over the forecast period, rising car demand in Asia Pacific, especially in China and Japan, is anticipated to propel regional market expansion.
Over the projection period, rising connectivity demand and vehicle digitalization will positively affect market development. Furthermore, the automotive relay market is driven by various factors such as the increasing demand for advanced safety features and comfort systems in vehicles, as well as the rise in demand for electric and hybrid vehicles. Moreover, the growing trend of vehicle electrification and increasing adoption of advanced driver-assistance systems (ADAS) are also contributing to the growth of the market. Moreover, the rising demand for electric cars has increased the market for auto electrical harnesses.
Recent Developments:
One of the top automakers, Faurecia, stated in August 2021 that it intended to buy a total of 60% of the stock in Hella GmbH & Co. In order to completely align with the megatrends in the industry, Faurecia and Hella want to become a worldwide champion in the rapidly expanding field of automotive technologies.
Key Market Players:
Denso
Eaton
Fujitsu
ABB Ltd.
Idec Corporation
Littelfuse Inc.
TE Connectivity
Omron Corporation
Sharp Corporation
NEC Corporation
Nippon-Aleph
Daesung Electric
Segments Covered in the Report:
(Note*: We offer report based on sub segments as well. Kindly, let us know if you are interested)
By Product Type
PCB Relay
Plug-in Relay
High Voltage Relay
Others
By Application
Resistive Loads
Capacitive Loads
Inductive Loads
By Vehicle Type
Passenger Vehicles
Commercial Vehicles
Electric Vehicles
By Geography
North America
Europe
Asia-Pacific
Latin America
Middle East and Africa