The global bio plasticizers market size accounted for USD 1.44 billion in 2022 and it is projected to attain around USD 2.57 billion by 2032, growing at a CAGR of 6% from 2023 to 2032. Government, mergers, acquisitions, and partnerships are taking initiatives to incorporate innovative and advanced technology to propel the bio plasticizers market growth.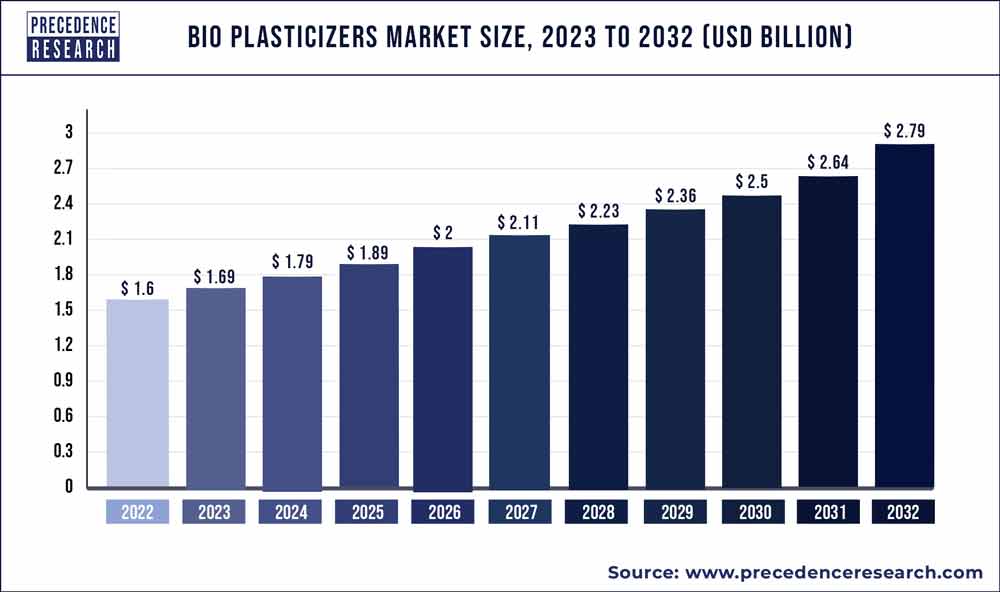 Market Overview
A plasticizer is a material added to other polymeric cores to assist the processing of the polymer, impart plasticity, flexibility, and softness and lessen brittleness. These additives are widely employed in PVC cables, resins, wire jacketing, vinyl floor covering, medical apparatus, automobile elements, packaging substances, and consumer commodities. Bio-plasticizers are based on natural sources and are renewables. It is produced from raw materials such as soybean oil, stearic acid, starch, and castor oil.
Bio-based surfactants are mixtures that supply oleochemicals to fats and oils and or ripe sugar-like molasses. These surfactants are usually made in small quantities and at a high value, especially for premium consumer goods. They are particularly advantageous because they may be produced using renewable resources.
Yet, continuous alterations in environmental protocols, guidelines, and blending strategies are critical constraints that manufacturers face, reinforcing the threat to global bio-plasticizer trading. Furthermore, packaging firms opt for low-cost yet eco-friendly petrochemical alternatives without incriminating on product performance and are anticipated to set off market growth.
Raising awareness about the harmful effects of using plastics has forced U.S. consumers to shift to green materials, resulting in a constant surge in the global industry. These resins are vital to modify a polymer's characteristics to fit a particular use in which it is to be used.
Growth Factors
The market is driven by targeting sustainable development. Bio plasticizers are nowadays used as an alternative to PVC. Consumers rely on bio-plasticizers for multiple applications, expanding the market worldwide with the growing concern about the environment. Consumers are inclined towards naturally occurring substances which again propels the market growth.
In 2020, the total worth of innovating construction was about USD 1,469 billion in the U.S. In 2021, it touched USD 1,590 billion with an expansion rate of 8%, eventually raising the need for flooring and wall coating, increasing the demand for bio-plasticizers market. Bio-plasticizers are a phthalate-free alternative in a broad range of consumer commodities, mainly food packaging, cosmetics, toys, and medical apparatus.
It has some physical properties, such as being malleable, softer and less brittle. It is derived as a biological chemical integrated into polymers to become a pliable and workable substance, recently gaining much attention. Manufacturing bio-based plasticizers usually call for high-priced inputs. Furthermore, it plays a significant role in improving the properties of polymers, which later aid in better usage.
Report Scope of the Bio Plasticizers Market
| | |
| --- | --- |
| Report Coverage | Details |
| Market Size in 2023 | USD 1.52 Billion |
| Market Size by 2032 | USD 2.57 Billion |
| Growth Rate from 2023 to 2032 | CAGR of 6% |
| Largest Market | North America |
| Base Year | 2022 |
| Forecast Period | 2023 to 2032 |
| Segments Covered | By Product and By Application |
| Regions Covered | North America, Europe, Asia-Pacific, Latin America and Middle East & Africa |

Market Dynamics:
Driver
Growing need for polyvinyl chloride for different purposes. Rise in the number of packaging firms and increasing concern for safe and eco-friendly plastic films. Developing PVC as an economically used polymer is linked to evolving additives utilized in plasticization. Expanding consumer insights and a confined supply of harmful phthalate push bio-plasticizers' advancement. When phthalate plasticizers are in direct touch with bodily fluids, they are a health trouble.
Since they are readily miscible in organic solvents like saliva and plasma, it is feasible to ingest or absorb them throughout routine medical processes. Once absorbed, they get preserved in the fatty tissue of humans and, thus, can disrupt the growth of an embryo. Therefore, eco-friendly plant-based plasticizers for food packaging substances, medical products, and consumer goods are being developed due to the ban on phthalate-based plasticizers.
Restraints
Global bio-plasticizers market spread might be affected due to the high production price. Furthermore, the strict guidelines related to bio-plasticizers are expected to hinder the market size in the forecast period. Inconsistency in raw substance prices and using highly harmful raw materials in the output of ethylene carbonate restrain the market growth.
Opportunities
Increment in the use of bio-based plasticizers. Polyvinyl chloride records a portion of 85%-90% of the plasticizers consumed internationally, which is used in various ways, like electric cables and roofing membranes, wire insulation, and wall and floor covering. PVC is also used in automotive and paints, and inks spheres. As bio-plasticizers are non-toxic, they are progressively gaining traction as a vital element in the industry; they are also used in transportation industries, automotive, packaging, pharmaceuticals, medical devices, building and construction.
With advancements and innovations in production and process technologies, the need for bio-plasticizers is expected to grow significantly higher than regular plasticizers. This development is mainly driven by help from governments of different regions in the form of grants for making easy business policies.
Impact of COVID-19
The market for bio-plasticizers has undergone a decline in the need for bio-plasticizers in flooring, cable, wall covering, and wiring applications. It was foreseen that the covid-19 pandemic would harm the worldwide bio plasticizers market during the first half of 2020 due to the government-enforced shutdown of many worth activities during the occurrence of the pandemic. COVID-19 has badly affected the economy with devastating results on global trade, affecting domestic, company spirit, monetary facilities, commercial establishments, and infrastructure firms.
The pandemic has increased the need for medical devices and other medical apparatus where plasticizers are utilized. The restrictions on international trade and lockdown regulations on the functions of the manufacturing industry are projected to decline the demand for the market. Hence, this situation has escalated the need for packaging in the food and e-commerce fields, which is expected to enhance the bio-plasticizers packaging material and expand the bio-plasticizers market.
Segments Insight:
Product Insights
Considering the product type, the global bio-plasticizers market has been divided into succinic acid, epoxidized soybean oil (ESBO), citrates, castor oil, and others. Of these, epoxidized soybean oil holds the most market revenue share. The resilience of plasticizers rises after the insertion of ESBO because of the epoxidation procedure of carbon-carbon double bonds in vegetable oil. Succinic acids are drafted into plastic additives that build flexible PVC with comparable mechanical properties to DOA.
They assist in manufacturing bio-based additives that are phthalate-free and hold higher renewability content than traditional synthetic counterparts. Likewise, castor oil and its derivatives are also used to make rigid, flexible, semi-rigid bio-plasticizers. It displays resistance to pigment dispersion and hydrolysis and is remarkably compatible with polyether polyols.
Citrates are nature-derived, biodegradable, and compostable plasticizers for PLA, PVC, PHA, and other biopolymers. Recycled bio-based polymers promptly gain repute since they decline harmful environmental effects and assure secure advantages and high bonuses to vegetable oil producers.
Application Insights
Based on the application insights, the global bio-plasticizers market works on various applications such as packaging material, textiles, agriculture and horticulture, consumer goods, automotive and transport, building & construction, medical devices, flooring and walls, wires and cables, and others. Out of all mentioned above, packaging materials are projected to dominate the market by generating the most considerable bio-plasticizer revenue.
Automobile interior fabrics are also drawn from natural-based polymers that offer similar mechanical properties to conventional synthetic counterparts. Packaging materials segments will witness an average expansion rate during the predicted period. Global packaging corporations have enforced standard manufacturing and easily flexible processes to laminate the particular application need of customers, mainly in food packaging.
Eco-friendly plastics produce eco-friendly irrigation pipes, tarps, drip tape, nursery pots, soil fumigation film, and silage bags. Emerging environmental restraints related to increasing carbon footprints, improved properties of finished products, and enhanced durability are expected to have the edge over synthetic plastics.
Regional Insights
The market evaluates across North America, Europe, Asia-Pacific, and LAMEA. The Asia-Pacific construction sphere is the major and is growing healthy, owing to overpopulation, a boost in middle-class earnings and urban development. The Asia-Pacific owed the most significant market proportion of the total yield in 2022, followed by North America and Europe.
An increase in infrastructure construction activities and the entry of essential players from the European Union into the profitable market of China further fuel the industry's expansion.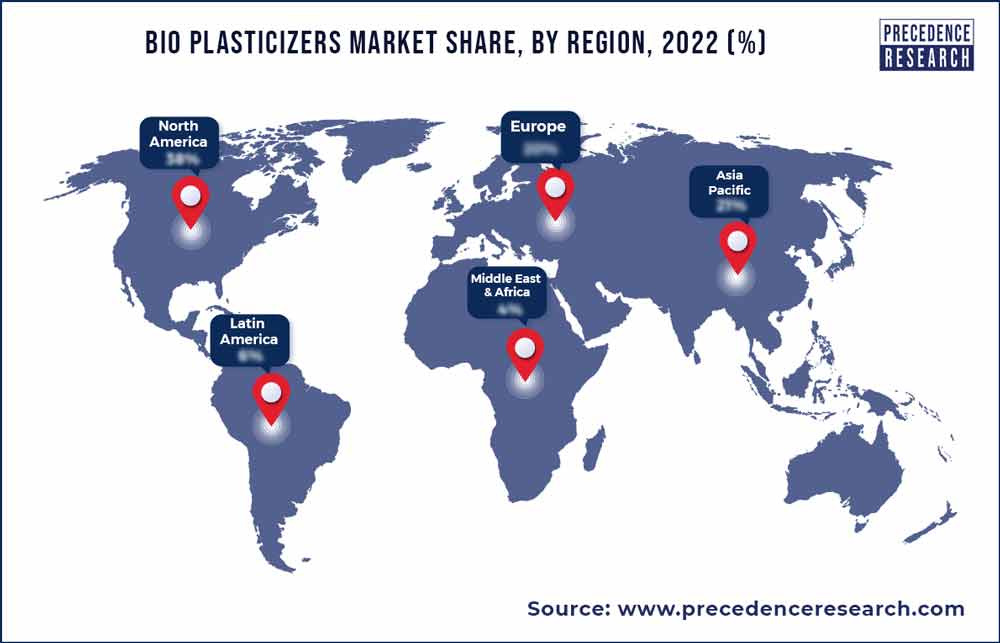 Emerging construction activities and the growing need for bio-plasticizers are expected to raise market growth in the region. Significant industrial economies like India, China, Japan, and South Korea use bio-plasticizers for water treatment, household bleaching, dental care, etc.
An increase in residents in countries such as India and China, linked with the increased income level and purchasing energy parity, has led to a high need for consumer commodities, including personal and household goods. These elements are projected to push the market for bio-plasticizers over the predicted period.
The high approval of plasticizer goods in construction in this area is expected to reinforce the market size due to the vast population, rapid alteration in lifestyle amongst people, and the corporation of many expanding nations in this region have a substantial influence on the market. The advancement in the infrastructure and transport sphere is estimated to boost the market in the area during the forecast span.
Recent Developments:
In February 2023, Avient announced expansion of bio-based polyolefin and using natural fillers like recycled coffee grounds or cellulose fibers as an alternative to conventionally filled polyolefins.
In February 2023, Evonik Industries AG, BASF SE, Chemtura Corporation announced that plastic additives market to witness Robust expansion by 2030 meanwhile by growing construction industry worldwide which in return will propel the market growth.
In October 2022, Sukano partnered with Emery Oleochemicals to develop a transparent PET antifogging compound for food packaging, targeting to fight the necessity of extra antifogging coatings.
In August 2021, Lanxess has proclaimed the fulfilment of its acquisition of Emerald Kalama Chemical, broadening the company's portfolio of specialty chemicals for industrial applications, especially in paints, coatings, and plastics.
In September 2020, Emery Oleochemicals introduced its new EMEROX Ester Plasticizers product range. This product holds low water solubility, low viscosity, outstanding low-temperature execution, and excellent thermal stability.
Key Market Players:
Avient Corporation
Matrica SpA
Dow
Solvay
DIC CORPORATION
OXEA GmbH
Emery Oleochemicals
Roquette Freres
Evonik Industries AG
PolyOne Corporation
LANXESS
Hebei Jingu Plasticizer Co. Ltd
Jungbunzlauer Suisse AG
Jiangxi East Huge Dragon Chemical Co. Ltd
Segments Covered in the Report:
(Note*: We offer report based on sub segments as well. Kindly, let us know if you are interested)
By Product
Epoxidized Soyabean Oil (ESBO)
Castor Oil Based Plasticizers
Succinic Acid
Citrates
Others
By Application
Packaging Material
Textiles
Agriculture and Horticulture
Consumer Goods
Automotive and Transport
Building and Construction
By Geography
North America
Europe
Asia-Pacific
Latin America
The Middle East and Africa