The global cardiac monitoring market size was valued at USD 7.96 billion in 2022 and it is expected to hit around USD 17.26 billion by 2032, poised to grow at a CAGR of 8.1% from 2023 to 2032.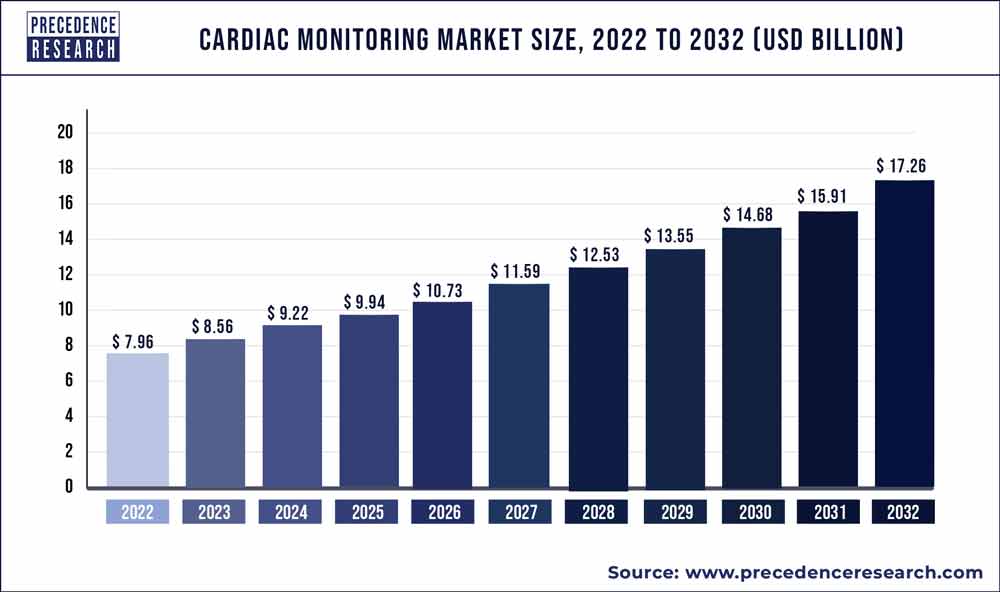 Access our Premium Real Time Data Intelligence Tool, Visit: Precedence Statistics
Key Takeaways:
North America region dominated the market and recorded more than 40% of the revenue share in 2022.
By Product, the cardiovascular rhythm management devices segment dominated the market in terms of revenue in 2022.
By End-use, the hospital segment dominated the market and generated more than 57.0% of total revenue.
The cardiac monitoring market is the market for devices and systems used to monitor the electrical activity of the heart and other parameters in patients suffering from cardiovascular disease or conditions. Electrocardiogram (Electrocardiograph (ECG) or EKG) machines, Holter monitors, event monitors, implantable cardiac monitors, and cardiac telemetry systems are examples of such products.
The global cardiac monitoring market has been steadily growing in recent years as the incidence of cardiovascular diseases has increased, the elderly population has grown, and medical technology has advanced. The emerging economies of India and China are expected to provide a wide range of growth opportunities for market participants, owing to their large and growing populations, as well as an increasing number of hospitals and clinics in these countries.
High tobacco use, high cholesterol levels, obesity, physical inactivity, diabetes, poor diet, and alcohol use are all factors that have a direct impact on heart health. Because of lifestyle changes, continuous monitoring of cardiac health is required; thus, medical technology companies are launching a variety of products. Biotricity Inc., for example, unveiled Bioheart, a direct-to-consumer heart monitor that enables 24/7 continuous rhythm monitoring for 48 hours on a full battery, in November 2021.
Report Scope of the Cardiac Monitoring Market:
| | |
| --- | --- |
| Report Coverage | Details |
| Market Size in 2023 | USD 8.56 Billion |
| Market Size by 2032 | USD 17.26 Billion |
| Growth Rate from 2023 to 2032 | CAGR of 8.1% |
| Largest Market | North America |
| Base Year | 2022 |
| Forecast Period | 2023 to 2032 |
| Segments Covered | By Product and By End-Use |
| Regions Covered | North America, Europe, Asia-Pacific, Latin America and Middle East & Africa |

Key Market Drivers:
Increase in the cardiovascular diseases cases
The leading cause of death worldwide is cardiovascular disease (CVD). According to the World Health Organization (WHO), CVD is the leading cause of death worldwide, with approximately 30 million people suffering from a heart attack or stroke each year. According to the American Heart Association, nearly half of all adults in the United States have some form of cardiovascular disease. More than 130 million adults, or 45.1% of the US population, are expected to have CVD by 2035. Family history, ethnicity, and age are all major risk factors for CVD. Tobacco use, high blood pressure (hypertension), high cholesterol, obesity, physical inactivity, diabetes, unhealthy diets, and alcohol consumption are all risk factors.
The prevalence of diseases such as hypertension, diabetes, dyslipidemia, and obesity has increased, Because of lifestyle changes, which contributes to the global rise in CVD. Pre-monitoring and pre-diagnosis can prevent the majority of CVDs. Similarly, abnormalities in the heart's function, known as arrhythmias, can be avoided with early detection. As a result, the demand for CM and CRM devices is growing, as these devices help save patients who are at high risk of cardiac arrest.
Rising patient awareness
This factor has had an impact on market growth in emerging economies, where the adoption of advanced treatment devices is low. There are several innovative and implantable-assisted products on the market; however, surgeons and patients in developing economies are unaware of the devices, stifling market growth. This factor is likely to have less of an impact in the future, as manufacturers have collaborated with government hospitals to raise awareness about novel cardiac monitoring and cardiac rhythm management devices.
Presence of significant unmet medical needs
The market's major players have launched technologically advanced devices in developing and underdeveloped economies. For example, Boston Scientific Corporation attempted to obtain regulatory approval for its S-ICD system in order to market it throughout Asia, the Middle East, and Africa. The major manufacturers have worked with government agencies to develop effective and innovative cardiac solutions.
Furthermore, government and private sector officials have worked to provide favorable reimbursement schemes for cardiac disorders treatment in developing and underdeveloped economies. Furthermore, the rise in awareness, disposable income, and approvals for technologically advanced devices is expected to have a significant impact on the market during the forecast period.
Key Market Challenges:
Threats of associated cybersecurity flaws
Cyber-security flaws in medical devices, particularly CIEDs, where the potential for reprogramming or rendering the device inoperable exists, are a major source of concern among patients and healthcare providers. According to a Department of Homeland Security alert issued in 2019, up to 750,000 Medtronic PLC heart devices contained a serious cybersecurity vulnerability that could allow an attacker with sophisticated insider knowledge to harm a patient by changing programming on an implanted defibrillator.
The US food and drug administration (FDA) recalled nearly 500,000 implantable pacemakers in 2017 due to their potential vulnerability to hacking. As a result, the market's growth is limited to some extent.
Alternative treatments
While cardiac monitoring devices are useful for diagnosing and monitoring heart conditions, other treatments such as medication and surgery can also be effective. Various medications, for example, are used to treat heart conditions such as high blood pressure, heart failure, and arrhythmias. These medications can aid in the control of symptoms, the prevention of complications, and the improvement of heart function.
Surgical procedures may be required in some cases to treat heart conditions. Furthermore, coronary artery bypass surgery can be used to treat blocked arteries, whereas valve replacement surgery can repair or replace damaged heart valves. In some cases, such alternatives may reduce the demand for cardiac monitoring devices.
Key Market Opportunities:
The cardiac monitoring market presents several opportunities for growth and expansion in the coming years.
Adoption of Industry 4.0 technologies: When used to treat cardiac arrhythmias, CIEDs have been linked to increased survival and quality of life. However, CIED-associated infections are a significant complication associated with their use. Infections from CIEDs are most common in patients who have an implantable cardioverter defibrillator or a cardiac resynchronization therapy defibrillator. According to the European Heart Journal, the rate of CIED infections in pacemakers was 1.19%, 1.91% in implantable cardioverter-defibrillators, 2.18% in cardiac resynchronization therapy pacemakers (CRT-Ps), and 3.35% in CRT defibrillators (CRTDs).
To improve CIED stabilization in the subcutaneous pocket and to elute the antibiotics minocycline and rifampin, Medtronic offers an absorbable, multifilament mesh envelope (TYRX Absorbable Antibacterial Envelope). These envelopes are intended for use with cardiac implantable electronic devices (CIEDs), such as pacemakers and implantable cardioverter defibrillators (ICDs). An international randomized controlled trial published in 2019 found that the envelope reduced the incidence of infection by 40% when compared to standard-of-care infection prevention alone.
Personalized medicine: Personalized medicine, also known as precision medicine, is a healthcare approach that seeks to tailor medical treatment and prevention to each patient's unique characteristics. It entails using a patient's genetic, molecular, and clinical information to make more informed health and treatment decisions. Personalized medicine in the context of cardiac monitoring entails using data from cardiac monitoring devices to develop individualized treatment plans based on a patient's specific needs.
An implantable cardiac monitor, for example, can be used to continuously monitor a patient's heart function, allowing healthcare providers to detect changes and adjust treatment plans accordingly. Wearable devices can also be used to track a patient's physical activity, sleep patterns, and other health indicators, allowing for personalized diet, exercise, and other lifestyle recommendations. Personalized medicine is becoming more feasible as advances in data analytics and machine learning enable healthcare providers to analyze large amounts of patient data and develop more accurate predictive models.
These tools can assist in identifying patients who are at a higher risk of developing heart disease, predicting the likelihood of complications, and developing personalized treatment plans tailored to the patient's specific needs. Overall, personalized medicine has a high potential for improving patient outcomes in cardiovascular disease by enabling more precise diagnoses, more effective treatments, and better long-term management of heart conditions.
Segments Insight:
Product Insights:
On the basis of the product, cardiac monitoring is segmented into cardiac rhythm management devices and cardiac monitoring devices. Cardiovascular rhythm management devices dominated the market in terms of revenue in 2022. The high proportion is due to the introduction of technologically advanced cardiac rhythm management devices, such as smartwatches and fitness trackers, which can improve AFib detection and screening. Cardiac resynchronization therapy, defibrillators, and pacemakers are sub-segments of the cardiac rhythm management devices segment.
Mobile cardiac telemetry, ECG, event monitors, implantable loop recorders (ILR), and other cardiac monitoring devices are further subdivided. In 2022, the Electrocardiography (ECG) segment dominated the cardiac monitoring devices market, accounting for approximately 34.0% of the total. Commercialization of new products, regional expansions, technological advancements, and government initiatives are expected to drive the cardiac monitoring and cardiac rhythm management market in the coming years.
End-Use Insights:
On the basis of end-use, cardiac monitoring is segmented into home healthcare, ambulatory centers, hospitals, and others. In 2022, the hospital segment dominated the market, accounting for more than 57.0% of total revenue. Hospitals provide optimal care for CVD patients and enable early diagnosis, resulting in tremendous growth.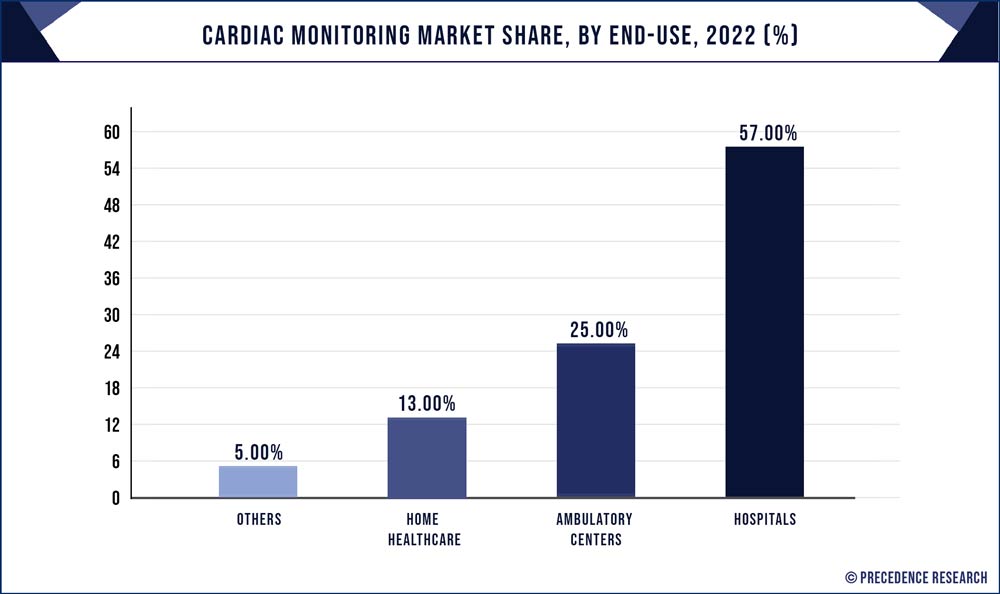 According to the American Heart Association, 209,000 patients died as a result of in-hospital cardiac arrest in the United States in 2016, with that figure expected to rise to more than 23.6 million by 2030. Because of its cost-effectiveness and ease of treatment, the home health care segment is expected to be the fastest-growing sub-segment in the cardiac monitoring and cardiac rhythm management market over the forecast period.
Technological advancements and product miniaturization are increasing the demand for home healthcare devices. Furthermore, the rising target population, rising demand to reduce healthcare expenditures, and a high incidence of target diseases are expected to be some of the high-impact driving forces for home healthcare devices.
Regional Insights:
On the basis of geography, the cardiac monitoring is further segmented into North America, Asia-Pacific, Europe, Latin America, and Middle East & Africa. In 2022, North America dominated the market and generated more than 40% of revenue share. Growing disposable income, an ageing population, rapid technological advancements such as long battery life, miniaturization, leadless or biocompatible materials, and an improvement in the rate of government regulatory approvals can all be attributed to the growth.
The prevalence of cardiac disorders, such as cardiac arrests, heart failure, and cardiac arrhythmias, is rising rapidly in the United States, fueling the region's market for cardiac monitoring and cardiac rhythm management.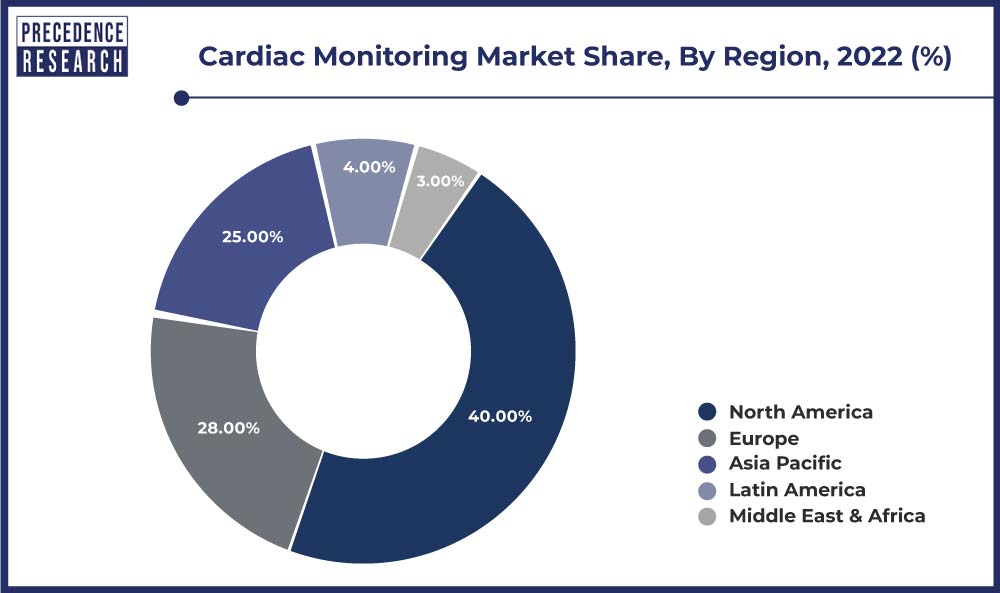 During the forecast period, Asia Pacific is expected to exhibit profitable growth in the market for cardiac monitoring and cardiac rhythm management. Growing demand for a better healthcare system, as well as vast untapped opportunities, are driving growth. Organizations such as the China Cardiovascular Association and the American College of Cardiology are collaborating to develop ground breaking cardiac care technologies.
The rapidly ageing population in North Asian countries such as Japan, China, and Korea is a major concern, and it is expected to drive the market for cardiac monitoring and cardiac rhythm management in the region in the coming years due to a higher prevalence of CVDs.
Key Industry Developments:
January 2021- Boston Scientific Corporation had acquired Preventice Solutions Inc., which will provide mobile cardiac health solutions and services ranging from ambulatory cardiac monitors (including short- and long-term Holter monitors) to cardiac event monitors and MCT.
August 2019 - ZOLL Medical Corporation announced the acquisition of Cardiac Science Corporation in order to increase the production of AEDs for cardiac monitoring while also providing related services and accessories.
Key Market Players:
Progetti Srl
MeTrax GmbH
Narang Medical Limited
Bexen Cardio
Amiitalia
Alivecor, Inc.
OSYPKA
Shree Pacetronix
Lepu Medical Technology
Shenzhen Mindray Bio-Medical Electronics
ACS Diagnostics
BPL Medical Technologies
BioTelemetry
SCHILLER AG
Nihon Kohden
Hill-Rom Holdings
MicroPort Scientific Corporation
Asahi Kasei Corporation
Koninklijke Philips
BIOTRONIK
GE Healthcare
Abbott Laboratories
Boston Scientific
Medtronic
Segments Covered in the Report:
(Note*: We offer report based on sub segments as well. Kindly, let us know if you are interested)
By Product
Cardiac Rhythm Management Devices
Cardiac Monitoring Devices
By End-Use
Home Healthcare
Ambulatory Centers
Hospitals
Others
By Geography
North America
Europe
Asia-Pacific
Latin America
Middle East and Africa