The global cell and gene supply chain services market size was estimated at USD 1.3 billion in 2022 and is expected to hit over USD 3.5 billion by 2032, registering at a CAGR of 10.41% during the forecast period 2023 to 2032.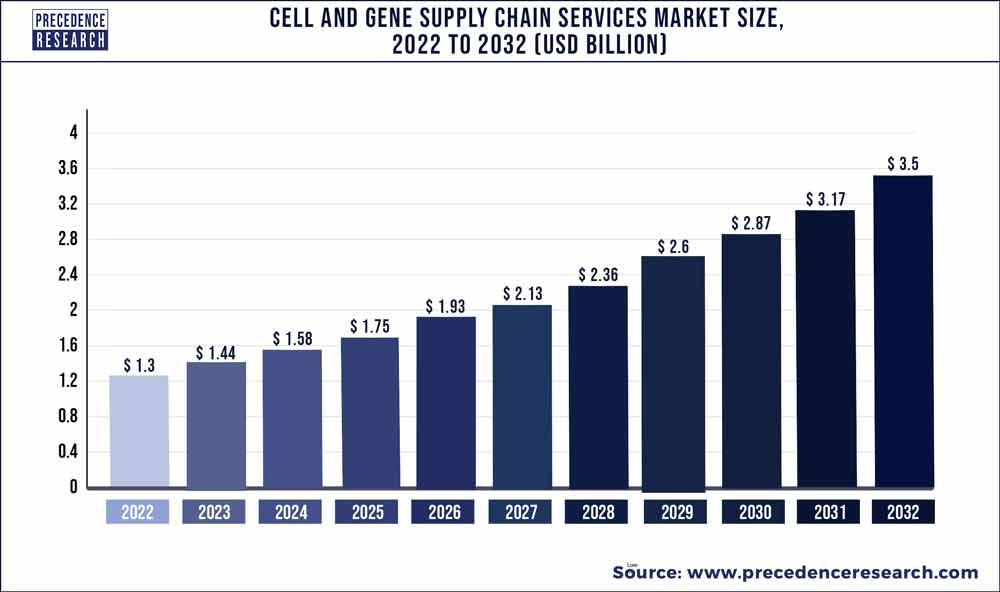 Access our Premium Real Time Data Intelligence Tool, Visit: Precedence Statistics
Market Overview:
All living things are composed of fundamental units called cells, and genes are the small fragments of DNA that are present inside cells and convey genetic information. Targeting DNA or RNA in the organism, cell and gene therapy are overlapping disciplines of biomedical study with comparable therapeutic objectives. Both strategies try to alter the genetic material already existing to enhance its functionality or to immunize or combat a specific disease or disorder.
To be more specific, gene therapy modifies the patient's cells using genetic material to address an inherited or acquired condition. Cell therapy, on the other hand, involves implanting a patient with a collection of completely novel cells to treat their disease. This technique is used in the creation of regenerative medications. Additionally, the effort is being made in developing cell treatments from stem cells that may one day be used to treat conditions like autoimmune disorders, Alzheimer's, and Parkinson's.
The ability of cell and gene therapies to provide the desired therapeutic benefits is only one factor contributing to their success. Another is the efficient use of supply chain requirements, underscoring the importance of the supply chain to the growth and development of cell and gene therapies as well as their distribution. The growth in the market is attributed to the growing prevalence of chronic disease, the significant investment by the key players, increasing novel product launches and the growing initiatives by the governments.
As per Centers for Disease Control and Prevention, around 523 million population worldwide had some kind of cardiovascular disease in 2020 and 19 million fatalities were directly related to CVD; this amounts to almost 32% of all deaths globally and is an absolute increase of 18.7% from 2010.
According to the World Cancer Research Fund International, in 2020, there will be 18.1 million new cases of cancer worldwide. 9.3 million of these instances involved men, while 8.8 million involved women.
Report Scope of the Cell and Gene Supply Chain Services Market:
| | |
| --- | --- |
| Report Coverage | Details |
| Market Size in 2023 | USD 1.44 Billion |
| Market Size by 2032 | USD 3.5 Billion |
| Growth Rate from 2023 to 2032 | CAGR of 10.41% |
| Largest Market | North America |
| Base Year | 2022 |
| Forecast Period | 2023 To 2032 |
| Segments Covered | By Technology, By Application, and By End User |
| Regions Covered | North America, Europe, Asia-Pacific, Latin America, and Middle East & Africa |

Market Dynamics:
Driver:
Growing investment in cell therapy
Over the forecast period, the market growth is anticipated to be driven by the increasing investment in cell treatment. For instance, LFB is funding a sizable cell therapy medicine production endeavor as part of an agreement with two biotechnology companies and seven public hospitals. This initiative, called C4C, is funded by OSEO, a French organization that supports creative endeavors, and it attempts to market cell treatment products.
The objective of this initiative is to establish a French cell treatment business in which LFB subsidiary CELLforCURE will play a prominent role. Under regulations governing advanced therapeutic drugs, the C4C project aims to construct the first technical support unit for industrial cell therapy in France. This unit will be dedicated to the mass manufacturing of allogeneic and autologous cell therapy products.
Restraints:
Quality sensitivity
The use of cell and gene therapies is quite delicate. Due to the limited half-life of very small batches of cells, before the quality degrades, it is crucial to apply efficient preservation techniques and a cold chain along the whole supply chain. The ideal cryopreservation shipping temperatures for cell and gene treatments are extremely low, about -120°C (-184°F), and at comparable low temperatures for dry ice, liquid nitrogen, and refrigeration preservation techniques.
Additionally, authorized treatment facilities must be able to hold, manage, and defrost the drug products. The majority of present pharmaceutical supply networks are unprepared to meet these escalating demands. Logistics partners must have complete visibility into the supply chain to prepare for emergencies and streamline processes. Thus, the lack of visibility in the process might be a hurdle to the market expansion during the forecast period.
Opportunities:
Growing cell and gene therapy manufacturing capacity by CDMOs
The fast growth in demand for cell and gene therapies has caused a rapid evolution in the manufacture of these therapies. Higher yields and reduced product prices are necessary since these medicines are being used more widely. Large contract development and manufacturing companies have invested heavily in this area recently, making many sizable acquisitions and expanding geographically by setting up production facilities. These additions will facilitate the production of cell and gene treatments and present expanding prospects for CDMOs offering these services.
Segments Insight:
Technology Insights:
Based on the technology, the global cell and gene supply chain services market is segmented into presence on the cloud and presence on-premises. The presence of the cloud segment is expected to grow at the highest CAGR over the forecast period. The growth in the segment is attributed to various factors such as ensuring supplier and raw material quality, improving manufacturing cycle times and others. Customer satisfaction rises and costs are decreased when every quality measurement is seen from beginning to end from every angle. Quality levels can be tracked and reported by production center, product, and customer levels using cloud SCM software.
The Bill of Materials (BOM) is always guaranteed to define the best quality components and raw materials since it provides real-time information on shipment inspections and quality levels. A cloud-based SCM system also allows for real-time monitoring and tracking of any assembly, component, or subassembly across the supply chain. Quality becomes a more integral aspect of the system of record in any business with cloud SCM apps and platforms. Thus, this is expected to drive segment growth during the forecast period.
Application Insights:
Based on the application, the global cell and gene supply chain services market is divided into ordering and scheduling, sample collection, logistics and post treatment follow-up. The logistics application segment is expected to capture the largest market share over the forecast period. Maintaining the drug integrity while it is being transported for cell and gene therapies is of the utmost importance, as is making sure it reaches its destination on schedule and at the right temperature. With these medications, maintaining speed, temperature, and integrity becomes considerably more difficult.
The companies are investing heavily to secure the logistics operation cell and gene is expected to drive the segment growth over the forecast period. For instance, in February 2022, DHL Supply Chain, the top contract logistics company in the world and North America, announced that it's Life Sciences and Healthcare (LSHC) division will invest more than USD 400 million to increase the size of its pharmaceutical and medical devices distribution network by 27%. Thus, this kind of investment is expected to drive the segment growth during the forecast period.
End User Insights:
Based on the end user, the global cell and gene supply chain services market is divided into biobanks/ cell-bank, hospitals, research institutes, cell therapy labs and others. The hospital segment is expected to dominate the market during the forecast period. The growth in this segment is owing to the rising prevalence of various diseases across the globe including cancer, cardiovascular, autoimmune and others, this disease required treatment in hospitals. Thereby driving the market growth over the forecast period.
On the other hand, the research institutes are expected to hold the largest market share during the forecast period. A lot of research is being done on ACT, which is attracting growing interest globally. Utilizing live cells to cure and prevent disease is a new scientific area. The research is primarily done on mesenchymal stem cells, chondrocytes, bone marrow and others. Thus, this is expected to drive market growth over the forecast period.
Regional Insights:
North America is expected to dominate the market over the forecast period. A favorable regulatory framework, particularly in the US, is attributed to this. In addition to early and consistent involvement with the sponsor and unique regulatory designations helpful for many CGTs, the US FDA has established a collaborative regulatory method for CGTs. Additionally, the US regulatory approval procedure is expanding and becoming more advantageous for vendors creating CGT products. To speed up the approval procedure, the US FDA has given CGTs the orphan drug category, breakthrough designation, accelerated approvals, and RMAT designations.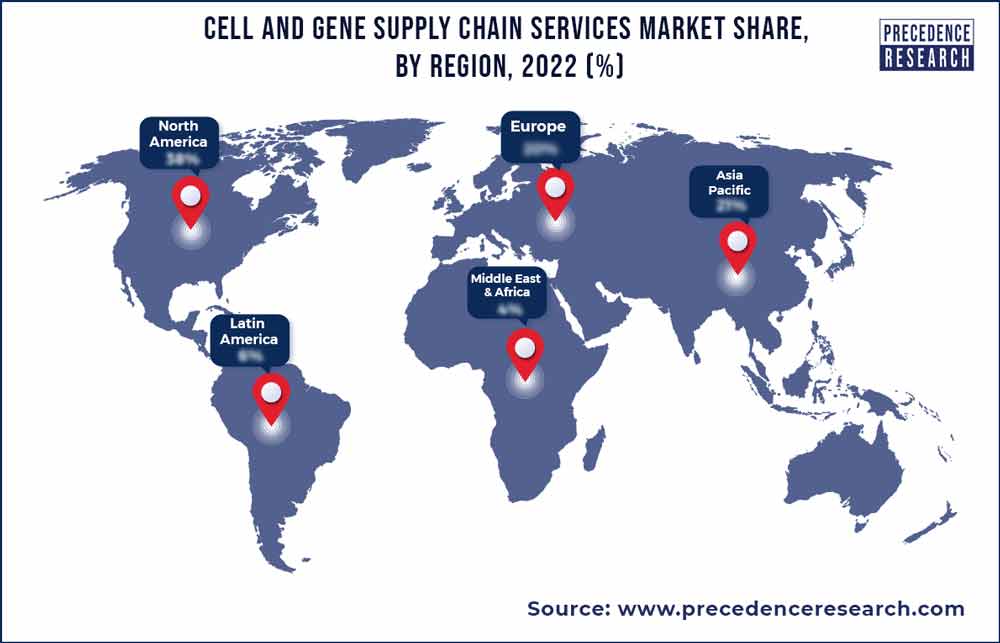 Moreover, the growing number of patients with chronic diseases including cancer, cardiovascular and others is expected to drive the cell and gene supply chain services market in the region. For instance, as per the American Cancer Society, in the US, there will be 609,360 cancer-related deaths and an estimated 1.9 million newly diagnosed cancer cases in 2022. Furthermore, the major investment by the key players is expected to flourish the market in the region. For instance, in June 2022, to address the intricate demands of the rapidly growing cell and gene therapy sector, Biocair made a significant investment in the formation of a specialized logistics team.
A team of over 30 devoted specialists is being built by pharmaceutical, biotech, and life science logistic experts to provide users of cell and gene therapy services with around-the-clock support globally. Thus, this kind of investment by the prominent players is expected to propel the market growth over the forecast period.
The Asia Pacific is expected to grow at the highest CAGR during the forecast period. Regenerative medicine-focused biotechnology companies are becoming more prevalent in the Asia Pacific region. Furthermore, the region is expected to continue to hold its position as the hub of cell research and therapy due to the steady expansion of destinations for medical tourists including Thailand, Singapore, and India. Additionally, compared to North America and Europe, Asia is seeing a rise in the number of participants in CGT clinical studies. This benefits the Asia Pacific market because there is a vast patient pool and low trial cost, in turn, driving the growth of the market.
Recent Developments:
In January 2023, a new strategic alliance between Cryoport and Syneos Health was created to advance cell and gene therapies. The collaboration will advance cell and gene therapies globally and provide the industry with its first fully integrated biopharmaceutical and supply chain solution. Giving more individuals worldwide access to these life-changing therapies owing to this agreement will hasten the healing process and enhance the outcomes.
In January 2023, Catalent, a global leader in facilitating the creation and distribution of better treatments for patients, recently announced the launch of its new case management service. This service has been created with the express purpose of addressing the specific difficulties involved in the timely and safe delivery of cutting-edge therapies to patients by offering qualified supply chain oversight from program inception to completion.
In October 2022, a new partnership has been established between CSafe, a US-based supplier of active and passive temperature-controlled shipping solutions, and BioLife Solutions, a US-based provider of bioproduction tools and services for cell and gene therapy and larger biopharma markets. The goal of the partnership is to offer a combined global service network to support CGT products. Reliability, security, and quality will all be prioritized in the cooperation.
Key Market Players:
Biocair
Arvato Supply Chain Solutions SE
Associated Couriers, LLC.
TrakCel
ParkourSC
DHL
McKesson
Almac
Catalent
Biostor Ltd.
Segments Covered in the Report:
(Note*: We offer report based on sub segments as well. Kindly, let us know if you are interested)
By Technology
Presence on cloud
Presence on-premises
By Application
Ordering and Scheduling
Sample Collection
Logistics
Post Treatment Follow-up
By End User
Biobank/ Cell-bank
Hospitals
By Geography
North America
Europe
Asia-Pacific
Latin America
Middle East and Africa