The global cell counting market size was reached at USD 8.68 billion in 2022 and is expected to hit around USD 19.63 billion by 2032, poised to grow at a CAGR of 8.5% during the forecast period from 2023 to 2032.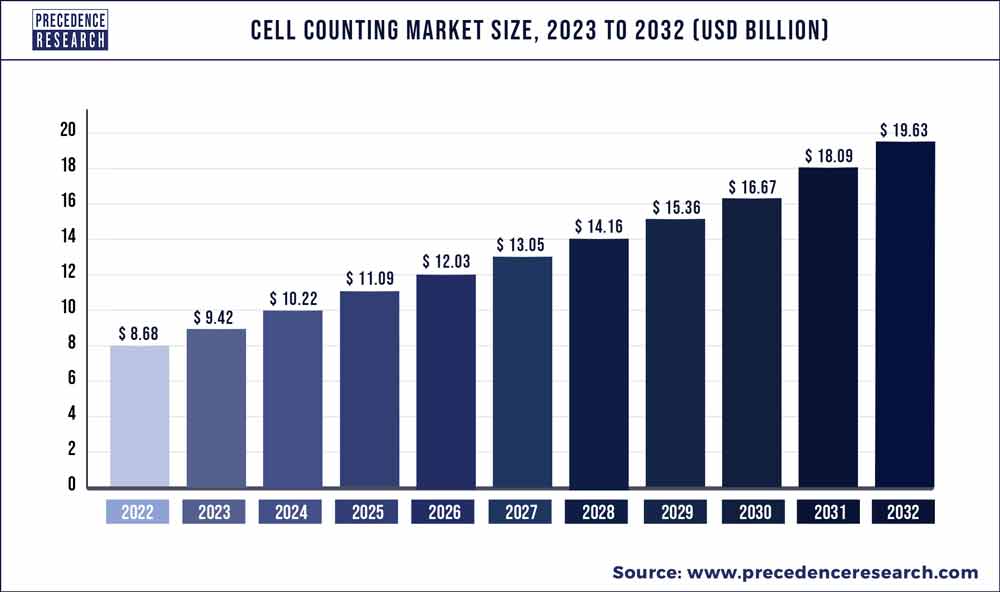 Access our Premium Real Time Data Intelligence Tool, Visit: Precedence Statistics
Key Takeaways:
North America generated more than 36% of revenue share in 2022.
By Product, the consumables and accessories recorded for more than 51% of revenue share in 2022.
By Application, the complete blood count segment generated the largest revenue share in 2022.
By End-use, the Academic and research institutes contributed for the largest revenue share of around 36% in 2022.
Market Overview:
Cell counting is a technique for counting cells for medical purposes and is crucial to both clinical and research endeavors. In liquid media, cell counts are represented as a number of cells per unit of volume or concentration. Cell counting is required for the execution of numerous treatment processes. For instance, the quantity of red blood cells or white blood cells can reveal important details about a patient's health.
The concentration of white blood cells and red blood cells, the prevalence of pathogens, and the toxicity effects of particular drugs on model cells are all determined by cell counting. Additionally, it aids in calculating the quantities of compounds and reagents to add to a solution. The development of the cell counting market has been fueled by these advantages of cell counting and rising international research activity.
Cell counting reduces intra-tumor heterogeneity, a crucial stage in figuring out how cancer is progressing within the body of the patient. It also detects primary tumors, metastatic cancers, and circulating malignancies, which aids in therapeutic targeting, tracking, and choosing future treatment strategies. Cell counts are more in demand as a consequence of rising cancer and acquired immunodeficiency syndrome rates.
Growth Factors:
Rapid technical advancements in cell counting reagents and apparatus have led to increased product innovation, rising sales, and increasing production all of which have helped foresee market expansion. For instance, in 2020, the Best New Life Science Product of the Year honor was given to CellDrop, a DeNovix Inc. automatic cell counter that enables counting cells without slides.
For the diagnosis of several chronic illnesses, such as cancer and AIDS, cell counting is essential. Global demand for cell counting products is being driven by these illnesses' rising prevalence. Promoting these goods to expand the cell counting market is also encouraged by expanding governmental efforts and investments in stem cell research.
Report Scope of the Cell Counting Market:
| | |
| --- | --- |
| Report Coverage | Details |
| Market Size in 2023 | USD 9.42 Billion |
| Market Size by 2032 | USD 19.63 Billion |
| Growth Rate from 2023 to 2032 | CAGR of 8.5% |
| Largest Market | North America |
| Base Year | 2022 |
| Forecast Period | 2023 to 2032 |
| Segments Covered | By Product, By Application, and By End-Use |
| Regions Covered | North America, Europe, Asia-Pacific, Latin America and Middle East & Africa |

Market Dynamics:
Driver:
The growing prevalence of AIDS and cancer amongst the global population is the major factor driving the market growth
Worldwide instances of cancer and acquired immunodeficiency syndrome (AIDS) are on the rise, which has greatly increased the demand for cell counting. Cell counting makes it easier to evaluate intra-tumor heterogeneity, a crucial step in determining how quickly cancer is spreading throughout the patient's body. The determination and recognition of primary tumors, metastatic tumors, and circulating tumors are all aided by cell counting.
The identification of these tumors is absolutely essential for the tracking and therapeutic targeting processes that determine the course of additional treatment. According to a World Health Organization (WHO) report from September 2018, cancer was the second top cause of death worldwide, accounting for about 9.6 million deaths.
According to a different report from 2018, there were roughly 37.9 million AIDS-positive individuals worldwide. Cell counting has become crucially important due to the fact that the number of cases is significantly increasing, which has helped the market expand. Additionally, cell counting is now a standard process in clinical and hospital settings.
Cell counting makes it easier to assess the immune system and find bacteria, viruses, and other pathogens in the host's body by finding the concentration of platelets, plasma, red blood cells, and white blood cells. The demand for cell counting methods and equipment is rising as a result of all these factors, which are strongly encouraging the use of cell counting in numerous treatments, medical procedures, and research endeavors.
Restraint: High cost
The high cost of cell counting equipment might be a major barrier for smaller labs or research institutes hampering the growth of the market. Depending on the technology, brand, and features, cell counting equipment can range substantially in price. For instance, automated cell counters with cutting-edge capabilities like flow cytometry or fluorescence imaging might cost tens of thousands or even hundreds of thousands of dollars. In addition to the instrument's cost, consumables and reagents are needed to operate it, which might raise the entire cost.
Opportunities:
Increased government and corporate funding, improved image analysis solutions, and development of enhanced informatics solutions to create lucrative market opportunities
Global healthcare industries have seen significant growth due to increased investments from both corporate and government entities. Due to the growth of infrastructure, large expenditures have made it possible for research facilities, educational institutions, hospitals, and other medical facilities to purchase the most recent technology in the cell counting field. It is anticipated that the industry will have tremendous potential opportunities due to the increasing inflow of expenditures for research.
Moreover, highly developed and upgraded image analysis systems are now economically available everywhere. These imaging technologies improve cell counting by improving accuracy and cutting down on time. Also, the process of data processing and visualization has been boosted through the creation of advanced informatics systems. Many of these elements have influenced the demand for biologics to treat chronic diseases, which has greatly expanded the market for cell counting.
Impact of COVID-19:
The COVID-19 pandemic has had a mixed impact on the global cell counting market. On one hand, the demand for cell counting technologies has increased due to the surge in research activities related to the virus and the development of vaccines and treatments. On the other hand, the pandemic has led to supply chain disruptions, temporary closures of manufacturing facilities, and reduced investment in research and development, which has affected the overall growth of the market.
During the initial stages of the pandemic, there was a significant surge in demand for cell counting technologies such as flow cytometry and hematology analyzers due to the need for accurate and rapid testing of patients with COVID-19. However, the supply chain disruptions caused by the pandemic led to shortages of key components and reagents required for these tests, resulting in delays and reduced access to testing.
In addition, the pandemic has also impacted the funding for research and development, which has slowed down the development of new cell counting technologies and limited the adoption of existing technologies. The cell counting market is expected to rebound as the pandemic situation improves and the demand for research and development activities returns to pre-pandemic levels.
Segments Insight:
Product Insights:
In 2022, consumables and accessories contributed for more than 51% of total revenue. Some of the consumables and accessories used with these devices include reagents, microplates, magnetic beads, and chamber slides. Their extensive usage is a factor in the growth of consumables and accessories. Also, the release of novel products encourages market growth.
For instance, in December 2020, eNuvio unveiled a reusable 3D cell culture microplate. With the help of this cutting-edge plate, scientists can produce embryoid bodies, which are needed in order to generate larger organoids or spheroids from stem cells. According to eNuvio, scientists will profit for a very long time from this environmentally friendly equipment in both an economic and scientific sense.
The agent sub-segment had the biggest revenue share in 2022. The sizeable revenue share is due to the frequent purchase of these products for use in flow cytometry, spectrophotometry, and automated cell counting. The need for periodic calibrations prior to starting experiments increases the need for this equipment.
Application Insights:
In 2022, the greatest revenue share was for complete blood count. The complete blood count is one of the most popular tests used to evaluate a person's general health. The test measures a variety of blood constituents, including RBC, WBC, haemoglobin, hematocrit, and platelets. Complete blood counts are often used to monitor blood conditions like leukaemia and anaemia, which are expected to drive market expansion.
Stem cell research is predicted to experience the fastest CAGR growth during the projection period. The exponential growth in demand for human stem cells is being driven by the growing need for large-scale production for medical and scientific research.
In areas like transplantation, cancer treatment, and regenerative medicine, stem cells are absolutely essential. Automated tools make it easier to precisely determine the stem cell viability and nucleated cell content in cord blood or human bone marrow. Fluorescence imaging and other aspects are also being used more frequently to measure green fluorescent protein (GFP) efficiency for transfecting stem cell applications.
End-Use Insights:
Academic and research institutes contributed for the largest revenue share of around 36% in 2022. The high percentage can be attributed to the extensive use of cytometers in cell biology research studies. To study the evolution of viruses, illnesses, and other microorganisms, researchers use cytometers to evaluate criteria such physical traits, kind, and lineage. Major market participants' strategic moves are another factor driving the segment. For instance, in March 2021, Alliance Global installed an automated cell counting system at the University of the United Arab Emirates in Al Ain.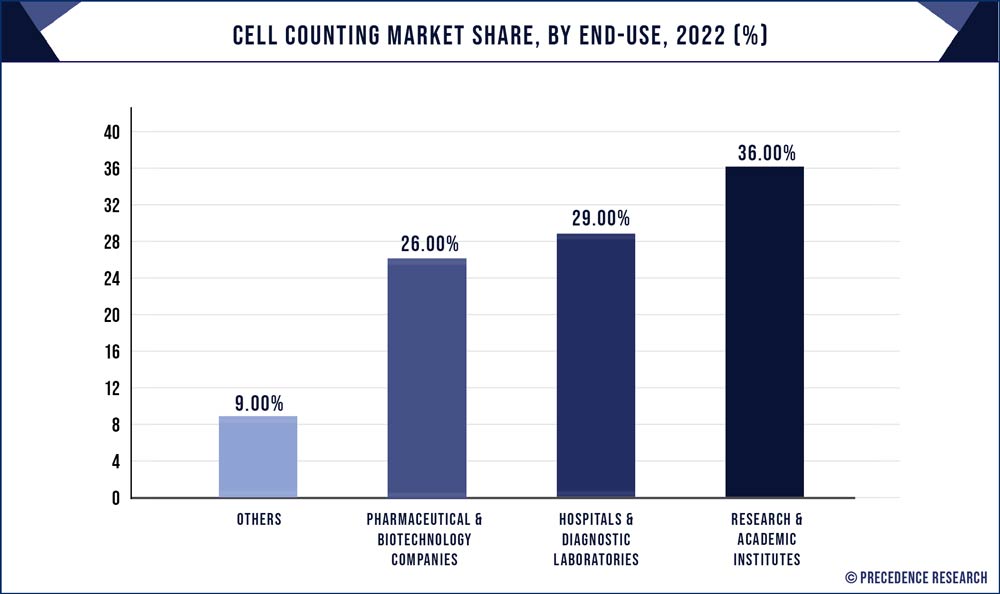 Throughout the projection period, the pharmaceutical and biotechnology industries are expected to experience exponential growth. A crucial component in evaluating the effectiveness of any biological product is cell counts. These tools count the cells in a specific culture solution before adding it to the bioreactors or fermenters to produce the desired product. Throughout the upcoming years, it is projected that rising demand for biologics created by bioprocessing in these bioreactors/fermenters will increase device demand.
Regional Insights:
In 2022, North America accounted for the largest revenue share of around 36% due to the growing emphasis on biomedical and cancer research. One of the key factors influencing the use of these devices is the rise in the prevalence of chronic diseases, such as blood and cardiovascular disorders. According to the American National Red Cross, 90,000 to 100,000 Americans are affected by sickle cell disease.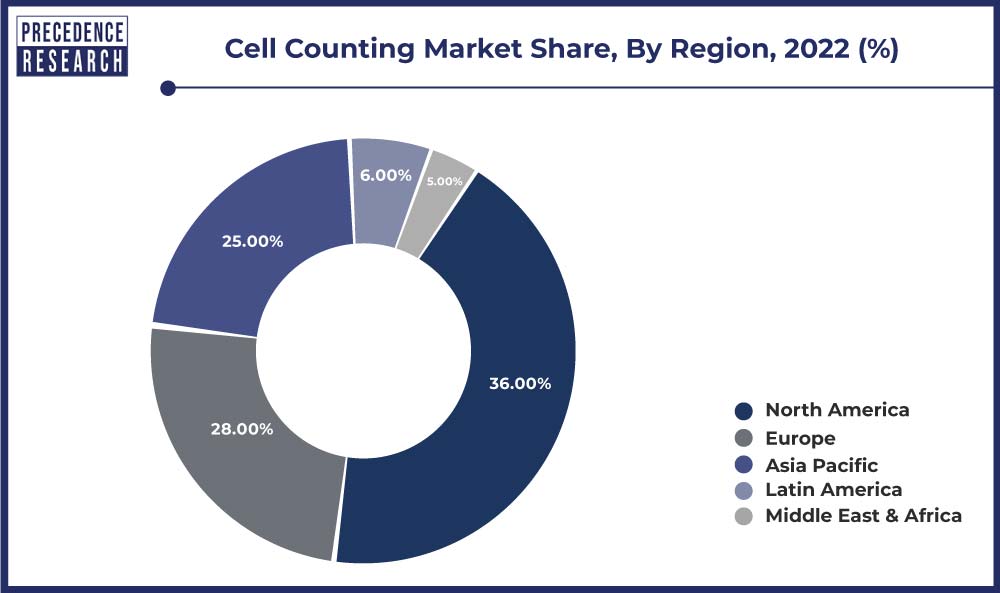 During the predicted period, Asia Pacific is anticipated to increase exponentially. This region's concentration of clinical research and biopharmaceutical businesses can be the driver for the exponential growth. In addition, the region's market is primarily being driven by the ageing geriatric population, which is extremely sensitive to chronic ailments. Due to an increase in the number of elderly patient clinical tests performed each year, this has led to an unparalleled rate of growth in the use of these devices.
Recent Developments:
On 31 Sept, 2022, the Binding Site Group ("The Binding Site"), a world leader in speciality diagnostics, was bought by Thermo Fisher Scientific Inc. from a shareholder group led by the European private equity company Nordic Capital in an all-cash deal estimated at £2.25 billion, or $2.6 billion at the time of writing.
On 17 Sept, 2022, the Gibco CTS DynaCellect Magnetic Separation System (DynaCellect) was introduced by Thermo Fisher Scientific Inc. to make it simpler for companies developing cell therapies to transition from process and clinical development to commercial manufacture. This cutting-edge instrument for cell separation, activation, depletion, and Dynabeads magnetic beads removal offers a scalable, adaptable, automated, and closed system to aid in streamlining the production of cell therapies. As a result, DynaCellect ensures that the appropriate cells are identified and manufacturing faults are kept to a minimum.
Key Market Players:
ThermoFisher Scientific, Inc.
Merck KGaA
Agilent Technologies
PerkinElmer, Inc.
BD
Danaher
Bio-Rad Laboratories, Inc.
BioTek Instruments, Inc.
GE Healthcare
DeNovix Inc.
Segments Covered in the Report:
(Note*: We offer report based on sub segments as well. Kindly, let us know if you are interested)
By Product
Instruments

Spectrophotometers
Flow Cytometers
Hemocytometers
Automated Cell Counters
Microscopes
Others

Consumables & Accessories

Reagents
Microplates
Others
By Application
Complete Blood Count

Automated Cell Counters
Manual Cell Counters

Stem Cell Research
Cell Based Therapeutics
Bioprocessing
Toxicology
Others
By End-Use
Hospitals & Diagnostic Laboratories
Research & Academic Institutes
Pharmaceutical & Biotechnology Companies
Others
By Geography
North America
Europe
Asia-Pacific
Latin America
The Middle East and Africa