The global cell transfection market is surging, with an overall revenue growth expectation of hundreds of millions of dollars from 2023 to 2032.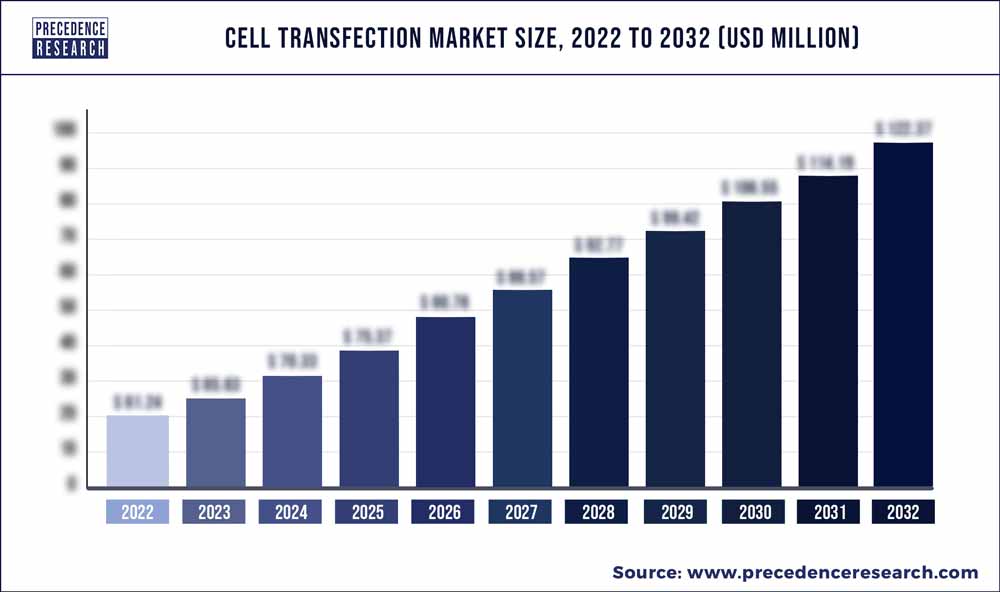 Access our Premium Real Time Data Intelligence Tool, Visit: Precedence Statistics
Key Takeaways:
North America generated the largest market share in 2022.
By Method, the electroporation segment had the biggest revenue share in 2022.
By End User, the academic and research institutes segment dominated the global market in 2022.
Market Overview:
Transfection, which is used in research to examine and control gene expression, is the introduction of RNA, DNA, or proteins into eukaryotic cells. The characterization of genetic functions, cell proliferation, protein synthesis, and development are therefore made easier with the use of transfection procedures, which operate as an analytical tool. Transfection assays help improve drug discovery techniques in addition to advancing cellular research. Lentiviral particles are used in similar ways, such as viral transfection or viral transduction, to introduce foreign material into eukaryotic cells. In contrast, horizontal gene transfer occurs during bacterial transformation, which involves the uptake of foreign genetic material by the bacterium.
Growth Factors:
Gene therapy is a potential method for treating a variety of inherited and acquired disorders, which explains why there is an increasing need for it. Delivering genetic material to cells in order to repair or fix the damaged genes is involved. Effective and secure strategies for transferring genes to the target cells are essential for the success of gene therapy. The market for cell transfection is expanding as a result of the rising demand for gene therapy, which is an essential stage in the process of gene therapy.
The introduction of novel transfection techniques has resulted in the development of safer and more effective ways to deliver genes to cells. For instance, electroporation, a technique that introduces DNA into cells using electric pulses, has demonstrated encouraging outcomes in gene therapy and has grown in popularity among researchers. The use of viral vectors, lipid-based transfection agents, and CRISPR/Cas9 genome editing are other breakthroughs.
Report Scope of the Cell Transfection Market:
| | |
| --- | --- |
| Report Coverage | Details |
| Largest Market | North America |
| Base Year | 2022 |
| Forecast Period | 2023 to 2032 |
| Segments Covered | By Method and By End User |
| Regions Covered | North America, Europe, Asia-Pacific, Latin America, and Middle East & Africa |

Market Dynamics:
Driver:
Advancements in genetic engineering technologies
The development of the cell transfection industry is being driven by improvements in genetic engineering technology. Cells' genetic composition may be altered via genetic engineering techniques for a variety of objectives, including gene therapy, the manufacturing of biopharmaceuticals, and genetic research. A crucial phase in the genetic engineering procedure that includes introducing foreign DNA into the cells is called cell transfection.
The area of genetic engineering has undergone a revolution due to the introduction of CRISPR-Cas9 gene editing technology. Scientists may alter particular genes inside a cell's DNA using the precise and effective gene-editing technique CRISPR-Cas9. The effectiveness of cell transfection methods is crucial to the success of CRISPR-Cas9 gene editing. The CRISPR-Cas9 system has been introduced into cells via a variety of transfection techniques, including electroporation, lipofection, and viral vectors.
The creation of RNA interference (RNAi) and synthetic biology are two more developments in genetic engineering technology. Small interfering RNAs (siRNAs) are a type of gene silencing known as RNA interference (RNAi), and it is used to silence particular genes. Gene therapy and drug discovery both benefit greatly from the use of RNAi. The creation of biological systems that do not occur naturally is known as synthetic biology. For the purpose of delivering synthetic DNA constructs into cells, cell transfection is crucial in synthetic biology.
Restraint:
High cost
The price of cell transfection can be a considerable barrier to entry for certain academics or businesses, limiting its adoption in certain scientific applications. The creation and production of transfection reagents as well as the equipment necessary for transfection are the main causes of the high cost. Chemicals called transfection reagents make it easier for nucleic acids to enter cells. In order to assure the effectiveness and safety of these reagents, significant quality control testing is frequently necessary throughout the manufacturing process. Additionally, the cost of purchasing and maintaining the equipment necessary for transfection, such as electroporation devices or gene guns, can be high.
These variables make the price of cell transfection a considerable burden for academics or businesses with little funding. This may restrict its usage in some research applications, particularly in underdeveloped nations or in tiny labs with little resources. Additionally, the high cost may make it challenging for businesses looking to create novel therapeutics based on cell transfection to enter the market at competitive prices.
Opportunity:
The use of cell transfection in drug discovery
In recent years, the use of cell transfection in drug development has grown in significance as scientists work to create novel, more potent therapies for a variety of ailments. In order to produce safe and effective treatments for patients, drug discovery often entails the discovery of novel drug targets and the creation of molecules that can modify those targets.
A crucial tool in this process is cell transfection, which enables researchers to insert foreign genetic material into cells and examine how that material affects numerous cellular functions. To learn more about the roles of particular proteins and how they interact with other molecules in the cell, for instance, researchers may introduce genes producing those proteins into the cells. Small interfering RNAs (siRNAs) may also be used to silence certain genes, and the impacts on cellular pathways are then investigated. Furthermore, cell transfection is frequently employed in high-throughput drug screening experiments, which examine a large number of substances for their potential to interact with certain biological targets. Researchers can make stable cell lines that express or mute certain targets of interest by inserting genes or siRNAs into cells. These cell lines can then be utilised in screening experiments to find drugs that affect the targets.
In general, the market for cell transfection is expected to increase significantly due to the usage of cell transfection in drug discovery. There will be greater demand for better cell transfection methods as drug development activities expand and advance.
Impact of COVID-19:
The market for cell transfection has been significantly impacted by the Covid-19 epidemic. The pandemic's early effects included the breakdown of global supply chains, which had an impact on the availability of the chemicals and kits needed for cell transfection. This caused research initiatives to be delayed and the pace of drug development attempts to slow down. Due to the pandemic-related limitations, a lot of enterprises in the cell transfection sector were forced to temporarily stop operations or cut their output, which made the supply chain problems worse.
Additionally, the epidemic has significantly altered the priority for research. Many researchers had to shift their attention and resources to Covid-19 research due to the pressing need to provide vaccines and therapies for the disease. As a result, funding and resources for other branches of science, such cell transfection, were cut. On the other side, the pandemic has also given the cell transfection industry new business prospects. The need for cell transfection reagents and kits has expanded as vaccine research has received more attention. When developing Covid-19 vaccines, messenger RNA (mRNA) transfection in particular has drawn a lot of interest. Many nations across the world have approved the mRNA-based Pfizer-BioNTech and Moderna vaccines for use in emergency situations. Due to the enormous demand for mRNA transfection reagents, numerous businesses in the cell transfection industry have increased manufacturing. Additionally, the pandemic has speed up the market for cell transfection's adoption of new technology. The usage of virtual and remote technologies in research and drug development has significantly increased as a result of the limitations on in-person contacts. Online ordering, digital tools, and virtual training and assistance are now common services offered by many businesses to their clients. This has facilitated researchers' access to and usage of cell transfection products, increasing market acceptance and growth.
Segments Insight:
Method Insights:
On the basis of the method, in the market for cell transfection market in 2022, the electroporation segment had the biggest revenue share. In terms of revenue share, the category is closely followed by the particle bombardment and liposomal transfection categories. The category is growing as a result of broad portfolios for a variety of electroporation solutions supplied by both established and developing competitors. In contrast, it is predicted that the liposomes category would expand at the quickest rate throughout the projection period. The market for liposome-based transfection is expected to grow in the upcoming years due to current research efforts in lipofection to increase the effectiveness of in vivo transfection.
End User Insights:
On the basis of users, the market for cell transfection is anticipated to be dominated by the academic and research institutes sector. This is due to the fact that academic and research institutions are engaged in a variety of research projects, such as gene expression studies, protein manufacturing, and the creation of new drugs. In order to investigate gene function, regulation, and interaction, foreign genetic material must be introduced into cells. Cell transfection makes this possible. Major end users of the cell transfection industry include biotech and pharmaceutical firms. These businesses employ cell transfection for several purposes, including making recombinant proteins, creating cell-based drug screening tests, and researching disease causes. These businesses benefit from cell transfection since it helps them generate more effective and focused therapeutics by streamlining the drug discovery and development process.
Another prominent end user of the market for cell transfection is CROs. These businesses offer biotechnology and pharmaceutical firms, government agencies, academic institutions, and research institutes contract research services. Cell transfection is used by CROs for a variety of purposes, such as drug discovery, toxicity testing, and biosafety assessment.
Regional Insights
On the basis of region, in terms of revenue, North America held the largest market share in 2022. Throughout the projected period, it is predicted that the region will continue on this trajectory. This is due to the availability of reputable manufacturers and significant financing to support R&D on cancer therapies, precision medicine, and sophisticated cytological investigations. The region's additional market potential may boost the income of important market players in the U.S. market for cell transfection.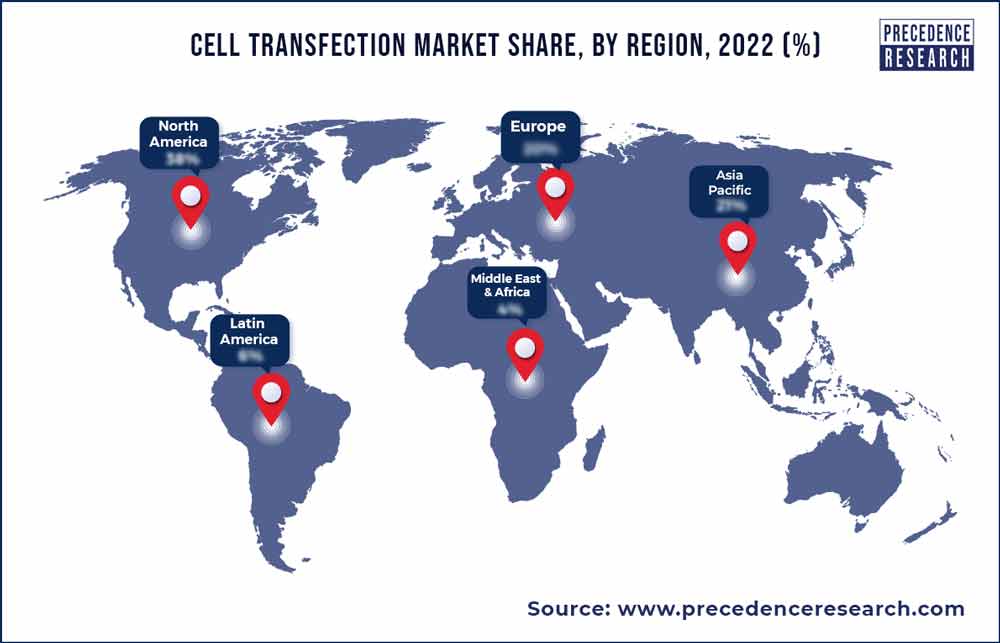 Rising healthcare spending in Asia Pacific is anticipated to offer a favourable environment for established multinational manufacturers wanting to build their cell transfection industry. This region also has a rising patient pool with consequent untapped market potential. Additionally, the government is actively involved in encouraging the use of cell and gene therapy, which supplements this.
Recent Development:
AGC Biologics expanded its gene therapy production capabilities and viral vector suspension technology at its commercial-grade site in Longmont, Colorado, in May 2022. The new capabilities are enhancing the website's adherent viral vector and cell treatment services and have been available since the third quarter of 2022. With so much attention being paid to the production of viral vectors, transfection technology which is essential to the process will be in more demand.
Key Market Players:
Thermo Fisher Scientific, Inc.
Promega Corporation
Lonza
QIAGEN
F. Hoffmann-La Roche Ltd.
Bio-Rad Laboratories Inc.
Merck KGaA
OriGene Technologies Inc.
MaxCyte, Inc.
POLYPLUS TRANSFECTION
Segments Covered in the Report:
(Note*: We offer report based on sub segments as well. Kindly, let us know if you are interested)
By Method
Electroporation
Lipofection
Calcium Phosphate
Viral Transfection
Others
By End User
Academic and Research Institutes
Pharmaceutical and Biotechnology Companies
Contract Research Organizations
Others
By Geography
North America
Europe
Asia-Pacific
Latin America
Middle East and Africa