The global clinical trial imaging market size accounted for USD 1.98 billion in 2022 and it is expected to attain around USD 4.7 billion by 2032, poised to grow at a CAGR of 9.02% during the forecast period 2023 to 2032.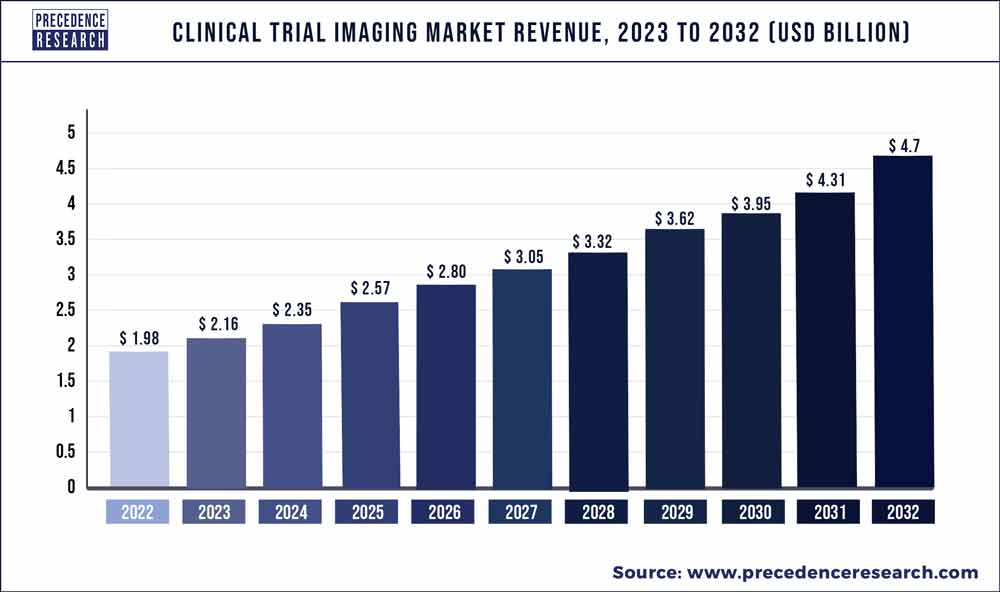 R&D spending growth, expansion of the pharmaceutical and biotechnology sectors, and rising CROs all contribute to market expansion.
Key Takeaways:
North America captured of around 41% of revenue share in 2022.
By Services type, services for project and data management dominated the market. Imaging-based clinical trials frequently require the integration of multiple parties' workflows and data management.
By Modality, the computed tomography segment is anticipated to expand promptly throughout the forecast period.
By End-use, the segment of Contract Research Organizations (CROs) held the largest share.
Market Overview:
The process of developing, analysing and evaluating the outcomes of novel drugs in known as a clinical trial, and it is made with human effects and potential treatments in mind. Extensive clinical testing is carried out to identify promising compounds before the commercialization of new medications, and safety tests are carried out to ascertain any potential risks.
The clinical trial imaging market includes companies that provide imaging services, such as image acquisition, analysis, and management, as well as companies that develop and manufacture imaging equipment and software for clinical trial use. The market is driven by the increasing demand for more efficient and accurate imaging technologies in clinical trials, as well as the growing number of clinical trials being conducted worldwide.
Growth Factors:
Rising investments in development and research for creating new drugs to treat diseases and expanding biotechnology and pharmaceutical companies are anticipated to fuel market industry growth. Clinical research for new life science products frequently involves medical imaging. The biotechnology and pharmaceutical sectors are expanding, while the medical imaging sector constantly fluctuates. The widespread utilization of advanced imaging technologies for assisting clinical trials for medical devices can be credited with this, along with increased investment in medical imaging businesses, acquisitions, and mergers.
The evaluation, compilation, and submission of image data from clinical trials are significantly changing due to technological advancements. Research projects can benefit greatly from technology-enabled imaging, especially software for image analysis. These advantages include quality, data accuracy, adaptability, and compliance. In this case, readers are managed and guided via the analysis of imaging points using image analysis software.
Clinical trial imaging is now becoming a viable alternative strategy to lengthen clinical trials by lowering the overall expense of a drug trial. Medical imaging is essential in the clinical development of new life sciences products. Despite a consistent uptick in the medical imaging market, biotech, and pharmaceutical companies are still growing. This may result from increased investment in medical imaging businesses and the introduction of innovative imaging technologies to promote medical device clinical trials.
Report Scope of the Clinical Trial Imaging Market:
| | |
| --- | --- |
| Report Coverage | Details |
| Market Size in 2023 | USD 2.16 Billion |
| Market Size by 2032 | USD 4.7 Billion |
| Growth Rate from 2023 to 2032 | CAGR of 9.02% |
| Largest Market | North America |
| Base Year | 2022 |
| Forecast Period | 2023 to 2032 |
| Segments Covered | By Service, By Modality, and By End-Use |
| Regions Covered | North America, Europe, Asia-Pacific, Latin America and Middle East & Africa |

Market Dynamics:
Increasing R&D expenditure
Pharmaceutical and imaging companies continually invest in research and development to expand their market share and provide customers with cutting-edge services for clinical trial imaging. Clinical advancement is dynamically influenced by medical imaging. The imaging and pharmaceutical industries are thriving even though the medical imaging market is constantly changing due to the introduction of new technologies.
The adoption of innovative imaging technologies to support clinical trials for medical devices, acquisitions and mergers, increased investment in medical imaging industries, and other factors are all credited with this. Rising R&D spending by pharmaceutical and biotechnology company's fuels market expansion.
This has prompted the creation of new products, highly research-focused programs in the biopharmaceutical sector, and a strong preference for examining the human genome. Rapidly increasing R&D spending results in the creation of novel treatments and medications for chronic diseases, which promotes market expansion. As a result, increasing R&d spending is anticipated to fuel market growth. This aids biotechnology and pharmaceutical companies in developing new technologies in imaging clinical trials.
Restraint:
Machinery and installation are expensive
The healthcare and medical industries place a lot of emphasis on containing rising medical expenses, and many stakeholders are working on different projects to do so. It is difficult for imaging service providers in such a situation to set aside a sizable sum of money to buy expensive equipment like contemporary radiology and other imaging systems. Adopting an imaging system includes all the expenses associated with buying, using, and maintaining imaging machinery.
These high initial costs and ongoing maintenance expenses negatively impact the development of the market. Imaging service providers must hire qualified individuals, such as seasoned radiologists, to make the best use of such machinery. These problems result in relatively high costs of implementation for imaging systems, which is a significant barrier to the market expansion for clinical trial imaging.
Opportunity:
Emerging economies will provide opportunities for development in clinical trial imaging
Due to rising spending on development and research, emerging economies in developing countries such as Brazil, Mexico, India, and South Korea, are significant potential customers for businesses in the clinical trial imaging market. In these developing markets, the industrialization of research in life sciences is another well-known trend along with the rising investments in improving healthcare infrastructure. In addition, significant advancements in life sciences research will likely offer considerable growth potential for the market players involved in the clinical trial imaging market.
Additionally, a large number of CROs in Asian nations, particularly in China and India, offer services for drug discovery to companies in the biotechnology and pharmaceutical sectors. Due to the substantial increases in R&D investment and the presence of CROs in emerging nations, the demand for clinical trial imaging is predicted to increase throughout forecasting.
Segments Insight:
Services Insights:
Services for data and project management dominated the market and generated more than 30% of revenue share in 2022. Imaging-based clinical trials often combine various stakeholders' workflows and data management. Such facilities include operational expertise and the advancement of trial workflows, digitizing scans, tracking projects, regulatory control and quality assurance, managing data, setting up and managing MRI centers, providing real-time trial status reports, and monitoring and problem-solving. The U.S. government has given approval to a cloud-based server that secures all medical imaging documents from natural disasters, such as the quicker and simpler acquisition of base and annotated images.
Another significant player in the market was operational imaging services. Operational imaging services involve imaging modalities like MRI, OCT, CT, PET, ultrasound, and SPECT for a range of therapeutic uses, including neurology, cardiovascular diseases, oncology, gastroenterology, & musculoskeletal disorders, along with medical devices to perform clinical trials. Clinical trials frequently use imaging methods to collect data to support their conclusions.
Modality Insights:
The computed tomography segment is anticipated to expand quickly throughout the projected timeline. Using X-Rays to generate cross-sectional images of the body, computed tomography is a non-invasive medical procedure that offers comprehensive information for the diagnosis and treatment of anomalies in both adults and children.
The development of the computed tomography (CT) marketplace can be credited to the many advantages CT offers, including the study of drug activity and screenings for wounds, cancer (tumors), and bodily abnormalities. Additionally, the segment is expanding because of increasing investments and funding in clinical research and clinical trials. This segment also includes a sizeable portion of the significant advantages of CT in the screening for injury issues and cancer (tumors).
End-Use Insights:
The largest share was attributed to the segment of Contract Research Organizations and contributed more than 47% of revenue share in 2022. The increasing price of drug development and the growing R&d activities can be held responsible for this substantial market share. The market is expanding due to rising demand from pharmaceutical and biotechnology firms seeking cost reductions by outsourcing their development and research operations. Contract research outsourcing partnerships also provide cutting-edge services. As a result, government organizations favour giving projects to CROs.
Over the projected period, the pharmaceuticals and biotechnology segment are anticipated to experience significant growth. The demand for new treatments and medications to treat chronic diseases drives this market's rapid expansion. As the number of pharmaceutical and biotechnology industries has increased, producers are pressured to offer the best medicine or drug to the consumer to stay competitive. The requirement for clinical trial imaging is anticipated to rise due to the many novel medicines that pharmaceutical and biotechnology companies are discovering, ultimately driving market expansion.
Regional Insights:
North America holds the largest share of the global clinical trial imaging market and generated more than 41% of revenue share in 2022. Because of the greater prevalence of chronic diseases and aging population in North America, the region currently holds a dominant position in the clinical trial imaging market. This trend is expected to continue. The continuously going developments in the healthcare infrastructure along with rising diagnosis activities are expected to fuel the market's growth in North America. United States
The market's growth in North America is accompanied by increased R&D spending and an expansion of CROs for best imaging modalities in Canada and the United States. Moreover, the USFDA and other regulatory organizations have also contributed significantly to the successes in trial registration to date. They are anticipated to receive support in resolving such issues in the near future.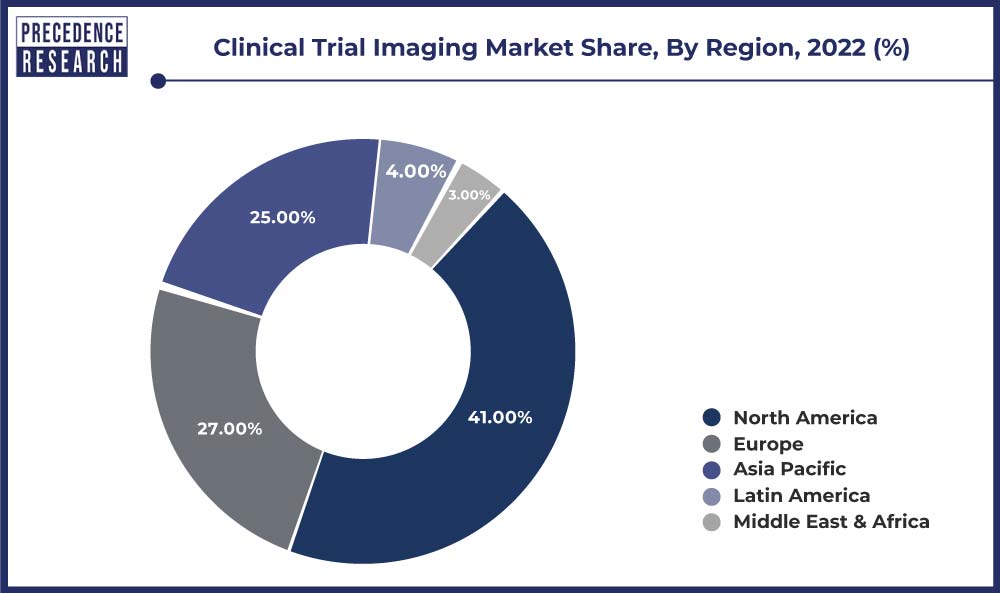 The market for clinical trial imaging in the Asia Pacific will expand rapidly during the projected timeline. Because of the simplicity of regulatory compliance, lower study costs, rising patient population, and availability of top clinical institutions assisting sites, the Asia-Pacific region has surfaced as a hotspot for clinical trials. By streamlining the overall examination and authorization procedure, the regulatory agencies in China are working toward improved clinical trial processes.
The massive rise in the elderly population and the rising prevalence of chronic illnesses like Huntington's, Parkinson's, and Alzheimer's are two factors propelling the development of clinical trials in Europe. Imaging is used in clinical trials due to research facilities' efforts to reduce operating expenses. Every year, the European Union approves more than 4,000 drug clinical trials (EU). Most of these trials take place in nations in Western Europe.
Recent Development:
In March 2023, a healthcare research technology company, Clario, announced the launch of a cutting-edge cloud-based image viewer tool for sponsors and contract research organizations to view images related to their clinical trials. The newly launched tool for clinical images allows the whole access to read-quality images in real-time image viewer. The tool also empowers users to achieve valuable insights during clinical trials.
In November 2022, a globally leading imaging intelligence company, VIDA, announced the launch of artificial intelligence (AI) based platform for clinical trial imaging operations, 'VIDA Intelligence Portal 2.0', with advanced efficiencies. According to the company, the platform is aimed to accelerate the onsite clinical trial imaging services. Along with the launch, VIDA is expecting collaboration with multiple hospitals and clinical centers.
Key Market Players:
IXICO plc
Intrinsic Imaging
Resonance Health
BioTelemetry
Navitas Life Sciences
ProScan Imaging
Cardiovascular Imaging Technologies
Medpace
Radiant Sage LLC
Biomedical Systems Corp
Segments Covered in the Report:
(Note*: We offer report based on sub segments as well. Kindly, let us know if you are interested)
By Service
Clinical Trial Design and Consultation Services
Reading and Analytical Services

Computed Tomography (CT) ScanMRI (Magnetic Resonance Imaging)
Ultrasound
Optical Coherence Tomography (OCT)
X-Ray
Others

Project and Data Management
System and Technology Support Services
By Modality
Computed Tomography
Ultrasound
Magnetic Resonance Imaging
Positron Emission Tomography
Echocardiography
X-Ray
Other Modalities
By End-Use
Pharmaceutical Companies
Medical Device Manufacturers
Academic and Government Research Institutes
Biotechnology Companies
Contract Research Organizations
Other End-Users
By Geography
North America
Europe
Asia-Pacific
Latin America
Middle East and Africa