The electric traction motor market size was valued at USD 13.29 billion in 2022 and is expected to hit around USD 63.07 billion by 2032 with a registered CAGR of 16.9% from 2023 to 2032.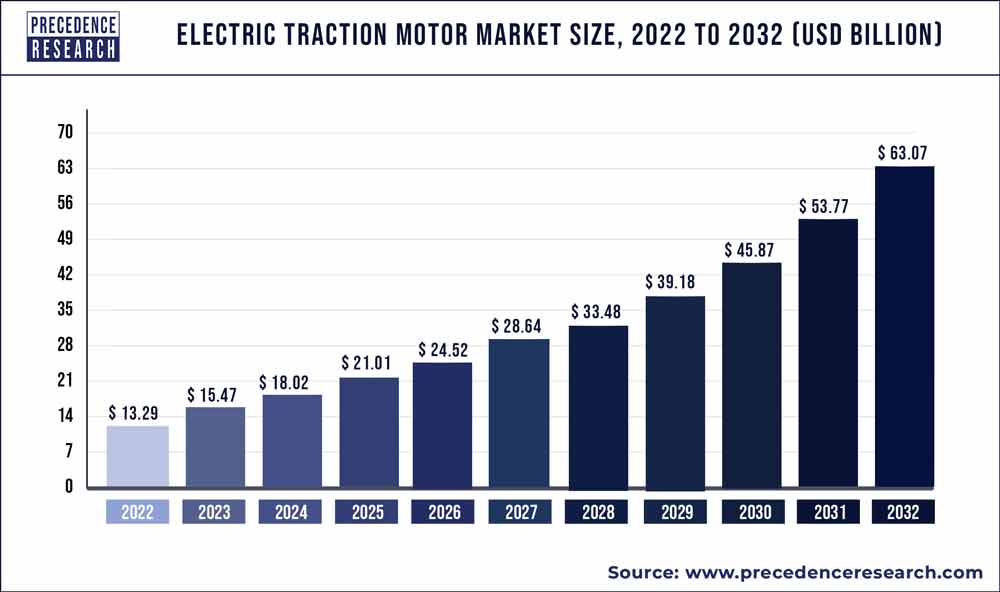 Access our Premium Real Time Data Intelligence Tool, Visit: Precedence Statistics
Key Takeaways:
By type, the AC segment has contributed the highest revenue share of over 87% in 2022.
DC segment has generated a market share of around 13% in 2022.
Asia Pacific hit revenue share up to 48% in 2022.
The rising investments in electric vehicles and rising demand for energy-efficient motors are driving the market growth. Due to the low power consumption and great efficiency of EV traction motors, EV sales are on the rise. Furthermore, the demand for EVs is being driven by strict environmental laws and emission standards to protect environmental sustainability, generating ideal conditions for market growth.
Global sales of hybrid electric vehicles (HEVs) have surged as a result of a growing public preference for zero-emission automobiles. Consequently, it is anticipated that the market would benefit from the increased production of HEVs. Additionally, the government is launching a number of programmes to increase the sales of EVs, such as tax breaks and discounts, which is propelling the EV traction motor market.
Vehicles with traction motors are entirely hybrid and battery electric (BEVs). By offering almost zero emissions and exceptional fuel efficiency at ever-lower prices, BEVs and HEVs have been quickly gaining acceptance in the worldwide automotive industry. Globally, a large number of vehicle OEMs are currently developing innovative HEV and EV concepts. Additionally, avoiding electrical and magnetic losses is crucial if users are to receive the optimum range and fuel economy.
Additionally, structural, thermal, and electromagnetic concerns that are essential to vehicle performance, dependability, and cost must be taken into account by engineers during installation. Compared to conventional motors, traction motors for electric vehicles often operate more quietly and accelerate more quickly. Additionally, unlike conventional cars, electric vehicles traction does not require a multi-speed transmission since, in contrast to reciprocating engines, electric motors have a more advantageous torque-speed connection that allows them to deliver the most torque even at the lowest speed. Additionally, scientific developments in fields like nanotechnology and material science are concentrated on lowering cost and weight while extending the lifespan and functionality of traction motors, making EVs more accessible.
Report Scope of the Electric Traction Motor Market
| | |
| --- | --- |
| Report Coverage | Details |
| Market Size in 2023 | USD 15.47 Billion |
| Market Size by 2032 | USD 63.07 Billion |
| Growth Rate from 2023 to 2032 | CAGR of 16.9% |
| Base Year | 2022 |
| Forecast Period | 2023 to 2032 |
| Segments Covered | Vehicle Type, Type, Power Rating, Application, and Geography |
| Companies Mentioned | Schneider Electric SE, The Curtiss-Wright Corporation, Prodrive Technologies, Toshiba Corporation, General Electric Co., CG Power and Industrial Solutions Ltd., Aisin, ABB, Ltd., Alstom S.A.,Siemens AG, Delphi Automotive LLP, Voith GmbH, Mitsubishi Electric Corporation, Bombardier Inc., American Traction Systems, VEM Group, Caterpillar Inc., TTM Rail - Transtech Melbourne Pty Ltd., Kawasaki Heavy Industries Ltd., Traktionssysteme Austria GmbH, Hyundai Rotem Company, Hitachi, Ltd., Ansaldo Signalling, Magna International |
Growth Factors
The global market for electric traction motors is being driven by increasing investments in the railway industry, a high demand for powerful motors for propulsion applications, and a growing focus on electric cars to reduce carbon emissions. Due to rising investments in railway projects, particularly those involving high-speed rail and metro trains, nations like India, Australia, and South Korea are also seeing positive growth in the electric traction motor market. Additionally, it is anticipated that price fluctuations for raw materials like copper and aluminium would restrain the market's expansion for electric traction motors.
Key Market Drivers
Demand for the energy-efficient motor: An important driver propelling the market for electric traction motors is the increased need for energy-efficient motors. Vehicle energy efficiency allows for minimal maintenance and energy savings. Prices for fossil fuels are continually changing. However, the market for electric traction is significantly impacted by the growing cost of gasoline. This is why electric traction motor driven cars are becoming more and more common. Also, in the approaching years, it will become more commonplace to cut carbon emissions.
Favourable government policies - The usage of electric traction motors is encouraged by governmental legislation. These motors are advantageous because they conserve energy and lessen environmental pollutants. There will be strict rules to limit carbon emissions in the future years. It will lead to the adoption of eco-friendly technology. The market for electric traction will benefit from the implementation of environmental regulations. During the projected period, the market's income and demand will peak.
Key Market Challenges
Motor failure is a major limitation: A machine's or technology's motor is a crucial component. The traction motor's difficulties have a significant negative impact on demand as a whole. To address this problem, the major market participants are increasing their R&D spending. The market demand and market development, however, will be greatly impacted by engine overheating and failure.
The complex process for manufacturing of electric traction motors: High-end raw constituents are required to produce this energy-efficient technology. In the process, premium metals like copper and aluminium are employed. The electric traction motor, however, has difficulties due to the fluctuating price of raw materials. Several market irregularities are brought on by the low or high price fluctuations of raw materials. The reliability as well as safety of the operation of an electric traction motor can be impacted by selecting low-cost raw material substitutes. The cost of raw materials is a significant obstacle for the market's top competitors.
Key Market Opportunities
Use of electric traction motors in hybrid and fully electric vehicles- The main devices in hybrid and all-electric cars that transform electrical energy into mechanical energy are called traction motors. For initial propulsion and to give the vehicle rotational torque, electric traction motors are included in electric cars. The need for traction motors has significantly increased as a result of advancements in hybrid vehicle technology. Because they are more lightweight than induction motors and have a more compact design, electric traction motors like permanent magnet synchronous motors are frequently utilised in electric cars. Another significant reason driving the expansion of the market for electric traction motors is the growing awareness of the negative impacts of carbon emissions from moving automobiles. Despite the fact that electric buses are being bought quickly in Europe, India, and Latin America, 98% of the electric bus stock is in China. As a result, the market for electric traction motors is anticipated to rise over the next several years as electric car demand increases.
Rising Investments from key players - In the future years, there will likely be a lot of investments in the market for electric traction motors. The market will be more profitable as a result of the increasing investments from major firms. Additionally, this is a time when many new, cutting-edge traction motors are introduced. 3.3 billion records were invested in the North American market. More investments from additional market participants are revealed by the overall geographical study. The introduction of a hybrid electric traction motor will open up several market expansion opportunities. In China, there is already a very high demand for electric automobiles. The Asia Pacific market has more than 12.43 million sales. More potential for market expansion will arise from the introduction of hybrid traction in additional locations. Additionally, electric traction motors lower vehicle carbon emissions. Many countries are increasing their investments in carbon emission-reduction technology. In the future, there will be more government control of the usage of energy-efficient equipment. It is yet another element contributing to the market expansion for electric traction motors.
Segmental Insights
Vehicle Type Insights
A battery-powered vehicle is one that runs entirely on chemical energy from rechargeable battery packs. Instead of using traditional IC engines for propulsion, battery electric vehicles employ motor controllers and electric motors. Due to a significant shift in consumer attitude toward zero emission vehicles, the BEV category is anticipated to dominate the market for electric vehicle traction motors throughout the forecast period. The BEV market is anticipated to rise as a result of technological developments including long-range batteries with quick charging capabilities. To enable EVs to go up to 200 miles on a single charge, the market is heading toward battery capacities of 60kWh. The higher battery capacity is anticipated to positively affect the market for electric vehicle traction motors by cascading the demand for battery electric vehicles. Greater government involvement also has a significant impact on encouraging people to purchase BEVs.
Type Insights
During the anticipated period, the AC segment is anticipated to be the market's biggest by type for electric traction motors. The benefits of AC motors include ease of manufacture as they don't require any mechanical parts to work, as well as being lighter than DC motors for the same power. Utilizing cutting-edge electronics enables the AC units to work meticulously and effectively to increase traction and adhesion.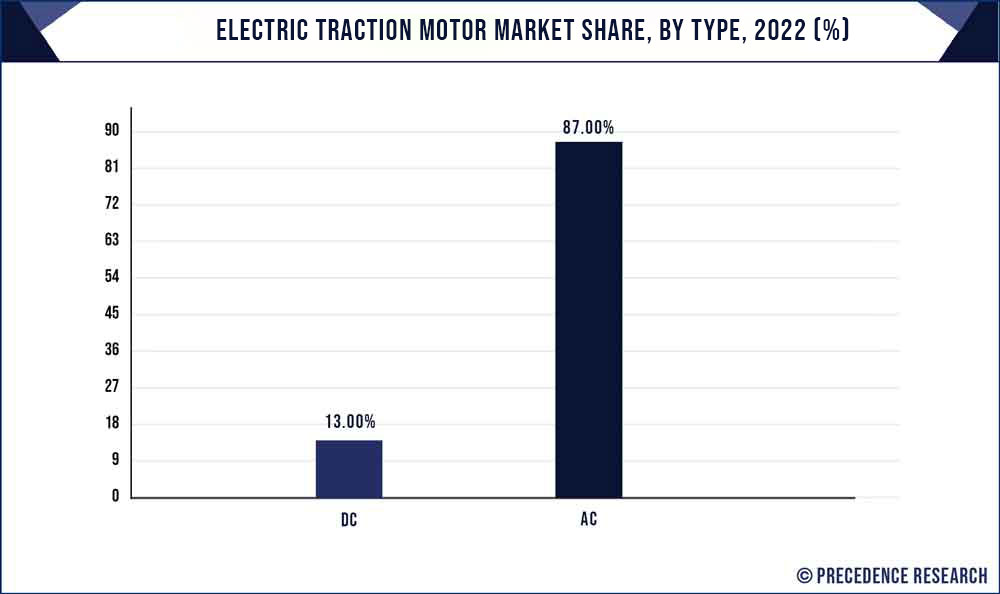 It can be precisely monitored by microprocessors, which also aids in redeveloping current till it stops. At low speeds, DC regeneration falls rapidly. In the current industrial area, these items are most frequently employed in a variety of applications, including electric cars, conveyors, and industrial gear. In the automotive industry, AC motors are used more frequently. These are the elements that are anticipated to boost demand for AC motors.
Electric Traction Motor Market Share, By Region, 2022 (%)
| | |
| --- | --- |
| Regions | Revenue Share in 2022 (%) |
| North America | 26% |
| Asia Pacific | 48% |
| Europe | 18% |
| Latin America | 5% |
| MEA | 3% |
Geography Insights
The market for EV traction motors in Asia Pacific became the biggest in 2022 and is predicted to develop at the quickest rate over the forecast period. Industry leaders in the area blame the growth of industrial facilities for this. Due to the cheap access to labour and raw materials in China, the largest industrial facilities have been seen to start operating there. Over the past ten years, the Chinese government has invested more than $50 billion in the establishment of factories producing electric vehicles and their components. To increase the demand for EVs, the Chinese government has also decreased the number of conventional car licenses accessible. Over the projection period, North America is anticipated to experience a significant CAGR of over 35%. In terms of the sales of EV traction motors, it is likewise a significant region. The existence of reputable electric car manufacturers accounts for the region's greater proportion. However, in 2018, Europe had a market share of over 20%. Over the projected period, rising BEV demand is anticipated to fuel market expansion in the area.
Recent Developments
In October 2019, a reputable company, Tata Motor, accepted a contract for the delivery of 300 Urban 9/9 electric buses that travel along Ahmedabad's BRTS circuit. This company is the only one in India to receive such a sizable order. Additionally, it helps the government's push for e-mobility.
A renowned firm, CZECH Railways, received a contract in July 2019 to deliver 300 traction motors to the Skoda Subsidiary Pars Nova. Additionally, the renowned rolling stock maker Stadler granted the leading business ABB a traction equipment deals worth more than $140 million. The ABB began offering the most cutting-edge technology for locomotives and trains in the US and throughout Europe.
Key Market Players
Schneider Electric SE
The Curtiss-Wright Corporation
Prodrive Technologies
Toshiba Corporation
General Electric Co.
CG Power and Industrial Solutions Ltd.
Aisin
ABB, Ltd.
Alstom S.A.
Siemens AG
Delphi Automotive LLP
Voith GmbH
Mitsubishi Electric Corporation
Bombardier Inc.
American Traction Systems
VEM Group
Caterpillar Inc.
TTM Rail - Transtech Melbourne Pty Ltd.
Kawasaki Heavy Industries Ltd.
Traktionssysteme Austria GmbH
Hyundai Rotem Company
Hitachi, Ltd.
Ansaldo Signalling
Magna International
Segments Covered in the Report
(Note*: We offer report based on sub segments as well. Kindly, let us know if you are interested)
By Vehicle Type
Plug-in Hybrid Electric Vehicles
Mild Hybrid Vehicles
Full Hybrid Vehicles
By Type
By Power Rating
Below 200 KW
200 KW To 400 KW
Above 400 K W
By Application
Railways
Electric Vehicles
Elevators
Conveyors
Industrial Machinery
Others
By Geography
North America
Europe
Asia-Pacific
Latin America
Middle East & Africa (MEA)