The global electric vehicle transmission market size was estimated at USD 5.8 billion in 2021 and it is expected to hit around USD 21.6 billion by 2030 with a registered CAGR of 15.73% from 2022 to 2030.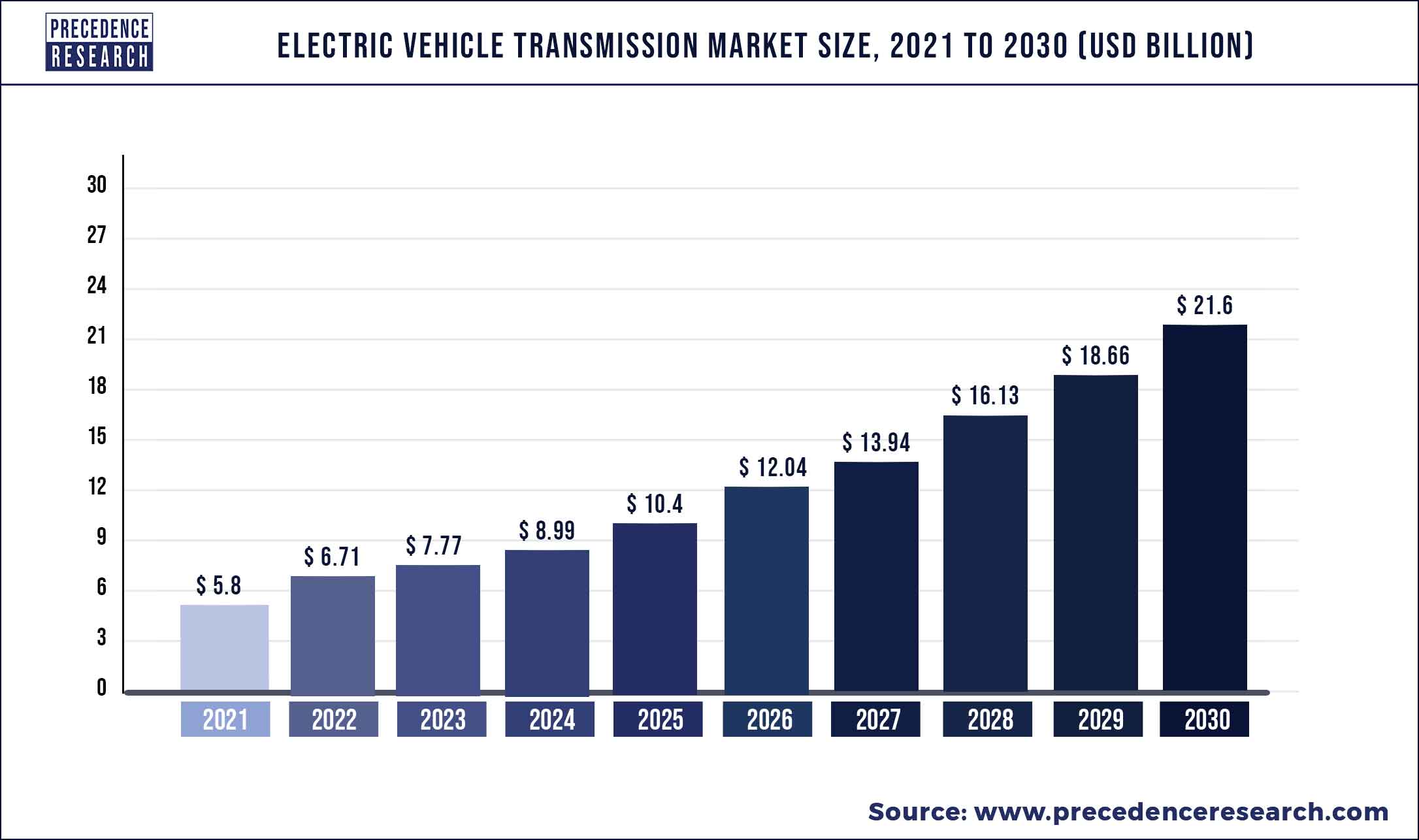 Access our Premium Real Time Data Intelligence Tool, Visit: Precedence Statistics
Key Takeaways:
Europe region has made up 46% revenue share in 2021.
The battery EV is expected to hit an opportunity of more than USD 20,000 million from 2022 to 2030.
The AT transmission system segment has accounted revenue share of around 55% in 2021.
By vehicle, the cars segment accounted 61% revenue share in 2021.
The offline segment is expected to grow at a CAGR of 22.39% from 2022 to 2030.
Transmission has always been an integral component of any car on the road today. Fuel efficiency, acceleration, driving comfort, and enjoyment are all important factors in a car buyer's selection, and they are all strongly tied to the gearbox options available. The function of gearbox in a buyer's purchase choice in an EV will be less important than it is in a gas-powered car. The reason for this is that in a gas-powered vehicle that works between 1,000 and 7,000 RPM, the gearbox serves as an intermediate between the engine and the wheels.
An electric vehicle transmission system is made up of components that help in vehicle propulsion. It is comprised of a motor system, a control system, and a battery system. Electric car transmission system advancements, such as the 4-speed transmission system, can raise motor performance and extend the range of an electric vehicle. Many nations' preference for electric vehicles has contributed in the resolution of various economic, power, environmental, and other challenges. Many firms in the electric vehicle transmission market, as well as its parent industry, are focusing on producing automobiles with cutting-edge technology and innovative features that will be accessible to all target groups across multiple economies. Long-standing companies have a strong grasp on demand to maintain their market presence. The electric vehicle transmission market is expanding due to growing worries about carbon emissions.
Furthermore, several key manufacturers in the EV transmission industry are developing multi-speed transmission sailing operation and load shifting capabilities for electric vehicles and want to deploy them in the near future. Electric vehicle development is gaining traction at a rapid pace, owing to the need to fulfil government pollution limits and future fuel use. Because of this exceptional growth and continuing progress in battery-powered autos, restrictions related to vehicle weight, battery capacity, and other factors that impede the growth of the electric vehicle sector are likely to be eradicated throughout the projection period.
Report Scope of the Electric Vehicle Transmission Market
| | |
| --- | --- |
| Report Coverage | Details |
| Market Size in 2022 | USD 6.71 Billion |
| Market Size by 2030 | USD 21.6 Billion |
| Growth Rate from 2022 to 2030 | CAGR of 15.73% |
| Base Year | 2021 |
| Forecast Period | 2022 to 2030 |
| Segments Covered | Transmission System, Vehicle Type, Transmission Type, and Geography |
| Companies Mentioned | Allison Transmission Inc., Aisin Seiki Co., Ltd., AVL List GmbH, Continental AG, BorgWarner Inc., Dana Limited, EATON Corporation, Denso Corporation, GKN Plc, Hitachi Automotive Systems Ltd., Hewland Engineering Ltd., JATCO Ltd., Mando Corporation, Magna International, Porsche AG, Schaeffler Technologies AG & Co. KG, Robert Bosch GmbH, Xtrac Ltd, ZF Friedrichshafen AG |
Growth Factors
Factors such as increased demand for fuel-efficient and low-emission automobiles, as well as increased manufacturing of electric vehicles, are propelling the EV transmission industry forward. Furthermore, government measures to encourage the usage of electric cars are expected to drive the growth of the electric vehicle transmission market. Furthermore, technical developments in electric cars, as well as the introduction of Vehicle-To-Grid (V2g), electric vehicle charging station, are likely to generate significant growth prospects for major players in the electric vehicle transmission market.
Key Market Drivers
Growing demand for low-emission and fuel-proficient automobiles to spur growth: Because gasoline is a fossil fuel and not a renewable energy supply, it is expected to be depleted in the near future. In compared to typical autos, electric vehicles do not use fuel and emit minimal levels of pollution. Fuel-powered cars transfer around 16%-20% of the energy stored in fuel to wheels, whereas electric vehicles convert more than 50% of the electric energy from the power source to the wheels.
Increase in adoption of electric vehicles: The global increase in the purchasing of electric cars is boosting the growth rate of the EV transmission sector. For example, in the first half of 2021, Volkswagen Group's global deliveries of full-electric cars more than quadrupled, owing mostly to demand in Europe. Europe was the automaker's leading electric vehicle market, with 128,078, a 156 percent increase. As a result of such high demand, the global electric vehicle market's growth pace accelerates significantly.
Growing Concerns related to carbon emissions: With the present revolution centred on the depletion of fossil resources, several nations are seriously contemplating implementing measures to benefit the environment, and hence society and the community at large. Every year, 995 metric tonnes of CO2 are emitted in India. People are adopting EV strategies as a result of such worrying data, which indirectly raises demand for the EV transmission business.
Key Market Challenges
Lack of charging infrastructure - The governments of several nations are encouraging the usage of electric cars for business purposes in order to minimize greenhouse gas emissions into the environment. However, the absence of electric car charging infrastructure is a barrier to the electric vehicle industry. For example, the Indian government intends to have exclusively electric automobiles on the road by 2030. However, one of the most important criteria for ensuring the adoption of electric vehicles is the development of a solid electric vehicle infrastructure. Unfortunately, most developing nations' electric vehicle charging infrastructure is still insufficient and has yet to catch up to satisfy the demand, stifling the expansion of the electric car industry. As a result, the absence of charging infrastructure is limiting the expansion of the electric car transmission industry.
Key Market Opportunities
Downsizing of transmission system is a vital trend
Because of their potential to emit zero emissions, electric vehicles are expected to outperform conventional vehicles during the projection period. It will consequently increase demand for electric car transmission. Furthermore, manufacturers of electric car transmissions are always exploring for materials that might minimize the entire weight of the transmission system without sacrificing performance. All of these things will very certainly increase demand for electric automobiles.
Aside from that, effective utilization of the power stored in EV battery packs is critical, prompting manufacturers to design specific transmission systems to satisfy the performance and close tolerances of batteries. Volkswagen, for example, launched an effort to build superlight automobiles by decreasing their weight by 85 kg using a multi-material strategy.
Increase in the manufacturing of electric vehicles
Electric car demand and manufacturing have increased dramatically in recent years due to various benefits that electric vehicles have over gasoline-powered autos. Fan belts, air cleaners, oil, timing belts, head caskets, cylinder heads, and spark plugs do not need to be replaced, making them less expensive and more efficient for the expansion of the fuel-powered automotive industry. As a result, increased electric car manufacturing fuels the growth of the electric vehicle transmission industry.
Segments Insight
Transmission System Insights
The global market for electric transmission market is dominated by automotive transmission category. AT has several advantages, including a smoother driving experience with minimal gear shift hassle and improved performance.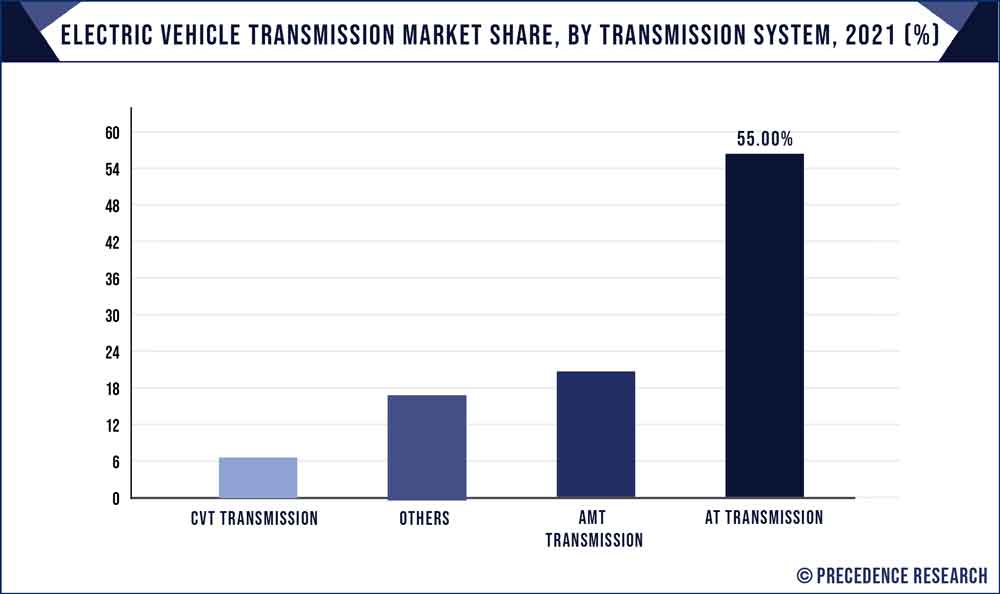 The AMT transmission category is also anticipated to grow considerably because to its availability in both automatic and manual gearbox modes. These transmissions offer the convenience of long-distance travel in the automatic gearbox and the necessary additional power in the manual transmission. The CVT transmission category is anticipated to grow slowly over the course of the forecast period as a result of declining demand for these gearboxes in electric automobiles.
Vehicle Type Insights
The global market for electric transmission is dominated by the BEV sector. The growing popularity of BEVs due to their numerous benefits, such as zero-emission cars and inexpensive maintenance, will fuel the expansion of this market.
Furthermore, the plug-in hybrid electric vehicle sector is expected to rise rapidly in the market throughout the projected period due to increased PHEV acceptance in various developed nations. The hybrid electric vehicle category is also expected to increase exponentially due to its increasing popularity in Asia.
Transmission Type Insights
The single-speed transmission is boosting the market for electric vehicle transmission in terms of transmission type. The growing usage of single-speed transmission systems in popular model electric vehicles is propelling the electric vehicle transmission industry forward. Manufacturers are increasingly using single-speed transmission systems due to their low cost, which is fuelling market expansion. Furthermore, the system decreases volume, energy waste, and drivetrain mass, allowing it to take up less space. Furthermore, it provides high-performance automobiles with a simpler gear system and quick torque when paired with a motor. Furthermore, the multi-speed transmission system is likely to boost the market throughout the forecast period due to its capacity to attain a vehicle's peak speed while keeping the electric motor efficient during electric vehicle operation. The inclusion of multi-gears in electric cars for dynamic performance is expected to boost the market for multi-speed transmission systems.
Electric Vehicle Transmission Market Share, By Region, 2021 (%)
| | |
| --- | --- |
| Regions | Revenue Share in 2021 (%) |
| North America | 22% |
| Asia Pacific | 25% |
| Europe | 46% |
| Latin America | 4% |
| MEA | 3% |
Regional Insights
Europe is expected to occupy a significant part of the worldwide electric vehicle transmission market due to an increase in demand for electric vehicles. The rapid expansion of electric car component manufacturers throughout the area is also driving the electric vehicle transmission industry.
Following Europe, Asia Pacific is expected to have a considerable proportion of the worldwide electric vehicle transmission market due to a rise in electric car manufacturing throughout the region. Asia Pacific has a significant presence of electric vehicle components manufacturing sectors in China, India, and Japan, which is expected to boost the Asia Pacific electric vehicle transmission market.
Recent Developments
In February 2019, Dana unveiled a brand-new electronic Gearbox and electronic Clutch for off-road vehicles. A new e-hearbox and e-clutch for off-road vehicles were presented by Dana. These technologies are combined with the company's industry-leading selection of motors, control systems, and investors to enable electric propulsion inside the present vehicle design. Customers will be able to fulfil their needs for efficiency, performance, safety, and flexibility with the aid of these electrodynamic technologies.
Shell Unveils New E-Fluid for Better EV Performance in May 2019 For BEVs, Shell revealed new e-fluids. The performance of the EV battery will be improved by the e-fluids and e-grease. Additionally, they will support electric vehicles and provide customers greater energy alternatives.
Segments Covered in the Report
(Note*: We offer report based on sub segments as well. Kindly, let us know if you are interested)
By Transmission System
AMT Transmission
CVT Transmission
AT transmission
Others
By Vehicle Type
Electric Vehicle Battery
Plug-in Hybrid Electric Vehicle
Hybrid Electric Vehicle
By Transmission Type
By Geography
North America
Europe
Asia-Pacific
Latin America
Middle East & Africa (MEA)