The global energy harvesting system market size was accounted for at USD 645 million in 2022 and is expected to hit USD 1680.53 million by 2032, growing at a CAGR of 10.10% from 2023 to 2032.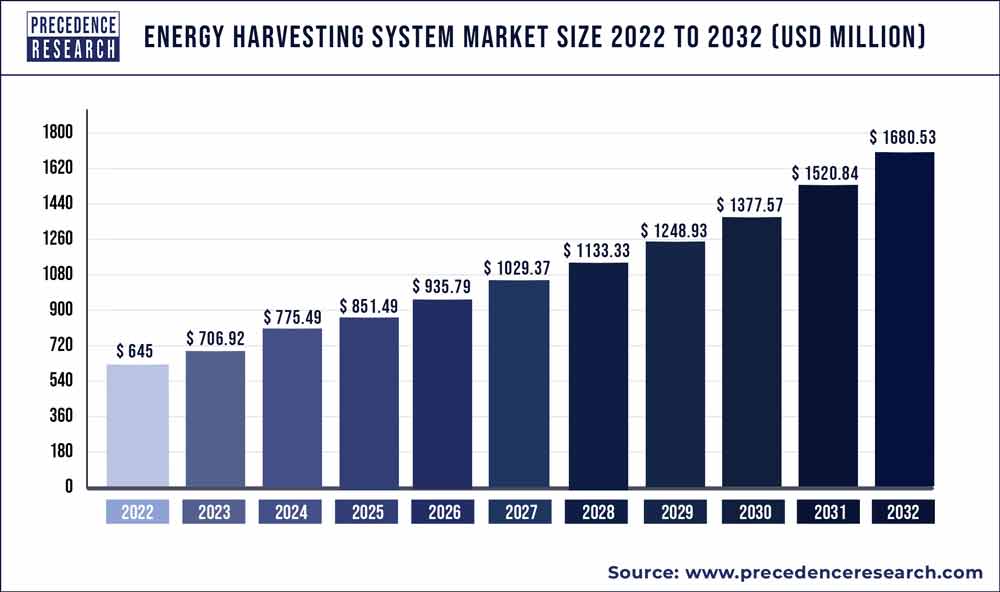 Access our Premium Real Time Data Intelligence Tool, Visit: Precedence Statistics

Energy Harvesting System Market in U.S. 2023 To 2032
The U.S. energy harvesting system market size was valued for at USD 175.7 million in 2022 and is predicted to reach USD 449.529 million by 2032 with a CAGR of9.90%% between 2023 to 2032.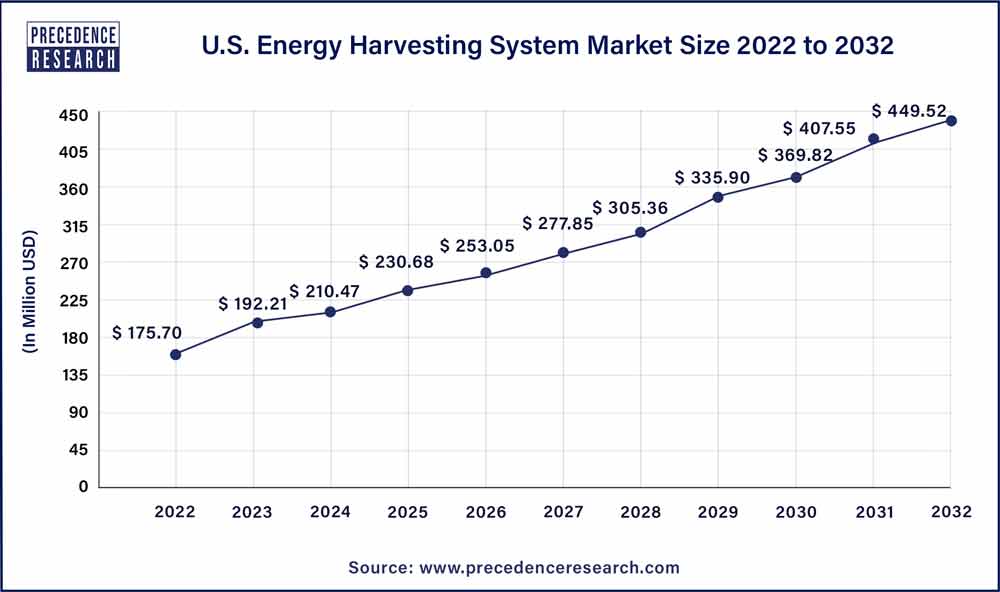 The largest market for this sector is North American region, due to rapid technological developments in the field of energy harvesting and building in home automation investments. There is a boost in this technology in North America. The current technological advancements in North American region have become a very important factor for the growth of this technology for building and home automation investments. The maximum amount of revenue was generated in United States, due to a flourishing industrial and transportation sector.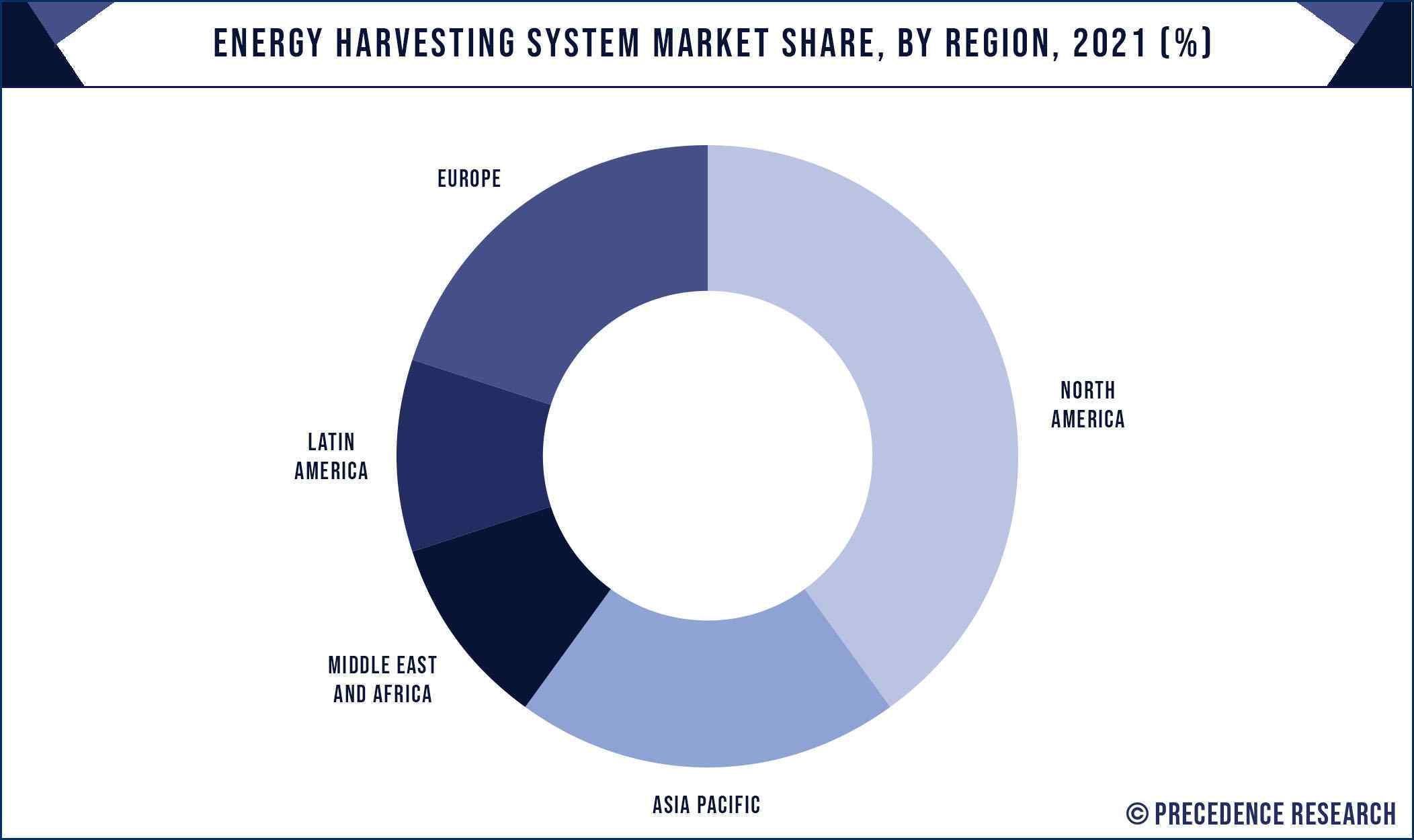 The market is expected to grow substantially because of low operational and labor cost, many industry players are thinking of changing their manufacturing facilities and locating them in Asia Pacific market is expected to grow owing to the techno savvy population and high purchasing power. The Internet of Things has spread across the region from smart grids to smart homes/buildings. The increasing implementation of the Internet of Things-enabled technology to meet the infrastructure and supply challenges leads to the growth of smart cities, boosting the market across the region. Technology vendors in the industry are progressively developing connected devices and are undergoing innovations and rigorous tests.
Market Overview
The energy harvesting system is the process of producing usable energy electrical energy by capturing the energy from one or more renewable energy sources. Energy harvesting is very important solution in order to power the IoT that are installed in accessible areas and require battery maintenance. In places where there are no power sources, energy harvesting is a very important tool in such cases. It helps in making the inaccessible devices self sufficient by capturing the energy from the Renewable sources. The devices used for harvesting the energy are known as the energy harvesting system.
Growth Factors
Globally, the market is growing for durable systems that are power efficient and safe, which require very less maintenance. There is a rise in the adoption of wireless sensor networks due to automation in the houses and the green technology that is adopted by the various nations. There is wastage of the environmental energy. The systems that help in capturing this energy and converting it to electrical energy are a boon. Various research and development activities in the energy harvesting system is leading to the growth of this market. Supportive government policies and increased awareness about the environment. Also, the reduction in the emission of the greenhouse gases has helped in rising the demand for such technologies. An increasing trend of using renewable resources across many nations has created a need for improvement in this technology. In order to supplement the primary source of power to reduce the power interruptions and to increase the reliability of an electronic system, this technology is a boon.
Europe and USA are the major hubs for energy harvesting system market. The accurate impact of COVID-19 cannot be estimated. But there has been a disruption due to the shortage of semiconductors. The key application area for energy harvesting is building and home automation. The various climatic changes and changing rainfall patterns are increasing the demand for energy harvesting systems. Self powered wireless sensors are introduced by EnOcean to integrate the energy harvesting solutions. In order to decline the carbon footprints various nations are explaining the positive impact of this technology. Energy harvesting schemes will be introduced in smart cities in order to conserve energy and reduce the dependency on the service provider. Hong Kong is promoting the use of renewable energy by installing the harvesting devices on the roofs of the buildings.
Market Drivers
AVAILABILITY OF R&D FUNDS THROUGH ORGANIZATIONS AND INVESTORS
R&D for energy harvesting devices has been on a rise owing to the requirement of innovative solutions to power wireless sensors and low power electronics. Further, the presence of funds through associations such as the U.S. Department of Energy and the European Commission results to enhance the development of innovative technologies.
For instance, European Commission under its Horizon 2020 is funding a project on "Metamaterial Enabled Vibration Energy Harvesting". The project has commenced in January 2021 and is expected to end by December 2024. The aim of this project is to eliminate the requirement of batteries to power wireless sensors in the future.
In addition, new startups are also able to raise funds from investors to progress innovative product development.
In January 2021, Barbara IoT, a Spain-based startup company, closed a round of over USD 469.46 thousand (Euro 400k) to develop its operating system for industrial IoT

In May 2019, Cybus, a startup company based in Germany, announced that it had secured funding from btov Partners for implementation of its industrial Internet of Things (IIoT)
Availability of funds for innovative technologies through organizations and investors aids to fast track the process of new product development. Further, it also provides a better opportunity for new product developers to enter the market with their innovative products. These factors have resulted to drive the market for the development of innovative energy harvesting systems which will result to further boost the growth of energy harvesting systems in the forecast period.
Maket Restraint
LOW POWER CAPACITY COUPLED WITH HIGH COST
Energy harvesting system are costly, since they perform tasks such as analysis of real-time information, setting up energy scavenging devices, and other integrating equipment. Thus, to gather real-time information, the deployment and servicing of associated infrastructure such as advanced metering systems, smart devices, sensors, transducers, and communication infrastructure are necessary. This is leading to the increasing need for transformation of the infrastructure of utilities, which is expected to drive subsequent investment while hampering market growth over the projection period.
The technology and infrastructure necessary for energy harvesting is still expensive as its R&D involves high costs. The need for large investments and longer payback periods prove to be a major challenge for the market.
Market Opportunities
Some of the emerging energy harvesting solutions under developed or which are recently launched which have a high growth potential are as follows:
MEDICAL DEVICES Research has resulted in the development of medical devices such as pacemakers that utilize energy harvesting technology in form of reverberation of heartbeats and it is then converted into electrical power to either run a pacemaker or an implanted defibrillator. Further, research is also going on to utilize body heat and movement of the body to power implantable devices.
FITNESS DEVICES A piezoelectric energy harvesting device is under development that would be attached to the knee which can result in generating power as per walk or during running on the treadmill which can be utilized to charge portable devices such as mobile phones.
INDUSTRY AND ENVIRONMENT MONITORY Wireless sensors can be powered through energy harvesting technologies such as thermal and vibration sources. These solutions can aid in industrial operations monitoring such as faults and other losses or inconsistency in the system during operation.
SMART WATCH MATRIX PowerWatch is one of the world's first smartwatches that does not require charging as per conventional manner through wired chargers. It is powered by body heat by use of advanced thermoelectric technology.
HOME AND BUILDING AUTOMATION Some of the emerging home and building automation energy harvesting devices include smart light switches, door/window sensors, occupancy sensor, key card switch, and room thermostat.
Report Scope of the Energy Harvesting System Market
| | |
| --- | --- |
| Report Coverage | Details |
| Market Size by 2032 | USD 1680.53 Million |
| Growth Rate from 2023 to 2032 | CAGR of 10.10% |
| Largest Market | North America |
| Maximum Revenue Generated Region | North America |
| Base Year | 2022 |
| Forecast Period | 2023 to 2032 |
| Segments Covered | Technology, Components, Application, Vibration Technology, End-use System, Energy Source, Geography |
| Companies Mentioned | ABB, Linear technology, Convergence wireless, Cymbet, EnOcean, Fujitsu, Honeywell |

Based on Technology
The vibration technology segment accounted for the largest revenue share of around 33% in 2022. During the forecast period, the light energy harvesting segment is expected to generate larger income. A lot of companies are engaged in the production of solar energy based products.
The market for the light energy harvesting segment is rising due to the manufacturing of solar based products along with the increasing efficiency of the photovoltaic cells. The naturally and easily available source of energy is the solar energy, which can be easily converted into electricity. The second largest share of the market will be held by the vibration energy harvesting system, due to the use of piezoelectric devices in various applications in the sector of transportation and industry.
Based on Components
The sensor component segment accounted revenue share of 35% in 2022. The Transducer segment has had a larger market share until now and it is expected to grow during the forecast. The energy harvesting transducer segment is driving the demand of the global market. It is due to the growth in usage of electromechanical transducers to harvest vibration energy.
In energy harvesting system, transducers are primarily used to convert ambient mechanical (vibration) energy into electric energy. Transducers are designed using various technologies such as piezoelectric, photovoltaic, radio frequency, electromagnetic, and thermoelectric. Piezoelectric transducers are commonly placed under the pavements of roads and railways. These transducers convert the vibrations created by the automobiles passing over the transducer into electricity. Solid state thermoelectric transducers are also used in industrial gas pipelines or steam pipeline distribution systems, from which plenty of thermal energy can be harvested. These applications are anticipated to drive the demand for transducers in energy harvesting systems over the forecast period.
Based on Application
The industrial segment hit largest revenue share of around 31% in 2022. The home automation and building market is anticipated to grow during the forecast. Home automation does not require hard wiring. As there is no disposal of batteries that minimizes the maintenance and the environmental impact to use of energy harvesting systems. In wearable watches, which comes under the domain of consumer electronics is also a very good opportunity. It will help in monitoring the activity of the person and also to manage the health.
The home and building automation segment was second largest market in 2022. Factors such as the proliferation of the urban population, growing application of IoT components in automation, rising demand for power-efficient, safe, and durable systems for homes & buildings, snowballing trend for renewable energy integration, and penetration of energy harvesting systems in building and home automation applications have gained significant pace. The market is also witnessing the installation and implementation of sensor-based technologies in commercial spaces to achieve energy-efficient power systems, which is anticipated to drive the demand for energy harvesting systems in home and building automation. Companies in the marketspace are focusing on strategic alliances to develop innovative products for home and building automation applications. For instance, WiSilica and EnOcean GmbH agreed to jointly develop self-powered switches and sensors based on IoT solutions for smart energy management for residential and commercial buildings. Such initiatives are anticipated to drive the demand for energy harvesting systems for home and building automation in the near future.
Key Market Developments
In May 2021 a range of transmitter module for battery free switch appliances was presented by EnOcean named PTM 535BZ. It is the first module that offers a combination of supported wireless standards in 2.4 GHz radio band.

The company AB launched the robots, which were used as part of coronavirus testing system in Singapore which helped in processing a volume of up to 4000 samples a day. Compared to the other regions to North American market is seeing a high adoption of industrial IoT which is driving the demand for this technology.

In order to install this technology in 50 federal government's highest energy consuming buildings the US General Services Administration has entered into a contract with the organization IBM. The need to replace batteries in devices such as the laptops or the smartphones is eliminated due to the energy harvesting system and eventually it helps in drastically enhancing the shelf life.

Samsung applied for clothing technology in July 2019, which has a built in energy harvesting device that gains power from the body heat, solar heat and the solar light.

ZF Friedrichshafen AG Partnered with Schneider electric in march 2021 to introduce new innovative smart industrial switches. Harvesting energy from unlicensed band Spectrums is possible with the self powering chipset which is made with silicon by a company Wiliot, which is an energy harvesting startup. This chipset will be useful for the IT workspaces that act as a center of Bluetooth waves and radio waves.
Key Market Players
ABB

Linear technology

Convergence wireless

Cymbet

EnOcean

Fujitsu

Honeywell
Segments Covered in the report
(Note*: We offer report based on sub segments as well. Kindly, let us know if you are interested)
By Technology
Light energy harvesting
Vibration energy harvesting
Frequency energy harvesting
Thermal energy harvesting
Radio frequency energy harvesting
By Components
By Application
By Vibration Technology
Piezoelectric

Electromagnetic

Electrostatic

Electrodynamic
By End-use System
Wireless switching system

Wireless HVAC system

Wireless sensing and telematics system

Tire pressure monitoring system

Asset tracking system

Remote health monitoring system

Regenerative energy harvesting system
By Energy Source
Solar Energy

Thermal Energy

RF Energy
By Geography
North America
Europe
Asia-Pacific

China
India
Japan
South Korea
Malaysia
Philippines

Latin America

Brazil
Rest of Latin America

Middle East & Africa (MEA)

GCC
North Africa
South Africa
Rest of the Middle East & Africa