The global engineered T cells market size was reached at USD 20.21 billion in 2022 and it is expected to hit around USD 348.9 billion by 2032, expanding at a CAGR of 32.96% during the forecast period 2023 to 2032.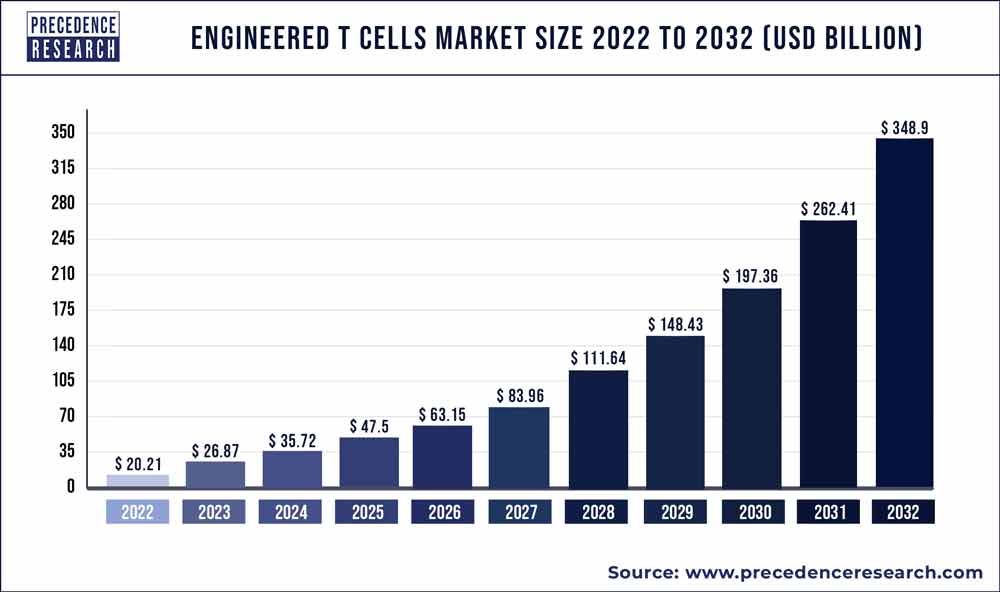 Key Takeaways:
North America is expected to dominate in the market throughout the forecast period.
By Type, the chimeric antigen receptor (CAR) modified T cells segment led the market with the largest market share of 78% in 2022.
By End-user, the hospitals segment contributed more than 58% of revenue share in 2022.
By Application, the lung cancer segment is expected to be dominant in the market during the predicted period.
Market Overview:
Engineered T cells market refers to the services that are developed to enhance the ability of genetic engineering techniques. Engineered T cells generally falls within the broader field of immunotherapy, which is a rapidly evolving are of medical research and treatment. Some cancers, such as leukemia and lymphoma, have been successfully treated using engineered T cells to kill cancer cells. Potential uses for engineered T cells include the treatment of viral diseases such as HIV and hepatitis.
Engineered altered T cells can efficiently target and eliminate cancer cells. The effectiveness of this strategy in treating leukemia and lymphoma, two blood malignancies, has been phenomenal. To increase the efficiency of other treatments, including chemotherapy, radiation therapy, and checkpoint inhibitors, engineered T cells are frequently combined with them. Rising cases of leukamia is expected to fuel the market's growth during the forecast period. For instance, according to the Leukemia and Lymphoma Society, about 59,610 new cases of people diagnosed with leukemia.
Growth Factors:
Engineered T-cell therapies, particularly CAR-T cell therapies, have shown remarkable success in treating certain types of cancer. As these therapies illustrate positive outcomes in clinical trials and practical applications, their adoption is expected to rise. The shift towards personalized medicine in healthcare is anticipated to navigate the demand for CAR-T therapies.
The advancements in genetic engineering techniques, such as CRISPR-Cas9, have improved the precision and efficacy of engineering T-cells, facilitating the development of more effective and safer therapies. The increasing prevalence of cancer worldwide is a significant factor in the growth of engineered T-cell therapies, and these therapies offer a promising alternative for patients who have exhausted conventional treatment options.
The notable investments made by pharmaceutical companies, biotech firms, and research institutions in enhancing engineered T-cell therapies contribute to the market growth. This funding supports research, development, and clinical trials, accelerating the availability of these therapies to patients. These engineered T-cell therapies are being explored to treat rare diseases and conditions that were previously difficult to address with traditional treatments. This diversification of applications expands the market.
Report Scope of the Engineered T Cells Market:
| | |
| --- | --- |
| Report Coverage | Details |
| Market Size in 2023 | USD 26.87 Billion |
| Market Size by 2032 | USD 348.9 Billion |
| Growth Rate from 2023 to 2032 | CAGR of 32.96% |
| Largest Market | North America |
| Base Year | 2022 |
| Forecast Period | 2023 To 2032 |
| Segments Covered | By Type, By Application, and By End-user |
| Regions Covered | North America, Europe, Asia-Pacific, Latin America, and Middle East & Africa |

Driver:
Advancements in gene editing
The development of gene editing has expanded the potential of cell therapies by enabling more precise genetic manipulation to enhance T-cell engineering and function. Transposons, designer nucleases including CRISPR/Cas9, and zinc finger nucleases (ZFN) have all been investigated as gene editing techniques for T cell creation. These platforms' editing specificity, effectiveness, and capacity to reach T cells have their respective advantages. Thereby, advancements in gene editing are observed to act as a driver for the global engineered T cells market.
Restraints:
Limitations of clinical trials
Preclinical research, Phase I–III trials, and post–approval monitoring are some of the phases conducted during a clinical trial. The introduction of clinical trials for engineered T cells often covers a few years. As a result, further procedures can be delayed.
Clinical trial participants are frequently chosen using inclusion and exclusion criteria, which can result in a restricted representation of the patient population's diversity. To evaluate safety and dosage levels, phase I trials usually involve a small number of individuals. It may be challenging to forecast how the treatment will respond in the broader population given the small sample size's propensity for underrepresenting the complete range of responses and adverse effects. Thus, such limitations in clinical trials create a major restraint for the market.
Risk of adverse effects on health
The improper intervention of T cells can lead to major side effects. Neurological toxicity can include cognitive impairment, seizures, confusion, and life-threatening events like cerebral edema. These adverse effects occur due to the hyperactivity of the modified T cells, which can target healthy tissues in the nervous system or trigger an immune response that affects the brain and spinal cord and can lead to inflammation, disruption of the blood-brain barrier, and the release of cytokines, causing a cascade of neurological problems.
Further, the unpredictability of individual patient responses to these therapies makes it challenging to accurately assess and mitigate the risk of neurological toxicity. This leads to patients and healthcare professionals hesitating to adopt engineered T-cell therapies, limiting their market potential.
Opportunity:
Advancement in the treatment of solid tumors
The Chimeric Antigen Receptor (CAR) itself is undergoing modifications in terms of design. Scientists are creating more sophisticated CAR architectures with several signaling domains to improve T-cell activation and retention in the tumor microenvironment. The correct target antigen must be chosen. According to research, antigens that are specific to the tumor and are highly expressed diminish the danger of off-target effects and lessen the harm done to healthy cells.
Immune checkpoint inhibitors, radiation therapy, and small molecule inhibitors are some therapies that can be combined with CAR-T therapy to produce synergistic effects that enhance the overall response to treatment. Even though CAR-T therapy has demonstrated great success, it can also have serious adverse consequences. To render the treatment less toxic and safer for patients, researchers are investigating strategies to lessen its toxicities.
For instance, in January 2023, Researchers at the Perelman School of Medicine at the University of Pennsylvania found in a preclinical study that CAR T cell therapy rewires patients' immune cells to target their blood malignancies, potentially improving the efficacy of surgery for solid tumors. Thus, such advancements in the treatment of solid tumors are observed to present multiple opportunities for the engineered T cells market in the upcoming period.
Segments Insight:
Type Insights:
The chimeric antigen receptor (CAR) modified T cells segment is expected to be dominant in the engineered T cells market during the predicted period. A cutting-edge tumor immunotherapy method for cancer treatment is CAR-T cell therapy. It is well known that CAR-T cells are effective in treating acute B lymphocytic leukemia, and there have been multiple published clinical trials using CAR-T cell therapy to treat different types of malignancies. This strategy is more specialized and adaptable because the antigen-binding region can be modified to focus on other tumor targets.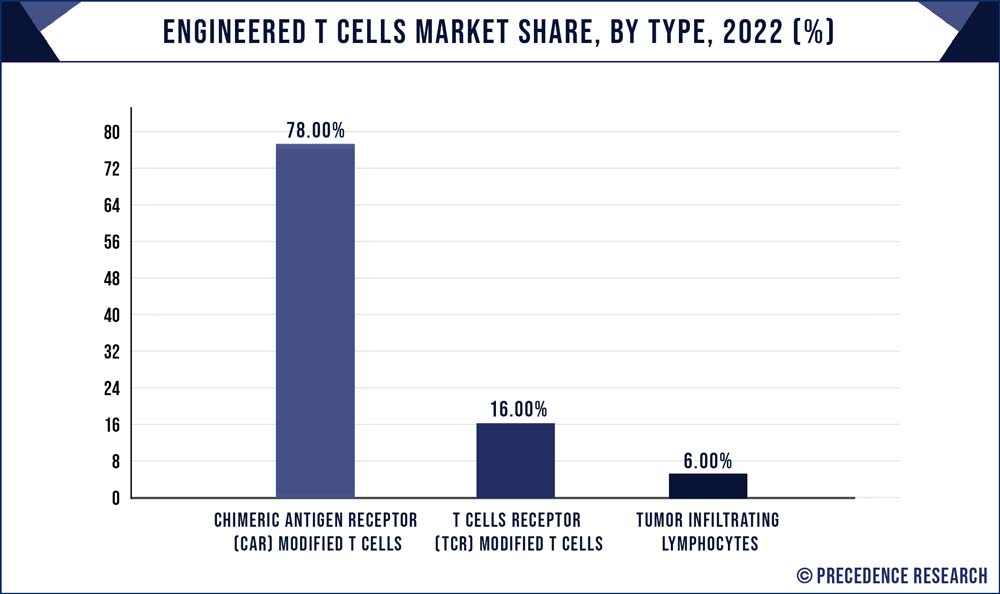 Furthermore, CAR-T cells can create memories in people with advanced leukemia. A CAR is a recombinant receptor that binds tumor antigens and activates T cells. Tumor-specific antigens can be recognized by and attached to CAR-T cells. Tumor surface antigens are recognized directly by CAR-T cells. CAR-T cells multiply and kill tumor cells when they bind to tumor surface antigens. Each patient can receive personalized CAR T-cell therapy. They are created by obtaining T cells from the patient and genetically modifying them to form chimeric antigen receptors, or CARs, on the surface of their cells. CARs identify and attach to antigens, or proteins, on the outermost layer of cancer cells.
The T cells receptor (TCR) modified T cells segment shows a significant growth in the engineered T cells market during the forecast period. TCR-modified T-cell treatment can be specifically adapted to a patient's malignancy by identifying particular tumor antigens. The efficacy of the medication is increased, and this tailored strategy decreases the likelihood of treatment resistance. TCRs are more specialized because they recognize intracellular antigens crucial to malignancy growth. This accuracy minimizes harm to healthy cells and lessens the possibility of off-target effects.
TCR-modified T-cells can be coupled with other treatments, such as checkpoint inhibitors, to increase their effectiveness. This synergistic potential creates possibilities for combination therapy that can focus on several elements of malignancy. TCR-modified T-cells may offer more significant, long-lasting responses because of their increased specificity and antigen recognition compared to previous therapies.
Application Insights:
The lung cancer segment is expected to be dominant in the engineered T cells market during the predicted period. Lung cancer and other malignancies can be treated with engineered T cells, which can be created to target and fight cancer cells in the body. T-cell therapies have advanced because of research and development in this field, which could help patients with lung cancer and the general immunotherapy field.
For instance, according to the American Cancer Society's projections for lung cancer in the US in 2023, there will be around 117,550 new cases of the disease (117,340 in males) and 120,790 lung cancer deaths (59,910 in women).
Breast cancer is the fastest growing segment in the engineered T cells market during the forecast period. These cutting-edge treatments, such as CAR-T cell therapies, are demonstrating promising outcomes in clinical studies and have the potential to completely transform the way cancer is treated. The demand for more effective breast cancer therapies, rising investment, and research improvements are the main drivers of market expansion.
End-User Insights:
The hospitals segment is expected to be dominant in the engineered T cells market during the forecast period. To administer and treat complicated designed T-cell therapy, hospitals frequently have a plethora of clinical knowledge and trained medical staff. These treatments entail complex procedures, meticulous patient observation, and risk management. Engineered T-cell therapies necessitate cooperation between oncologists, hematologists, immunologists, and geneticists, among other medical disciplines. The continuous interdisciplinary teamwork that hospitals provide improves patient care and therapeutic results. Patients with significant conditions seek treatment at hospitals as primary healthcare facilities.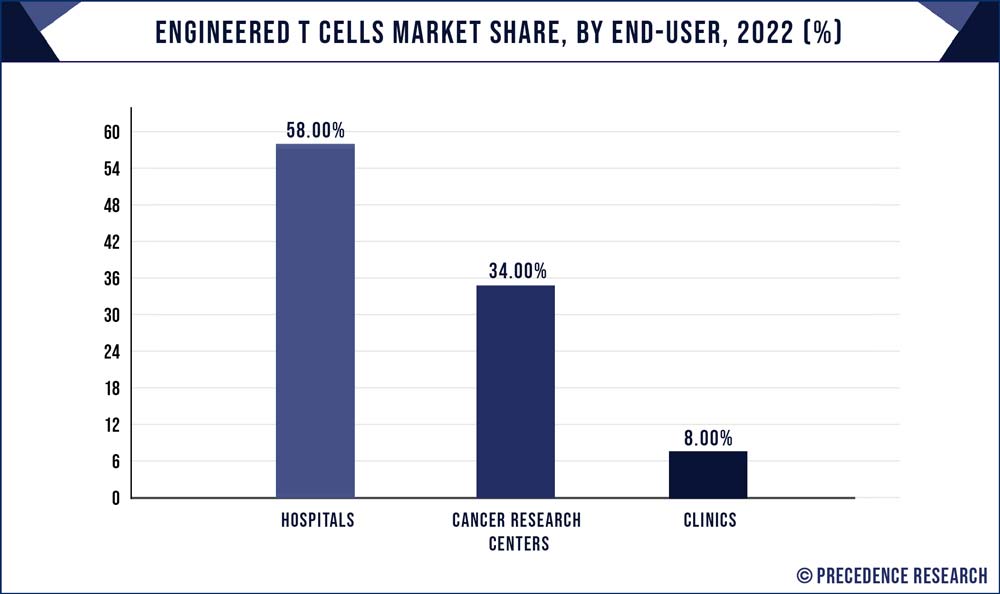 The cancer research centers segment shows an attractive growth in the engineered T cells market during the predicted period. Cancer research institutions can perform sophisticated research into modified T-cell treatments owing to their access to resources and knowledge. Improvements in treatment results are made possible by their research, which provides insightful information about these therapies' conception, creation, and optimization. These centers carry out rigorous clinical trials to assess the efficacy and safety of engineered T-cell treatments.
Regional Insights:
North America has its largest revenue share in 2022 and is expected to sustain in the engineered T cells market throughout the predicted timeframe. North America is home to several of the world's top pharmaceutical and biotechnology companies. These businesses have made significant investments in the study of modified T cells, paving the way for the creation of ground-breaking treatments and tools. The healthcare system in North America is well-established and includes prestigious hospitals, clinics, and medical research facilities. This makes it easier to design and test new treatments in patients, such as modified T cells.
To fund biotech and medical research, North America has seen significant investments from venture capital firms, private equity, and government programs. This financial support has aided the expansion of new and established businesses engaged in the development of modified T-cell treatments.
According to the National Cancer Institute, breast cancer is the most common type of cancer, with 300,590 new cases anticipated in the US in 2023. Cellular therapies, such as modified T cells, have been developed and approved with the help of the US Food and Drug Administration (FDA). Due to the accelerated review procedures and simplified regulatory channels, companies have been encouraged to concentrate their research efforts on the region.
Asia Pacific is expected to be the fastest growing region in the engineered T cells market during the forecasted timeframe. Concerning modified T-cell therapies, the rising incidence of cancer and other chronic diseases in Asia has increased the need for novel and individualized therapies. The enormous and diversified population of Asia Pacific offers a sizable patient pool for clinical trials and the uptake of treatments. Furthermore, developed nations like China, Japan, South Korea, and India have created and market-engineered T-cell therapies thanks to improvements in healthcare infrastructure and biotechnology research capacity.
These countries have made significant R&D investments, encouraging partnerships between academic institutions, pharmaceutical firms, and research organizations to quicken development. With regulatory bodies shortening approval procedures and providing incentives for cutting-edge medicines, the regulatory environment in the Asia Pacific has also improved for cell-based therapies. This has permitted modified T-cell products to enter the market faster.
Recent Developments:
In May 2023, Eterna Therapeutics acquired the Exacis Biotherapeutics worldwide immuno-oncology platform. According to Eterna representatives, the acquisition enhances the company's core business by adding a pipeline of allogeneic immuno-oncology drugs in development to treat solid and hematologic cancers. Additionally, the agreement grants Eterna a sole global license to create an infinite number of mRNA-engineered T-cell and natural killer (NK) treatments grown from induced pluripotent stem cells (iPSCs).
In May 2023, Anixa Biosciences, Inc., a biotechnology company specializing in the diagnosis, treatment, and prevention of cancer, recently announced that it had started treating another patient in the current clinical study of its cutting-edge chimeric antigen receptor T-cell (CAR-T) therapy for ovarian cancer in collaboration with the institution it partners with Moffitt Cancer Center.
In March 2023, the definitive agreement between Adaptimmune Therapeutics plc and TCR2 Therapeutics Inc. was made public. It states that Adaptimmune would merge with TCR2 in an all-stock transaction to become a world-class cell therapy business specializing in solid tumors. The combination offers significant product delivery and clinical development advantages, supported by complementing technological frameworks. Therefore, the combined company's cash runway is expected to increase after the merger closes through 2026.
Key Market Players:
Amgen Inc
Bellicum Pharmaceuticals Inc.
Bristol-Myers Squibb
Precision Biosciences Inc.
Eli Lilly And Company
Gilead Sciences, Inc.
Novartis Ag
AthenexInc
Oxford BiomedicaPlc
Pfizer Inc.
Segments Covered in the Report:
(Note*: We offer reports based on sub-segments as well. Kindly, let us know if you are interested)
By Type
Chimeric Antigen Receptor (CAR) Modified T Cells
T Cells Receptor (TCR) Modified T Cells
Tumor Infiltrating Lymphocytes
By Application
Lung Cancer
Colorectal Cancer
Melanoma
Breast Cancer
Leukemia
By End-user
Hospitals
Cancer Research Centers
Clinics
By Geography
North America
Europe
Asia-Pacific
Latin America
Middle East and Africa