The global gastric motility disorder drug market is surging, with an overall revenue growth expectation of hundreds of millions of dollars from 2023 to 2032.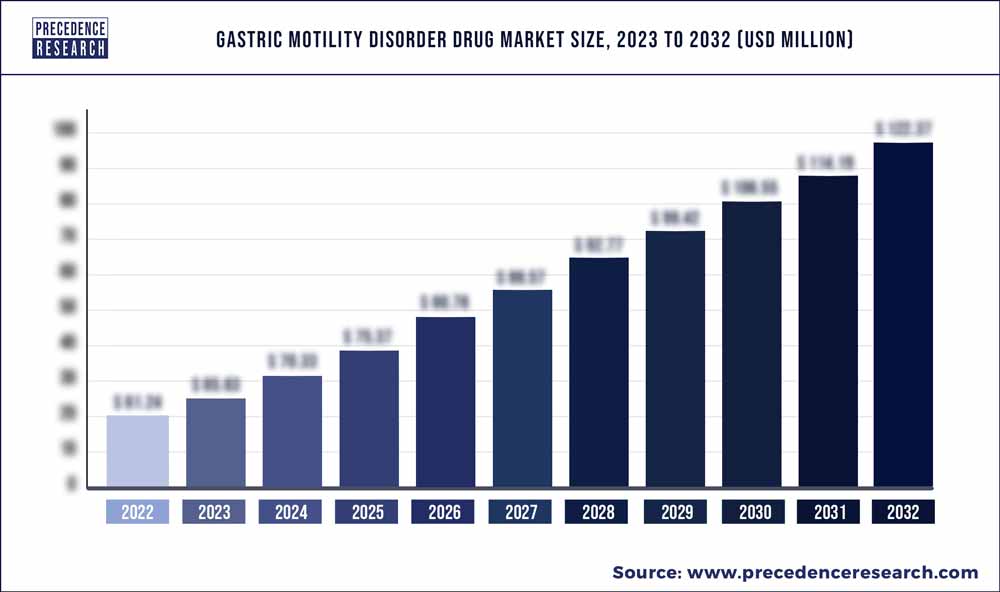 Access our Premium Real Time Data Intelligence Tool, Visit: Precedence Statistics
Market Overview
Food passes through the gastrointestinal tract through a series of muscle contractions known as peristalsis, a process known as gastric motility (or gastrointestinal motility). These contractions are abnormal in a person with a gastric motility issue, which prevents food from passing through the intestines normally.
Other medical ailments caused by these disorders include gastroesophageal reflux disease (GERD), swallowing difficulties, stomach issues, severe constipation or diarrhea, vomiting, abdominal pain, and bloating. As a result, the demand for medications to treat gastric motility disorders is projected to increase in the coming years, driving the market's expansion.
Growth Factors
The presence of gastric motility dysfunction is also linked to the prevalence of digestive problems and a condition known as irritable bowel syndrome (IBS). The global market for digestive health enzymes is also expected to grow as a result of the aging population, which is more susceptible to gastrointestinal problems, and the shift in global population priorities towards preventative health management.
Age-related declines in digestive enzyme output typically cause the cause of poor digestion, frequent gastric discomfort, decreased food intake, and even a variety of other gastrointestinal problems. The effectiveness of these medications in treating a variety of illnesses, such as hepatitis, multiple organ insufficiency, and stomach cancer, is another reason that is projected to boost market growth. The increasing prevalence of these disorders necessitates a potent treatment, such as medication for stomach motility dysfunction.
Report Scope of the Gastric Motility Disorder Drug Market
| | |
| --- | --- |
| Report Coverage | Details |
| Largest Market | North America |
| Fastest Growing Market | Asia Pacific |
| Base Year | 2022 |
| Forecast Period | 2023 to 2032 |
| Segments Covered | By Type and By Application |
| Regions Covered | North America, Europe, Asia-Pacific, Latin America and Middle East & Africa |

Driver
Key players operating in the market are getting approval for new digestive drugs
Drug producers started producing a wider range of consumer-focused goods and altering how they approached marketing, advertising, and packaging. The digestive drugs marketing strategy resembled other fast-moving consumer packaged goods (FMCG) businesses more and more (e.g., foods, beverages, and personal care products). Packaging and advertising increasingly targeted consumers rather than the pharmacist or healthcare provider.
Being a leader in the fiercely competitive digestive drugs business requires constant innovation. However, digestive drug innovation takes time to develop, and several variables support or restrain the sector's expansion. The digestive drugs thrive on innovation. From a corporate standpoint, it promotes growth, and from a public health standpoint, it better meets the health needs of consumers.
As part of the product promotion mix, the marketing of dosage formats and features like shape and sensory aspects (such as colors, looks, and flavors) was added. Recently, new items that came about as a result of prescription-to-OTC switchovers have been a significant growth driver for digestive drugs, particularly in the US. Except a few modified-release items, most of these goods were normal tablets or capsules, with the most distinctive product being a slow-release nicotine chewing gum. The market is being driven by innovation in digestive drugs and pharmaceuticals.
Strict regulations and technological challenges affect the growth of this market
The licensing and marketing of drug supplies and equipment are subject to stringent regulations set by regulatory organizations in several nations. Technological obstacles include antibody cross-reactivity, false negatives, the low detection limits of the available antibodies, and others that also inhibit the growth of the gastric motility disorder drug market.
Technicians that use gastric motility disorder drugs frequently run into design problems, like incorrect findings interpretation. Additionally, the clinical diagnostics business has been hampered by a long-standing dearth of skilled professionals
The use of drug equipment is restricted in research and development facilities or labs by regulatory bodies in certain countries to prevent misuse. Additionally, this equipment has drawbacks like poor antibody detection and other mistakes. In addition, the expensive processing of this immunoassay testing equipment immunoassay testing equipment is impeding the market's expansion. The need for gastric drug kits has been hampered by the misunderstanding and complexity of older drug systems, which made it difficult for end users to use their systems effectively.
Opportunity
Increasing GERD prevalence
According to Healthline, those over 40 and pregnant women are more likely to get the gastroesophageal disease. They estimate that 25% of expectant mothers exhibit illness symptoms, and that number rises over time. According to the study, 40 or older is the average age of people who experience acid reflux. Gastroesophageal reflux disease is becoming more common, especially in North America, and this is largely due to dietary patterns. As a result, during the course of the forecast period, the market for GERD treatment devices in this area is anticipated to expand significantly.
Segments Insight:
Type Insights
In the gastrointestinal therapeutics market, Crohn's disease (CD) was the top application segment in 2022, and it is predicted that it will continue to hold this position during the forecast period. Some of the main drivers of segment growth include the rising prevalence of Crohn's disease, the high cost of treatment, and the rising approval of innovative medications for CD. For instance, there are typically 100 to 350 instances of Crohn's disease per 120,000 people in the Western European and North American regions.
Due to the simple availability of medications for ulcerative colitis, rising product approvals, and increasing clinical urgency to reduce the prevalence of ulcerative colitis, ulcerative colitis (UC) is predicted to be the fastest-growing application category throughout the forecast period. The use of unhealthy foods and the disease's dismal prognosis is to blame for its high prevalence. Moreover, major market participants like AstraZeneca, Celgene Corporation, and AbbVie Inc. are working to create cutting-edge medications for the treatment of UC.
Application Insights
The gastric motility disorder drug market is divided into hospitals, clinics, and ambulatory surgical centers based on application. In 2022, the hospitals and clinics sector made up the greatest portion of. Due to the high volume of endoscopic retrograde cholangiopancreatography (ERCP) and percutaneous transhepatic cholangiography (PTC) treatments carried out in hospitals for a variety of disease indications, favorable reimbursement scenarios, and increased government initiatives to provide high-quality treatment for digestive disorders, this segment has a sizable market share.
Regional Insights
Due to the presence of numerous market players and the numerous strategic efforts taken by them, North America held the top spot in the global market for drugs for gastric motility disorders in 2022, accounting for the maximum of the revenue share. Also, the rising frequency of diseases and the existence of numerous government and non-government organizations to support research initiatives for drugs for gastric motility disorders are boosting the regional market's expansion. The simple accessibility of items and greater patient knowledge are other elements promoting regional growth.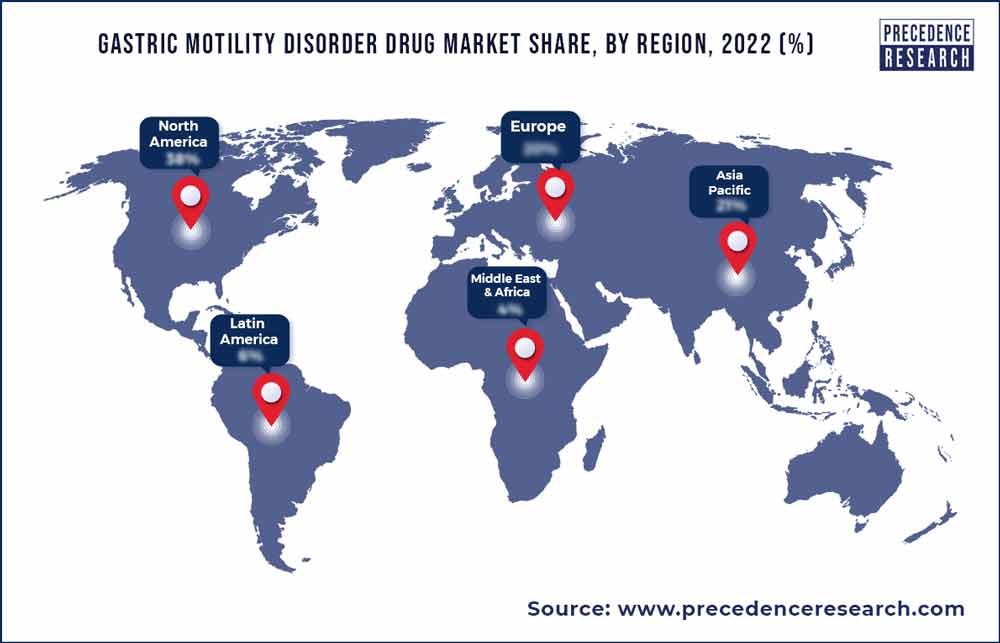 Throughout the projection period, Asia Pacific is anticipated to experience the fastest growth rate. Some of the main drivers influencing market expansion in the region include the rising elderly population, a sizable patient pool with a high frequency of GI illnesses, and continuously expanding economies. Additionally, it is estimated that during the forecasted period, market players in the region will increase their investments and adopt biologics and biosimilars at an increasing rate.
Recent Development:
Increased PH rates and medical outcomes in patients with gastroesophageal reflux disease were reported by Endo Gastric Solutions in February 2019 following a clinical study of a transoral incisionless fundoplication 2.0 treatment using their Esophy device.
In November 2018, research teams from the Massachusetts Institute of Technology revealed developing a computer-aided algorithm and using clinical volumetric laser endomicroscopy data to evaluate the qualities of subsurface hypo scattering structures in Barrett's esophagus, a debilitating condition of chronic gastroesophageal reflux disease.
The Endo Gastric plans to utilize the money to hasten the commercialization of the EsophyX-based transoral incisionless fundoplication treatment. Endo Gastric Systems closed its US$45 million Series I financing in May 2019.
Key Market Player:
Abbott
Janssen Pharmaceuticals NV
Sun Pharmaceutical Industries Ltd.
Cipla Inc.
Gilead Sciences, Inc.
Biogen
Organon Group of Companies
AbbVie Inc.
AstraZeneca
Salix Pharmaceuticals
Takeda Pharmaceutical Company Limited
Pfizer Inc.
Bayer AG
Segment Covered in the Report:
(Note*: We offer report based on sub segments as well. Kindly, let us know if you are interested)
By Type
Velusetrag
Ipamorelin
TD-8954
Others
By Application
By Geography
North America
Europe
Asia-Pacific
Latin America
The Middle East and Africa