The global healthcare distribution market size was valued at USD 981 billion in 2022 and it is predicted to reach USD 4.3 trillion by 2032, representing an impressive CAGR of 15.93% during the forecast period 2023 to 2032.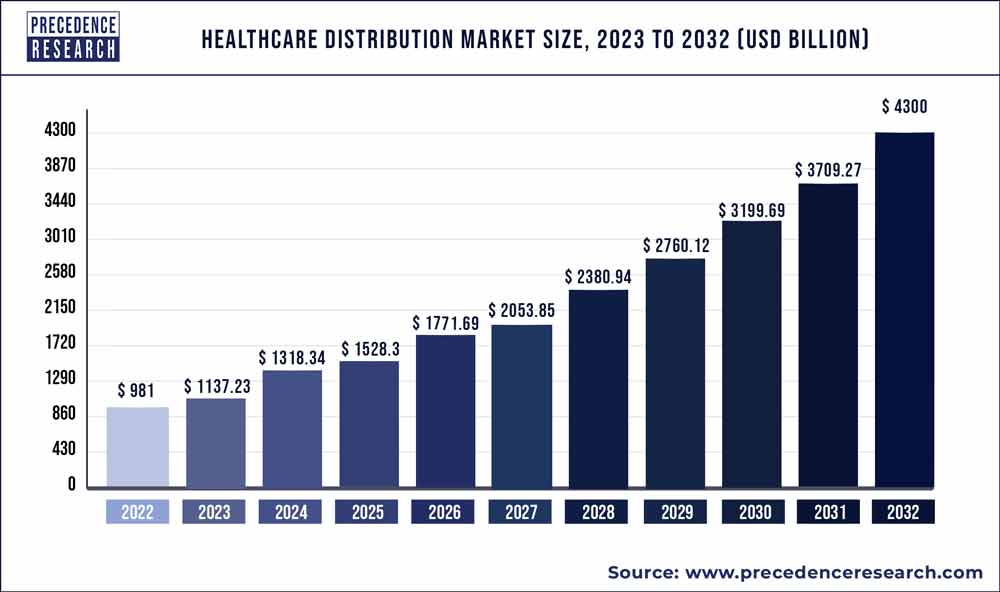 Access our Premium Real Time Data Intelligence Tool, Visit: Precedence Statistics
Key Takeaway:
The pharmaceutical segments is expected to grow at a 19.7% CAGR during the analysis period 2023 to 2032.

The U.S. Market was valued at USD 271 billion in 2021, while china is expected to grow at 22.5% CAGR from 2023 to 2032.

The medical devices segment is expected to record a CAGR of 17.9%.
Crucial Factors Accountable For Market Growth Are:
Rising incidence of chronic diseases

High growth of medical devices industry

Growing Importance of generics across the globe

Favorable R&D Investment Scenario and Subsequent Increase in Drug Launches

Increasing use of technologies such as RFID and Blockchain in logistics

Growing applications in track and trace solutions
Major Trends in the Healthcare Distribution Industry:
Innovation in technology can help drive efficacy across the divided supply chains. For instance, drones, mobile phones, and (IoT) Internet of Things will have a transformative consequence by facilitating gathering and reporting of information and improving discernibility across the existing supply chain. This superior understanding of product appeal often results in reduced costs, decreased inefficiency and lessened time to market. Supply chains that take advantage of mobile technology, help quickenconnect by submitting data to several stakeholders. Information on utilization can be conveyed by health workforces in the clinics to the central logistics administration unit to inform replenishing and future procurement. The mobile technology is not only being exploited for communication, but has also been extensively applied in financial businesses across the world. Alliances in healthcare delivery markets and the appearance of new products is expected at unleashing anupsurge of opportunities in the global healthcare distribution market over the forecast timeframe.
Increasing popularity of generic drugs in the developing regions is expected to open up new avenues for the healthcare distribution market. A generic drug is a replica that is the identical as a brand-name drug in strength, safety, dosage, mode of intake, performance, quality, and intended usage. As generics use identical active ingredients and are revealed to work the similar way in the human body, they have the equivalent risks and advantages as their brand-name medications. However, generic drugs are less costly because generic producers don't have the investment expenses of the creator of a new drug. More generic replicas of successful medications are being retailed worldwide than ever earlier. This requires a robust distribution system across world.
Scope of the Healthcare Distribution Market Report
| | |
| --- | --- |
| Report Coverage | Details |
| Market Size by 2032 | USD 4.3 Trillion |
| CAGR | 15.93% from 2023 to 2032 |
| Base Year | 2022 |
| Largest Revenue Holder | North America |
| Market Segmentation | Product, End User, Geography |
COVID-19 Impact on Global Healthcare Distribution Market
In 2020, the pharmaceutical and medical product supply networks struggled on an international scale to keep pace with the quick spread of the corona virus. The interruption in supply chains because to the COVID-19 pandemic had resulted in a fall in the accessibility of healthcare products across the world. The supply of key raw materials was also severely disrupted due to the forced lockdowns and dearth of manpower. Multiple issues including lack of streamlined link among the regional warehouses resulted in disruption of provision of raw materials between regions. The rapid spread of corona virus highlighted the numerous shortcomings of the healthcare supply chains. This has prompted major companies operating in the healthcare distribution business to take necessary steps to remove the bottlenecks and reorganize the distribution network.
Future of Healthcare Distribution
The rise of specialty healthcare products is presenting new challenges for the healthcare distribution industry. The companies will have to design new supply chains that can cater to the distribution of specialty medications. The healthcare distribution companies are working on the use of data for improving the existing models and offering more value-added services.
Significant Market Trends:
Pharmaceutical Segment Reported Foremost Market Stake in 2022
Pharmaceutical segment recorded the prime market share in the global healthcare distribution Market in 2022. The key reason for the hefty share of the pharmaceutical segment is the high production of pharmaceutical products owing to high demand, strong product pipeline of major manufacturers, high investment in research and development for developing effective drugs, initiatives taken by governments for eradicating communicable diseases, and constant launch of new and effective treatments.
The biopharmaceuticals segment is projected grow at the highest CAGR during the forecast period mainly due to increasing awareness regarding use of biologics for the treatment of hitherto untreatable diseases. Other factors responsible for high growth of biopharmaceuticals segment are increasing geriatric population, high prevalence of chronic disorders, and rising cases of cancer worldwide.
Retail Pharmacy End-Users are Projected to Dominate the Healthcare Distribution Market Revenue
The retail pharmacies are involved inhandling large capacity of prescriptions on a regular basis, which is a key factor supporting the progress of the segment. The retail pharmacies also stock products for multiple disorders ranging from cardiovascular diseases to skin disorders. Moreover, the growing trend of retail pharmacy chains and 24X7 pharmacies is also expected to play an important part in the high revenue share of retail pharmacies. The retail pharmacies accounted for the largest revenue in the end user segment with more than 52.9% share in 2022.
Hospital pharmacies will hold a significant share in the global healthcare distribution market mainly due to the high incidence of lifestyle related disorders requiring long hospital stays. Other end-users include specialty pharmacies which stock drugs and medical devices related to specific medical conditions.
North America is Estimated to be the Largest Market for Healthcare Distribution
The research report covers key trends and prospects of healthcare distribution products across different geographical regions including North America, Europe, Asia-Pacific, Latin America, and Middle East and Africa. Geographically, healthcare distribution market is conquered by North America owing to high incidence of chronic diseases and presence of sophisticated healthcare distribution framework comprising of distributors and retailers. In 2022, North America dominated the global market with a market share of more than 39.5%.
On the other hand, Asia-Pacific is anticipated to witness the rapid growth rate around 9.3%, on account of increasing healthcare expenditure and growing investment by major manufactures to streamline supply chain.
Top Players contending in the Market:
The companies focusing on integration of latest technologies into the distribution network are expected to lead the global healthcare distribution market. Leading competitors contending in global healthcare distribution market are as follows:
AmerisourceBergen Corporation

McKesson Corporation

Medline Industries

Cardinal Health, Inc.

PHOENIX Group

Shanghai Pharmaceutical Group Co., Ltd.

Henry Schein Inc.

Owens & Minor, Inc.

Medline Industries

Rochester Drug Cooperative, Inc.
In order to better recognize the current status of healthcare distribution, and policies adopted by the foremost countries, Precedence Research predicted the future evolution of the healthcare distribution market. This research study bids qualitative and quantitative insights on healthcare distribution market and assessment of market size and growth trend for potential market segments.
Key Market Developments:
Major Market Segments Covered:
By Product Type
Biopharmaceutical

Pharmaceutical

Medical Device
By End User
Hospital Pharmacies

Retail Pharmacies

Other
By Geography