The global hemoglobin testing market size accounted for USD 2.47 billion in 2022 and it is expected to hit around USD 4.91 billion by 2032 with a noteworthy CAGR of 7.10% from 2023 to 2032.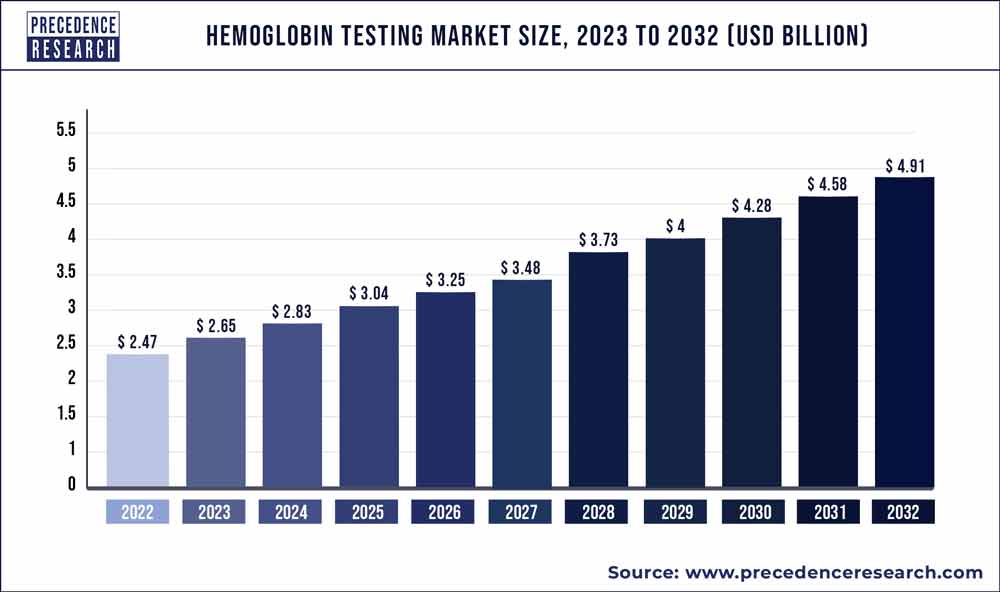 Access our Premium Real Time Data Intelligence Tool, Visit: Precedence Statistics
The process of doing diagnostic tests to find out how much hemoglobin is present in a patient's blood is known as hemoglobin testing. Hemoglobin tests are frequently performed by clinicians as part of regular examinations or to assess a patient's significant medical condition.
Key Insights:
By geography, The Europe region is predicted to grow by 5.9% over from 2023 to 2032.
By product, the point of care segment generated more than 82% of revenue share in 2022.
By technology, the spectrophotometry segment captured the largest share from 2023 to 2032.
By end use, the hospital segment is expected to grow considerably at a CAGR of 5.74%. from 2023 to 2032.
Growth Factor
Doctors frequently utilize hemoglobin testing as part of regular examinations to determine whether a patient has a severe medical condition. An individual is at risk for diseases like anemia if a test shows that their hemoglobin level is lower than usual and that they have a low RBC count. A blood condition or factors like living at a high altitude, smoking, and dehydration may be to blame if the RBC count is more significant than usual. Medical testing facilities, hospitals, and research facilities are the primary end users in the hemoglobin testing industry.
The worldwide market for hemoglobin testing is significantly driven by the rising prevalence of chronic diseases, including diabetes and anemia. An estimated 490 million individuals worldwide were projected to have diabetes in 2018. An aging population, poor eating practices, sedentary lifestyles, and rising obesity rates are now driving up the incidence of diabetes.
The demand for these tests is fueled by patients with diabetes who must routinely have tests to check their HbA1c and blood glucose levels. Additionally, the industry is being stimulated by factors, including the favourable reimbursement of hemoglobin testing under different health insurance policies.
The expense of hemoglobin testing is only partially covered by medical insurance in many nations. Still, with partial payment and other coverages, consumers increasingly embrace routine and periodic tests to monitor and maintain their general health.
Additionally, it is anticipated that factors like expanding healthcare infrastructure, growing healthcare spending per person, increased awareness of blood-related illnesses, an ageing population, technological improvements, etc., would propel the worldwide hemoglobin testing market in the following years.
A significant factor anticipated to accelerate the growth and demand of the hemoglobin testing market is the excellent reimbursement of hemoglobin testing under various health insurance plans.
A significant factor anticipated to accelerate the growth and demand of the hemoglobin testing market is the excellent reimbursement of hemoglobin testing under various health insurance plans.
The quick increase in the percentage of diabetics throughout the world and the surge in the popularity of home diagnostic tests are projected to boost the market's expansion.
One of the critical aspects anticipated to propel the expansion of the hemoglobin testing market is the strengthening of the healthcare infrastructure and the increase in per capita spending on healthcare.
The fast development of improved procedures offering quick results and ease of use, as well as the rise in healthcare costs and awareness of blood-related illnesses, are all predicted to present the market with considerable potential prospects throughout the projected period.
Report Scope of the Hemoglobin Testing Market
| | |
| --- | --- |
| Report Coverage | Details |
| Market Size in 2023 | USD 2.65 Billion |
| Market Size by 2032 | USD 4.91 Billion |
| Growth Rate from 2023 to 2032 | CAGR of 7.10% |
| Base Year | 2022 |
| Forecast Period | 2023 to 2032 |
| Segments Covered | By Product, By Technology and By End Use |
| Regions Covered | North America, Europe, Asia-Pacific, Latin America and Middle East & Africa |

Key Market Drivers
Hemoglobin analyzers are becoming more advanced technologically to address typical laboratory issues.
Hemoglobin testing analyzers' rapidly advancing technical capabilities are another essential aspect driving business expansion. Due to the availability of a single histogram per module, classical hematology analyzers have several difficulties separating cellular components.
Modern analyzers, on the other hand, combine cutting-edge technology to measure data from various histograms, thereby eliminating the drawbacks of conventional analyzers. Therefore, over the anticipated years, such technological advances will enhance test results and drive the market for hemoglobin testing products.
Key Market Challenges
High cost of maintenance and sampling mistakes
The market for hemoglobin testing is expected to grow slowly due to the rising costs of medical devices and the problems associated with higher maintenance costs. Still, the demand for hemoglobin testing devices may also develop slowly due to the test's limited ability to detect other molecular components besides hemoglobin levels.
The market for hemoglobin testing systems may also be constrained by user sampling errors made during blood testing and a shorter life period.
Key Market Opportunities
Increase in the number of diabetic people
Because of sedentary lives, obesity, and a lack of exercise, the number of diabetics worldwide is increasing at an alarming rate. The demand for HCT blood tests and hemoglobin testing services will increase globally since hemoglobin testing is a reliable method of determining blood glucose levels. In the next five years, the market for hemoglobin testing will experience significant expansion due to the increase in diabetes patients.
Home care testing is also becoming increasingly popular due to its benefits, which include reliable findings, quick turnaround times, and no waiting time between sample collection and analysis. One of the significant trends gaining momentum in the hemoglobin testing market size is the rising demand for at-home testing.
It is anticipated that the increasing incidence of undiagnosed diabetes in developing nations will create new lucrative business possibilities and fuel the market's rapid expansion. The development of low-cost HbA1c testing and equipment will also aid in quickening market expansion.
Furthermore, technical developments will present possibilities for the market's expansion, resulting in devices with greater accuracy and automated functions. The story of benchtops and portable appliances offers more options. As a result, the market has several prospects for expansion.
A key market trend will be people preferring home care settings more and more
The need for homecare blood testing equipment has grown over time all across the world. This is because home care testing tools offer quicker findings and aid patients in better illness management. Additionally, they cut down on trips to diagnostic labs, hospitals' outpatient departments, and total investigation time. This has prompted market merchants to stock a wide selection of diagnostic tools suitable at home, like A1CNow SELF CHECK, provided by PTS Diagnostics.
The instrument is portable, inexpensive, and only needs a small amount of blood to function. HbA1c readings are sent at home quickly and accurately. Additionally, it gauges the typical blood sugar level for 2-3 months and provides the findings in five minutes. Therefore, it is anticipated that the rising demand for home care settings will positively affect the development of the worldwide hemoglobin testing market during the projected year.
Segments Insight
Product Insights
Equipment and consumables are included in the product section, further divided into point-of-care and laboratory-based analyzers. In 2022, 82% of the market was accounted for by the point of the care sector. Around the world, point-of-care analyzers are utilized in various healthcare settings. These analyzers deliver precise findings in a shorter amount of time, increasing product demand.
One of the most frequently used point-of-care hematology analyzers in a variety of healthcare settings, including primary care, hospitals, and blood banks, is Danaher's HemoCue. Additionally, rising public desire for minimally invasive procedures will support corporate expansion during the study period.
Technology Insights
According to market data for hemoglobin testing instruments, the spectrophotometry segment will have the largest share. Numerous technologies, including spectrophotometry, chromatography, immunoassay, and a few others, are included in hemoglobin analyzers. Analysts using spectrophotometry are anticipated to generate a maximum of $3.4 billion in revenue by 2032.
The high growth rate is related to more businesses choosing spectrophotometry as their primary method for hematological testing. For instance, big firms like EKF Diagnostics and Danaher are implementing spectrophotometry technology due to its accuracy and effectiveness in hemoglobin tests.
End Use Insights
Over the predicted years, hospitals as end users are expected to grow considerably at a CAGR of 5.74%. The end-user segment is further segmented into blood banks, clinics, hospitals, labs, home care settings, and others. Due to the availability of cutting-edge facilities, hospitals will experience tremendous expansion.
Further driving segmental development will be the population's growing preference for hospitals in developing nations due to their cost-effectiveness. Another essential aspect boosting business growth is the rising number of hospitals using hematological testing worldwide.
Regional Insights
The European hemoglobin testing device market is predicted to increase by 5.9% over the projected period. The prevalence of anemia is rising across Europe, which will significantly boost regional growth. According to the World Health Organization (WHO), the prevalence rate of anemia, for instance, was above 10% in Germany in 2018 and is expected to rise throughout the predicted period.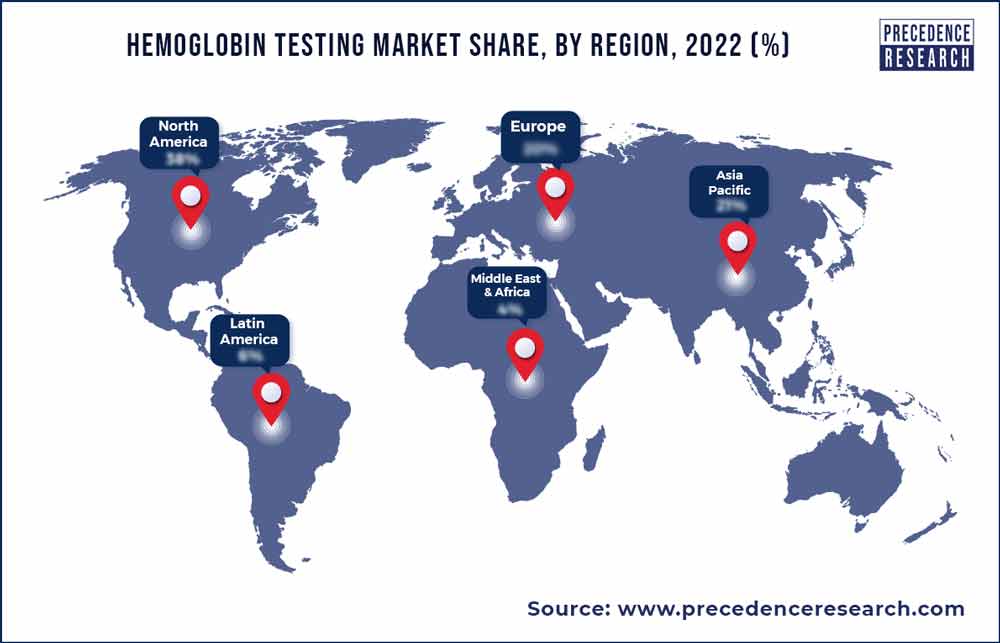 Additionally, anemia is more common in women than in males, with about 50% of women having low hemoglobin levels. Therefore, the growing frequency of anemia across Europe will significantly boost market growth. North America's market for hemoglobin testing systems is the most profitable because of the region's numerous diagnostic centers and well-equipped blood banks.
Due to rising public awareness of blood-related issues and the rising need for innovative diagnostic tools in hospitals and diagnostic laboratories, Europe is predicted to experience increasing demand for hemoglobin testing systems.
Because local medical device businesses are investing heavily in research & development in nations like India, China, and Japan, the Asia-Pacific region is where the market for hemoglobin testing systems is expanding at the highest rate. The need for hemoglobin testing systems in Latin America and the Middle East, and Africa is the least lucrative since people there need to be made aware of and able to pay for the significant difficulties associated with blood that might arise.
Recent Developments
The Afinion 2 analyzer was introduced in the United States by Abbott in May 2018. The Afinion 2 analyzer is a portable, fast, multi-assay platform that makes it easier to evaluate hemoglobin A1c levels in human blood and produces accurate findings right at the point of treatment. The firm was able to diversify its array of hemoglobin testing devices thanks to these strategic actions.
Alere Inc., a renowned manufacturer of point-of-care diagnostics, was acquired by Abbott in full in February 2016. The company was able to increase its market position in the point-of-care testing industry because to this strategic approach.
Key Market Players
DiaSys Diagnostic Systems
Masimo
ARKRAY
Fisher Scientific
Bayer Medical Care
Abbott Laboratories
Beckman Coulter Diagnostics
Danaher
F. Hoffmann-La Roche
ACON Laboratories
Diazyme Laboratories
Radiometer
EKF Diagnostics Holdings
Alere
Epinex Diagnostics
Bio-Rad Laboratories
Erba Diagnostics
Daiichi Biotech
Sysmex Corporation
Segments Covered in the Report
(Note*: We offer report based on sub segments as well. Kindly, let us know if you are interested)
By Product
Equipment

Point of Care
Portable
Handheld
Bench-top
Laboratory Analyzers

Consumables
By Technology
Chromatography
Immunoassay
Spectrophotometry
Others
By End Use
Hospitals
Clinics
Laboratories
Home Care Settings
Blood Banks
Others
By Geography
North America
Europe
Asia-Pacific
Latin America
The Middle East and Africa