The global human nutrition market size was valued at USD 383.4 billion in 2022 and it is projected to reach around USD 719.69 billion by 2032, expanding at a CAGR of 6.50% during the forecast period 2023 to 2032.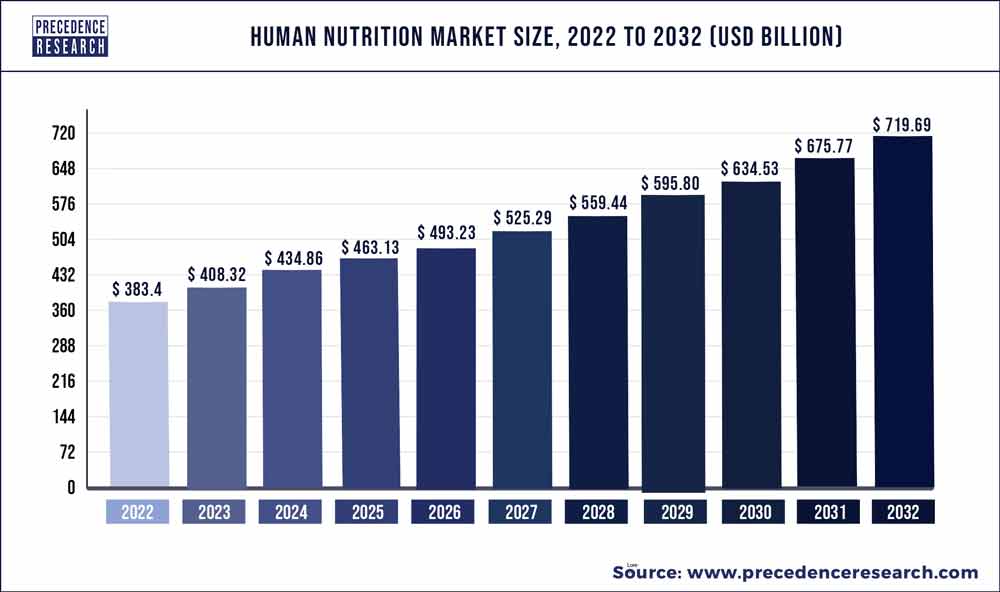 Key Takeaways:
North America generated more than 40% of revenue share in 2022 and Asia Pacific is growing at a significant rate.
By type, the probiotics segment dominated the human nutrition market.
By distribution channel, the market for human nutrition was led by the OTC segment.
By application, the dietary supplement segment is expected to witness a significant growth during the forecast period.
By age group, the geriatric population segment will continue to grow at a significant rate during the forecast period.
Market Overview:
The global human nutrition market revolves around the production, development, innovation and distribution/sales of nutritional products such as supplements. Human nutrition is an established science of food and its relation to health, and it is the process of people receiving and processing the nutrients necessary for life. Nutrients are the chemical compounds extracted from food required for a person's diet. Nutrients are necessary for living a healthy life, and they are essential for playing a variety of vital life roles, like the promotion of growth and development, the provision of energy, and the regulation of bodily processes.
Growth Factors:
In recent years there has been an introduction of many unhealthy dietary trends, such as eating foods with high sugar, salt, and fat content that may appear more rewarding but are detrimental to health. This contributes to the growth of the human nutrition market as there is a rising demand for an intervention for a healthier diet.
Growing awareness about healthy food alternatives and fortified food products in the market is leading to the growth of the human nutrition market.
Developed economies have a higher disposable income when compared to underdeveloped or developing countries. People with a higher disposable income can choose the best diet per their preferences and health conditions. The rising disposable income is one of the factors leading to the growth of the human nutrition market.
There is rising health consciousness worldwide as consumers are becoming more aware of their food choices and more concerned about living healthier lives. This is increasing the demand for food products like health supplements, increasing the growth of human nutrition.
Report Scope of the Human Nutrition Market:
| | |
| --- | --- |
| Report Coverage | Details |
| Market Size in 2023 | USD 408.32 Billion |
| Market Size by 2032 | USD 719.69 Billion |
| Growth Rate from 2023 to 2032 | CAGR of 6.50% |
| Largest Market | North America |
| Fastest Growth Market | Asia Pacific |
| Base Year | 2022 |
| Forecast Period | 2023 To 2032 |
| Segments Covered | By Type, By Distribution Channel, and By Application |
| Regions Covered | North America, Europe, Asia-Pacific, Latin America, and Middle East & Africa |

Market Dynamics:
Driver:
Rising disposable income
People have a more remarkable ability to spend or save money as they see fit when their disposable income rises, which increases the consumption of nutrient-rich food. With more money available, households can choose to eat more hygienically and by preference. Low-income individuals consume foods with poor nutritional value, such as sugary beverages. People experiencing food insecurity or poverty may find it challenging to maintain good health, manage a chronic illness, eat a healthy diet, or combine all three for various reasons, such as lack of money or resources, conflicting priorities, and stress. Additionally, those affected by food insecurity or poverty will likely encounter additional resource-related difficulties, such as housing instability and energy insecurity, which can harm their ability to manage their health, nutrition, and diseases. Thus, disposable income is necessary for consuming a healthy and nutritious diet that drives the human nutrition market.
Restraint:
Socioeconomic limitations
It is a well-known fact that the diets that are healthy cost more than the ones that are unhealthy. Economic factors have a significant influence on what people eat, and this is especially true for those who are less well-off. Studies have revealed that lower socioeconomic groups frequently choose less expensive foods. Sadly, these inexpensive food options are also less wholesome. While considered nutritious by lower income groups, fruits and vegetables are also seen as being more expensive or unaffordable; as a result, wealthy families enjoy vegetables and fruits of greater variety than poorer families are unable to. Low-income families typically choose diets primarily on cost; their meals are less nutrient-dense, more expensive, and have fewer vegetables and fruits. These decisions may result in insufficient essential micronutrients, poverty-driven hidden hunger, excessive calorie consumption, and increased obesity rates. These factors restrain the human nutrition market.
Opportunity:
Growing demand for fortified food products
According to the Food and Agricultural Organization of the United Nations (FAO) and the World Health Organization (WHO), food fortification is intentionally enhancing food's nutritional quality. The nutrients lost during food processing or storage can be replaced by fortifying or enriching the food. Micronutrients include vitamins, minerals, and vital nutrients found in fortified foods, and they are essential for creating enzymes, hormones, and other compounds contributing to growth and development. Our bodies need these micronutrients in tiny quantities.
Fortified food prevents diseases brought on by nutritional deficiencies, benefits during pregnancy, aids in the growth and development of children, fulfills dietary requirements, and benefits the elderly. Fortified food is becoming increasingly popular due to its many advantages, which will support the expansion of the human nutrition market.
Segment Insights:
Type Insights:
The probiotics segment dominated the human nutrition market. Live beneficial yeasts and bacteria already present in the body are combined to produce probiotics. Usually, bacteria are regarded negatively as an organism that causes sickness. However, our body constantly carries good and bad bacteria. Good bacteria in probiotics help keep the human body healthy and functioning efficiently. This beneficial bacterium assists us in various ways, including eradicating harmful bacteria when there is excess and improving overall health.
Recently, probiotics have become more and more popular. For instance, according to a report by the Natural Marketing Institute (NMI) that DuPont Nutrition & Biosciences commissioned, US consumers' daily use of probiotic supplements grew by 66%. During the anticipated period, the market for vitamins and proteins will also expand significantly.
Distribution Channel Insights:
The market for human nutrition was led by the OTC segment within the distribution channel segment in 2022. A substantial percentage can be ascribed to customers' widespread knowledge of the benefits of consuming various dietary supplements and their regular diet, which supports OTC sales. The prevalence of such sales channels in developing nations, the presence of a wide range of products, and the discounts offered are additional factors that have helped this segment take the lead in the market. These factors will likely positively impact the growth of this market segment during the forecast period.
Application Insight:
The dietary supplements segment is expected to hold the largest share of the market during the forecast period. Dietary supplements improve the overall health of consumers and fill the nutrient gaps left in the daily diet. Human nutrition products like nutritional supplements are gaining popularity as people become more health conscious and the income levels of consumers are increasing. The rising focus on wellbeing and better health along with the rising risks of chronic diseases, especially cardiac diseases and diabetes will boost the demand for dietary supplements in the upcoming period while fueling the segment's growth.
On the other hand, the infant nutrition segment is expected to show the fastest growth during the forecast period. The rising concerns over proper growth of children along with rising risks of pediatric diseases across the globe are propelling the segment's growth. Infant nutrition products offer the proper amount of minerals, vitamins and other nutritional factors for kids. The demand for infant nutrition products is supposed to rise due to the rising cases of premature births.
Regional Insights:
North America dominates the global market for human nutrition. The high prevalence of chronic diseases like diabetes, cancer, hypertension, heart disease, stroke, respiratory illnesses, rheumatoid arthritis, obesity, and oral diseases, as well as the growing emphasis on healthy lifestyles in the region have been supplementing the growth of human nutrition market in North America. Additionally, the willingness of people to buy premium nutrition-based products for health benefits acts as a driver for the market's growth in North America
The region will sustain its dominance in the market due ot the well-established nutraceutical and functional food industries. The United States and Canada are expected to be the largest contributors to the market's development owing to the rising population and enormous demand for nutrition supplements and dietary supplements in the countries. Moreover, the expanding health & wellness and clean label trends are primarily to drive this region's high market share.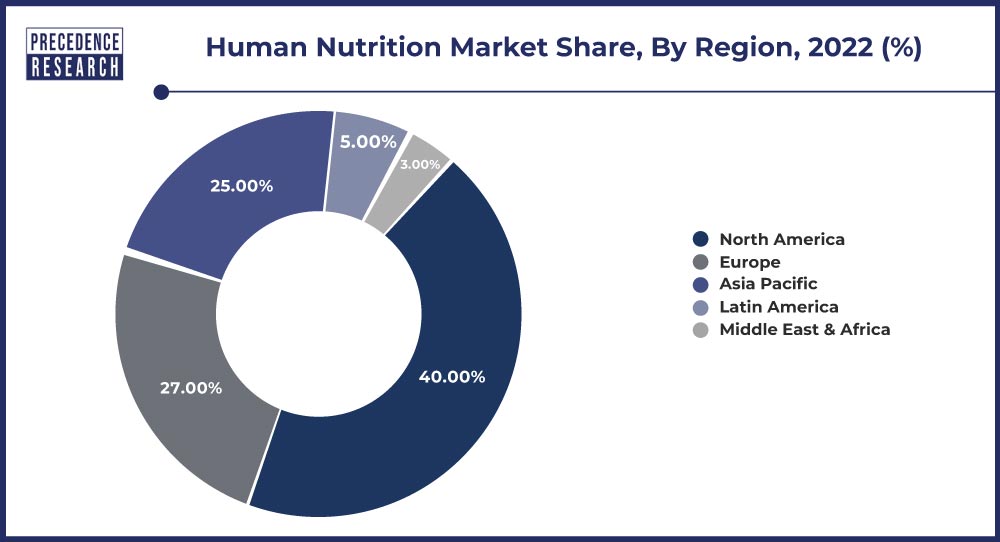 Asia Pacific is expected to witness the fastest growth during the forecast period. The rapid population growth and urbanization, rising disposable income and rising standards of living, growing emphasis on eating a healthy diet are subject to propel the growth of the market during the forecast period. In addition, the growing knowledge of the health advantages of nutritional supplements are all factors that are contributing to the region's rapid growth.
Recent Developments:
In January 2023, at an event attended by scientific council members from fit council, Superfoods Valley, a nutrition and food technology firm headquartered in Bangalore, unveiled its flagship product, Good Monk, a unique nutrition mix. The company also announced an innovative app that aids in user education and fosters transparency regarding the nutritional content of our food. Good Monk is a unique blend of incredibly bio-available nutrients, including Lysine (a protein building block), 130 Cr. Probiotics & Fiber, Vit A, C, and D, vitamins B6, B9, B12, Zinc, Iron, Brahmi, and Ashwagandha. The effectiveness of 13 Nutri-Herbs promotes intestinal health, immunity, vitality, and mental development. Mothers may easily add nutrition to food because of the product's No COT feature.
In August 2022, the possible prebiotic advantages of a novel artificial sweetener and the sweetness level of the product were examined in a recent study released in the Journal of Agricultural and Food Chemistry. The researchers discovered the sweetener supported the development of beneficial gut bacteria and passed the sensory testing panel. The human diet must have carbohydrates in some form. Ultimately, carbohydrates decompose into glucose, which gives the body energy. But consuming a lot of simple carbs, like table sugar, might result in health issues like obesity. People must make an effort to maintain balanced diets free of excessive sugar. This has sparked curiosity in creating synthetic sweeteners that give dishes a sweet taste without adding extra calories to them. Preserving a healthy gut microbiome, or the beneficial bacteria that reside in our guts, is another essential aspect of good health. The gut microbiota supports the body's overall health, including immune function and metabolism. Diet can affect the gut flora. Thus, nutrition is essential for healthy gut health. Researchers in this study evaluated a novel sweetener's taste and discovered that it had a favorable effect on the microbes in the gut.
In Feb 2023, Nestle launched a multitude of NPD related to wellness, health, and nutrition in response to the rising demand for immunity-boosting foods and plant-based substitutes. Vital Proteins Daily Greens is one of the new items. It is packed with research-backed probiotics, nutrient-dense superfoods, and broad-spectrum antioxidants. The Plant Protein + Collagen Powder from Orgain, a protein powder business that Nestle just purchased, was unveiled. It is constructed of plant protein and peptides from bovine collagen and promotes the health of the intestines, hair, skin, and nails. Nestle is addressing the increasing need for alternative plant-based protein options by promoting its plant-based brand Sweet Earth.
In April 2023, the premium health and wellness division of the UK's Genetic Nutrition brand began operations in India. Sandesh Prasannakumar, an international superbike racer, founded the company which offers Indians the best dietary supplements. The company's selection of nutritional supplements includes amino acids, protein powders, and vitamins made with top-notch components for optimal potency. The health and wellness category includes supplements that assist digestive health, joint health, functioning of the immune system, and other conditions. Genetic nutrition's dedication to openness and quality control makes them unique from other dietary supplement companies. Every supplement batch from this company is subjected to independent lab testing to confirm purity, potency, and correctness. This provides customers with peace of mind that they are receiving only the ingredients mentioned on the label and nothing hazardous or unnecessary.
Key Market Players:
Hansen Holding A/S
USANA Health Science, Inc.
Pharmavite LLC.
Nestle S.A.
Kerry Group PLC
Glanbia PLC.
Corbion N.V.
ADM
Bayer Health Care AG
Amway Corp.
Segment Covered in the Report:
(Note*: We offer report based on sub segments as well. Kindly, let us know if you are interested)
By Type
Vitamins
Proteins & Amino Acids
Probiotics
Fats & Fatty Acids
Carbohydrates
Minerals
Others
By Distribution Channel
By Application
Functional nutrients
Dietary supplements
Medical nutrition
Infant nutrition
Food & beverages
By Geography
North America
Europe
Asia-Pacific
Latin America
Middle East and Africa