The global hybrid power system market size was reached at USD 643.91 million in 2022 and it is projected to hit around USD 1,225.79 million by 2032, poised to grow at a CAGR of 6.65% from 2023 to 2032.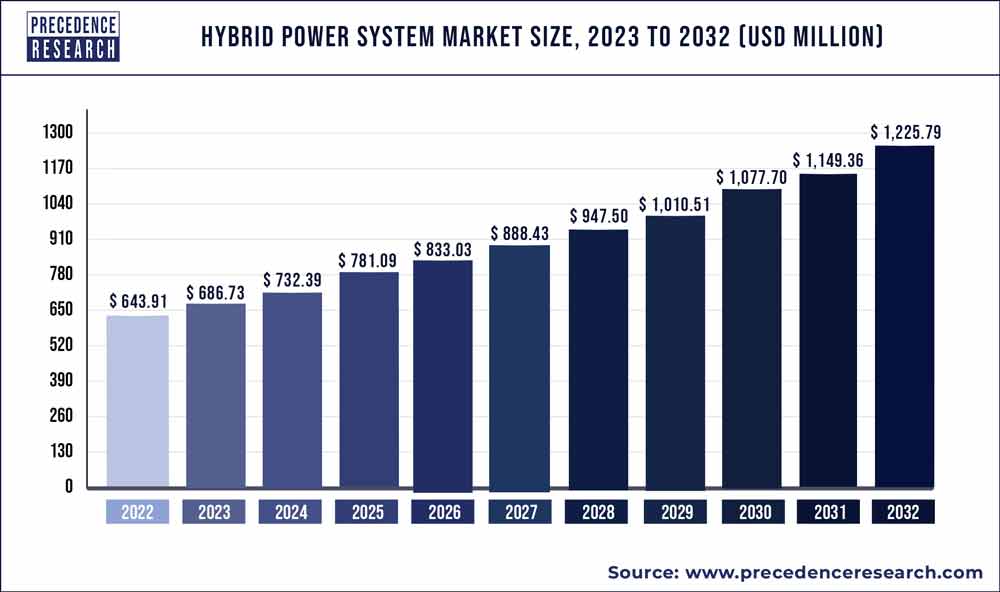 Access our Premium Real Time Data Intelligence Tool, Visit: Precedence Statistics
Market Overview:
The hybrid power system is a high-efficiency power generating system created for the production and use of energy. The hybrid power system uses many power sources and is independent of the electrical grids. Hybrid power systems are particularly effective when distributing electricity to isolated regions or islands like those in the Pacific or Caribbean that lack grid connectivity.
In contrast to conventional power generating methods, hybrid power generation methods can deal with energy losses and voltage variations. Hybrid power systems are more efficient than conventional ones since they have two power generation systems. During the past ten years, a noticeable worldwide trend has been toward a more sustainable economy. Nowadays, sustainability is more than simply a fad; it is a generally accepted lifestyle change designed to make people and major organizations more responsible for the environment.
Growth Factors
A rise in hybrid power generation, less fuel generation, and a decrease in carbon emissions are driving demand for hybrid power solutions. Hybrid power systems are also becoming more prevalent as new renewable energy technologies emerge and oil costs increase. Hybrid power systems have become more popular due to the availability of manufacturers and different government incentives. Moreover, the industry is driving the use of hybrid power systems due to cost savings, decreased pollution, and connectivity to other power sources like solar panels.
The market is projected to grow as the need for renewable energy sources develops. Carbon emissions from the electricity industry have increased due to rising energy consumption. The power industry is increasingly using renewable energy technologies like solar PV and wind to reduce the detrimental health effects of carbon emissions. In contrast, a number of variables, such as climate and geographic location, impact the power produced by solar PV and wind-generating systems.
Hybrid power systems assist in overcoming such difficulties by generating steady electricity from a combination of solar and wind power sources. The sector is expected to be driven by the advantages of integrating renewable energy sources with the rising demand for clean energy technologies.
An increasing source of energy, hybrid power solutions are perfect for off-grid or off-the-grid locations, isolated grids, and islands where grid electricity is not an economical or feasible option. Hybrid power systems combine renewable energy sources (wind and sun) with diesel generators for an adequate and reliable power supply. Several residential, commercial, telecommunications, mining, and oil and gas sectors utilize these hybrid power systems.
As a consequence of growing public awareness of renewable energy sources, several companies in the power generation sector are refocusing their attention on sources including wind, solar, fuel cells, and water. This trait bodes well for the future of the hybrid power systems sector.
Elements, including the rise in responsible energy consumption worldwide as a result of industrial development and commercial infrastructure development, are driving the market for hybrid power systems. Additionally, it is expected that the need for hybrid power generation would benefit from the declining cost of solar power generation. Nonetheless, many nations rely on conventional energy-producing technologies for demographic reasons, which is anticipated to restrict market growth throughout the projected period.
Report Scope of the Hybrid Power System Market
| | |
| --- | --- |
| Report Coverage | Details |
| Market Size in 2023 | USD 686.73 Million |
| Market Size by 2032 | USD 1,225.79 Million |
| Growth Rate from 2023 to 2032 | CAGR of 6.65% |
| Base Year | 2022 |
| Forecast Period | 2023 to 2032 |
| Segments Covered | By Type and By End-User |
| Regions Covered | North America, Europe, Asia-Pacific, Latin America and Middle East & Africa |

Market Dynamics:
Driver
Advanced renewable energy technologies
One of the leading market drivers is the ability of hybrid power systems to lower pollution and carbon emissions. Another market driver is reducing the amount of fuel used in the power generation sector. The drive towards more advanced sustainable energy sources is a significant motivator.
For instance, using sustainable renewable energy resources is at the forefront in China and the United States. They are influencing wealthy nations to adopt alternative energy sources, including wind, solar, and hybrid power solutions, under different conditions.
Rise in investments in hybrid power solutions by various governments
High initial expenditures and low switching costs are characteristics of the market for technology-driven hybrid power systems. The demand for and implementation of hybrid power systems has increased in developing countries due to the profusion of component manufacturers and several government incentives.
The construction of these power systems has increased recently due to the grid's instability and lack of access in remote and rural locations. More power firms are concentrating on producing energy from the sun, wind, water, and fuel cells as renewable sources gain popularity. Hybrid power systems are becoming more critical in current edge power generation due to lower carbon emissions and great qualities like a plentiful supply and cost-effectiveness.
A significant factor driving the expected growth of the global hybrid power market is the hybrid power system's ability to produce maximum output while using less fuel.
Restraint:
Several market issues hamper the market growth. High component costs and uneven adoption of hybrid power solutions are a couple of the main problems. While wealthy nations like China and the U.S. have switched to this system recently, many developing and impoverished countries still rely on large-scale hybrid power solutions. The high cost of hybrid power systems components will be addressed in the future to reach parity.
Opportunity:
Although the system is well-known in urban areas, market trends predict that hybrid power solutions will eventually be used in rural areas. Since remote places need constant electrical power delivery, hybrid power solutions are ever more essential. The market's ability to expand into other regions can be made possible by this need. A different choice is to convert to greener fuels and more eco-friendly motor engines. As more well-known automakers switch to hybrid engines, the market's income streams might grow.
Impact of COVID-19:
The COVID-19 pandemic caused supply chain interruptions and devastation on the market for hybrid power systems. Technology suppliers had to overcome difficulties such as obtaining raw materials and components for manufacturing, hiring staff from quarantines, and delivering finished items. Several governments were compelled to delay the development of hybrid power stations due to lockdown restrictions.
In addition, strict lockout regulations reduced the output of manufacturing tools and parts, raising the cost of goods as a whole and decreasing demand. On the other hand, the market for hybrid power solutions is rapidly returning to normal and is seeing high demand. The demand on the market is expected to increase even more due to the tightening of the lockdown in numerous countries.
Segments Insight:
Type Insights:
The solar-diesel segment's market share will rise significantly throughout the estimated time. A solar-diesel hybrid power system comprises a solar photovoltaic (PV) system, diesel generator sets, and sophisticated management to ensure solar photovoltaic (PV) system, and sophisticated management to make sure that the amount of solar energy delivered into the systems precisely meets the demand at that particular moment. When the loads are high, the solar PV systems supplement the diesel gensets and provide extra electricity, alleviating the gensets by reducing fuel usage.
End-User Insights:
The market for hybrid power systems will be driven by the expanding use of these systems in the residential, commercial, communications, mining, and oil & gas sectors. One of the main areas of use for hybrid power systems is off-grid locations. These are the locations where a grid connection is not necessary to obtain power.
Hybrid power solutions are created to meet the power needs in these areas, which may include telecom towers, industrial buildings, and isolated settlements. An increase in carbon emissions and rising consumer awareness of renewable energy drive the global hybrid power systems market. The global market is booming as a result of the quick uptake of clean energy technologies like solar PV and wind power, as well as the growing awareness of renewable energy sources like solar and wind power.
Regional Insights:
The telecom sector in the United States has grown significantly in recent years, and the introduction of 5G has accelerated the growth of the U.S. telecom sector. Owing to this, the market for hybrid power systems is anticipated to expand in North America at a fast rate. Latin America needs better grid access and power delivery in isolated locations like the Caribbean Islands.
The area is concentrated on embracing renewable energy sources to increase the electricity supply. Throughout the course of the projected period, this is likely to fuel the market for hybrid power systems in Latin America.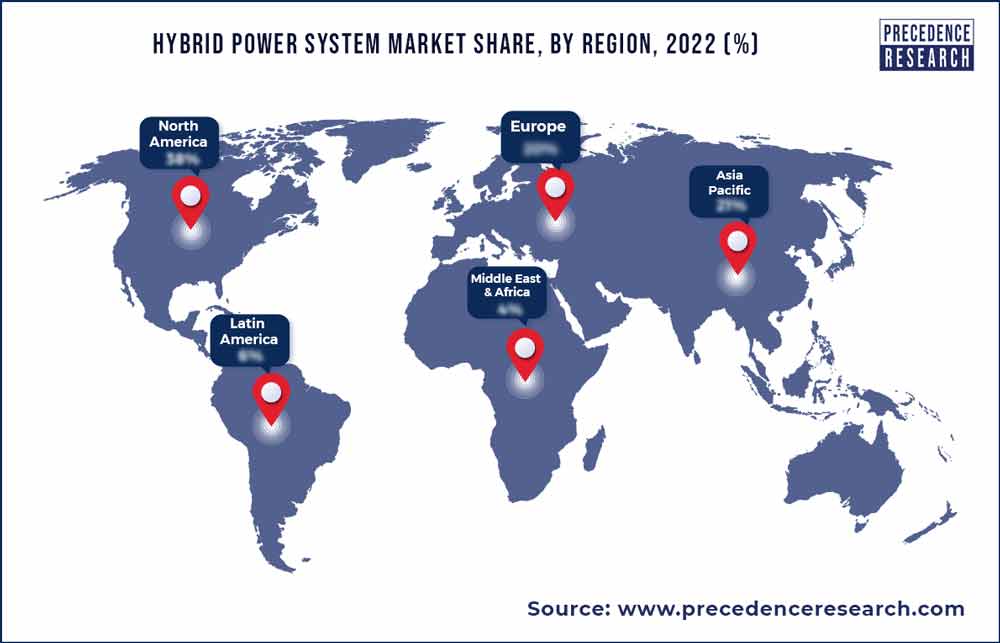 After installing large solar and wind energy systems, Europe is currently concentrating on implementing new, more effective energy sources. For instance, a sizable hybrid power plant in Germany began operating in November 2018 due to the efforts of Hitachi power solutions Co., Ltd and NKG Insulators, Ltd. The demand for hybrid power systems is anticipated to stay strong in Europe due to the growth of renewable energy installations in the region.
To fulfil the energy demand in many nations, like the United Arab Emirates, Saudi Arabia, and Kuwait, among others, the Middle East and Africa area is concentrating on expanding its power-generating capabilities. Throughout the projected period, the region's market for hybrid power systems is anticipated to increase significantly due to the lack of grid connectivity in some areas of Africa and rising power-generating capacity in the GCC nations.
Adopting conventional and renewable energy sources is a significant priority in many countries, including Japan. In order to fulfill the rising demand for energy from the residential and industrial sectors, China and India are also installing additional power-producing capacity. As a result, the Asia Pacific region is anticipated to grow in the hybrid system market soon.
Recent Developments:
In December 2022, A memorandum of understanding (MOU) between Vast Solar Pty Ltd. and Sage Geosystems Inc. was made public to assess global opportunities for integrating long-duration energy storage (ES) and concentrated solar power (CSP) generation to produce clean, dispatchable baseload electricity.
In November 2022, The agreement between Redington Limited and Enertech, a manufacturer of solar inverters, is intended to meet India's growing need for solar hybrid inverters. Redington Ltd is a well-known provider of IT solutions. This cooperation will use Redington's extensive national distribution network and Enertech's manufacturing experience in solar solutions to increase sales and after-sales support for Solar Hybrid Inverters.
In February 2022, Two hundred fifty workers are working at the new Renewable Hybrids facility in Vallam, close to Chennai, India, which was just opened by GE Renewable Energy.
In July 2021, The first megawatt-scale hybrid energy storage system for a solar-powered microgrid in India has been delivered, according to battery maker Vision Mechatronics Pvt Ltd.
In July 2019, Controllis introduced a new hybrid power unit called Smart-48. The hybrid power unit is anticipated to help mobile and telecom providers reduce their carbon footprint and fuel expenditures.
In January 2019, A state in India has made plans to build 18GW worth of solar, wind, and solar-wind hybrid power facilities by 2022. The state is focused on aiming for US$ 40 billion in investments for renewable capacity in the following ten years.
Key Market Players:
Siemens Energy
General Electric
SunWize Power & Battery, LLC
Aggreko
Eaton
Energy Solutions (UK) Ltd.
Wärtsilä
UNIPOWER
MAN Energy Solutions
Eni
WindStream Technologies
Delta Electronics, Inc.
Huawei Technologies Co., Ltd
Polar Power Inc.
Customized Energy Solutions India Pvt Ltd
Teksan
Windstrip
Segments Covered in the Report:
(Note*: We offer report based on sub segments as well. Kindly, let us know if you are interested)
By Type
Solar PV-Diesel
Wind-Diesel
Others
By End-User
Residential
Commercial
Industrial
By Geography
North America
Europe
Asia-Pacific
Latin America
The Middle East and Africa