The global hydrogen infrastructure market is surging with an overall revenue growth expectation of hundreds of millions of dollars during the forecast period from 2023 to 2032.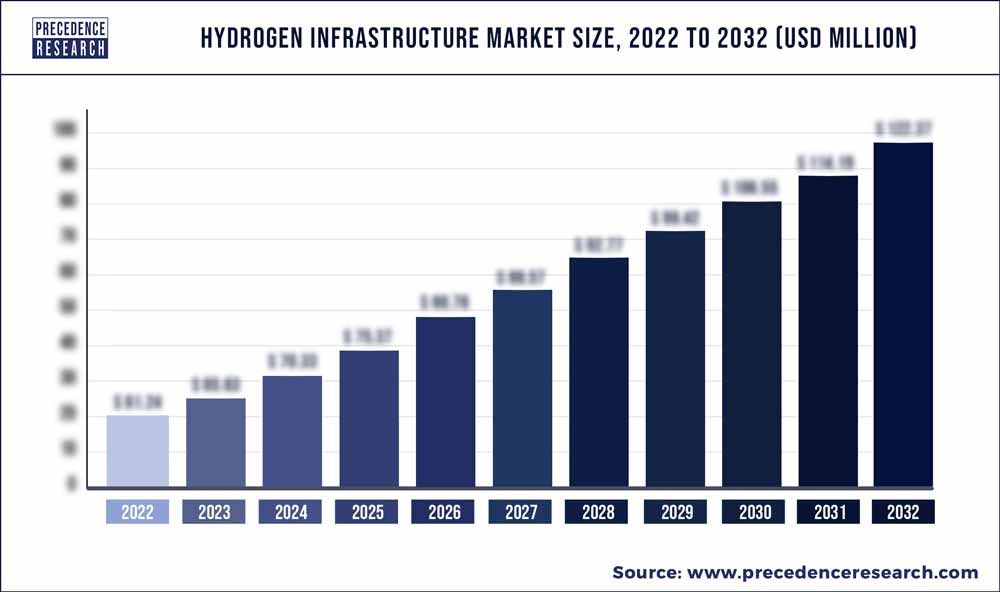 Key Takeaways:
Asia Pacific is predicted to have the maximum market share from 2023 to 2032.
By Storage, The compression segment contributed the greatest market share in 2022.
By Delivery, the transportation segment is expected to expand at the fastest CAGR from 2023 to 2032.
Market Overview:
A network of buildings and systems known as hydrogen infrastructure supports the generation, storage, distribution, and transportation of hydrogen as an energy carrier. The ability to transport hydrogen from the point of production to the point of use, such as an industrial facility, power generator, or fuelling station, is necessary for a functional hydrogen infrastructure. The infrastructure needed for fuel supply includes compressors, dispensers, trucks, storage facilities, liquefaction plants, and pipelines.
Growth Factors:
The market for hydrogen infrastructure has expanded as a result of the growing attention being paid to lowering greenhouse gas emissions and switching to a low-carbon economy. The expansion of renewable energy sources like solar and wind has made room for the construction of hydrogen infrastructure. Governments all across the world are putting supportive laws into place and offering rewards to encourage the construction of hydrogen infrastructure.
Report Scope of the Hydrogen Infrastructure Market:
| | |
| --- | --- |
| Report Coverage | Details |
| Largest Market | Asia Pacific |
| Base Year | 2022 |
| Forecast Period | 2023 to 2032 |
| Segments Covered | By Production, By Storage, and By Delivery |
| Regions Covered | North America, Europe, Asia-Pacific, Latin America and Middle East & Africa |

Market Dynamics:
Driver:
Environmental concerns
Environmental concerns have been a major driver of the enormous increase in the demand for hydrogen infrastructure in recent years. The need to lessen greenhouse gas emissions and fight climate change is one of the major environmental issues that has gained attention recently. Due to the fact that using hydrogen as a fuel produces no hazardous pollutants, including carbon dioxide, it is regarded as a clean and sustainable energy source. This quality has led authorities and businesses to investigate hydrogen as a potential replacement for fossil fuels in a variety of fields, including transportation, energy production, and industrial processes. In order to facilitate the mass use of hydrogen technologies, there has been a strong drive to build out and expand the hydrogen infrastructure.
A significant portion of greenhouse gas emissions are caused by transportation, primarily carbon dioxide from internal combustion engines. Since they operate with no harmful pollutants and only emit water vapour, hydrogen fuel cell vehicles (FCVs) offer a promising solution. Governments throughout the world have put in place supportive policies, such as financial incentives and plans for infrastructure development, after realizing the potential of FCVs to decarbonize the transportation industry. An extensive hydrogen refuelling network is now recognised as being essential to the widespread adoption of FCVs, which is motivating investments in hydrogen infrastructure.
Restraint:
High cost
The expense of building a hydrogen infrastructure has been a major barrier to the market's growth and general acceptance. Although hydrogen has a lot of potential as a clean, flexible energy source, its current cost issues prevent it from being scaled up and prevent the development of a hydrogen economy. The process of creating hydrogen is expensive in itself. The two most popular processes for producing hydrogen are electrolysis and steam methane reforming (SMR). SMR, which uses natural gas as a feedstock, is the most common and economical technique at the moment. However, it continues to use fossil fuels and emits carbon dioxide, which restricts its sustainability.
On the other hand, a more environmentally friendly option is electrolysis, which uses electricity to divide water into hydrogen and oxygen. However, despite falling prices for renewable energy sources, electrolysis is currently more expensive due to the high cost of electricity. The infrastructure and equipment requirements for SMR and electrolysis technologies also add significantly to the overall economic burden.
Transporting and storing hydrogen is another issue with costs. Due to its poor energy density, hydrogen needs huge storage spaces or high-pressure containment in order to be stored in significant quantities. Both alternatives are costly and dangerous. In addition, because of its low density and the requirement for specialised infrastructure, like pipelines or cryogenic tanks, long-distance transportation of hydrogen is difficult. The cost of starting from scratch with such infrastructure is a major obstacle to the development of the hydrogen infrastructure.
Furthermore, the installation and maintenance of hydrogen refuelling stations (HRS) for vehicles are costly. The number of HRSs is currently limited, making it difficult for hydrogen fuel cell vehicles to find refuelling options, which in turn hampers consumer adoption. To establish a comprehensive network of HRSs, significant investments are required, including land acquisition, equipment installation, safety measures, and ongoing maintenance. These costs often deter potential investors, resulting in a lack of HRS infrastructure and hindering the growth of the hydrogen-powered vehicle market.
Furthermore, although expensive, research and development (R&D) projects involving hydrogen technologies are essential for advancing technology and lowering costs. For hydrogen production, storage, transportation, and infrastructure development to become more affordable, both public and private sector expenditures in R&D are essential. However, the pace of innovation is slowed and cost competitiveness is hampered by the limited funding and resources dedicated to R&D.
Opportunity:
Transition to sustainable energy and decarbonization
The transition to sustainable energy and decarbonization are urgent global concerns in the fight against climate change. Hydrogen has become a promising alternative to conventional fossil fuels as the globe looks for sustainable substitutes. Hydrogen is referred to as green hydrogen when it is created using renewable energy through a procedure called electrolysis since it uses clean power to separate water into hydrogen and oxygen. Since there are no carbon emissions as a result of this process, hydrogen is a viable option for cutting greenhouse gas emissions in a variety of industries.
Transport is one of the important sectors where hydrogen may accelerate decarbonization. Battery electric cars (BEVs) are becoming more and more popular, but they still have issues such a short driving range and lengthy charging times. Vehicles powered by hydrogen fuel cells (FCVs) provide an option. Hydrogen is used as a fuel source by FCVs to produce power, with the only byproduct being water vapour. Compared to BEVs, FCVs have a number of benefits, such as greater driving ranges, quicker refuelling periods, and the potential to power heavy-duty vehicles like trucks and buses. In order to facilitate the widespread adoption of FCVs, a strong hydrogen infrastructure, including refuelling stations, must be developed.
In addition, hydrogen is essential for energy storage, another important part of the switch to clean energy. The intermittent nature of renewable energy sources like wind and solar is one of their drawbacks. Through electrolysis, energy produced during times of low demand or surplus supply can be used to create hydrogen. The generated hydrogen can be used as a feedstock in industrial operations or stored and turned back into electricity when needed. The grid is more stable thanks to its capacity to store and distribute renewable energy, and it also allows for higher penetration of renewables, addressing the issue of intermittency.
Additionally, there are significant opportunities for hydrogen use in industrial applications. In many industrial processes, including the creation of ammonia and methanol as well as in industries like refining and steel production, hydrogen is a crucial component. Currently, emissions are created when fossil fuels are utilised to manufacture the majority of the hydrogen used in industry. These industrial processes can significantly reduce their carbon footprint by switching to green hydrogen, aiding in the decarbonization process.
Impact of COVID-19:
The worldwide economy has been ravaged by the COVID-19 epidemic, which has also decreased demand for fossil fuels. However, because of the ban on international travel, the restrictions on public transport, and the shutdown of industries, it has a positive impact on the decline of CO2 emissions and PM2.5 during the initial lockdown period. Over 91% of people worldwide breathe polluted air, according to the World Health Organisation (WHO). According to estimates, 4.2 million people each year pass away as a result of the pollution that fossil fuel-powered automobiles cause to the environment. The number of PM2.5 particles in the atmosphere rises as a result of emissions from vehicles running on fossil fuels.
The environment and human health are significantly at risk from extended exposure to PM2.5, the most dangerous ambient airborne particle. The WHO established an annual mean threshold of PM10 g/m3 to decrease the effects of PM2.5, and levels over this range are an indication of elevated health risk. In response to the start of the spread and limited economic activity, the first lockdown was established internationally. Air pollution has greatly decreased as a result. Such a reduction in air pollution allowed people to view the brilliant blue sky and breathe fresher air by restricting on-road petrol automobiles.
The Earth's environment and mankind, however, only benefited in the short run. The environmental advantages were fleeting because when the lockdown restrictions were lifted and commercial, economic, and social activity resumed, air pollution levels rose. As a result, for long-term gain, it must be a green and sustainable recovery that takes into account air quality, human health, and economic sustainability. By deploying fuel cell technology and converting to a clean hydrogen energy system, a comparable recovery is possible. As a result, while other energy sources are becoming less abundant, there is a rising need for hydrogen infrastructure.
Segments Insight:
Production Insights:
Based on production, the steam methane reforming, coal, electrolysis, and others categories make up the segmentation of the worldwide hydrogen infrastructure market. Using electricity to divide water into hydrogen and oxygen with no carbon emissions, electrolysis is a green hydrogen production process. Despite being relatively inexpensive and effective, the production of hydrogen from natural gas steam reforming still produces greenhouse gases. Finding methods to produce hydrogen with the right purity at economically sensible prices while avoiding extra environmental restrictions is the challenge.
Storage Insights:
Based on storage, the compression, liquefaction, and material-based segments make up the worldwide hydrogen infrastructure industry. The compression segment accounted for the largest market share in 2022. This is because hydrogen can be stored easily and affordably and is thus expected to stimulate demand.
Delivery Insights:
The hydrogen infrastructure market is divided into four categories based on delivery: transportation, refineries, power plants, and hydrogen refuelling stations. During the anticipated period, the transportation segment's market share will grow the fastest. The transportation sector has seen growth in the application category, which will fuel hydrogen demand in the next years, as a result of the growing focus on decarbonization.
Regional Insights: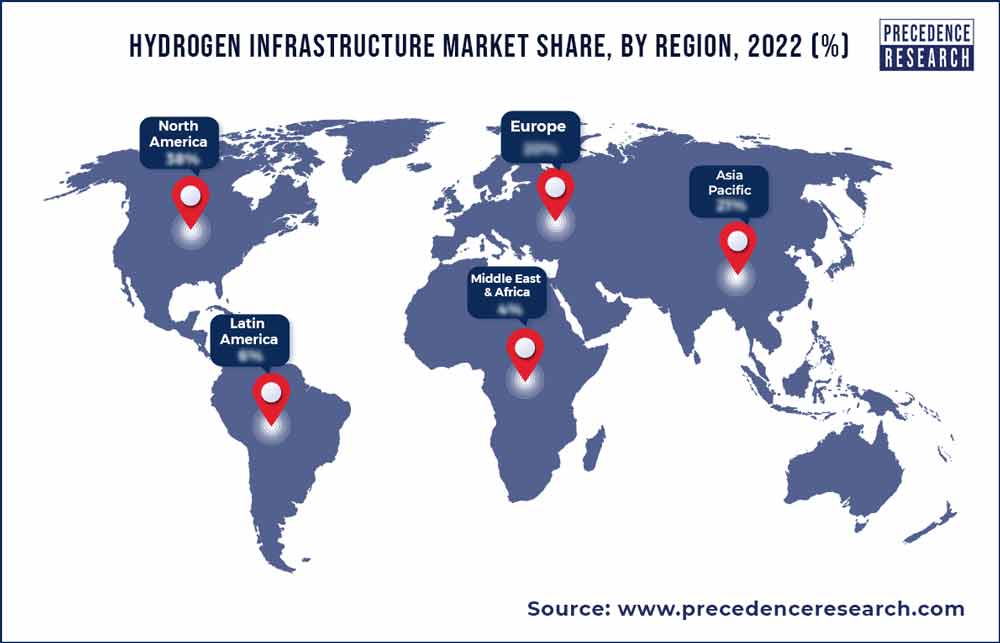 Due to the rise of fuel cell-based electric cars and a hydrogen-based economy, Asia Pacific is predicted to have the largest market share over the projection period. Refineries and fuel cell cars in the region are consuming more hydrogen than usual, which is expected to propel market expansion.
Recent Developments :
In September 2022, In New York, Linde made an announcement about the start-up of a 35-megawatt PEM (Proton Exchange Membrane) electrolyzer to create green hydrogen. It will increase Linde's ability to produce green liquid hydrogen in the US and be among the biggest electrolyzers ever deployed.
Linde Plc entered into a contract with Yara, in January 2020 to construct and deploy a MW green hydrogen plant.
Key Market Players :
Linde plc
Air Liquide
Uniper SE
ITM Power PLC
McPhy Energy S.A.
Enapter S.r.l
Siemens
Cummins Inc.
Air Products and Chemicals Inc.
XEBEC Adsorption
Segments Covered in the Report:
(Note*: We offer report based on sub segments as well. Kindly, let us know if you are interested)
By Production
Steam Methane Reforming
Coal
Electrolysis
Others
By Storage
Compression
Liquefaction
Material Based
By Delivery
Transportation
Refinery
Power Generation
Hydrogen Refuelling Stations
By Geography
North America
Europe
Asia-Pacific
Latin America
Middle East and Africa