The global immersive technology market size was valued at USD 22.5 billion in 2022 and is expected to hit around USD 167.75 billion by 2032, poised to grow at a compound annual growth rate (CAGR) of 22.3% from 2023 to 2032.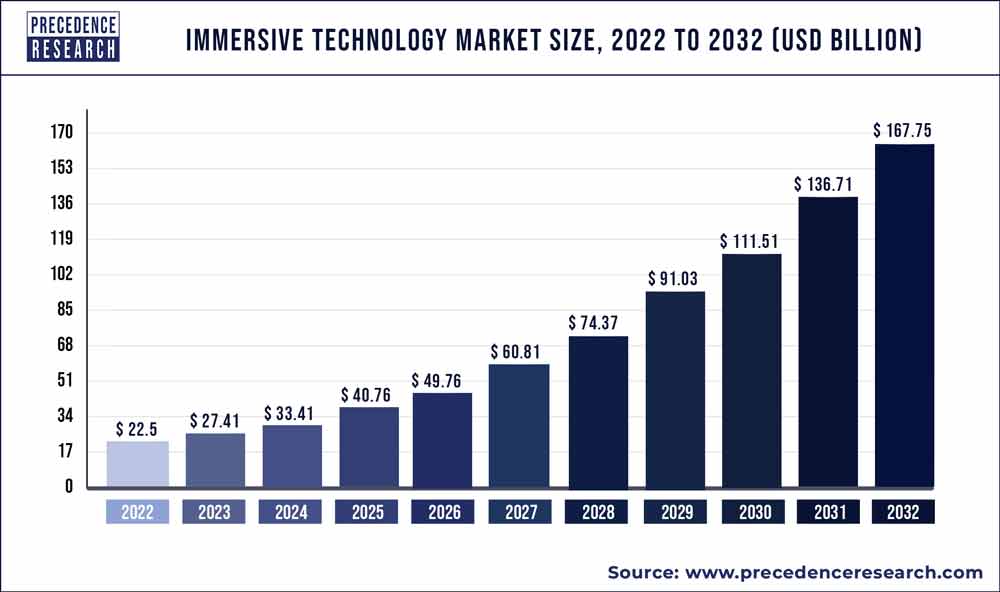 Access our Premium Real Time Data Intelligence Tool, Visit: Precedence Statistics
Key Takeaways:
By component, the hardware segment accounted for 54% of revenue share in 2022.
By application, the training and learning segment generated a 39% market share in 2022.
North America region has contributed 45% market share in 2022.
Improved networking protocols and the growing acceptance of multimedia tools are major market revenue-generating aspects. Other significant variables that are anticipated to influence demand for interactive technology and promote market sales increase include the capacity to get experience in such a safe setting, improved gaming experiences, as well as the capability to evaluate theoretical concepts graphically.
The immersive technique combines digital and real-world elements in a way that enables users to interact in a virtual environment naturally. In an immersive environment, the user may come to accept artificial parts of the environment as a piece of the total and lose awareness that they are present. Virtual worlds are both hardware and software products that give users the ability to modify and replace real-world environments to get more information than they can from them. And along the virtual world spectrum, which extends from a purely physical world at one extreme to a fully virtual reality experience at the other, immersion technology is available in various places.
Growth Factors
Government-sponsored programs that provide technical and financial assistance, education, and development are predicted to be a financially successful potential for the international economy of interactive technology. The immersion technique combines the actual world with digital or virtual realities. Users can experience the digital space in computer-augmented realities in great detail thanks to immersive technologies. The user of immersion technologies experiences a sense of immersion in the artificial world.
The virtual world refers to augmented worlds and virtual reality which substitutes for the person's surrounding world. The marketplace for interactive technology is developing quickly, with participants using a variety of tactics to draw customers, solidify their positions, and keep up with industry developments. To improve customer experience, industry companies are applying immersion technology in a variety of contexts, including e-commerce, interactive web applications, immersion marketing, brand experiences, and specific geographical explorations.
Report Scope of the Immersive Technology Market
| | |
| --- | --- |
| Report Coverage | Details |
| Market Size in 2023 | USD 27.41 Billion |
| Market Size by 2032 | USD 167.75 Billion |
| Growth Rate from 2023 to 2032 | CAGR of 22.3% |
| Base Year | 2022 |
| Forecast Period | 2023 to 2032 |
| Segments Covered | Component, Technology, Application, Industry and Geography |
| Companies Mentioned | Acer Inc., Atheer, Inc., AVEVA Group PLC, Barco NV, Blippar Ltd., Carl Zeiss AG, CM Labs Simulations Inc., EON Reality, Inc., FAAC Incorporated, Google, LLC, HCL Technologies Limited, Honeywell International, Inc., HTC Corporation, Immersive Media Company, Immersive Technologies Pty Limited, Lockheed Martin Corporation, Magic Leap, Inc., NCTech Limited, Oculus (Facebook Technologies, LLC.), Samsung Group, Sony Corporation, Unity Software Inc., Varjo Technologies Oy, VI-grade GmbH, Zeality Inc. |
Key Market Drivers
AR is utilized for charting and communicating on the battlefields
The Better gameplay experience offered by virtual objects and slashing capabilities that are alluring to consumers are better crucial drivers of the sales growth of the worldwide immersion electronic industry. This leads to higher interest and engagement in gaming. Physicians in the healthcare sector are using augmented reality (AR) glasses to plan body wounds and access patients' patient data while performing surgery. Throughout courses, learners can perceive text and dynamic capabilities thanks to augmented reality (AR). Augmented reality is being used by businesses to engage with coworkers across offices, boost product development creativity, and teaching personnel. Augmented reality (VR) is also being used in advertising to give consumers a hands-free experience with products. The defense sector is likewise implementing immersive technology. AR is utilized for charting and communicating on the battlefields, whereas VR is employed to teach personnel in a simulated environment that replicates real-world situations. Therefore, expanding the use of interactive technology across a variety of sectors is anticipated to promote sales increase.
Technology development and rising digitalization
Technological development and digitalization have been primary forces behind the adoption of emerging technologies across sectors including retail, healthcare, and industry. The way people live, interact, transport, and study has evolved as a result of ongoing technology improvements. To obtain a competitive advantage competitive advantages, organizations and enterprises have been able to cut manufacturing expenses and save time thanks to technological improvements. For example, 3G & 4G have lowered the operational costs for smaller firms so they can reach their intended audiences. The demand for digitalization has also been fueled by the rising use of cellular telephones. The younger breed, known as generation connected, is responsible for the global shift to digital technology. The development of digitalization has also been aided by improved social connectivity.
Key Market Challenges
VR integration on low-end hardware: Since it is challenging for producers and technology providers in the interactive virtual technology area to incorporate these capabilities for Low-end end devices, it is accessible to middle-class or lower-class consumers. The lack of this technology in low-end devices is a barrier that this business faces and may have an overall negative impact on the expansion of the business given that the majority of the worldwide people fall into the lower to middle economic class.
Key Market Opportunities
New technologies are significantly influencing how the workplace is being shaped
The workforce is being significantly influenced by new technology like virtual reality and artificial intelligence. In addition, immersion technology is evolving from a mere marketing trick to a useful instrument for creating value for such a community and the economy as a whole. These are among the key elements that are anticipated to keep creating prosperous business chances for both established firms and fresh participants in the international market.
Furthermore, immersion training gives students the ability to study & regulate results by fusing ideas with actual occurrences in a safe setting, which would be anticipated to fuel market expansion in the coming years.
Utilization HMDs in education
Equipment and technology for augmented worlds can be utilized to monitor a company's operation and guarantee timely deliveries. By tracking their whereabouts and receiving alerts for unsafe areas, the manager could use virtual reality to protect the safety of the employees. VR can be used by a supervisor or manager to run employee training programs in manufacturing and other commercial settings. This growing use of augmented worlds in manufacturing provides a chance for the interactive virtual industry to expand over the coming decades.
Segmental Insights
Components Insights
From 2023 to 2032, the head-mounted display equipment segment is anticipated to represent the majority of the market in terms of revenue, with a participation of over 60.7% in 2022. The economic incentive for Virtual reality headsets is being driven by their increasing significance in both consumer and business applications. The variety and adaptability of HMDs, including hybridized, attached, and conscience HMDs, are what is driving the company's development.
These tools are used to deliver instruction in a variety of fields, such as defense, aviation, construction, academia, and medical, and they employ interactive images to show a broad range of scenarios. Organizations are always pursuing technological advancements in this area to order to give clients a more interactive experience. For example, the cutting-edge Rift S VR headset from Oculus, a division of Facebook Companies, LLC, was released in March 2019. It has internal navigation as well as a higher-resolution display than just its predecessors.
The category with gesture-tracking devices is anticipated to experience the highest CAGR throughout the projected timeframe, at 17.6%. The need for optical gesture control, a unique and quickly developing technology that enables more comprehensive and realistic interpersonal contact, has significantly increased, which can be related to the increase in the need for optical movement monitoring. Sensors, CPUs, VR projectors, big-screen screens, and several applications are a few examples of the various kinds of GTD VR hardware. Additionally, several businesses are working that improve the performance of the computers and sensors used in VR devices to give users a more interactive experience.
Technology Insights
Over the projection timeframe, the interactive virtual category is anticipated to contribute the biggest income share. By superimposing a computer overlay on the physical surroundings, the augment system produces the blending of real-world and virtual elements to enhance the world today. This enables greater production, fewer accidents, and better performance. Electronic modeling and planning are possible with wearable technology before implementation. Additionally, it makes model validation in the actual world simpler and enables employees to re-evaluate and confirm in real-time. Those are a few of the main variables propelling this market's expansion.
Industry Insights
Over the projected period, the entertainment sector is expected to outperform various sectors regarding regard to revenue share. Augmented and virtual realities are causing disruptions in the game industry. While VR offers a full recreation of the person's surroundings, AR integrates game images and sound into the surrounding world. It is anticipated that AR and VR will both boost business profitability and enhance the player experience. To enhance user experience and revenue, plenty of well game development companies are embracing AR and VR technology. Game developers will be able to create high-density, elevated online games thanks to 5G networks.
Immersive Technology Market Share, By Region, 2022 (%)
| | |
| --- | --- |
| Regions | Revenue Share in 2022 (%) |
| North America | 45% |
| Asia Pacific | 18.40% |
| Europe | 27.50% |
| Latin America | 5.20% |
| MEA | 3.90% |
Regional Insights
In 2022, North America had the greatest revenue share and the biggest interactive technology market of revenue, and the biggest market for interactive technology. The country's growing technological advancements and changing consumer preferences are mostly responsible for the North American industry's revenue and profit. The desire for head-mounted screens is also being fueled by their rising reputation and limited supply in the country's wealthy nations. Due to the existence of top industry companies in the region, such as Unity Development Corporation, Zeality Corporation, Lockheed Martin, Wizard Jumping, HCL Technologies, Google, Constrained, and Honeywell Worldwide, Inc., the interactive virtual innovation industry in the United States is anticipated to experience strong revenue expansion throughout of the forecast timeframe.
And over the forecast timeframe, the industry for augmented reality technology in Asia-Pacific is anticipated to develop at the quickest CAGR. APAC growing demand is primarily driven by reasons such as rising smartphone ownership, growing disposable income, growing regional nation-state expansion, and unexplored markets for top firms in the sector. Immersion technology is being more widely used for teaching and commerce, which is boosting the APAC industry's expansion.
Recent Developments
As the anticipation surrounding the metaverse increases, Sony Group in January 2022 unveiled exclusive games with PSVR2, this next virtual world device. The new technology, which aimed for deeper engagement and includes haptic feedback incorporated into the headsets as well as enhanced visual clarity, may end up becoming one of the well-liked entry points into multiverse services from businesses including Epic Games Incorporated.
Acer unveiled SpatialLabs in May 2021, a series of applications that make the digital world come to a story in a new, organic way while providing stereoscopic 3D encounters. SpatialLabs is driven by slashing visual technologies, along with screen and sensing technology. Creators can review their projects in real-time and also at 360 ° without the requirement for special glasses because of the information floating in front of the display.
In March 2021, Harmony, the achieve multiple 3D media planning and management solutions around the globe, announced the purchase of VisualLive, an efficient innovative that facilitates the architectural features, tech, and infrastructure sector to cut costs and boost efficiency through interactive virtual collaborative efforts.
Honeywell Industrial, Inc. purchased a majority share in Fiplex Telecommunication, Incorporated in March 2021. With the addition of this company, Honeywell Worldwide, Inc. will be able to offer a wider range of connection & communication products.
In Mar 2021, Oculus, Corporation, and Konami Electronic Entertainment, Ltd. collaborated to create the hip hop album "Beat Arena," in which participants can experience 4 distinct pieces of equipment, basses, drummer, and keypads if they were playing them real.
To construct simulators, and simulators and assist the education and marketing teams, CM Laboratories Simulator, Corporation, and Tigercat Industries, Inc. inked a collaboration agreement in Feb 2021.
To advance industry digitalization to a higher stage, AVEVA Company, Plc. and Maire Tecnimont's Team, Inc. established cooperation in Sept 2020.
HCL Technologies, Limited announced on Sept 2020 that it has acquired DWS Corporation, an Australian IT provider of integrated, to offer products for the digital economy to the business end customer.
Key Market Players
Acer Inc.
Atheer, Inc.
AVEVA Group PLC
Barco NV
Blippar Ltd.
Carl Zeiss AG
CM Labs Simulations Inc.
EON Reality, Inc.
FAAC Incorporated
Google, LLC
HCL Technologies Limited
Honeywell International, Inc.
HTC Corporation
Immersive Media Company
Immersive Technologies Pty Limited
Lockheed Martin Corporation
Magic Leap, Inc.
NCTech Limited
Oculus (Facebook Technologies, LLC.)
Samsung Group
Sony Corporation
Unity Software Inc.
Varjo Technologies Oy
VI-grade GmbH
Zeality Inc.
Segments Covered in the Report:
(Note*: We offer report based on sub segments as well. Kindly, let us know if you are interested)
By Component
Hardware
Head-Mounted Display (HMD)
Gesture Tracking Devices (GTD)
Projectors & Display Walls (PDW)
Software/Platform
Services
Professional
Managed
By Technology
Mixed Reality (MR)
Virtual Reality (VR)
Augmented Reality (AR)
360 Film
By Application
Training & Learning
Emergency Services
Product Development
Sales & Marketing
By Industry
Healthcare
Retail & eCommerce
Education
Construction
Media & Entertainment
Gaming
Manufacturing
Aerospace & Defense
Others (Automotive, Energy, etc.)
By Geography
North America
Europe
Asia-Pacific
Latin America
Middle East & Africa (MEA)