The global instrument cluster market size accounted for USD 9.41 billion in 2022, and it is expected to hit around USD 18.07 billion by 2032, registering a CAGR of 6.74% from 2023 to 2032.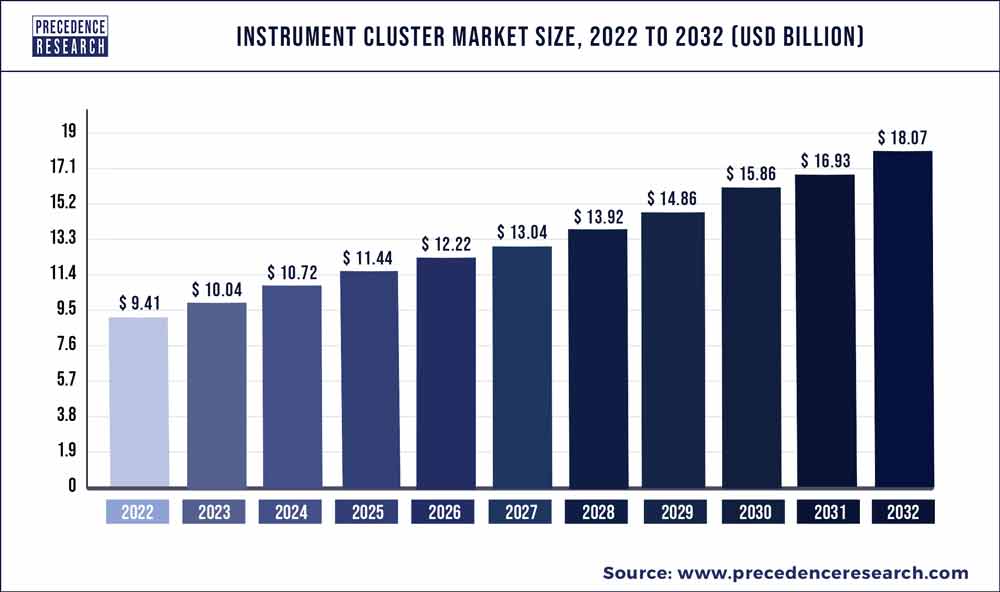 Access our Premium Real Time Data Intelligence Tool, Visit: Precedence Statistics
Key Takeaways:
Asia Pacific is anticipated to have a significant market share.
By Utility, the speedometer segment dominated the global market in 2022.
By Vehicle Type, the ICE vehicles segment led the global market in 2022.
By Technology, the hybrid technology segment dominated the global market in 2022.
By Enterprise Size, the large-scale organization's segment ruled the market in 2022.
By End-User, the passenger cars segment led the market in 2022.
Market Overview:
An instrument cluster is a panel that is placed immediately in front of the steering wheel, putting all of the instruments in the driver's line of sight. A wire harness connects instrument clusters to the car. The rear of the cluster often contains a multi-pin connection for the harness. As a result, taking out the cluster is simple. Normally, the fusebox under the dash on the driver's side of the automobile supplies electricity to the cluster. It is made to give the driver up-to-date information regarding the condition of the car.
Growth Factors:
The market for automotive instrument clusters is being driven by the expansion of the automotive sector in emerging nations and the rise in demand for high-end passenger vehicles. The expansion of the industry is also being aided by the increase in entertainment systems and vehicle production and sales. The market is anticipated to rise as a result of rising demand for the creation of full digital cockpit solutions.
Report Scope of the Instrument Cluster Market:
| | |
| --- | --- |
| Report Coverage | Details |
| Market Size in 2023 | USD 10.04 Billion |
| Market Size by 2032 | USD 18.07 Billion |
| Growth Rate from 2023 to 2032 | CAGR of 6.74% |
| Largest Market | Asia-Pacific |
| Base Year | 2022 |
| Forecast Period | 2023 to 2032 |
| Segments Covered | By Utility, By Vehicle Type, By Technology, By Enterprise Size, and By End-User |
| Regions Covered | North America, Europe, Asia-Pacific, Latin America, and Middle East & Africa |

Market Dynamics:
Driver:
Growth in production of automotive globally
One of the main factors influencing the market expansion for instrument clusters during the forecast period is the increase in car manufacturing in the major areas of the world. Major automakers' presence in important markets like Asia-Pacific, Europe, and North America, along with a number of supportive government initiatives and policies, are expected to boost the production of cars, which will in turn have a significant positive impact on the instrument cluster market growth over the course of the forecast period. The sales of passenger automobiles are considerably boosting the output of this category, which is being supported by rising disposable incomes and living standards. As a result, there is a sharp rise in demand for instrument clusters.
Restraint:
Cost constraints
One of the major obstacles limiting the market for instrument clusters is cost. Instrument clusters have changed from being analogue gauges to digital displays, combining cutting-edge technology like touchscreens, high-resolution displays, and built-in communication features. While these developments improve functionality and user experience, they also raise the instrument cluster system's overall cost. It takes sophisticated hardware components and intricate software systems to integrate high-resolution screens with vivid colors, multi-functionality, and customizable capabilities. The cost is further increased by the requirement for extra sensors, processors, and connectivity modules when using touchscreens and connectivity choices.
Manufacturers and customers have difficulties as a result of the rising cost of instrument clusters. For manufacturers, integrating cutting-edge technologies while keeping costs down requires a careful balancing act. To provide affordable solutions, they must make investments in supply networks, production facilities, and research & development. Instrument clusters' profit margins and competitiveness in the market are directly impacted by the cost of their development and production. The cost of automobiles with sophisticated instrument clusters might be a disincentive for consumers. The cost of the car may go up overall as a result of more expensive instrument clusters, making it less accessible to many prospective purchasers. This may reduce consumer demand for cars with cutting-edge instrument clusters, particularly in price-sensitive markets.
Cost restrictions can have an impact on the aftermarket's adoption of upgraded instrument clusters. Consumers are discouraged from updating their automobiles with the newest instrument cluster technology since retrofitting or replacing instrument clusters in pre-existing vehicles can be costly.
Opportunity:
Growing demand for electric vehicles and advanced instrument clusters
The need for sophisticated instrument clusters to meet the specific needs of electric cars (EVs) is the first important opportunity in the market for instrument clusters. EV demand is rising quickly. The adoption of EVs has increased significantly as a result of the push for environmentally friendly transportation on a worldwide scale and growing environmental awareness. The demand for improved instrument clusters that can deliver crucial data relating to EV-specific aspects like battery state, range prediction, energy usage, and charging infrastructure is increasing as more people select electric vehicles for their everyday commuting needs.
EV instrument clusters are made to offer thorough data and help drivers maximize the economy and performance of their vehicles. These clusters frequently have features like real-time battery status updates, energy flow visualizations, charging station locators, and indications for regenerative braking. The demand for advanced instrument clusters made specifically for electric cars is anticipated to increase as the EV industry continues to grow.
Additionally, the possibility for instrument cluster producers is further increased by the development of autonomous driving technology. As autonomous vehicles proliferate, the instrument cluster's function evolves from that of a simple display to that of a full interface for communication between the car and its occupants. For a seamless and secure autonomous driving experience, advanced clusters can offer vital information on the vehicle's surroundings, driving modes, and system status.
Impact of COVID-19:
The COVID-19 pandemic has had a major effect on a number of industries throughout the world, notably the automobile industry. The instrument cluster market is one sector in particular that has been impacted. The displays located behind the steering wheel are called instrument clusters, and they give drivers access to crucial data including speed, fuel level, and warning lights. Global supply chains, industry processes, and consumer demand all experienced significant disruptions as a result of the epidemic. Numerous manufacturers were forced to temporarily close their facilities in order to comply with lockdown regulations and protect their staff, which had a negative impact on the manufacturing of automobiles. This caused a decrease in car manufacturing, which had an impact on the demand for instrument clusters.
The epidemic also resulted in a fall in consumer confidence and purchasing power. People grew more frugal about spending on non-essential things like vehicles as they faced financial uncertainty and job losses. As a result, there was a decline in the demand for new automobiles, which had an immediate impact on the instrument cluster industry because these parts are mostly fitted in new cars. The epidemic also caused a change in consumer tastes and behavior. The use of automobiles for commuting and leisure activities has decreased as a result of the expansion of remote employment and social isolation strategies. This change decreased the demand for new automobiles, which had an effect on the instrument cluster market.
Furthermore, the capacity of customers to buy new cars was restricted by the closure of showrooms and regulations on non-essential enterprises. Manufacturers found it difficult to sell automobiles and encourage the installation of new instrument clusters since test drives and in-person visits to showrooms were drastically reduced. Nevertheless, despite these difficulties, the market for instrument clusters still saw some encouraging trends throughout the epidemic. As consumers looked for more economical alternatives to public transit, the market for secondhand cars rose. As purchasers replaced or improved old instrument clusters in used automobiles, the aftermarket section of the instrument cluster industry saw a boom.
The epidemic also hastened the use of linked and digital technology in the vehicle sector. The need for complex instrument clusters with improved functions increased as automakers and customers adopted technologies like infotainment systems, advanced driver-assistance systems (ADAS), and networking solutions. Manufacturers of instrument clusters now have more chances than ever to innovate and create cutting-edge products.
Segments Insight:
Utility Insights:
The speedometer, tachometer, odometer, oil pressure gauge, coolant temperature gauge, and other categories make up the segmentation of the worldwide instrument cluster market. As the main part of any instrument cluster that gives the driver all the information about the vehicle, the speedometer dominated the market in 2022.
Vehicle Type Insights:
The ICE vehicle, electric vehicle battery (EVB), plug-in hybrid electric vehicle (PHEV), hybrid electric vehicle (HEV), and fuel cell electric vehicle (FCEV) segments make up the instrument cluster market globally. Due to the expanding requirement for information to be filtered based on driving conditions and the rising demand for sophisticated features in electric cars, ICE vehicles dominated the market in 2022.
Technology Insights:
The hybrid, analogue, digital, and other segments make up the instrument cluster market globally. Because hybrid technology offers contemporary displays with themes, colors, and even 3D images, which makes it more effective for detecting a dynamic speed change, it dominated the market in 2022.
Enterprise Size Insights:
Large-scale organizations, semi-urban mid-scale organizations, and small-scale organizations make up the three segments of the worldwide instrument cluster market. Large-scale businesses ruled the market in 2022 because they can produce volumes that are greater and manage a wider range of product portfolios.
End-user Insights:
The worldwide instrument cluster market is divided into segments for two-wheelers, off-highway vehicles, agricultural vehicles, passenger automobiles, and commercial vehicles. Since the adoption of digital displays and instrument clusters is higher in passenger vehicles such as small, hack back, and others, passenger cars dominated the market in 2022.
Regional Insights:
The market for the instrument clusters is divided geographically into North America, South America, Europe, the Middle East, Africa, and Asia Pacific. Because China, India, and the ASEAN nations produce a significant amount of autos, APAC is anticipated to have a significant market share.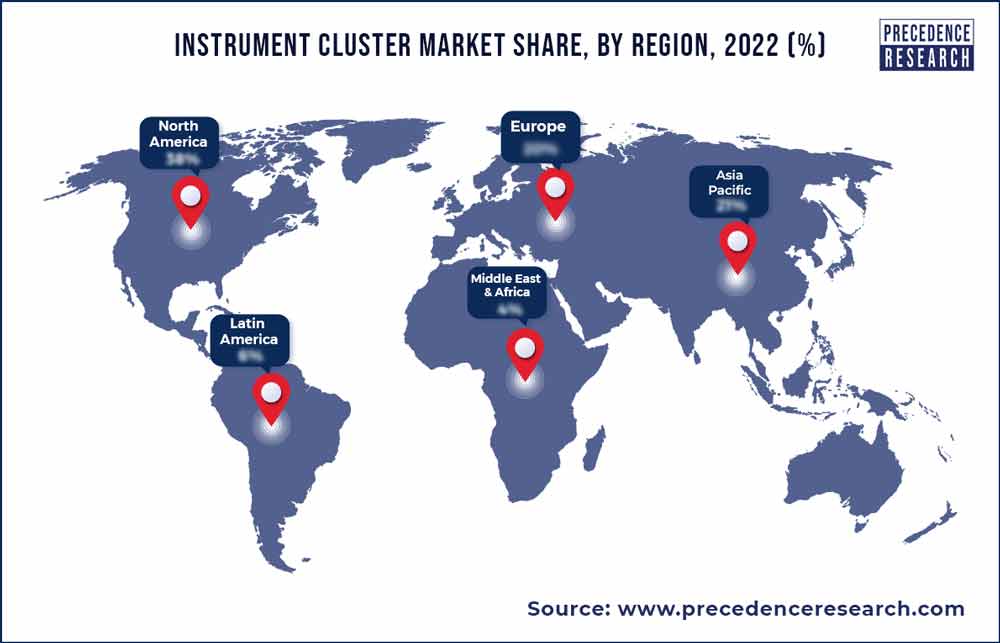 Due to its early adoption of technology and established automotive industry, the North American area is anticipated to have a sizable market share. Due to increased investments by automakers in facility expansions to enhance the production of vehicles in response to rising demand, Europe is predicted to develop significantly over the projection period.
Recent Development:
In May 2020, Continental AG, a cutting-edge technology and service firm, and Pioneer Corporations reached an agreement on a strategic cooperation for a new and improved user experience. Pioneer Corporation committed to supplying the full infotainment subsystem for cockpit solutions as part of this agreement. With the help of this integrated instrument cluster infotainment system, a complete user experience will be delivered.
Key Market Players:
Visteon Corporation
Continental AG
Parker Hannifin Corp
Robert Bosch GmbH
Infenion Technologies AG
Delphi Technologies
HARMAN International
Aptiv
YAZAKI Corporation
Nippon Seiki Co., Ltd.
DENSO Corporation
Segments Covered in the Report:
(Note*: We offer report based on sub segments as well. Kindly, let us know if you are interested)
By Utility
Speedometer
Odometer
Tachometer
Coolant Temperature Gauge
Oil Pressure Gauge
Others
By Vehicle Type
ICE Vehicle
Battery Electric Vehicle (BEV)
Plug-In Hybrid Electric Vehicle (PHEV)
Hybrid Electric Vehicle (HEV)
Fuel Cell Electric Vehicle (FCEV)
By Technology
By Enterprise Size
Small-Scale Organization
Semi-Urban Mid- Scale Organization
Large Scale Organizations
By End-user
Passenger Cars
Commercial Vehicles
Two-Wheelers
Off-Highway Vehicle
Agriculture Vehicle
Others
By Geography
North America
Europe
Asia-Pacific
Latin America
Middle East and Africa