The global long-distance general freight trucking market size was valued at USD 745.11 billion in 2022 and it is projected to reach around USD 2,075.99 billion by 2032, expanding at a CAGR of 10.79% during the forecast period from 2023 to 2032.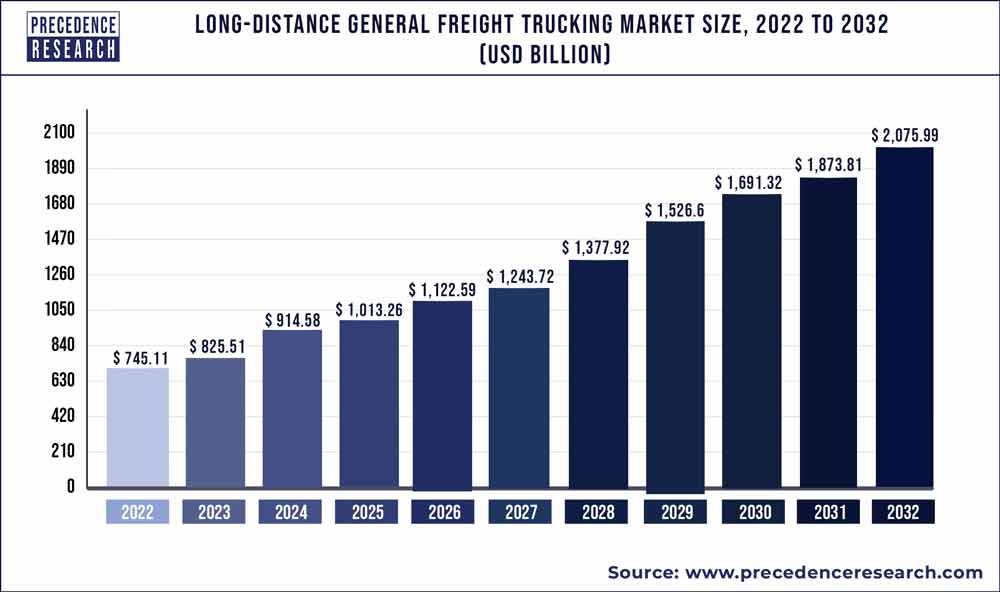 Long-distance general freight trucking is a mode of transportation that employs motor vehicles such as trucks to transport a variety of commodities, which are generally palletized and transported in a container or van trailer for domestic and commercial goods carriage, typically between metropolitan areas and may cross national borders.
General long-distance truckload carriers, general long-distance less-than-truckload carriers, and other transportation services are the primary services in the long-distance general freight trucking sector. Available long-distance truckload carriers between urban centers provide long-distance general freight trucking. Public long-distance truckload transit, general long-distance less-than-truckload transit, logistics planning, container trucking long-distance, and motor freight trucking long-distance operations divide the market. It is divided into heavy, medium, and light trucks, oil and gas, industrial and manufacturing, energy and mining, food and drinks, pharmaceuticals and healthcare, and other applications.
The growth of the long-distance general freight trucking market is predicted to be driven by an increase in the industrial output of various industries. More manufacturing output necessitates more trucking to transport goods from one location to another. Tesla intends to enhance its electric vehicle production capacity in China in March 2020, which will be 250,000 automobiles annually. Freight transportation will be required to transport these manufactured autos. A Tesla semi, used for long-distance trucking, was transporting the cars in June 2020. As a result of rising manufacturing production, which leads to increased trucking for the transportation of finished goods, the long-distance general freight trucking sector is expanding.
Report Scope of the Long-distance General Freight Trucking Market:
| | |
| --- | --- |
| Report Coverage | Details |
| Market Size in 2023 | USD 825.51 Billion |
| Market Size by 2032 | USD 2,075.99 Billion |
| Growth Rate from 2023 to 2032 | CAGR of 10.79% |
| Largest Market | North America |
| Base Year | 2022 |
| Forecast Period | 2023 to 2032 |
| Segments Covered | By Truck Type, By Service Type, By Technology Adoption, and By End Use |
| Regions Covered | North America, Europe, Asia-Pacific, Latin America, and Middle East & Africa |

Market Dynamics:
Drivers:
Freight trucking helps in reducing logistic cost
Freight is an essential component of the company and its logistics. If goods are correctly understood and addressed, it can save the organization money throughout the transport logistics process. Regular fuel and machinery and market price increases are not the only rising expenditures to consider. Suppliers confront several budgetary constraints in a variety of other areas and directions.
When developing an excellent corporate budget, the first objective for each firm is to reduce transportation logistics costs. There are various methods for organizations to reduce transportation expenses, improve supply chain systems, and save money. These tactics for lowering logistical costs include optimizing inventory levels, updating more innovative delivery networks, providing better processes, and enhancing partnerships between suppliers and third parties, among other things. For instance, India can reach its goal of reducing logistics costs from 14 percent of GDP to 10 percent by 2022, and this can save up to INR 10 lakh crore in 2022.
Reduced CO2 emission
Freight transportation is critical to our global economy. Trucks, aircraft, ships, and trains transport billions of tons of cargo yearly. Transportation accounts for 8% of global greenhouse gas emissions and up to 11% when warehouses and ports are included. Growing economies in Asia, Africa, and Latin America are predicted to triple global freight demand by 2050, doubling freight greenhouse gas emissions. Even as other energy sectors reduce their usage of fossil fuels, almost all freight transport is powered by oil and gas. If current trends continue, goods will be the top emitting sector by 2050.
Strategies addressing greenhouse gases and black carbon from goods transportation benefit the environment and human health. Modern engines, low-carbon fuels, and more effective practices, such as optimizing vehicle space or reducing freight demand, can all help to reduce freight emissions. Still, faster progress is required to meet our global climate targets.9 Old, polluting equipment often continues to operate much past its useful life, particularly in underdeveloped countries. For instance, CO2 emissions can be reduced by 70% in 2050 over a Business-As-Usual scenario (BAU), which projects current trends into the future.
Technological advancement
Technology is transforming the long-distance general freight trucking industry. Advancements in telematics, GPS tracking, fleet management systems, and electronic logging devices (ELDs) enhance operational efficiency, improve route planning, and enable real-time monitoring and communication. In addition, Fleet management in the trucking industry is embracing fleet management software that analyses KPIs and provides deeper insight into truck fleets and their performance. Through technology-led platforms, businesses may track safety events, engine hours, route performance, fuel management, and more, identifying areas for improvement and deciding what requires immediate action and what can wait. Truck drivers can access near-real-time roadside help.
Restrains:
Driver shortage of qualified drivers may restrain the market growth
The shortage of qualified truck drivers is a significant restraint in the long-distance general freight trucking market. As the demand for trucking services increases, the industry struggles to attract and retain skilled drivers. This shortage can lead to capacity constraints, increased labor costs, and delays in delivering goods.
Opportunities:
E-commerce growth
The rapid growth of e-commerce has led to increased demand for efficient and timely delivery of goods. Long-distance general freight trucking companies can capitalize on this opportunity by providing reliable and flexible transportation solutions to support e-commerce supply chains.
Last-mile delivery
Last-mile delivery, the final leg of the delivery process from a transportation hub to the end customer, is a growing segment of the freight industry. Long-distance trucking companies can expand their services to include last-mile delivery, partnering with local couriers, or leveraging their networks to provide efficient and seamless delivery solutions.
Technological advancements:
Technology continues to play a crucial role in the trucking industry. Long-distance general freight trucking companies can leverage advancements in telematics, GPS tracking, fleet management systems, and predictive analytics to optimize routes, enhance operational efficiency, and improve customer service.
Many route planning solutions combine the Internet of Things (IoT) and artificial intelligence (AI) to optimize routes, and the same technology is also used for load matching. Some businesses have gone all-in on AI load matching, with AI handling 100% of the matching. Because AI can analyze multiple data points at once, it is more efficient at load matching than its human counterpart. As a result, optimizing load matching improves workflow and enables businesses to handle loads with ease.
Segments Insight:
Truck Type Insights:
Dry van trucks, also known as box trucks or enclosed trailers, are the most common type of truck used in long-distance general freight trucking. These trucks have fully enclosed cargo areas, protecting from weather conditions and ensuring the safe transport of a wide range of goods, including packaged products, consumer goods, and non-perishable items.
Refrigerated trucks, also referred to as reefer trucks are equipped with temperature-controlled units to transport perishable goods that require temperature regulation, such as fresh produce, frozen food, pharmaceuticals, and other temperature-sensitive items. These trucks maintain specific temperature ranges throughout the transportation process, preserving the quality and integrity of the goods.
Service Type Insights:
Full Truckload (FTL) service dominates the market share. FTL involves transporting goods where the entire truck trailer is dedicated to a single shipment. This service is typically utilized when a shipper has sufficient interests to occupy a truckload. FTL services offer direct delivery and faster transit times, as no additional stops or transfers along the route exist.
Temperature-controlled trucking services are essential for transporting goods that require specific temperature conditions, such as perishable goods (e.g., food, pharmaceuticals). These services utilize refrigerated or insulated trailers to maintain the desired temperature throughout the transportation process, ensuring the integrity and quality of the goods.
End User Insights:
The retail sector heavily relies on long-distance freight trucking to transport consumer goods. This includes the delivery of products from distribution centers to retail stores, e-commerce fulfillment centers, and direct-to-consumer deliveries. Retailers of all sizes, including large chains, supermarkets, and online retailers, utilize long-distance trucking to ensure a steady supply of goods to meet consumer demand.
The pharmaceutical and healthcare industries rely on long-distance trucking to transport medicines, medical equipment, and healthcare supplies. Pharmaceutical manufacturers, distributors, and hospitals require secure and controlled transportation solutions to ensure the integrity and safety of these sensitive goods.
Regional Insights:
North America: With higher shipments (volume), the motor carrier business is North America's primary domestic freight mode. There are an estimated 1 million businesses. Running about 8 million heavy trucks and many smaller trucks with higher shipments (volume), the motor carrier business is the primary domestic freight mode than any other transit means. There are an estimated 1 million businesses. They run about 8 million heavy trucks and many smaller trucks on the interstate. Commerce in the U.S. A high majority (82%) of these companies operate small fleets of fewer than six trucks. The commodities transported by truck include coal, petroleum, agriculture, furniture, electronics, etc.
Even though trucks account for 8% of all highway vehicle miles traveled (VMT), U.S. roadways are the method of transportation that runs the most efficiently. If congestion continues at its current rate, the trucking industry's travel time reliability will likely decrease.
Europe: The European goods trucking market is large, with road transport dominating the transfer of products. Eurostat said road freight transport accounted for more than 70% of total inland freight transport in the European Union in 2019. Economic activity and trade volume in the region contribute to the need for goods trucking services. According to the European Commission, the European Union's total goods exports in 2020 will be roughly €2.3 trillion.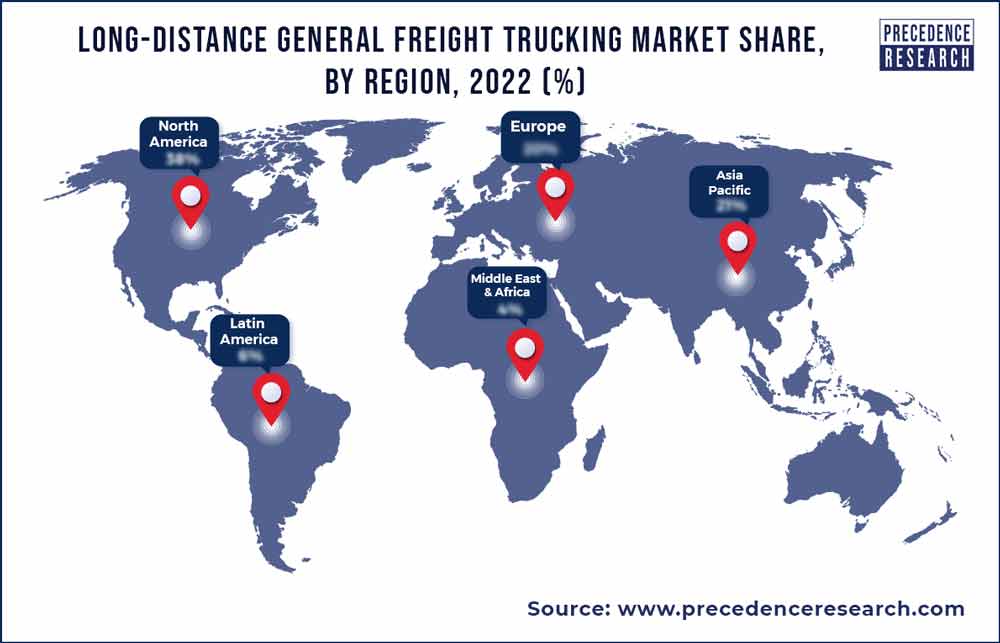 The expansion of e-commerce has also impacted the European freight trucking business. According to E-commerce Europe, the European B2C e-commerce revenue will reach €717 billion in 2020, with a 13.5% annual growth rate. This growth has fueled the demand for last-mile delivery services, driving the need for efficient trucking operations.
Asia Pacific: The freight trucking market in Asia is experiencing significant growth and various developments. The region's strong economic growth, expanding e-commerce sector, rapid urbanization, infrastructure development, and regional trade integration are key factors driving the market. Rising disposable incomes, increasing consumer demand, and the need for efficient last-mile deliveries have boosted the demand for trucking services. However, the market also faces challenges, such as a fragmented industry with numerous small players and varying levels of infrastructure across countries. Despite these challenges, the Asia Pacific freight trucking market offers significant opportunities for companies to capitalize on the region's growing economies and increase trade integration.
Due to expanding demand for goods and services, India has been the world's fastest-growing major economy for four of the last five years. The flow of goods within and beyond India's borders has created economic opportunities for millions of Indians.
The logistics sector accounts for 5% of India's GDP1 and employs 2.2 million people. India handles 4.6 billion tons of commodities annually for INR 9.5 lakh crore. These goods represent a diverse range of domestic sectors and products: 22% are agricultural goods, 39% are mining products, and 39% are manufacturing-related commodities. Most of these commodities are moved by trucks and other vehicles. With national freight activity expected to increase more than fivefold by 2050, India's freight transport ecosystem will support the country's ambitious goals. International competitiveness, employment growth, urban and rural livelihoods, and clean air and environment are only a few examples.
Recent Development:
In July, A.P. Moller-Maersk bought Pilot Freight Services (Pilot) to expand its integrated logistics service deeper into its customers' supply chains. Geodis bought Velocity Freight Transport Inc. in July 2021 to fulfill rising client demand for more transportation options and to ensure their supply chains stay nimble and effective.
In 2020, Mark-it express logistics a us based intermodal trucking and freight brokerage company, acquired the operating assets of Sava Transportation for an undisclosed amount. The acquisition will also diversify its customer base and increase its market share. Sava Transportation is U.S. based company specializing in intermodal traffic.
Key Market Players:
FedEx Freight
UPS Freight
J.B. Hunt Transport Services
DHL Freight
XPO Logistics
YRC Worldwide
Schneider National
Old Dominion Freight Line
Swift Transportation
C.H. Robinson Worldwide
Schneider National, In
Humt JB Transport Services
AA Cooper Transportation
Logistics, Inc
Segments Covered in the Report:
(Note*: We offer reports based on sub-segments as well. Kindly, let us know if you are interested)
By Truck Type
Flatbed Trucks
Dry Van Trucks
Refrigerated Trucks
Tanker Trucks
Specialized Trucks
By Service Type
Full Truckload (FTL) Transportation
Less Than Truckload Transportation
Refrigerated Transportation.
Specialized Cargo Transportation
By Technology Adoption
Telematics System
Gps Tracking
Real-Time Visibility Platforms
Electronic Logging Devices
Autonomous Trucking Technologies
By End Use
E-Commerce
Manufacturing
Construction
Food And Beverage
Healthcare And Pharmaceutical
Automotive And Energy
Hazardous Materials Transportation
Others
By Geography
North America
Europe
Asia-Pacific
Latin America
Middle East and Africa