The global automotive paints and coatings market size surpassed USD 17.41 billion in 2022 and is projected to rise USD 36.05 billion by 2032, anticipated to grow at a strong CAGR of 7.60 percent during the projection period from 2023 to 2032.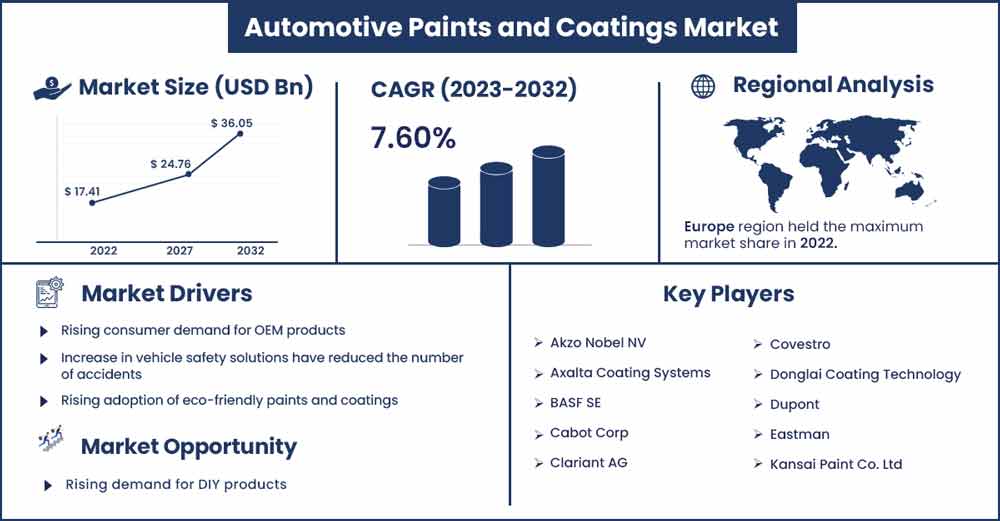 Market Overview:
The automotive paints and coatings market is referred to the segment in the automotive industry that offers precise solutions with the development and distribution of several painting and coating solutions for the industry to repair external damage of the car or any vehicle. Painting a car includes specific procedures to ensure the application of a protective and effective coating. Body-in-white (BIW) temporarily assembles automobile parts and body panels. The drying process is then sped up by applying automotive paint in a temperature-controlled setting. Many application phases are used to preserve the integrity of the painting for a long time.
On the other hand, coatings for the automotive industry offer an additional protective layer for the vehicle, they are painted over the primer layer with the vehicle's actual color. To prevent defects on painted surfaces, this base coat's raw layer has to be protected by further layers of protection. Due to the growing usage and requirement for base coats, which extend the life of paints, market participants are creating novel base coats for car manufacturers.
Regional Snapshot:
Asia Pacific is expected to expand at a significant rate during the forecast period. China holds the largest share in the market for automotive paints and coatings. The booming automotive industry in countries such as India and China is observed to create significant opportunities for the market's expansion. As a result, global automakers like Hyundai and Fiat Chrysler have stepped up their investments in the area. Additionally, there is a more significant requirement for automotive paints due to the rising demand for and manufacturing of both passenger and commercial cars. The government's promotion of electric cars has also raised the need for paints and coatings, advancing the industry under study.
The European automotive paints and coatings market is rising dramatically, primarily due to consumers' shifting tastes towards improving vehicle aesthetics and rising auto sales. Product penetration will be aided by several advantages of paints and coatings, such as protecting automobiles from corrosion and harmful environmental elements. Additionally, the expanding industry would be helped by the increased demand for caramelization substitutes in vehicles based on visual and color schemes.
Automotive Paints and Coatings Market Report Scope:
| | |
| --- | --- |
| Report Coverage | Details |
| Market Revenue in 2023 | USD 18.65 Billion |
| Projected Forecast Revenue in 2032 | USD 36.05 Billion |
| Growth Rate from 2023 to 2032 | CAGR of 7.60% |
| Base Year | 2022 |
| Forecast Period | 2023 To 2032 |
| Regions Covered | North America, Europe, Asia-Pacific, Latin America, and Middle East & Africa |

Report Highlights:
By technology, the global automotive paints and coatings market was driven by waterborne coating. In the predicted period, demand for aqueous coatings is anticipated to rise due to the environmental advantages they provide due to their low VOC content. High transfer efficiency, optimum overspray recovery, and little paint shop waste are vital characteristics that have increased the market demand for powder coatings.
By distribution channel, the automotive paints and coatings market is led by the OEM segment. Automotive OEM coating are paints that are used to cover the surfaces of cars in order to protect them as well as to improve their visual appeal. One of the key factors expected to fuel the expansion of the market is the rising demand for passenger cars.
By texture, the metallic texture segment holds the most significant CAGR in the automotive coats and paints market. Compared to a normal finish, metallic automobile paint lasts longer. It keeps a great sheen longer than a conventional finish and is excellent at resisting bleaching or fading. Vehicles with metallic paint finishes typically sell for more money than those with conventional finishes.
By vehicle type, the passenger car segment will account for a sizeable portion of the market. Technological advances, new product improvements for various components, and the thriving OEM and aftermarket sectors are all powerful tailwinds that are assisting the automotive industry in prospering. Rapid urbanization and the growth of global automakers in new, developing nations both contribute to the sector's expansion.
By coating type, the segment for automobile clearcoats is expanding the fastest. The segment is driven mainly by the globally expanding automobile industry, shifting consumer tastes, and increased disposable income among consumers.
Market Dynamics:
Driver:
Rising consumer demand for OEM products
While focusing on the quality of the product to maintain the aesthetics of the vehicle, consumers highly prefer the use of OEM which is original equipment manufacturer's products for external and well as internal repair of the car. OEM products are prone to be more durable. Automotive OEMs are increasingly emphasizing cost-cutting measures, such as boosting production efficiency and buying items on sale. Suppliers work directly with automakers to provide unique solutions that set their cars apart. Automotive OEMs are eager to purchase coatings that require less time to cure, which reduces downtime. Thus, as the original manufacturers focus on the development of automotive paints and coating products while considering consumer requirements, the market is expected to grow.
Restraint:
High cost of ceramic coatings
The cost related to the development of ceramic coatings is considered one of the most major hindering factors for the growth of the market. The development of ceramic coating requires a significant amount of investment. Moreover, the required raw material and expertise for the application of ceramic coatings also adds up to the cost of the products. The cost factor limits consumers from trying the product while acting as a major restraint for the market.
Opportunity:
Rising demand for DIY products
The global paint and coatings industry is witnessing a significant demand for DIY products. Do-it-yourself or DIY products offer an opportunity for car owners to express their own vision for their car's appearance. The artistic opportunity offered by DIY coatings or paint associate products for the car owner creates an enormous demand for such products. Moreover, DIY products can be easily carried off and easy yet safe to apply. Considering the rising demand for DIY products along with the increasing emphasis on the development of such products will open a set of significant opportunities for the market to grow.
Challenge:
Defects
Defects and issues may arise during or shortly after the application of automobile coatings, particularly due to many external factors such as fluctuating weather conditions. These flaws detract from aesthetics and may reduce the coating's capacity to provide protection. They are even complicated to be sanded and fixed when they happen, which might result in further flaws. Preventing errors before they happen is the best method to correct them. Controlling surface tension and rheology and improving cleanliness in paint factories and car manufacturing can avoid or decrease many. It involves expertise and access to specialized tools to pinpoint problems and their causes. Thus, the potential risk of defects with the automotive coating is observed to pose a challenge for the market.
Recent Developments:
In May 2023, PPG said it would offer paint and clear film solutions to automotive and industrial clients via a newly formed partnership established with Entrotech, Inc., PPG Advanced Surface Technologies, a supplier of technology-driven film solutions. PPG still owns the bulk of the joint venture. Financial and ownership details were kept under wraps.
In May 2023, High-performance thermoplastic polyurethanes (TPUs), used in paint protection films (PPFs), are now being produced on a new line by the German materials firm Covestro. The new building is in the business's current location in Changhua, Taiwan. The company also debuted its latest Desmopan UP TPU range during the new line's opening. The series protects vehicle surface coatings from abrasive environmental conditions while delivering durability, flexibility, and attractiveness.
In March 2023, A new digital platform for paint formulation was introduced by Dow, and it is currently accessible across the Asia Pacific. Data-driven capabilities offered by DOW Paint Vision are intended to streamline the formulation procedure and speed up innovation in the coatings and paint market. The formulation process is facilitated by Dow Paint Vision, which combines cutting-edge technology to generate innovative solutions quickly and easily. The platform combines years of R&D experience, hundreds of data points gathered from Dow laboratories, and the most recent developments in environmental sustainability and end-user requirements.
Major Key Players:
Akzo Nobel NV
Axalta Coating Systems
BASF SE
Cabot Corp
Clariant AG
Covestro
Donglai Coating Technology
Dupont
Eastman
Kansai Paint Co. Ltd
KCC Corporation
Nippon Paint Holdings Co. Ltd
PPG Industries, Inc.
The Valspar Corporation.
Wanda refinish
Market Segmentation:
By Vehicle Type
Passenger Cars
Heavy Commercial Vehicles
Light Commercial Vehicles
By Coating Type
Basecoat
Primer
Electrocoat
Clearcoat
By Technology Type
Solvent borne
Waterborne
UV Curved
Powder
By Texture
By Distribution Channel
By Raw Material
Epoxy
Acrylic
Polyurethane
Other Resins
Buy this Research Report@ https://www.precedenceresearch.com/checkout/1023
You can place an order or ask any questions, please feel free to contact at sales@precedenceresearch.com | +1 9197 992 333