The global cell counting market size surpassed USD 8.68 billion in 2022 and is projected to rise to USD 19.63 billion by 2032, anticipated to grow at a CAGR of 8.5 percent during the projection period from 2023 to 2032.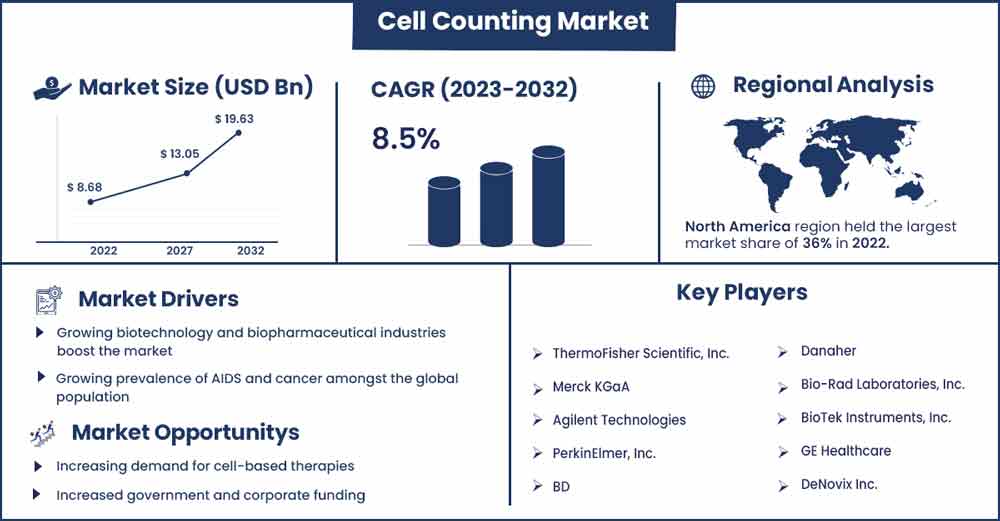 The government's initiatives to promote research into cell treatments are promoting the expansion of the cell counting sector. Nevertheless, recent advances in funding for stem cell research have hastened the field's development even more. For instance, the Eli and Edythe Broad Center for regenerative medicine and Stem Cell Research at UCLA received funding from the California Institute for Regenerative Medicine in September 2021 totaling USD 5 million.
Market Overview:
In the life sciences, such as medical diagnosis and treatment, cell counting refers to any of a number of methods used to count or quantify cells. It is a significant subfield of cytometry with uses in both research and clinical practise. For instance, a complete blood count can assist a physician in identifying the illness's underlying cause and the best course of treatment for a patient. In order to represent cell counts in liquid media, such as blood, plasma, lymph, or laboratory rinsate, many cells per unit of volume are usually employed to signify a concentration (for example, 5,000 cells per milliliter).
The concentration can be calculated by counting the number of cells inside a predetermined, restricted volume. In medicine, the concentration of particular blood cells, such as red blood cells and white blood cells, can provide crucial information about a person's health status. Similar to this, the quantity of bacteria, viruses, and other pathogens found in blood or other bodily fluids can reveal information about how an illness is developing and how well the immune system is able to combat it. This information is used to regulate the dosage of cells given to a patient during cell therapy. To modify the quantity of reagents and chemicals used in many molecular biology studies, the cell concentration must be known. Cell counts are required for studies that gauge the pace of microbial development.
The number of cells per unit volume is how cell counts are expressed in liquid medium. Spectrophotometers, flow cytometers, haematological analyzers, and cell counters are a few examples of products that perform cell counting. Cell counting is used in a variety of settings, including research institutes, hospitals, diagnostic labs, pharmaceutical corporations, and biotechnology firms, among others.
Cell counting technologies are being increasingly adopted by a number of scientific disciplines, including neurology, cancer biology, and immunology, all of which offer promising futures for industry expansion. Blood cell counting is crucial for the assessment of many diseases, and as its use is anticipated to increase over the course of the forecast period, the market is anticipated to develop exponentially as well.
Regional Insights:
The largest growth rate is anticipated for North America during the forecast period. The market is expanding in North America due to the growing focus on biomedical, stem cell, and cancer research, as well as the developed healthcare industry, rising rates of chronic diseases like AIDS and cancer, and government-sponsored R&D projects.
The region's expansion is also credited with the broad availability of important rivals and the market's early adoption of cell counting technologies. Factors predicting market growth include the availability of experienced staff, less specific drug advancement standards, inexpensive expansion expenses, and a large genome pool.
Cell Counting Market Report Scope:
| | |
| --- | --- |
| Report Coverage | Details |
| Market Revenue in 2023 | USD 9.42 Billion |
| Projected Forecast Revenue by 2032 | USD 19.63 Billion |
| Growth Rate from 2023 to 2032 | CAGR of 8.5% |
| Largest Market | North America |
| Base Year | 2022 |
| Forecast Period | 2023 to 2032 |
| Regions Covered | North America, Europe, Asia-Pacific, Latin America, and Middle East & Africa |

Report Highlights:
Based on Product, consumables and accessories had a revenue share of over XX% based on product in 2021. Some of the consumables and accessories used with these equipment include reagents, microplates, magnetic beads, and chamber slides. Their extensive use has an impact on the growth of consumables and accessories. The launch of novel products also encourages market growth.
Based on the Application, complete blood count expenses in 2021 accounted for over XX%. The complete blood count is one of the most prominent tests used to assess a person's general health. Many blood components, including RBC, WBC, haemoglobin, hematocrit, and platelets are measured by the test. Although complete blood counts are routinely used to track these conditions, the sector is likely to grow as blood disorders including leukaemia and anaemia become more common.
Based on End-Use Insights, research and academic institutions had the biggest income share in 2021. The majority of the share is attributable to the widespread use of cytometers in studies on cell biology. Cytometers are helpful tools for researchers studying the evolution of bacteria, viruses, and other diseases by evaluating factors such physical traits, type, and lineage. The segment's growth is aided by strategic measures taken by major industry participants.
Market Dynamics:
Driver:
Growing biotechnology and biopharmaceutical industries boost the market
The number of biotechnology and biopharmaceutical industries has grown internationally. Several pharmaceutical companies have made significant financial investments in cellular fermentation for the production of medications during both the R&D and production phases, including Pfizer, Novartis, Eli Lilly, and others. In batch manufacturing, downstream processing, and other stages of these processes, cell counting is an essential step. The need for cell counting is growing among all end users concurrently as a result of a number of R&D-level projects.
The availability of automated instruments and high-throughput flow cytometry, as well as the creation of better solutions, have further boosted the market's products' dependability and sped up adoption. Since blood cell counting has been recognized as crucial for diagnosing a variety of ailments, the market is likewise expected to grow rapidly over the next years. Consequently, it is anticipated that throughout the course of the projection period, the growth of the biotechnology and biopharmaceutical sectors as well as advancements in the available tools will drive market growth.
Restraint:
Complexity
Cell counting instruments can be complex to operate, requiring specialized training and expertise. The complexity of these instruments can make it challenging for laboratories with limited resources to adopt new technologies or keep up with the latest advancements. In some cases, this complexity can also lead to errors or inaccurate results if the operator is not properly trained or experienced. Furthermore, different types of cell counting instruments can have different protocols and procedures, which can further increase the complexity and the amount of training required. As a result, smaller labs may have difficulty accessing the necessary expertise to operate these instruments effectively, which can be a significant restraint on their ability to conduct accurate and reproducible cell counts.
Opportunity:
Increasing demand for cell-based therapies
The increasing demand for cell-based therapies is one of the biggest opportunities in the cell counting market. Cell-based therapies are a promising area of medicine that involves using living cells to treat a wide range of diseases, including cancer, autoimmune disorders, and degenerative diseases. These therapies offer several advantages over traditional drug-based therapies, including the ability to target specific cells or tissues, reduce side effects, and potentially cure the disease. As the demand for cell-based therapies continues to grow, the need for accurate and reliable cell counting technologies is also increasing. Cell counting is a critical step in the development and manufacturing of cell-based therapies, as it allows researchers to determine the number and viability of cells in a sample. This information is essential for ensuring the safety and efficacy of cell-based therapies, as well as for optimizing the manufacturing process.
There are several types of cell counting technologies available including manual counting methods, automated counting systems, and flow cytometry. Manual counting methods, such as hemocytometers and counting chambers, are simple and inexpensive, but they can be time-consuming and prone to human error. Automated counting systems, on the other hand, offer several advantages over manual methods, including increased accuracy, faster results, and the ability to handle large sample sizes. These systems use image analysis algorithms to count cells and can be integrated with other laboratory equipment for a streamlined workflow.
Overall, the increasing demand for cell-based therapies presents a significant opportunity for companies involved in the development and manufacturing of cell counting products. As the field of cell therapy continues to advance, the need for accurate and reliable cell counting technologies will only continue to grow, driving the growth of the cell counting market.
Challenge:
Lack of standardization
Lack of standardization is a major challenge in the cell counting market. There are various methods and techniques for cell counting, and the lack of a standardized protocol can lead to inconsistencies and variations in results. This can make it difficult for researchers to compare data from different studies, which can ultimately slow down the progress of scientific research.
One reason for the lack of standardization is the different types of cells and samples that researchers work with. Different cells and samples may require different counting methods, making it difficult to develop a one-size-fits-all protocol. Furthermore, the quality of samples can also vary, which can impact the accuracy and reliability of the results. Another factor contributing to the lack of standardization is the numerous instruments and technologies available for cell counting. Each instrument has its own strengths and limitations, and researchers may choose different methods depending on their specific needs and resources.
Recent Developments:
In May 2021, PerkinElmer, Inc. expanded its knowledge of cell biology by acquiring Nexcelom Bioscience. With the acquisition, PerkinElmer increases its QA/QC capabilities and has access to Nexcelom Bioscience's cell counting product range.
In 2020, GE Healthcare's Biopharma division was acquired by Danaher (US) from GE Life Sciences. Danaher's Life Science division will make this business a viable stand-alone entity.
Key Market Players:
ThermoFisher Scientific, Inc.
Merck KGaA
Agilent Technologies
PerkinElmer, Inc.
BD
Danaher
Bio-Rad Laboratories, Inc.
BioTek Instruments, Inc.
GE Healthcare
DeNovix Inc.
Market Segmentation:
By Product
Instruments

Spectrophotometers
Flow Cytometers
Hemocytometers
Automated Cell Counters
Microscopes
Others

Consumables & Accessories

Reagents
Microplates
Others
By Application
Complete Blood Count

Automated Cell Counters
Manual Cell Counters

Stem Cell Research
Cell Based Therapeutics
Bioprocessing
Toxicology
Others
By End-Use
Hospitals & Diagnostic Laboratories
Research & Academic Institutes
Pharmaceutical & Biotechnology Companies
Others
Buy this Research Report@ https://www.precedenceresearch.com/checkout/2787
You can place an order or ask any questions, please feel free to contact at sales@precedenceresearch.com | +1 9197 992 333