The global cell separation market size was exhibited at USD 9.59 billion in 2022 and is projected to attain around USD 35.07 billion by 2032, growing at a CAGR of 13.84 % during the forecast period 2023 to 2032.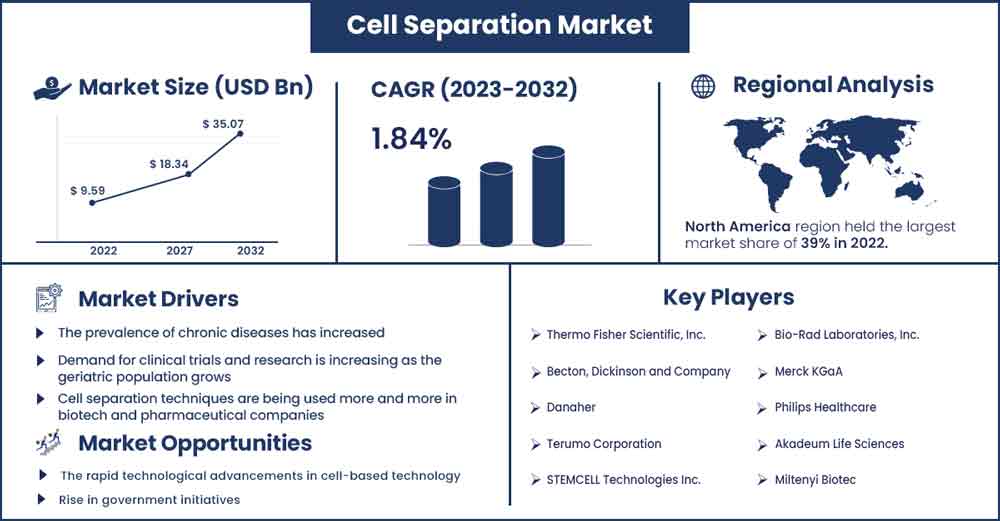 This is due to the growing usage of isolated cells in life science studies, which enables researchers to conduct molecular and epigenetic analysis. Additionally, there will be a large increase in demand for cell isolation kits and other separation tools due to the anticipated growth in biotech research and development activities.
Cell separation, also known as cell sorting or cell isolation, is the process of isolating one or more specific cell populations from the heterogeneous cell mixture. Techniques for cell separation can be used for a variety of complicated biological materials, including whole peripheral blood and leukapheresis products.
Report Highlights:
The consumables sector dominated cell separation market in 2021. This market sector held the largest market share because consumers made frequent purchases of consumables. Additionally, the market for cell separation was dominated by the human cell category, which also had the highest revenue share. Additionally, the market for cell separation was dominated by the human cell category, which also had the highest revenue share. The market for cell separation was controlled by the centrifugation category. This is because the academic institutions, businesses and research facilities that make biopharmaceuticals and biotechnology use this technology quite often. The sector with the biggest income share was research laboratories and institutions. This is due to increased R&D efforts by academic institutions to provide innovative cancer and neurological treatments.
Regional Snapshots:
The cell separation market was dominated by North America, which in 2021 had the highest revenue share (38.5%). This can be ascribed to the developed pharmaceutical and biotech sectors as well as to the U.S.'s widespread embrace of innovative technology. Additionally, there is a big market opportunity for cell separation technologies due to the extensive research that universities have been conducting in the area of cell therapies. Moreover, there is a greater need for cell separation technologies for research and clinical applications due to the growing prevalence of chronic and infectious disorders, like the COVID-19 outbreak.
The expanding pharmaceutical and biotechnology sectors in developing nations like China and India are expected to drive significant growth in the Asia Pacific cell separation market. In addition, the category is anticipated to be driven throughout the forecast period by rising healthcare costs and increased market penetration by big international companies in important Asia-Pacific nations. Additionally, ongoing stem cell and gene therapy research projects in Japan, China, and South Korea have increased the region's need for cell separation technologies.
Cell Separation Market Report Scope:
| | |
| --- | --- |
| Report Coverage | Details |
| Market Revenue in 2023 | USD 10.92 Billion |
| Projected Forecast Revenue in 2032 | USD 35.07 Billion |
| Growth Rate from 2023 to 2032 | CAGR of 13.84% |
| Largest Market | North America |
| Base Year | 2022 |
| Forecast Period | 2023 to 2032 |
| Regions Covered | North America, Europe, Asia-Pacific, Latin America, and Middle East & Africa |

Market Dynamics:
Drivers:
Market trends will be determined by the sharp increase in cancer incidence and the emergence of cell-based therapy as a promising area of research for the treatment of diseases. A variety of research institutions, like the Memorial Sloan Kettering Cancer Center, have continuously investigated different cell types for potential therapeutic uses, like the treatment of blood cancers. Together with advancements in mesenchymal stem cells and other cell-based treatments, these factors will raise demand for stem cell separation techniques in the approaching years.
Restraints:
Significant research is being done in cell biology to develop new medicines, such as gene and stem cell therapy. Research in cell biology is expensive since it needs to sustain strict standards and follow legal requirements. To get reliable results from this investigation, high-quality equipment, reagents, and other products are required. Additionally, cell-based research has a very poor success rate, and most cell treatment trials have a low success rate. Numerous institutions and small-scale biotechnology and biopharmaceutical businesses struggle to buy expensive products linked to cell separation because of tighter financial restrictions. This is particularly evident in developing nations, where lot of healthcare spending and inadequate infrastructure facilities limit the utilization of innovative technology.
Opportunities:
In developing areas like Asia Pacific and LAMEA, cell separation technology has a lot of scope to grow. This is explained by the increasing funding for cell-based research and the growing market share of companies in new industries. For instance, to bring novel treatments to market, Indian-based pharmaceutical companies smake significant R&D investments. The country's demand for goods made with cell separation technology is expected to increase in the next years because of such expenditures. Due to the expanding R&D activity in the pharmaceutical and biotechnology industries, the government is anticipated to adopt more innovative techniques and technologies to increase productivity.
Challenges:
Due to the lack of technical expertise in this field many compliance related issues will hamper the cell separation market. Market growth of cell separation technology will also be affected to a great extent as implant treatment is expensive. The cell separation market includes extensive research procedures that help to develop new therapies in the market such as gene therapies and stem cells. The quality of reagents, instruments, and various other factors need to be of good quality which assists the operator to obtain precise results. The regulatory authorities have set several rules and regulations which increases the total cost of the process. The rate of success which is achieved by the researchers is limited which proves to be a major challenge for the cell separation market. The clinical trials and research programs prove to be unaffordable for small-scale industries and institutions which hampers the growth of the market in the long run. This problem is majorly experienced by developing and underdeveloped nations whose economic status is weak.
Recent Developments:
In May 2022 - The development of a new product called human B cell isolation and an improved protocol for the current human isolation kit has been announced by Akadeum Life Sciences, Inc., a leader in technology that is buoyancy-based for clinical diagnostics, manufacturing of cell therapy, cell & molecular research for life science and human health. The innovative procedure which utilizes the cell sorting mechanism which is a microbubble-based platform from Akadeum Life Sciences, Inc. for simpler process and high performance, will be on display for demonstration.
Major Key Players:
Thermo Fisher Scientific, Inc.
Becton, Dickinson and Company
Danaher
Terumo Corporation
STEMCELL Technologies Inc.
Bio-Rad Laboratories, Inc.
Merck KGaA
Philips Healthcare
Akadeum Life Sciences
Miltenyi Biotec
10X Genomics
Carl Zeiss AG
Market Segmentation:
By Product
Consumables

Reagents, Kits, Media, and Sera
Beads
Disposables

Instruments

Centrifuges
Flow Cytometers
Filtration Systems
Magnetic-activated Cell Separator Systems
By Cell Type
By Technique
Centrifugation
Surface Marker
Filtration
By Application
Stem Cell Research
Tissue Regeneration
In Vitro Diagnostics
Biomolecule Isolation
Cancer Research
Therapeutics
By End-Use
Research Laboratories and Institutes
Hospitals and Diagnostic Laboratories
Cell Banks
Biotechnology and Biopharmaceutical Companies
Buy this Research Report@ https://www.precedenceresearch.com/checkout/2504
You can place an order or ask any questions, please feel free to contact at sales@precedenceresearch.com | +1 9197 992 333