The global cell separation market size was exhibited at USD 9.59 billion in 2022 and is projected to attain around USD 35.07 billion by 2032, growing at a CAGR of 13.84% during the forecast period 2023 to 2032.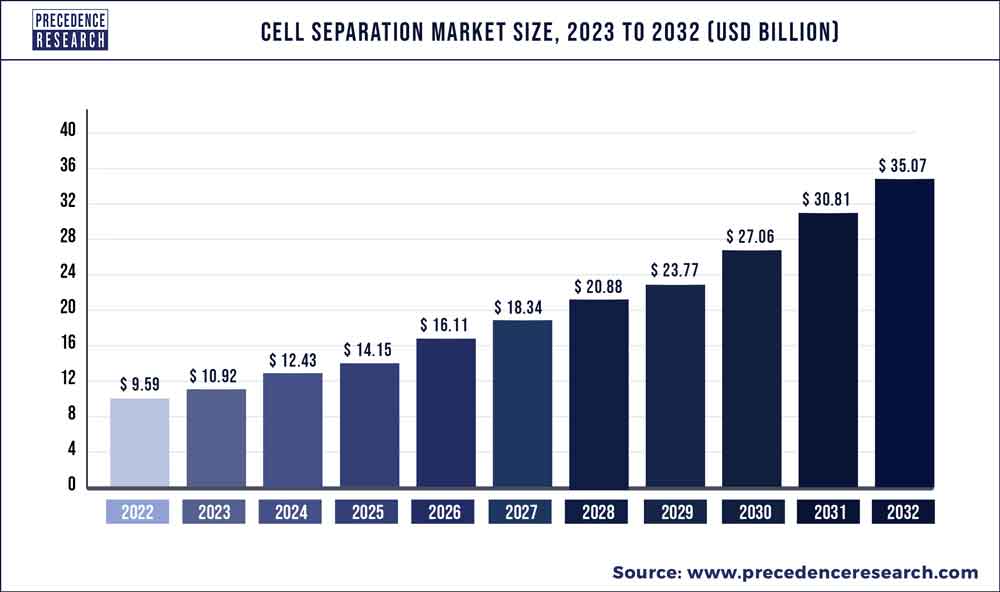 Access our Premium Real Time Data Intelligence Tool, Visit: Precedence Statistics
Cell biology is complicated since there are so many different factors that need to be considered if researchers are to come up with relevant conclusions. A typical strategy to lessen experimental complexity is to carry out studies on isolated populations of cells as opposed to heterogeneous mixtures of cells. Cell biologists can firmly ascribe observable effects and responses to a specific cell type because of this. Therefore, for any cell biologist, mastering the fundamental methods of cell isolation is a valuable ability.
Key Takeaways:
By geography, The North America region is anticipated to expand at a CAGR of 14.1% from 2023 to 2032 and captured more than 39% of revenue share in 2022.
By product, the consumables segment led the market and captured more than 63% revenue share
in 2022.
By cell type, the human cell segment had the biggest revenue share of around 45.50% in 2022.
By technique, the centrifugation segment had the biggest revenue share 43% in 2022.
By application, the biomolecule isolation segment had the greatest revenue share of around 31% in 2022.
By end-use, the research laboratories and institutes segment generated more than 45% of the revenue share in 2022.
Key Factors
An increase in the demand for biopharmaceuticals
Government support for cell-based research is rising
Research into personalized medicine is expanding
The occurrence of chronic diseases has increased
The development of regenerative medicines or tissue engineering is projected to be boosted by the rise in the occurrence of chronic diseases around the world, which is anticipated to accelerate the use of cell separation technologies by academics. The global market is anticipated to grow during the projected period due to technological developments in cell separation solutions and an increase in government initiatives to promote the cell separation process. In contrast, the global market would be constrained by a shortage of financing for the development of cell separation technologies during the forecast period.
Report Scope of the Cell Separation Market
| | |
| --- | --- |
| Report Coverage | Details |
| Market Size in 2022 | USD 9.59 Billion |
| Market Size by 2032 | USD 35.07 Billion |
| Growth Rate from 2023 to 2032 | CAGR of 13.84% |
| Base Year | 2022 |
| Forecast Period | 2023 to 2032 |
| Segments Covered | By Product, By Cell Type, By Technique, By Application and By End-Use |
| Regions Covered | North America, Europe, Asia-Pacific, Latin America, Middle East & Africa |

Key Market Drivers
The prevalence of chronic diseases has increased - Increased sedentary lifestyle, aging of the global population, and increase in cigarette smoking and alcohol drinking are all contributing factors to the growth in chronic diseases like diabetes, obesity, arthritis, heart disorders, and cancer. According to Imperial College London, seven out of ten fatalities worldwide were expected to be due to chronic illnesses in 2020, accounting for over 41 million deaths annually. Nearly 17 million of these deaths are considered premature, with the average person passing away at a younger age than anticipated.
As a result, the need for cellular therapies to treat chronic diseases is growing along with the burden of chronic diseases. This in turn is directing attention and funding into research to create efficient remedies. Therefore, the global market for cell separation technologies is being driven by an increase in cellular research activities.
Demand for clinical trials and research is increasing as the geriatric population grows - The senior population is more likely than the younger population to experience chronic illnesses like cancer and neurological disorders. Furthermore, compared to the younger population, the geriatric population is growing quickly. Alzheimer's, dementia, cancer, and immunological illnesses are predicted to become more prevalent as the population ages 65 and over increases.
This is expected to raise the need for corrective treatment for these conditions. This is probably going to increase the demand for cell separation products used in clinical trials and other types of research. These factors are anticipated to drive the market for cell separation technologies worldwide.
Cell separation techniques are being used more and more in biotech and pharmaceutical companies - There are several global biotechnology companies entering in the market, particularly in underdeveloped nations. Cell separation techniques will probably be used by pharmaceutical corporations to create new medications and contribute to innovation. Companies have purchased sizable independent units to support the burgeoning stem cell research.
As a result, the biotechnology & pharmaceutical firms' section is projected to be driven by the developments of medications and treatments, such as CAR-T through cell separation technologies. 449 public biotech companies are currently operating in the U.S., which is projected to drive the biotechnology & pharmaceutical companies market.
Key Market Challenges
Lack of technically skilled individuals - The shortage of technically competent workers and the rise in concerns about the existence of tight rules and compliances for cell separation are projected to restrain market expansion, while the high cost of cell separation technology implant treatment can pose a threat to market growth.
Key Market Opportunities
Technological advancement - In the forecast period of 2021 to 2030, it is anticipated that the cell separation technology market will experience significant growth opportunities due to the rapid technological advancements in cell-based technology, including higher purity yield, cell isolations time, rise in government initiatives to improve cell-based technology and cost-effectiveness, and the well-developed healthcare infrastructure in developing countries.
Segments Insight
Product Insights
Cell separation was led by the consumables segment in 2022 and generated around 63% revenue share. Due to frequent purchases of consumables, this market segment held the largest market share. Increased R&D spending by biotechnology and biopharmaceutical companies for the development of complex biologics, such as monoclonal antibodies and vaccines, is another factor driving the business. As a result, it is anticipated that there will still be a significant demand for consumables during the projection period.
Due to product innovations, the instruments segment is anticipated to grow at a profitable rate throughout the forecast period. Effective cell separation is made possible by technological advancements in devices for use in research, diagnostics, and therapies. The exorbitant cost of the instruments, however, is anticipated to impede market expansion.
Cell Type Insights
In 2022, the human cell category, which also had the biggest revenue share of around 45.50%, led the market for cell separation. The increasing focus on cancer and human research, as well as the multiple applications of isolated human cells in biopharmaceutical development, clinical trials, and research, are some of the primary factors resulting into the largest market share.
The attractive payment policies for personalized medicine in industrialized countries have an additional impact on the demand for human cell isolation. It is anticipated that the animal cells section would increase at a profitable rate during the forecast period. The creation of novel drugs is increasingly receiving attention from the government, the commercial sector, and healthcare organizations, which is a major driver of the segment's growth. Animal cells are used in the discovery and development of novel drugs to assess toxicity, pharmacokinetics, and effectiveness.
Technique Insights
The segment of centrifugation, which had the biggest revenue share 43% in 2022, dominated the market for cell separation. This is due to the widespread usage of this technique by academic institutions, research centers, and companies that produce biotechnology and biopharmaceuticals. Centrifugation is one of the most important steps in cell isolation. Differential centrifugation and density gradient centrifugation are frequently used in cell separation. Density gradient centrifugation employs the molecular weights of the particles to be separated, whereas differential centrifugation uses a lysate to rip open cell membranes.
In the near future, it's anticipated that surface marking and filtration segments will both experience significant growth. The expansion of this market is primarily driven by product development and rising corporate investments in manufacturing infrastructure. Innovative surface markers for filtration systems are used by manufacturers in their manufacturing and research processes to increase the quality of the final product.
Application Insights
The market for cell separation was driven by the biomolecule isolation category, which in 2022 had the greatest revenue share of 31%. The primary factor for the biggest share is the increased attention being paid to the manufacture of biopharmaceuticals, such as monoclonal antibodies, recombinant proteins, and biosimilars. Additionally, expanding government financing for the discovery of new drugs fuels market expansion.
The study period is expected to see profitable expansion in the stem cell and cancer research sectors. Growing corporate and academic investment in cell-based research is a significant factor in the segment's expansion. Due to the rising incidence of cancer worldwide, several public-private groups are making significant investments in cancer research, which is fueling the demand for creative separation solutions.
Regional Insights
North America contributes significantly to global revenue and is anticipated to expand at a CAGR of 14.1% over the projection period and generated more than 39% of revenue share in 2022. Due to its highly developed healthcare industry, significant R&D investments, rising product approval rates, and a large number of cell separation technology manufacturers in the region, North America is anticipated to hold a dominant share of the global cell separation technology market during the forecast period. For instance, Corning X-SERIES cell processing platform was introduced in July 2020 by the U.S. business Corning Incorporated.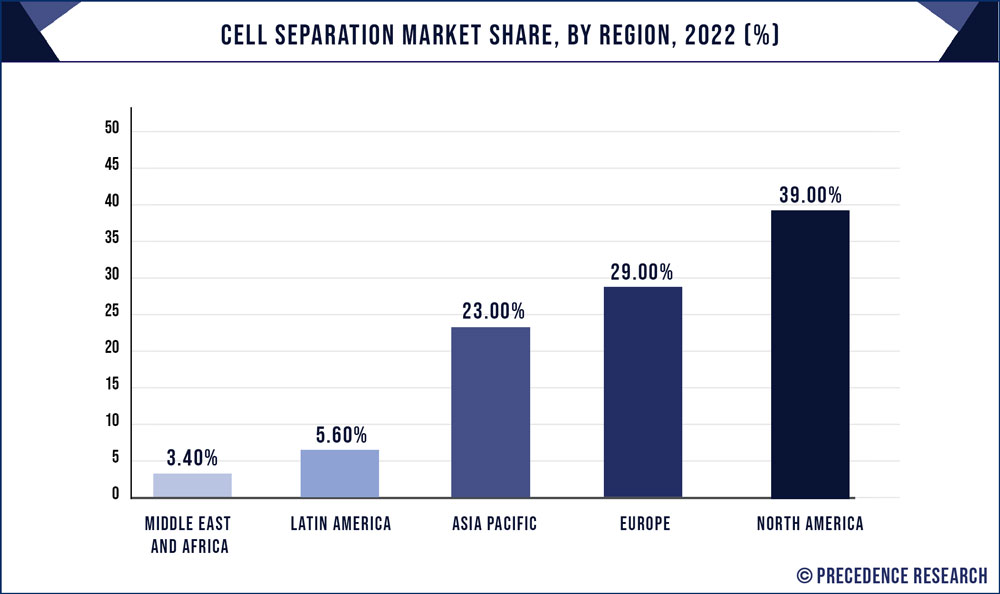 Asia-Pacific is the region with the fastest growth in the global cell separation market. Asian countries are investing in the creation of a healthcare infrastructure to support ongoing stem cell and cancer research that will result in innovative treatments for patients and medical professionals. Government programs to support the biotechnology sector are providing possibilities for rivals. New competitors get an advantage by incorporating innovative breakthrough technologies into their product lines.
Concentrating financial resources on stem cell and cancer research advancements could spur further industry expansion. The market for cell separation technology can expand because of rising healthcare knowledge regarding cell separation as well as rising per-capita healthcare spending in developing nations.
Recent Developments
In March 2022 - An infrastructure network was established at seven university hospitals in NRW to carry out innovative cell therapies against COVID-19 and prospective viral pandemics. The use of COVID-19 cell therapy is being studied at the University Hospital of Cologne. The 7.75 million euros allocated to the innovation initiatives come from the North Rhine-Westphalia Ministry for Economic Affairs, Innovation, Digitalization, and Energy.
In February 2021 - Propel Labs, established in the U.S., sold its cell-sorting assets to Thermo Fisher Scientific. According to the agreement, Propel Labs' innovative Bigfoot Spectral Cell Sorter and about 40 personnel were added to Thermo Fisher Scientific's capabilities.
In October 2021- In partnership with Honeycomb Biotechnologies, Inc., PerkinElmer, Inc. announced the commercial introduction of the HIVE scRNAseq Solution for single-cell isolation and analysis. Bigfoot Spectral Cell Sorter from Propel Labs was purchased by Thermo Fisher Scientific Inc. in February 2021 to add additional innovative sorting capabilities, improved safety features, and increased throughput.
Key Market Players
Thermo Fisher Scientific, Inc.
Becton, Dickinson and Company
Danaher
Terumo Corporation
STEMCELL Technologies Inc.
Bio-Rad Laboratories, Inc.
Merck KGaA
Philips Healthcare
Akadeum Life Sciences
Miltenyi Biotec
10X Genomics
Carl Zeiss AG
Segments Covered in the Report
(Note*: We offer reports based on sub-segments as well. Kindly, let us know if you are interested)
By Product
Consumables

Reagents, Kits, Media, and Sera
Beads
Disposables

Instruments

Centrifuges
Flow Cytometers
Filtration Systems
Magnetic-activated Cell Separator Systems
By Cell Type
By Technique
Centrifugation
Surface Marker
Filtration
By Application
Stem Cell Research
Tissue Regeneration
In Vitro Diagnostics
Biomolecule Isolation
Cancer Research
Therapeutics
By End-Use
Research Laboratories and Institutes
Hospitals and Diagnostic Laboratories
Cell Banks
Biotechnology and Biopharmaceutical Companies
By Geography
North America
Europe
Asia-Pacific
Latin America
Middle East & Africa (MEA)