The global clinical trial imaging market revenue was evaluated at USD 1.98 billion in 2022 and is expected to attain around USD 4.7 billion by 2032, growing at a CAGR of 9.02% from 2023 to 2032.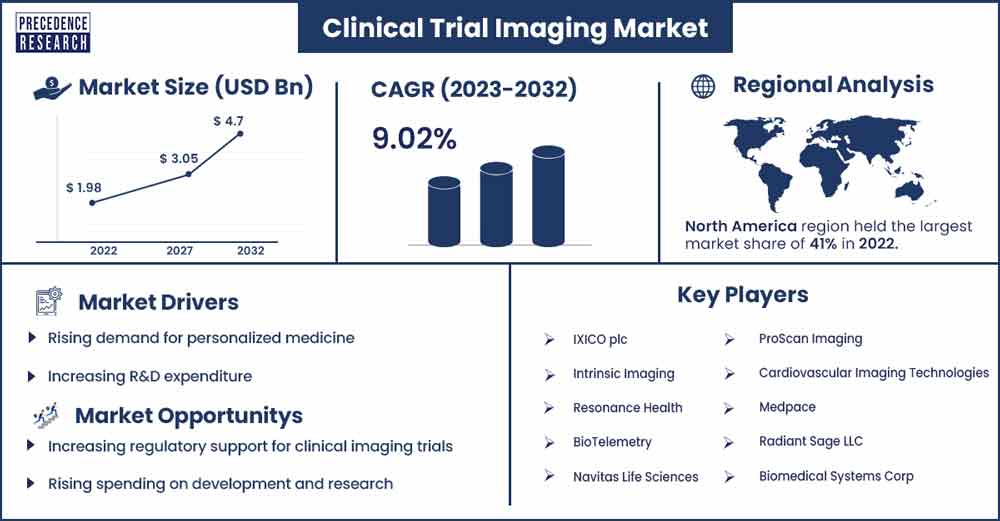 Market Overview
Medical imaging is crucial for producing more precise and effective results in clinical trials. The mechanical actions of drugs may be clarified and illustrated using various imaging technologies. Clinical analysis and medical intervention through creating image representations of the inner organs is known as clinical trial imaging. It uses multiple technologies to treat, monitor, and diagnose medical conditions by viewing the human body.
Clinical trial imaging is becoming more popular due to increased computational power and rising technology use. The Quantitative Imaging Biomarkers Alliance protocol outlines uniform imaging methods and standard operating procedures that can be used in clinical trials to produce accurate and statistical endpoints. The rising number of CROs, increasing numbers of older people with chronic illnesses, and rising R&D investments are anticipated to propel market growth. Additionally, it is expected that the emergence of the biopharmaceutical sector and small, portable devices will present opportunities for expanding requirements for clinical trial imaging throughout the proposed timeline.
Report Highlights
By Services, Services for data and project management dominated the market. Imaging-based clinical trials often combine various stakeholders' workflows and data management.
By Modality, the computed tomography segment is anticipated to expand quickly throughout the projected timeline.
By End-use, the largest share was attributed to the segment of Contract Research Organizations. The increasing price of drug development and the growing R&d activities can be held responsible for this substantial market share.
Regional Snapshot
Due to the region's robust infrastructure for research and development, well-established regulatory framework, and high healthcare spending, North America is a significant market for clinical trial imaging. In the upcoming years, the market is anticipated to expand due to rising demand for personalized medicine, an increase in the incidence of chronic diseases, and an increase in the number of clinical trials being carried out in the area.
Companies like Bioclinica, Inc., ICON plc, Radiant Sage LLC, and PAREXEL International Corporation dominate the market for clinical trial imaging in North America. These businesses provide a variety of services, such as picture collecting, processing, analysis, and management, to assist clinical trials.
Overall, the North American clinical trial imaging market is anticipated to expand over the next few years due to developments in medical imaging technology and the rising demand for an accurate and efficient way to assess novel medicines in clinical trials.
Clinical trial imaging has a sizable market in the Asia Pacific region, driven by nations like China, Japan, India, Australia, and South Korea. The rising incidence of chronic diseases such as cancer, cardiovascular disease, and neurological disorders, as well as the rising demand for novel and cutting-edge treatments, are some of the factors propelling the growth of the Asia Pacific clinical trial imaging market.
Clinical Trial Imaging Market Report Scope
| | |
| --- | --- |
| Report Coverage | Details |
| Market Revenue in 2023 | USD 2.16 Billion |
| Projected Forecast Revenue by 2032 | USD 4.7 Billion |
| Growth Rate from 2023 to 2032 | CAGR of 9.02% |
| Largest Market | North America |
| Base Year | 2022 |
| Forecast Period | 2023 to 2032 |
| Regions Covered | North America, Europe, Asia-Pacific, Latin America, and Middle East & Africa |

Market Dynamics
Driver
Rising demand for personalized medicine
In personalized medicine, treatments are tailored to individual patients based on their unique genetic, environmental, and lifestyle factors. Imaging technologies, including MRI, PET, and SPECT, can help clinicians to identify disease-specific biomarkers, monitor disease progression, and assess treatment response in real time. This allows for more accurate diagnosis and treatment of diseases, leading to better patient outcomes.
Clinical trials are an essential component of personalized medicine research, as they allow for the testing and validating of new treatments and technologies. Imaging plays a critical role in clinical trials by providing objective and quantitative data on disease progression and treatment response. This allows researchers to measure the effectiveness of new treatments and technologies, which is essential for gaining regulatory approval and commercialization.
Hence, the increasing demand for personalized medicine drives the clinical trial imaging market by increasing the need for imaging technologies in clinical trials. As personalized medicine continues to gain popularity, the demand for imaging services in clinical trials is expected to grow, which will drive the growth of the clinical trial imaging market.
Restraint
Complicated maintenance of tools
Clinical imaging tools and related applications are highly sophisticated. Regular cleaning, calibration, and repairs are necessary to ensure imaging tools function properly and produce accurate results. If maintenance is not performed correctly or on time, it can result in equipment downtime, reduced productivity, and potential patient safety risks. Maintenance of imaging equipment can be costly and time-consuming.
The expensive and time-consuming maintenance activities can limit the ability of healthcare facilities to provide imaging services to patients, which can ultimately limit the demand for clinical imaging equipment by acting as a major restraint for the market's growth.
Opportunity
Increasing regulatory support for clinical imaging trials
The rising regulatory support for clinical imaging trials across the globe is considered to open a plethora of opportunities for the market's growth during the projected period. Regulatory agencies provide guidance and standards for the use of imaging technologies in clinical trials, which helps to standardize the use of these technologies across different trials and ensure that the data generated is reliable and consistent.
As regulatory agencies provide support and guidance for the benefit of imaging technologies in clinical trials, it encourages innovation in this field. This can lead to the development of new imaging technologies and new applications for existing technologies, which can, in turn, create new opportunities for growth and investment in the clinical trial imaging market.
Challenge
Shortage or lack of expertise/skilled personnel
A shortage and lack of expertise and skilled personnel act as a significant challenge to the market's growth. Many clinical trial investigators may lack familiarity with imaging technologies, particularly newer technologies such as PET or MRI. This can make it challenging to incorporate imaging technologies into clinical trials or to interpret the data generated by these technologies.
In addition, sophisticated and complicated tools require skilled personnel to handle them. There is often limited availability of experts in imaging technology and clinical trial design, particularly in resource-limited settings. This can limit the adoption of imaging technologies in clinical trials in these settings.
Recent Development
In December 2022, a company dedicated to the development of imaging products, ImaginAb, announced the launch of clinical trial services for renal cancer and malignant melanoma in East Yorkshire; the company aims to create a significant achievement in the healthcare sector with this launch.
In July 2022, the leading data management platform for biomedical research, Flywheel, announced the launch of a new product range for clinical trial data management in order to analyze the data on an enterprise scale.
Key Market Players
IXICO plc
Intrinsic Imaging
Resonance Health
BioTelemetry
Navitas Life Sciences
ProScan Imaging
Cardiovascular Imaging Technologies
Medpace
Radiant Sage LLC
Biomedical Systems Corp
Market Segmentation
By Service
Clinical Trial Design and Consultation Services
Reading and Analytical Services

Computed Tomography (CT) ScanMRI (Magnetic Resonance Imaging)
Ultrasound
Optical Coherence Tomography (OCT)
X-Ray
Others

Project and Data Management
System and Technology Support Services
By Modality
Computed Tomography
Ultrasound
Magnetic Resonance Imaging
Positron Emission Tomography
Echocardiography
X-Ray
Other Modalities
By End-Use
Pharmaceutical Companies
Medical Device Manufacturers
Academic and Government Research Institutes
Biotechnology Companies
Contract Research Organizations
Other End-Users
Buy this Research Report@ https://www.precedenceresearch.com/checkout/2861
You can place an order or ask any questions, please feel free to contact at sales@precedenceresearch.com | +1 9197 992 333