The global hepatitis D market is anticipated to grow at a compound annual growth rate (CAGR) of 3.12 percent during the projection period from 2023 to 2032.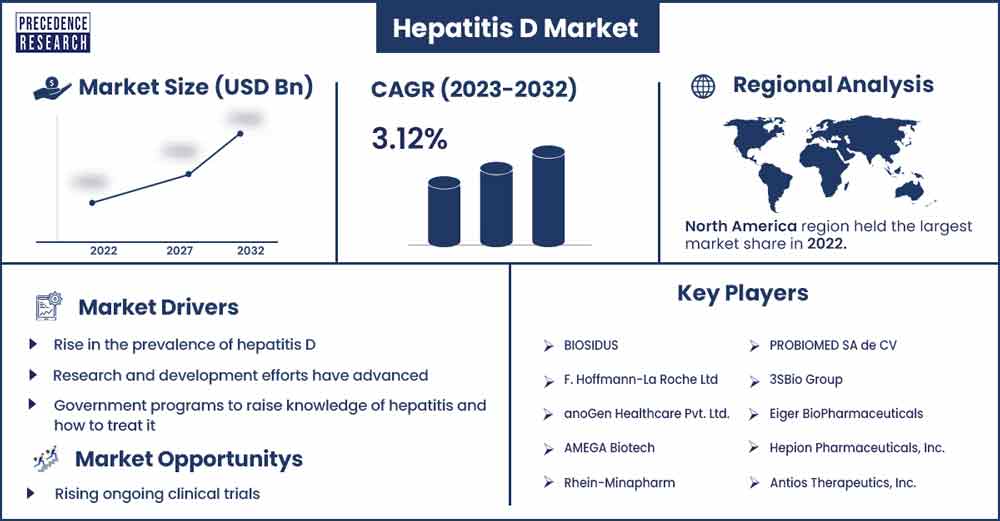 Hepatitis is a viral illness that causes liver inflammation. Hepatitis is brought on by a number of viruses, including virus A, viral B, virus C, virus D, virus E, and virus G. The inflammation brought on by the virus in the liver's tissues can lead to cancer and liver cirrhosis. The infection impairs the operation of the liver and harms other bodily systems. Hepatitis can be either acute or persistent. The most deadly and challenging to treat are Hepatitis D and C. Incidences of hepatitis infection are increasing as a result of rising alcohol and drug use as well as big populations residing in unhygienic environments.
Report Highlights
Hepatitis D is further divided into chronic and acute forms based on its variety. The group of chronic hepatitis had the highest percentage in 2022. Along with expanded research and development efforts and clinical trials for hepatitis drugs, new hepatitis medications are also being created for the treatment of various hepatitis types. Additionally, on the basis of diagnosis the market is categorized into blood tests, elastography, liver biopsy, serologic testing and others. In order to identify hepatitis D, doctors primarily use blood tests. Hospital and retail pharmacies had the highest revenue share by end-use.
Hepatitis D Market Report Scope
| | |
| --- | --- |
| Report Coverage | Details |
| Growth Rate from 2023 to 2032 | CAGR of 3.12% |
| Largest Market | North America |
| Base Year | 2022 |
| Forecast Period | 2023 to 2032 |
| Regions Covered | North America, Europe, Asia-Pacific, Latin America, and Middle East & Africa |

Regional Snapshots
Hepatitis D is the most common infection. For instance, the hepatitis D virus (HDV) affects nearly 5% of people worldwide who have a chronic hepatitis B virus infection, according to data released by the WHO in 2022. (HBV). Furthermore, North America leading the market, followed by Europe and Asia-Pacific. In 2022, the North American market brought in the most money, largely as a result of the region's high awareness of cutting-edge treatments and the U.S.'s robust desire for the goods.
The availability of a highly developed healthcare infrastructure, reimbursement, and access to the most cutting-edge medications are some of the important factors affecting the high share. The Asia Pacific market is anticipated to expand at the fastest rate during the projected timeframe. The high illness burden, growing access to medications, advancements in healthcare and sanitation, and increased awareness of hepatitis vaccination are all expected to positively reinforce the region's development prospects.
Market Dynamics
Drivers
The main factors propelling the growth of the hepatitis therapeutics market are the rise in hepatitis D prevalence, increased R&D efforts, clinical trials of hepatitis drugs, an increase in the number of product launches and item endorsements, and the development of new hepatitis drugs for the treatment of various hepatitis types. The market for hepatitis delta virus (HDV) infections will grow as a result of rising healthcare costs, rising government funding, and rising government and private organization initiatives to raise awareness of the disease. In addition to this, other factors including alcohol abuse and increasing incidence of intravenous drug abuse will drive the market growth.
Restraints
Due to expensive drug prices, which may serve as a restraint on this market, only those with high income levels have access to treatments for this disease. The arrival of generic forms of HDV medications has altered market dynamics globally. Over the next few years, it is anticipated that the usage rates of its medications will increase significantly as more people can afford the generic forms.
Opportunities
Emerging markets and substantial R&D spending are expected to present key opportunities for the market's expansion. Furthermore, rising ongoing clinical trials is offering opportunities for market growth. Pegylated interferon is the only medication for hepatitis D that is currently authorized. In addition, seven medications are currently undergoing clinical studies to determine how well they work to treat the hepatitis D virus. (HDV). Therefore, an increase in clinical trials will also present market possibilities.
Challenges
Hepatitis D is the most common serious liver infection in the world and a threat to public health on a worldwide scale. Furthermore, it is the primary cause of liver cancer, the second-leading cause of cancer-related deaths globally.
Key Market Players
BIOSIDUS
F. Hoffmann-La Roche Ltd
anoGen Healthcare Pvt. Ltd.
AMEGA Biotech
Rhein-Minapharm
PROBIOMED SA de CV
3SBio Group
Eiger BioPharmaceuticals
Hepion Pharmaceuticals, Inc.
Antios Therapeutics, Inc.
PharmaEssentia Corporation
Replicor, Janssen Pharmaceuticals, Inc.
Apotex Corp.
Mylan N.V
Aurobindo Pharma Limited
Gilead Sciences, Inc.
GlaxoSmithKline
Zydus Pharmaceuticals
Market Segmentation:
By Type
By Diagnosis
Blood Tests
Elastography
Liver Biopsy
Serologic Testing
Others
By Distribution Channel
Hospital & Retail Pharmacies
Online Pharmacies
Buy this Research Report@ https://www.precedenceresearch.com/checkout/2816
You can place an order or ask any questions, please feel free to contact at sales@precedenceresearch.com | +1 9197 992 333