The global laser processing market size surpassed USD 20.64 billion in 2022 and is projected to rise to USD 44.09 billion by 2032, anticipated to grow at a CAGR of 7.89 percent during the projection period from 2023 to 2032.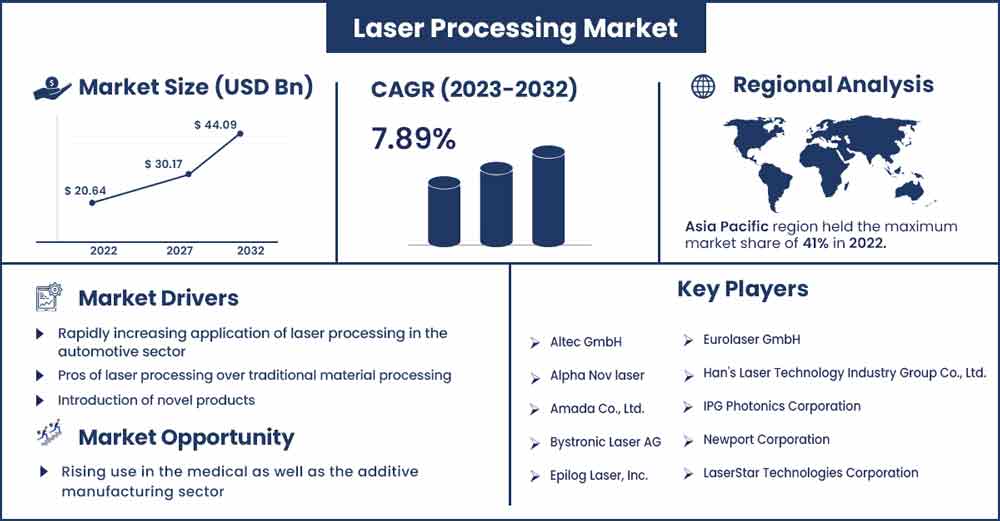 The growing preference in the end-user industries for laser-based material processing over traditional methods, rising adoption of high-quality and legitimate end-products, increasing demand for microelectronics or device miniaturization, and surging technological developments in the medical sector are propelling the laser processing industry expansion. The laser processing market is expanding due to the increased use of solid & gas in drilling, cutting, engraving, and marking applications, as well as increased demand for lasers from various industry verticals.
Market Dynamics
Drivers
Introduction of novel products
In April 2020, the German manufacturing business Trumpf introduced TruLaser Tube 3000 fiber, a flexible fiber laser metal tube cutting machine. These fibers are ideal for companies initiating their ventures into the technological world and those wanting to expand their production capacities. It is cost-effective along with low to medium workloads. This machine can process unique L- and U-shaped profiles and other geometric shapes along with round tubes. This machine is used in agricultural machinery, fitness equipment, and mechanical and apparatus engineering. The introduction of such innovative products, coupled with the growth of these end-use industries, is expected to augment the development of the laser processing market over the next few years.
Restraint
Metal tube laser processing difficulties
When the molten slag is cut, it adheres to the inner wall of the tube (especially in square tubes with small tube diameters), and the workpiece absorbs the large percentage of the heat produced by the cutting. When the cutting intensity is too high, the tube overheats, resulting in corner overturning, which reduces the quality of the incision and may even prevent it from being cut. There are several quality issues with laser tube cutting, including over-burning of the cutting point, over-burning of the corners, an inclination of cutting surfaces, deflection of circular patterns when cutting round parts, inability to close, and others. This affects the quality of the product and hence acts as a significant drawback in laser processing, hindering market expansion.
Laser Processing Market Report Scope:
| | |
| --- | --- |
| Report Coverage | Details |
| Market Revenue in 2023 | USD 22.27 Billion |
| Projected Forecast Revenue in 2032 | USD 44.09 Billion |
| Growth Rate from 2023 to 2032 | CAGR of 7.89% |
| Largest Market | Asia Pacific |
| Base Year | 2022 |
| Forecast Period | 2023 to 2032 |
| Regions Covered | North America, Europe, Asia-Pacific, Latin America, and Middle East & Africa |

Segments Insight:
Product Insights:
Copper, nitrogen, carbon dioxide, carbon monoxide, argon-ion, and helium-neon lasers are all in the gas laser segment. Helium-neon lasers are anticipated to gain popularity over the forecast period due to their dependability and high range of applications.
Fiber lasers are gaining popularity among manufacturers due to their high productivity and ROI, particularly in fine and micro-material processing applications. The growing demand for the miniaturization of integrated circuits and wafers and the increasing demand for mobile and smart electronic devices are expected to drive market growth in material processing applications. They are used in marking applications because they provide precise marking and can be applied to various material surfaces and end-user industries. Fiber laser marking is difficult to forge, non-contracting and includes band protection. These factors will have a positive impact on market growth.
Process Insights:
This includes hybrid processes, laser beam welding, micro-drilling, surface modifications, cutting and machining, and direct manufacturing.
On the other hand, laser marking & engraving is becoming increasingly popular in the industrial sector. One of the most important markets is identification security, where laser engraving is ideal for credit cards, ID cards, sensitive documents, and other items requiring increased security. Woodworking, metalworking, digital and retail signage, model-making, apparel shops, fabric shops, gadgets, and sports equipment are all new applications for laser engraving. For instance, a 330 CO2 Laser Marking Machine is applied to engrave alphanumeric codes such as part numbers, part labels, and batch numbers, as well as branding on metal parts.
Application Insights:
The increased use of lasers in the industrial sector for a wide range of material processing applications such as cutting, welding, drilling, and engraving is anticipated to propel the machine tools application segment.
The packaging segment is anticipated to grow over the forecast period. Laser packaging has several advantages, which include protecting the product from extreme environmental conditions and other natural hazards that could damage electronics. It is required for products with disrupted functionality that results in catastrophic outcomes and are susceptible to harsh environmental conditions. As a result, laser packaging is used widely to protect sensitive electronic components.
Regional Insights:
Asia Pacific will lead the market with a revenue share in 2032. China is expected to become a significant consumer of industrial lasers, materials processing, and micro-processing systems. Government regulations requiring permanent and clear markings on consumer goods are expected to increase the adoption of laser processing technology.
North America was the fastest-growing segment in 2022. Manufacturers in the US and local governments are increasingly focused on improving workforce technical skills to ensure that automation and robotics technologies are integrated. As workforce skills improve, more automotive firms are expected to invest in robotics laser processing machines to enhance productivity and efficiency. Industrial production and capacity utilization in the US reached top levels before the Great Recession of 2007-09. This increase in manufacturing output in the US followed a surge in demand for products such as appliances, furniture, and building materials that started during the COVID-19 pandemic when people stayed at home, and worldwide supply chains struggled. After adjusting for inflation, consumption of durable goods in May 2022 was 19% higher than pre-pandemic levels.
Major Key Players:
Altec GmbH
Alpha Nov laser
Amada Co., Ltd.
Bystronic Laser AG
Epilog Laser, Inc.
Eurolaser GmbH
Han's Laser Technology Industry Group Co., Ltd.
IPG Photonics Corporation
Newport Corporation (MKS Instruments, Inc.)
LaserStar Technologies Corporation
Coherent Inc.
IPG Photonics Corporation
Newport Corporation
Trumpf GmbH + Co. KG
Universal Laser Systems, Inc.
Xenetech Global Inc.
Segments Covered in the Report
By Product
By Process
Material Processing
Marking & Engraving
Micro-processing
By Application
Automotive
Aerospace
Machine Tools
Electronics and Microelectronics
Medical
Packaging
Buy this Research Report@ https://www.precedenceresearch.com/checkout/2555
You can place an order or ask any questions, please feel free to contact at sales@precedenceresearch.com | +1 9197 992 333