The global polyamide market size surpassed USD 38.8 billion in 2022 and is projected to rise to USD 64.7 billion by 2030, anticipated to grow at a strong CAGR of 6.6 percent during the projection period from 2022 to 2030.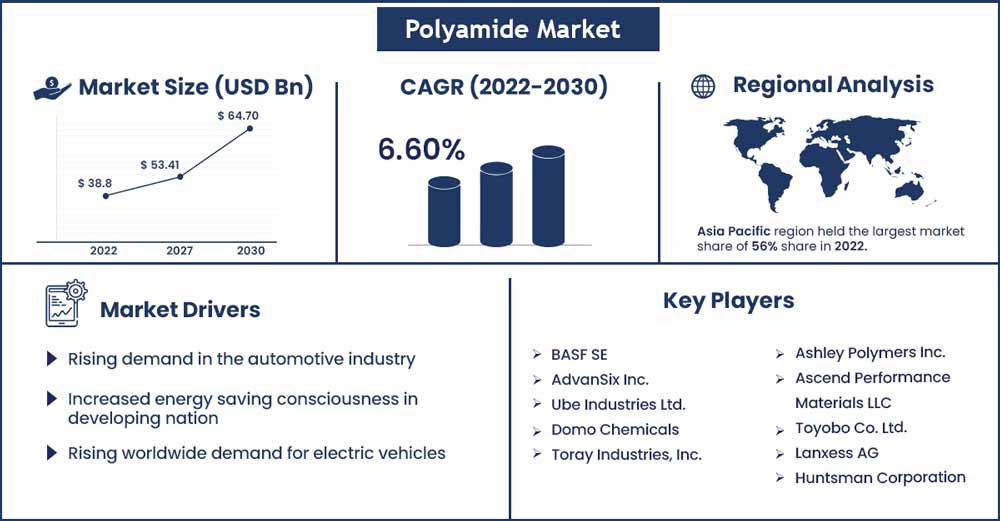 Polyamide 6 is the quasi polyamide naturally found in wool and silk. Nylon-6 is another name for it. Polyamide 6 may be produced artificially by polymerizing caprolactam. It is highly valued in a variety of sectors due to its remarkable mechanical features including as hardness, endurance, and flexibility. Furthermore, qualities like the capacity to withstand amounts of pressure, heat, and numerous toxins make it a highly prized material. Polyamide-6's physicochemical qualities make it suitable for a wide range of applications. Polyamide 6 is used in a variety of industries, including electronics and electric, automobile, textile, wiring, plastic products, packing, and films and coating, among others.
The industry has seen significant expansion in recent years, which is projected to continue indefinitely. High-performing polyamides are widely used in a variety of end-use industry sectors, including medical, shipping, electrical engineering, manufacturing, and others, due to its properties such as enhanced temperature stability, good dielectric resilience, minimal shrinkage, remarkable formability, and enhanced chemical stability. Polyamide is well-known for its resistance to water.
Many manufacturers incorporate waterproof polyamide fabrics into a variety of products. It is extensively used in the creation of sports and outdoor apparel due to its waterproof properties. Market growth for athletic wear, cordage, textiles components, narrow fabric materials, satchels, bathing suits, and trekking gear is expected to drive the polyamides market during the forecast period.
Report Highlights:
North America is expected to increase at a strong rate between 2022 and 2030. The market is expected to expand because to growing demands for polyamide in automotive and electrical applications. The worldwide polyamide market is relatively concentrated. Tier 1 players include Kemira Oyj, SNF Floegler, and BASF S.E. They are expected to account for further than 85% of the worldwide market dominance in 2020.
Polyamide Market Report Scope:
| | |
| --- | --- |
| Report Coverage | Details |
| Market Revenue in 2023 | USD 41.36 Billion |
| Projected Forecast Revenue in 2030 | USD 64.7 Billion |
| Growth Rate from 2022 to 2030 | CAGR of 6.6% |
| Largest Market | Asia Pacific |
| Base Year | 2022 |
| Forecast Period | 2022 To 2030 |
| Regions Covered | North America, Europe, Asia-Pacific, Latin America, and Middle East & Africa |

Regional Snapshots:
Asia Pacific dominated the Polyamide market, accounting for 57 percent of total revenue in 2022. In terms of both volume and revenue in 2020, Asia Pacific, lead by China. Raw resources are readily available in Asia Pacific, and labor prices are inexpensive. Governments are offering tax breaks, subsidies, and raising the FDI limit in order to entice large global firms to expand their operations in the area and strengthen the manufacturing sector.
Asia Pacific is the region's leading manufacturer of consumer products, packaging materials, and autos, paving the way for the polyamide industry. However, the reduction in consumer expenditure on discretionary goods and the halt in industrial productivity caused by the COVID-19 pandemic hampered polyamide demand in 2020. Furthermore, the region's resumption of industrial operations is expected to boost polyamide demand in the future years.
Germany is Europe's manufacturing powerhouse and the region's leading vehicle producer. The automotive sector's need for polyamide is predicted to be driven by qualities such as high mechanical capabilities, wear resistance, lightweight, and others. According to the International Organization of Motor Vehicle Manufacturers (IOCA), the country manufactured more than 3.7 million automobiles in 2022 Over the projected period, these factors are likely to contribute to the growth of the polyamide market.
Furthermore, the region's continuing transformation to a sustainable energy system is boosting demand for green buildings in Germany. This is expected to increase demand for bio-based polyamide in the nation. Furthermore, the rising demand for polyamide in Germany is expected to be influenced by rising demand from electrical & electronics, textile, consumer goods & appliances, and carpet.
Market Dynamics:
Drivers:
During the forecast timeframe, the industry for molding polyamide 6 is likely to be driven by strong growth for polyamide 6 in vehicle industries. Advanced materials including such polymeric materials, magnesium (Mg) alloys, aluminum (Al) metals, and related other elements can substitute cast iron and conventional steel elements, contributing to the reduction of the vehicle's body weight and chassis by up to 50% and thereby lowering fuel consumption. For example, elevated engines built of lighter materials, such as injection molding polyamide 6, are predicted to save more than 5 billion gallons of gasoline yearly in one-quarter of the United States by 2030.
As a result, rising demand for polyamide 6 in the automotive industry is likely to propel the moulding polyamide 6 markets. It also improves security and minimises noise production. PA 6, 6 have found its way into vehicle cooling applications, allowing the unification of multiple parts that were formerly constructed of aluminium and plastics. PA 6, 6 is also utilised in the bezels of headlamps.
Ethoxylates are in high demand as intermediates in the production of detergent, paint, and cosmetics. Because of their great aqueous solubility and minimal water toxicity, ethoxylates are predominantly employed in industrial applications. That's one of the major factors driving the ethoxylate market's expansion.
Restraints:
Polyamides have a wide range of uses in a variety of sectors. However, that has several drawbacks that may have an impact on the industry. The water absorbency results in inferior mechanical characteristics. Because it is utilized in the production of vehicles, this feature has the potential to impair manufacturing quality. Polyamides are not chemically resistant.
As a result, it is easily impacted by the strong bases and acid. Polyamides' significant shrinkage properties might have an impact on the casting process. The substantial number of drawbacks have resulted in a complicated manufacturing process that has not only increased manufacturing costs but has also been time-demanding. To mitigate the effects of these qualities, specialized apparatus is necessary. Little antistatic properties and low dimensional stability result in advanced manufacturing methods, which can have an impact on market revenue growth.
Opportunities:
The growing need for lightweight cars drives the polyamide market forward. Increased passenger vehicle sales, particularly in developing countries, are expected to drive demand for polyamides in automotive applications. This high-temperature-resistance polymer is expected to gain widespread as demand for lead-free soldering in electronics production grows. As a shielding material, it is often utilized in electronic interconnections, conveyor systems, and trays. The rise of the electrical and electronics industries is expected to have a beneficial influence on this trend and boost global market expansion.
Challenges:
Polyamide replacements such as polypropylene and polyvinylidene fluoride (PVF) are predicted to stifle global polyamide industry growth due to their lower competitive pricing. PVF is a non-reactive thermoplastic with finer properties than polyamide, such as greater density, strong wear resistance, high UV resistance, tougher surface, and low elasticity. PVF has recently gained popularity as a key replacement for polyamide fishing lines.
Recent Developments:
DOMO Chemicals, a prominent production of high industrial nylon materials, paid USD 334.7 million (€300 million) for Solvay's polyamides division in Europe in January 2020. DOMO expects the purchase of the Solvay company to enhance its existing product line and increase its expertise in the polyamide industry. Solvay is a multinational material, chemical, and services producer.
Key Market Players
BASF SE
AdvanSix Inc.
Ube Industries Ltd.
Domo Chemicals
Toray Industries, Inc.
Ashley Polymers Inc.
Ascend Performance Materials LLC
Toyobo Co. Ltd.
Lanxess AG
Huntsman Corporation
Goodfellow Group
Market Segmentation:
By Product
Bio-based Polyamide
Polyamide 6
Specialty Polyamides
Polyamide 66
By Type
By Applications
Engineering Plastics

Automotive
Electrical & Electronics
Consumer Goods & Appliances
Packaging
Others

Fibers
By Class
Aliphatic Polyamides
Semi-Aromatic
Aromatic Polyamides
Buy this Research Report@ https://www.precedenceresearch.com/checkout/2143
You can place an order or ask any questions, please feel free to contact at sales@precedenceresearch.com | +1 9197 992 333