The global sodium-ion battery market size surpassed USD 0.86 billion in 2022 and is predicted to touch around USD 4.8 billion by 2032, growing at a remarkable CAGR of 19.3% between 2023 and 2032.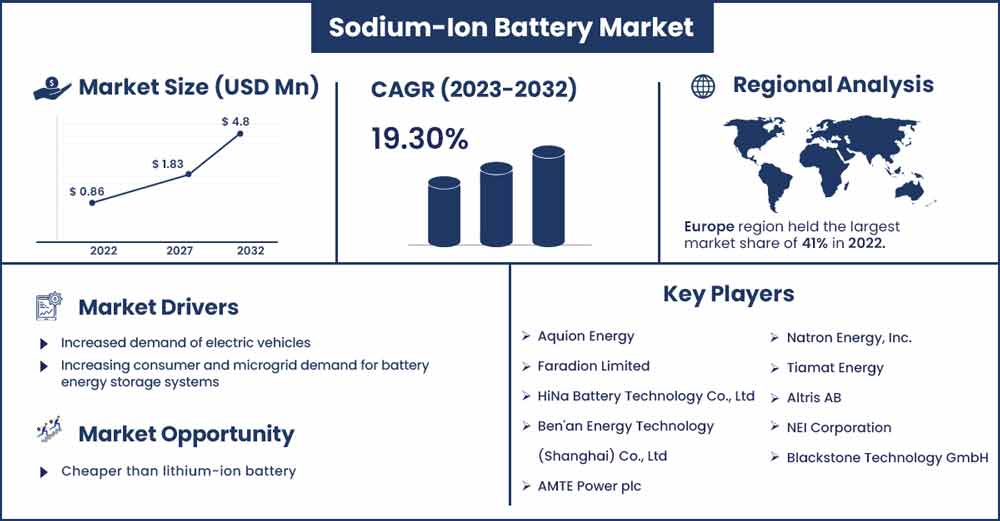 It has been determined that sodium-ion batteries are the most enticing kind of alternative energy storage. The simple accessibility and availability of sodium has raised the need for sodium-ion batteries. Such batteries are appropriate for uses in which compactness is not the primary consideration. Chemical bonds serve as energy reservoirs at the anode. The Sodium ions also de-intercalate from the cathode and go to the anode when the battery gets charged.
Sodium-ion batteries provide superior electrochemical quality in terms of charge-discharge, reversibility, and precise discharge capability. These batteries have just lately been made available in stores across many countries. This results in the market for sodium-ion batteries is anticipated to expand rapidly in the coming years. All across the world, the sodium-ion battery has shown to be a reliable and affordable replacement for lithium-ion batteries. Because lithium metal in lithium-ion batteries has a smaller ionic radius than sodium metal in sodium-ion batteries, the sodium-ion battery is more stable than the lithium-ion battery due to less material property change during electrochemical cycling. Among other great qualities, sodium-ion batteries feature cheap costs, comparable energy densities to their competitors' batteries, superior thermal stability, and long cycle life. Sodium-ion batteries are more appropriate for fixed applications than for mobile ones.
In response to increased public concern and governmental constraints brought on by a jump in lithium-ion pricing and emissions, more research and development is being done to increase the energy density of sodium-ion batteries and create new electrolyte technologies. As an illustration, in August 2022, Japanese scientists created sodium-ion batteries using carbon micro lattices created with a cheap three-dimensional (3D) printer. The resulting anode permits quick transit of energy-producing ions in addition to decreasing the battery's size and production costs.
Report Highlights:
From 2023 to 2032, the market for sodium-ion batteries is anticipated to expand at a CAGR of over 11.2%.
The market for sodium-ion batteries was estimated to be worth roughly 650 million dollars in 2023 and is anticipated to grow to 2500 million dollars by 2032.
A sodium-sulfur battery is a particular form of molten-salt battery with a high power density, great discharge & charge efficiency, and an extended lifespan. This is accelerating this market segment's growth.
By end-user, sodium-ion battery-powered consumer electronics and transportation applications accounted for the largest market share of 6% worldwide in 2023 and are expected to hold that position through 2032.
The sodium-ion battery market in North America is anticipated to be lucrative in the future because of plans for significant increases in the region's capacity for wind and solar energy as well as rising sales of electric cars.
Sodium-Ion Battery Market Report Scope:
| | |
| --- | --- |
| Report Coverage | Details |
| Market Revenue in 2023 | USD 0.98 Billion |
| Projected Forecast Revenue in 2032 | USD 4.8 Billion |
| Growth Rate from 2023 to 2032 | CAGR of 19.3% |
| Largest Market | Europe |
| Base Year | 2022 |
| Forecast Period | 2023 To 2032 |
| Regions Covered | North America, Europe, Asia-Pacific, Latin America, and Middle East & Africa |

Market Dynamics:
Drivers:
The sodium-ion battery market is expected to be driven by the growing demand for electric cars. Estimated EV sales for 2025 and 2030 are 15 million and over 25 million cars, or 10% and 15% of all road vehicle sales, respectively. As the advantages of sodium-ion batteries over lithium-ion batteries become more clear, they are quickly overtaking lithium-ion batteries in popularity. It was discovered by the Nagoya Institute of Technology that sodium-ion batteries are very beneficial to sustainability for a number of reasons.
For instance, sodium is a substance that is easily accessible due to its abundance in both saltwater and the earth's crust. This would provide a steady supply of the element with low price fluctuations, giving it a significant advantage over lithium, which is less accessible. As a result, lithium prices are predicted to soar in the near future since, according to Bloomberg NEF predictions, demand for the element would outpace supply by 1500% by 2030. Last but not least, sodium-ion batteries charge more quickly than lithium-ion batteries, making them a great substitute.
Restraints:
It is difficult for sodium-ion batteries to compete with lithium-ion batteries. Because a robust industrial supply chain is not available to support the active usage of sodium-ion batteries, the market for these batteries cannot grow as quickly. it is also anticipated that lithium prices would rise in the near future since, as projected by Bloomberg NEF, demand for the element will exceed supply by 1500% by 2030. Last but not least, sodium-ion batteries are an excellent alternative since they charge more fast than lithium-ion batteries.
Opportunities:
R&D capability to create new prospects in the battery technology sector. Current research and development capabilities in the battery technology industry are fast growing to satisfy the growing demand for energy storage. To reduce the impact on lithium sources worldwide, researchers are primarily seeking for workable non-lithium battery alternatives.
For instance, research on a quick and dependable sodium-ion battery that can survive dendrite growth and reduce the danger of fire or explosion was partially financed by the National Science Foundation of the United States. Academics from UC San Diego collaborated with other researchers to create a novel solid electrolyte that would increase the longevity, stability, and performance of solid-state sodium-ion batteries.
Decarbonization, a rise in the use of electric vehicles, and an increase in the integration of renewable energy sources into power grids are some of the reasons promoting the development of environmentally friendly and socially responsible energy storage technologies.
Global R&D initiatives are hastening the globalisation of sodium-ion batteries. The sodium-ion battery technology's R&D benefits are projected to benefit the electric car sector in particular by increasing operational effectiveness, reducing costs, and generating more income.
Challenges:
The sodium ion battery business is constrained by the availability of lithium-ion batteries as a substitute.
Long sodium-ion batteries are more recent additions to the commercial scene, lithium-ion batteries have been around for a while. The absence of a reliable industrial supply chain and the state of the market today prevent active usage of sodium-ion batteries, which limits the growth of the sodium-ion battery market globally.
Recent Developments:
In April 2022, AMTE Power plc joined forces with Sprint Power and Eltrium to accelerate the development of next-generation battery technologies to meet the expanding and complex needs of the electric vehicle (EV) market.
In June 2021, Altris AB, in collaboration with LiFeSiZE AB, developed a sodium-ion battery cell. The cell matches the performance, life cycle, and energy density of a lithium-ion battery.
In March 2021, Infraprime Logistics Technologies (IPLTech) and Faradion Limited joined forces to offer high-energy sodium-ion batteries for commercial vehicles in India.
A revised version of the original sodium-ion battery and Contemporary Amperex Technology Co., Ltd.'s AB backup battery solution, which combines sodium-ion and lithium-ion cells into a single pack, were both introduced in July 2021.
Major Key Players:
Aquion Energy
Faradion Limited
HiNa Battery Technology Co., Ltd
Ben'an Energy Technology (Shanghai) Co., Ltd
AMTE Power plc
Natron Energy, Inc.
Tiamat Energy
Jiangsu Zhongna Energy Technology Co., Ltd.
Contemporary Amperex Technology Co. Limited (CATL)
Li-FUN Technology Corporation Limited
BLUETTI Power Inc.
Indigenous Energy Storage Technologies Pvt. Ltd. (Indi Energy)
Altris AB
NEI Corporation
Blackstone Technology GmbH
Market Segmentation:
By Product
Sodium-Sulfur Batteries
Sodium-Salt Batteries (Zebra Batteries)
Sodium-Oxygen (Sodium Air) Batteries
By Technology
By Application
Stationary Energy Storage
Transportation
By Industry Vehicle
Consumer Electronic Devices
Automobile & Transportation
Power Backup
Grid-Level Applications
Industrial
Aerospace & Defense
Marine
Others
Buy this Research Report@ https://www.precedenceresearch.com/checkout/2338
You can place an order or ask any questions, please feel free to contact at sales@precedenceresearch.com | +1 9197 992 333