The global wireless infrastructure market size surpassed USD 160.04 billion in 2022 and is projected to rise to USD 386.94 billion by 2032, anticipated to grow at a CAGR of 9.23 percent during the projection period from 2023 to 2032.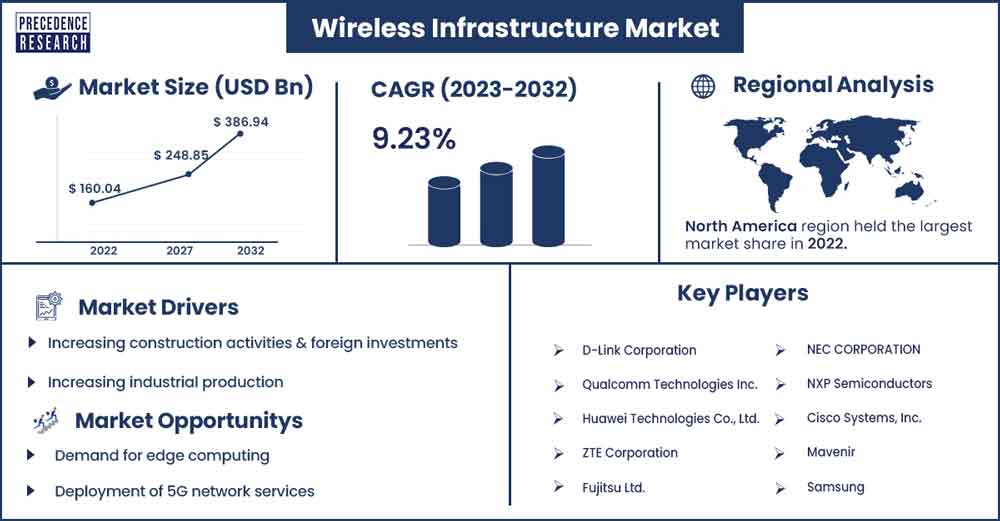 Market Overview
The wireless infrastructure market refers to the organizational and physical elements required to run wireless communication networks. These elements include base stations, routers, antennas, and other hardware, in addition to the software, protocols, and technologies that make wireless communication possible. The market includes the creation, implementation, and upkeep of these parts to facilitate multiple wireless technologies, such as Wi-Fi, cellular networks (3G, 4G, and 5G), and other wireless communication protocols. It is essential for enabling wireless and mobile connectivity for devices like smartphones, tablets, and IoT hubs, among others.
According to the Wireless Infrastructure Association, in 2022, the U.S. wireless and mobile industry invested $11.9 billion to expand the capacity and coverage of the country's wireless networks. Spending on spectrum, maintenance, and continuing network operations are not included in this. For wireless and mobile phone networks in the United States in 2022, the total network operating costs exceeded $46 billion.
Mobile data usage has increased dramatically due to the widespread use of smartphones, tablets, and other connected devices. This trend is expected to persist as more people adopt mobile technology and data-intensive applications become more common. It measures taken by the government to increase broadband availability and allot spectrum for wireless transmission. With a vast array of gadgets and sensors linked to the Internet, the internet of things ecosystem is expanding quickly. Wireless, solid infrastructure is needed for these devices to facilitate data exchange and communication.
High-speed internet access is becoming increasingly necessary as more aspects of everyday life, work, and entertainment move online, particularly in rural or underserved areas. For these areas to have broadband connectivity, wireless technologies are essential. The world's population is getting more and more urbanized. Cities experience higher population densities due to this demographic shift, which increases the demand for reliable wireless networks to handle the rising number of users and connected devices.
Compared to earlier generations, 5G promises much faster data rates, reduced latency, and increased network capacity. This has prompted expenditure in new infrastructure to support 5G deployments.
In February 2023, it is anticipated that India will invest close to $250 million in private wireless technology by 2027. According to Nokia's yearly Mobile Broadband Index (MBiT) report, enterprise investment has significantly increased, and a significant uptake of 5G is expected to begin in the second half of 2023.
Regional Snapshot
Regarding technological innovation in wireless communication, North America has led the way. Wireless technology has advanced thanks to the efforts of notable companies such as Qualcomm, Cisco, and Intel, as well as many startups. The most recent generation of wireless technology is called 5G.
It makes significant investments in R&D (research and development) projects. Innovative technologies like cutting-edge antennas, base stations, and network optimization solutions result from this dedication to innovation. Wireless infrastructure is evolving as a result of these innovations. North America's vast and varied topography, which ranges from isolated rural areas to heavily populated urban areas, calls for various wireless infrastructure solutions.
In June 2023, over $40 billion was pledged by the Biden-Harris administration to provide everyone in the country with access to high-speed, reasonably priced internet.
In October 2023, a significant ownership stake in Newbridge Wireless, a top supplier of vital wireless infrastructure solutions, was recently concluded by Terramont Infrastructure Partners, a middle market-oriented North American infrastructure financing firm.
In June 2022, by simplifying network delivery and assisting in keeping the United States at the forefront of 5G innovation, Ericsson increased its leadership position in the country's 5G infrastructure via its collaboration with Valmont and ConcealFab.
Wireless Infrastructure Market Report Scope
| | |
| --- | --- |
| Report Coverage | Details |
| Market Revenue in 2023 | USD 174.81 Billion |
| Projected Forecast Revenue by 2032 | USD 386.94 Billion |
| Growth Rate from 2023 to 2032 | CAGR of 9.23% |
| Largest Market | North America |
| Base Year | 2022 |
| Forecast Period | 2023 to 2032 |
| Regions Covered | North America, Europe, Asia-Pacific, Latin America, and Middle East & Africa |

Market Dynamics
Drivers
Increasing construction activities & foreign investments
The demand for cutting-edge wireless infrastructure has surged due to increased construction activities globally, especially in urban areas. Strong wireless networks must be installed when constructing new buildings, office buildings, apartment buildings, and smart cities to enable connectivity, data transfer, and communication.
The market for wireless infrastructure can be directly impacted by foreign direct investments in a nation's economy. Modern wireless connectivity is essential for operations in newly developed commercial and industrial spaces, which are frequently the result of investments from multinational corporations. As part of their efforts to promote economic development and create smart cities, governments often mandate or offer incentives for constructing advanced wireless infrastructure.
Increasing industrial production
With industries becoming increasingly automated and technologically sophisticated, dependable wireless communication is essential. Industrial processes require a robust wireless infrastructure because they depend on real-time data trade, monitoring, and control. Using data analytics, AI, and IoT to improve production processes is the idea behind smart manufacturing. This calls for a highly interconnected ecosystem in which wireless networks are essential for facilitating the smooth data exchange between devices, sensors, and control systems.
In some industrial settings, wireless infrastructure deployment can be more economical because it does not require extensive cabling or related infrastructure. Businesses aiming to modernize their operations may find great motivation in these cost savings. Real-time control and monitoring of industrial processes are made more accessible by wireless infrastructure, which boosts production and efficiency. For instance, Wireless sensors can send information about machine performance in a manufacturing setting, facilitating prompt maintenance and cutting downtime.
Restraints
High initial investment costs
The wireless sector is changing quickly as new technologies like 5G emerge. To maintain competitiveness in this market, substantial investments must be made in modernizing or replacing outdated infrastructure to stay current with emerging standards and technologies. A lot of expensive equipment, such as base stations, antennas, transmission lines, and networking hardware, is needed to set up a wireless infrastructure.
These expenses can add up, particularly in the case of extensive, large-scale deployments. It takes specific knowledge and equipment to design a wireless network correctly to guarantee adequate capacity and coverage. This involves carrying out radio frequency (RF) engineering, creating thorough network plans, and conducting surveys, all of which can add to the initial outlay.
Limited coverage in rural areas
Because there are typically fewer potential customers in rural areas than in urban and suburban ones due to lower population densities, it is less profitable for wireless carriers to invest in creating and maintaining extensive infrastructure in these areas. For wireless carriers, the low population density and higher deployment costs result in a lower potential return on investment. For the initial capital investment and ongoing operational costs to be justified, the revenue from services provided in rural areas might need to be increased. Access to the newest standards and technologies common in more developed urban areas may be necessary in rural areas. For wireless carriers, this can make it challenging to guarantee compatibility and offer current services.
Opportunities
Demand for edge computing
The time required for data to travel from its origin to the analyzing point and back is significantly decreased by edge computing. This is critical for applications like industrial automation, augmented reality/virtual reality (AR/VR) experiences, and autonomous vehicles that need real-time or near-real-time processing. The demand for edge computing grows even more with the spread of 5G networks, which have much lower latency than earlier generations. Centralizing data centers enables sensitive data to be processed locally instead of sent over networks, which helps us abide by data protection laws and addresses privacy concerns. Because data is processed closer to its source, it minimizes exposure to potential threats and decreases the attack surface for potential security breaches.
Deployment of 5G network services
With substantially faster upload and download rates than its predecessors, 5G technology opens a world of possibilities for applications like augmented reality and virtual reality, high-definition video streaming, and Internet of Things devices. To satisfy the demands of an ever-increasing number of connected devices, this increased capacity is essential. 5G networks are built to accommodate many connected devices simultaneously, which is crucial given the growth of IoT devices in various sectors, such as smart cities, medical care, industry, and agriculture.
One of the main factors pushing 5G adoption is its capacity to connect and manage numerous devices effectively. Everyday activities such as healthcare, education, and entertainment can be enhanced by 5G.
For example, it makes immersive entertainment experiences possible, as well as telemedicine services and remote learning with augmented reality. These developments can improve people's and communities' general quality of life.
Recent Developments
In October 2023, With the founding of the Mobile Infrastructure Forum, the interests of four significant companies that manage extensive shared mobile facilities portfolios in the UK—Cellnex UK, MBNL, Cornerstone, and Wireless Infrastructure Group are brought together. Its objective is to assist in providing top-notch mobile infrastructure to enhance wireless connectivity for UK businesses and society.
In September 2023, Reliance Jio Infocomm, an Indian telecommunications company, announced the opening of its 5G fixed wireless access (FWA) network in eight cities nationwide. JioAirFiber, the new service, will go live in the following cities: Ahmedabad, Chennai, Delhi, Bengaluru, Hyderabad, Kolkata, Pune and Mumbai.
In April 2023, in addition to investing in the next generation of connectivity, the UK government unveiled a new Wireless Infrastructure Strategy to provide 5G internet access to all populated areas by 2030. To guarantee that the UK is at the latest of the upcoming wireless technology revolution, the strategy involves a comprehensive 6G plan. In addition, the government has launched a national mission to ensure the UK's position in 6G technologies and future telecoms, with up to £100 million in initial funding.
Major Key Players
D-Link Corporation
Qualcomm Technologies Inc.
Huawei Technologies Co., Ltd.
ZTE Corporation
Fujitsu Ltd.
NEC CORPORATION
NXP Semiconductors
Cisco Systems, Inc.
Mavenir
Samsung
Market Segmentation
By Platform
Defense
Government
Commercial
By Type
By Infrastructure
Small and Macro Cells
Radio Access Networks
Mobile Core
Distributed Area Network
SATCOM
Buy this Research Report@ https://www.precedenceresearch.com/checkout/3269
You can place an order or ask any questions, please feel free to contact at sales@precedenceresearch.com | +1 9197 992 333