The global single-cell omics market size was estimated at USD 3,413.66 million in 2022 and is projected to hit around USD 30,311.81 million by 2032, growing at a CAGR of 21.96% during the forecast period from 2023 to 2032.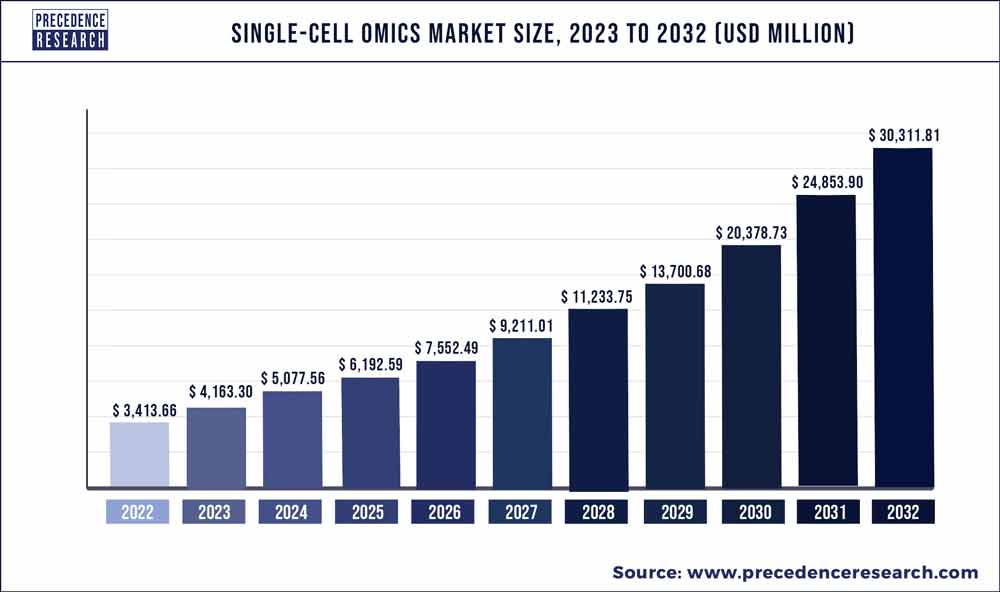 Access our Premium Real Time Data Intelligence Tool, Visit: Precedence Statistics
Key Takeaways:
North America is dominating the global market.
Asia Pacific expected to expand at the fastest-growing CAGR between 2023 and 2032.
By Product, the single-cell genomics segment dominates the global market between 2023 and 2032.
By Application, the oncology segment is predicted to generate for the largest share between 2023 and 2032.
By End-User, the academic and research organizations segment dominates the global market between 2023 and 2032.
Market Overview:
Single-cell omics is an emerging field of research that focuses on analyzing individual cells to gain a more comprehensive understanding of cellular processes, heterogeneity, and disease pathology. This market includes technologies such as single-cell genomics, transcriptomics, proteomics, and epigenomics. For instance, to hasten the effort to eradicate tuberculosis (TB) worldwide, Illumina Inc., a pioneer in DNA sequencing and array-based technologies, and GenoScreen, a cutting-edge genomics business, announced a partnership in October 2022. As a result of the agreement, the tuberculosis-affected nations will have more capacity to identify and treat drug-resistant TB (MDR-TB). The World Health Organization's plan to eradicate the global TB epidemic by 2035 will benefit from this.
Growth Factors:
Single-cell omics technologies are increasingly used in cancer research to study tumor heterogeneity and identify new therapeutic targets. As cancer incidence continues to rise, the demand for these technologies is expected to increase. Increasing collaborations between academic and industrial partners are accelerating the adoption of single-cell omics technologies in research and development. This is expected to further drive growth in the market. Government and private funding for genomics research are increasing, providing more resources for developing and applying single-cell omics technologies. For instance.
The All of Us Research Program has chosen the Hudson Alpha Center for Biotechnology in Huntsville, Alabama, to study the utilization of cutting-edge DNA sequencing methods that may improve the identification and therapy of many common and rare diseases in 2019. The research has received $7 million in funding from NCATS, the National Center for Advancing Translational Sciences.
Report Scope of the Single-cell Omics Market:
| | |
| --- | --- |
| Report Coverage | Details |
| Market Size in 2023 | USD 4,163.3 Million |
| Market Size by 2032 | USD 30,311.81 Million |
| Growth Rate from 2023 to 2032 | CAGR of 21.96% |
| Largest Market | North America |
| Base Year | 2022 |
| Forecast Period | 2023 to 2032 |
| Segments Covered | By Product, By Application, and By End-User |
| Regions Covered | North America, Europe, Asia-Pacific, Latin America and Middle East & Africa |

Key Market Drivers:
Several factors are driving the growth of the single-cell omics market; one of the major drivers is the increasing demand for personalized medicine. Analyzing individual cells at a molecular level can provide valuable insights into the underlying disease mechanisms, leading to more precise and customized treatments. Also, rapid technological advancements have made single-cell omics more accessible and cost-effective. For instance, Researchers can now evaluate thousands of single cells at once because of the advent of high throughput sequencing technology, quickly producing a lot of data. Also, due to their rising incidence, there is a greater interest in comprehending the molecular mechanisms that are the root of chronic diseases, which include cancer and neurological conditions. It gives researchers a potent tool for investigating the diversity of disease pathophysiology at the single-cell level.
Restraints:
The use of single-cell omics technologies raises ethical concerns related to privacy, informed consent, and the potential misuse of data. These issues need to be addressed to ensure responsible use and ethical practices in the field.
Opportunities:
Single-cell omics can help identify biomarkers for disease diagnosis, prognosis, and treatment response. This could lead to the development of new diagnostic testing and therapeutics. Single-cell omics can help identify new drug targets and pathways, as well as assess drug efficacy and toxicity. This could lead to the development of more effective and safer drugs. Single-cell omics can help improve crop yield and quality, as well as enhance food safety and traceability. This could lead to more sustainable and secure food systems.
Impact of COVID-19:
Single-cell omics is a rapidly growing field that has been gaining traction in recent years due to its ability to provide a deeper understanding of the biological processes at the single-cell level. The pandemic has created both challenges and opportunities for the single-cell omics market. It has been a slowdown in research and development activities, which has affected the demand for single-cell omics technologies. Many research institutions and biotech companies have been forced to redirect resources toward COVID-19 research, resulting in a reduction in funding and resources for other areas of research. However, the pandemic has also highlighted the importance of single-cell omics technologies in the context of COVID-19 research. Furthermore, the pandemic has accelerated the adoption of remote and digital technologies, including virtual conferences and webinars.
Segments Insight:
Product Insights:
Single-Cell Genomics dominates the market as it allows researchers to study individual cells. It provides a previously impossible resolution level enabling a more accurate understanding of cell behavior, leading to better insights into disease mechanisms. They have the potential to revolutionize personalized medicine by allowing for the identification of rare cell types and biomarkers that may be missed in bulk sequencing, which could lead to more precise diagnoses and targeted therapies. For instance, A privately held company called Fluxion Biosciences has announced that starting in October 2022, it will expand its Advanced Therapeutics Discovery Services segment to meet the rising need for assay support of the firm's distinctive cell analysis platforms. Hiring more lab employees and moving to a new, more extensive facility will assist growth. Ion channel assays, functional cell studies, and circulating tumor cell assays are just a few of the high-value cell assays that Fluxion provides.
It is also being used to study development, cell differentiation, and disease progression at the cellular level. It can provide a more detailed understanding of biological processes and could lead to the development of new treatments for various diseases. Advances in microfluidics, imaging, and sequencing technologies have made isolating and sequencing single cells easier. These technological advancements have made single-cell genomics more accessible to researchers and have increased the throughput of experiments.
Application Insights:
Oncology is projected to account for the maximum share during the forecast period. This segment invests in researching and developing drugs that target high-value indications and patient populations with unmet needs. These targets should have significant market potential and offer a substantial return on investment; also, utilize digital technologies, such as artificial intelligence and machine learning, to improve patient selection and monitoring, optimize dosing, and enhance the clinical trial design. These technologies can also help identify new indications and potential drug targets.
For instance, Concur, a firm established in the United Kingdom, provides a software tool that employs a machine learning approach that relies on a thorough comprehension of scientific modeling to forecast tumor progression, which aids in precisely predicting how cancer will evolve in treatment response, also, by engaging with patients and their families to better understand their needs and preferences and to ensure that products are designed to meet those needs.
Patient engagement can also help increase adherence and reduce healthcare costs. The adoption of innovative pricing models, such as outcome-based pricing and risk-sharing agreements, to align incentives between manufacturers and payers. This approach rewards manufacturers for delivering value to patients and the healthcare system. Even they partnered with key stakeholders, including regulatory authorities, payers, and healthcare providers, to ensure timely market access and optimal pricing. Collaborating with these stakeholders can provide valuable insights into the evolving healthcare landscape.
End-User Insights:
Academic and research organizations play a dominant role in the single-cell omics market. They are often the driving force behind developing new technologies and methodologies in single-cell omics. They conduct primary research to understand the underlying biology of single cells and create new tools and techniques to analyze these cells at the molecular level. This research often leads to the development of new products and services that are then commercialized by biotech and pharmaceutical companies. They are essential customers for single-cell omics products and services.
These organizations use single-cell omics tools and services to advance their research in various fields, including cancer biology, immunology, neuroscience, and developmental biology. Finally, they also play an essential role in setting standards and guidelines for using single-cell omics technologies. They develop best practices for sample preparation, data analysis, and quality control, which are vital to ensuring the accuracy and responsibility of single-cell omics data.
Regional Insights:
North America is leading the single-cell omics market globally. North America has a well-established research and development infrastructure, including top universities, research institutions, and pharmaceutical companies. These institutions have invested heavily in single-cell mics techniques, making North America a hub for innovation and development. The US government has invested significantly in biotechnology research, including single-cell omics. A high-throughput automated system for generating protein therapeutic production cell lines, as described by the National Institutes of Health, developed more with many into the cellular genomic and transcriptome signatures of different diseases and developmental stages using massive data sets.
Whole exome sequencing is a high throughput sequencing HTS technology that can be used to find new variations and other alterations that may cause certain genetic cardiac diseases. This has helped create a supportive regulatory environment for developing and commercializing new technologies. This region's robust biotech industry includes many startups and established companies focused on developing new single-cell omics technologies. These companies have access to solid funding support, which has enabled them to innovate and overgrow.
The Asia Pacific region has been experiencing rapid growth in the single-cell omics market due to several factors. Firstly, there has been a significant increase in the number of research activities in the region, particularly in countries such as China, Japan, and South Korea. These countries have been investing heavily in the research and development of new technologies, including single-cell omics, which has led to a surge in demand for these products. Secondly, the growing prevalence of chronic diseases in the region, such as cancer and neurological disorders, has increased the demand for personalized medicine, which requires single-cell analysis. Single-cell omics has the potential to provide valuable insights into disease mechanisms, diagnosis, and treatment options, making it an attractive option for researchers and clinicians. Thirdly, the Asia Pacific region has a large and growing population, which provides a vast pool of potential customers for single-cell omics products. The increasing awareness and availability of advanced healthcare technologies have also contributed to the growth of the market in the region.
Finally, the Asia Pacific region is home to several major players in the single-cell omics market, including Illumina, Thermo Fisher Scientific, and BD Biosciences, which have established a strong presence in the region and are investing heavily in R&D to develop new products and expand their market share.
Recent Developments:
In October 2022, A current high and comprehensive technique for identifying infectious diseases premised on syndromic markers is being developed and verified by BioExcel Diagnostic tools and Takara Bio USA, Inc., innovation life science reagent and device companies. Takara Bio USA, Inc. is a completely owned division of Takara Bio Inc.
In September 2022, the signing of an agreement to create a partner screening for Neuron23's brain penetrant, blocker for Parkinson's disease was announced by QIAGEN and Neuron23 Inc., an initial biotechnology business dedicated to developing precision medications for based on genetic neurological and immunological diseases.
In June 2021, BGI Genomics Co., Ltd., top genomics businesses worldwide, and Natera, Inc., an innovator and leading provider in cell-free DNA test results, announced the release of the BGI-Natera Signatera Assay, which is now accessible to biopharmaceutical clients and clinicians throughout China.
Key Market Players:
1CellBio
Celsee, Inc
QIAGEN N.V
Illumina, Inc
10X Genomics, Inc
GE LifeSciences
Mission Bio
Takara Bio
Fluidigm Corporation
Bio-Rad Laboratories, Inc
NanoString Technologies, Inc
Fluxion Biosciences
BGI Genomics Co. Ltd
Segments Covered in the Report:
(Note*: We offer report based on sub segments as well. Kindly, let us know if you are interested)
By Product
Single-Cell Genomics
Single-Cell Proteomics
Single-Cell Metabolomics
Single-Cell Transcriptomics
By Application
Immunology
Cell Biology
Oncology
Neurology
By End-User
Hospital and Diagnostic Laboratories
Academic and Research Organizations
Pharmaceutical & Biotechnology Companies
Others
By Geography
North America
Europe
Asia-Pacific
Latin America
Middle East and Africa